Chili Rubbed Chicken Skewers with Peppers and zucchini are the perfect meal on the grill. Serve over a bed of rice or with your favorite loaded baked potato for a complete meal everyone loves! Add your favorite veggies to the skewers for an easy way to add flavor to boring vegetables.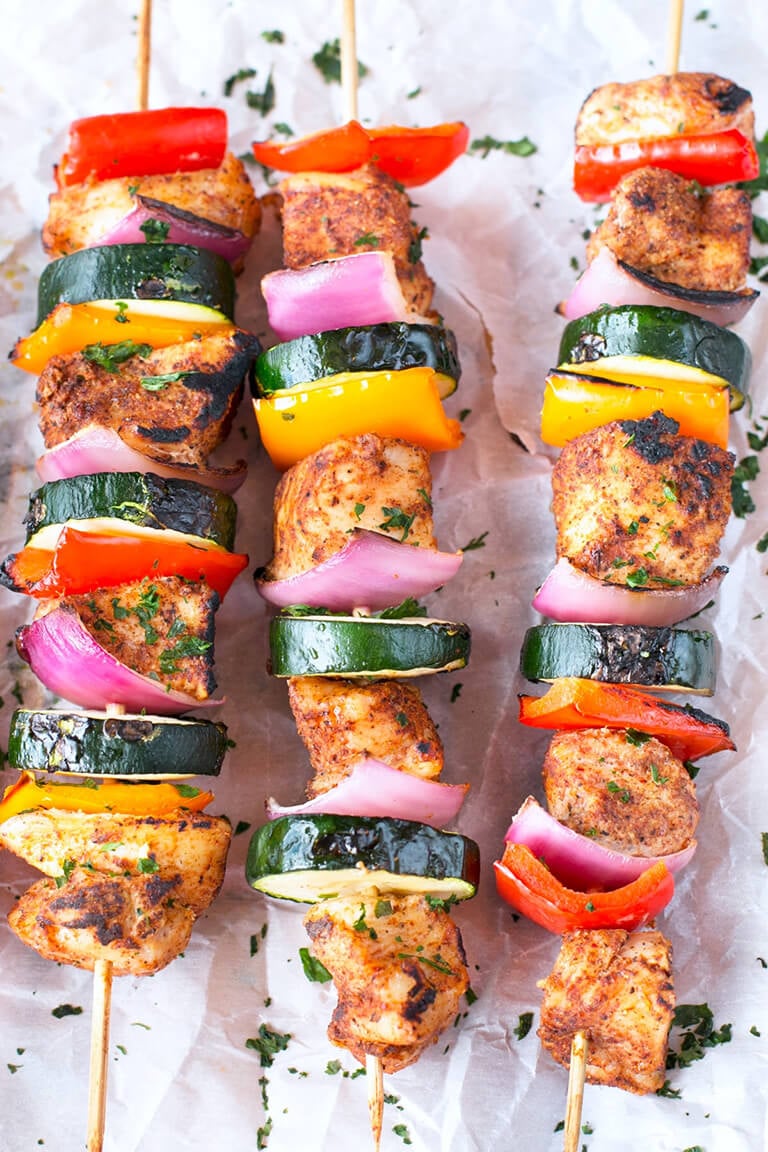 CHILI RUBBED CHICKEN SKEWERS
When I am running out of time and need a healthy and delicious meal easily, these chicken skewers are definitely on my list of must-make recipes. I know I can add this easy chili spice blend to basic chicken and create a nice kick of flavor. While I love using peppers, onions, and zucchini for this recipe, I also know I can mix in any veggie I have on hand to add to the recipe even when I am pressed for time.
CAN I USE DIFFERENT VEGETABLES FOR MY KABOBS?
Yes, you can definitely use whatever vegetables you prefer for this recipe. This is my favorite combination, but you can definitely mix and match other vegetables to create a new flavor combination. Just look for items that will be similar sizes as the chicken, and won't burn before the chicken is done on the grill.
Whole mushrooms
Corn on the cob pieces
Squash
Asparagus spears
Chunks of cabbage
Shallots or small onions
New potatoes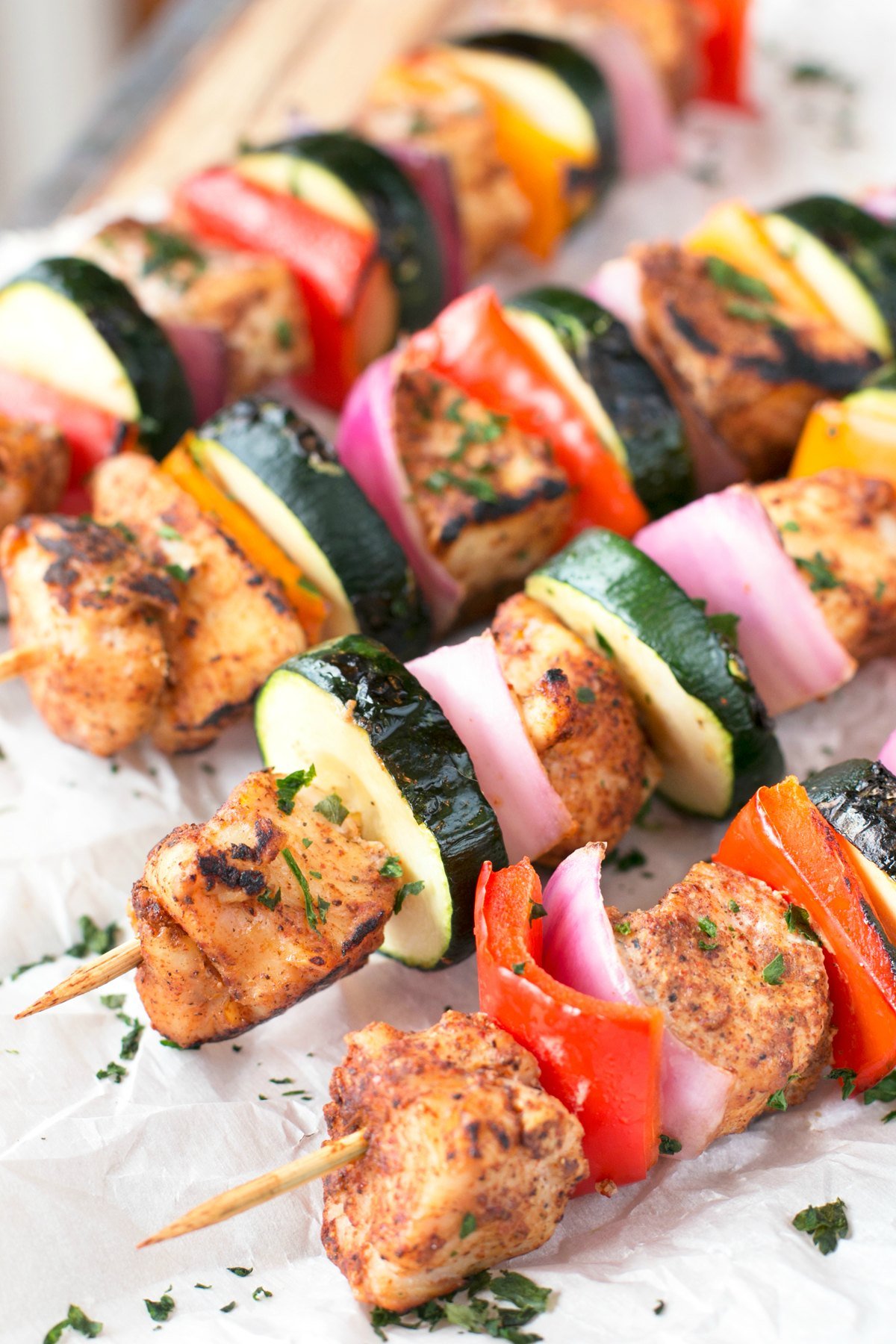 CAN I FREEZE THESE TO GRILL LATER?
This is one of those recipes that you can easily prep ahead of time and freeze for later. When I have great fresh veggies on hand and find a sale on chicken, I will make a bunch of these to wrap and freeze for future nights. Make sure you wrap them well and add the date and recipe name to the outside of the package. I wrap in foil and place it in large freezer storage bags.
I know I can thaw them overnight, then throw them onto the grill the next night. You can even put them straight from the freezer to grill if you have a rack that isn't directly over the heat. Just add a bit of extra cook time, and move them to the direct heat halfway through cook time.
SHOULD I SERVE A DIPPING SAUCE WITH THE CHICKEN SKEWERS?
I love having a sauce to go alongside this chicken. Especially if someone is not as big a fan of the heat in the seasoning, a creamy sauce might be excellent to pour over the kabobs or for dipping the chicken into. The kids would especially love a nice ranch dressing for dipping.
With this flavor combination, ranch dressing, or any yogurt-based dip would work great. You could even serve with honey mustard or just a basic barbecue sauce. While you don't have to add a dipping sauce, it is nice to have on hand as an option.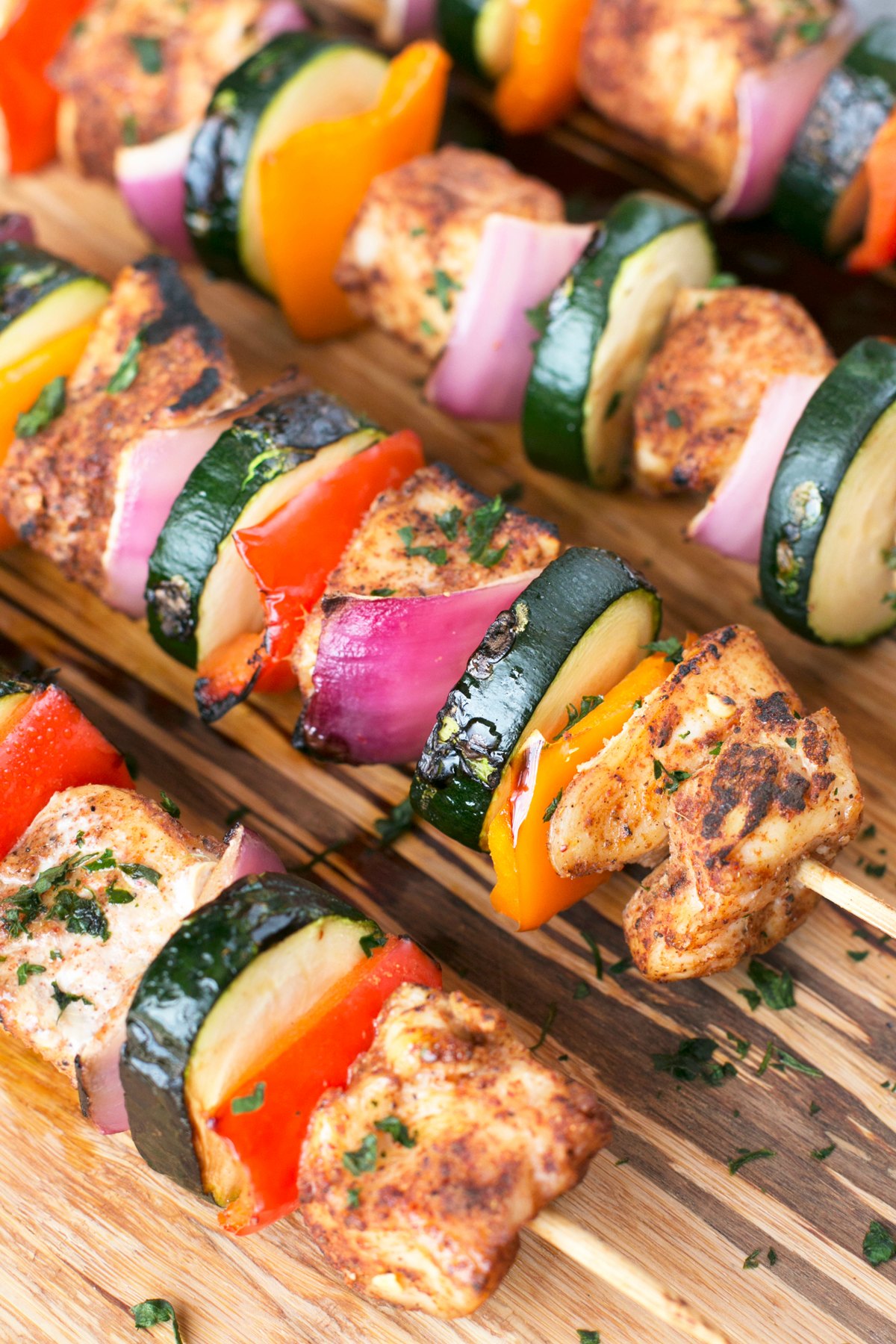 HOW TO MAKE CHICKEN SKEWERS
The entire recipe is in the printable card at the bottom of the post. But first, here's a quick overview of it along with my best tips.
1. Prepare the Chicken and Vegetables
Before you begin, you will want to prepare your chicken and vegetables. Cut the chicken breast into 1-1 1/2-inch cubes and your vegetables into pieces that will easily slide onto the skewers. Set both of these items aside.
#2 Make the Chicken Seasoning
Next, you will be preparing your seasoning for the chicken. You will mix together onion powder, black pepper, salt, garlic powder, and chili powder to toss with your chicken, and then place in a container to marinate for at least 30 minutes.
#3 Pre-Soak the Chicken Skewers
Preheat your grill or grill pan, and set your wooden skewers into a pan filled with water to soak for around 15 minutes.
#4 Layer the Meat and Vegetables on the Skewers
Once the skewers have soaked, you will remove them from the water and pat dry, then begin loading them with chicken and vegetables.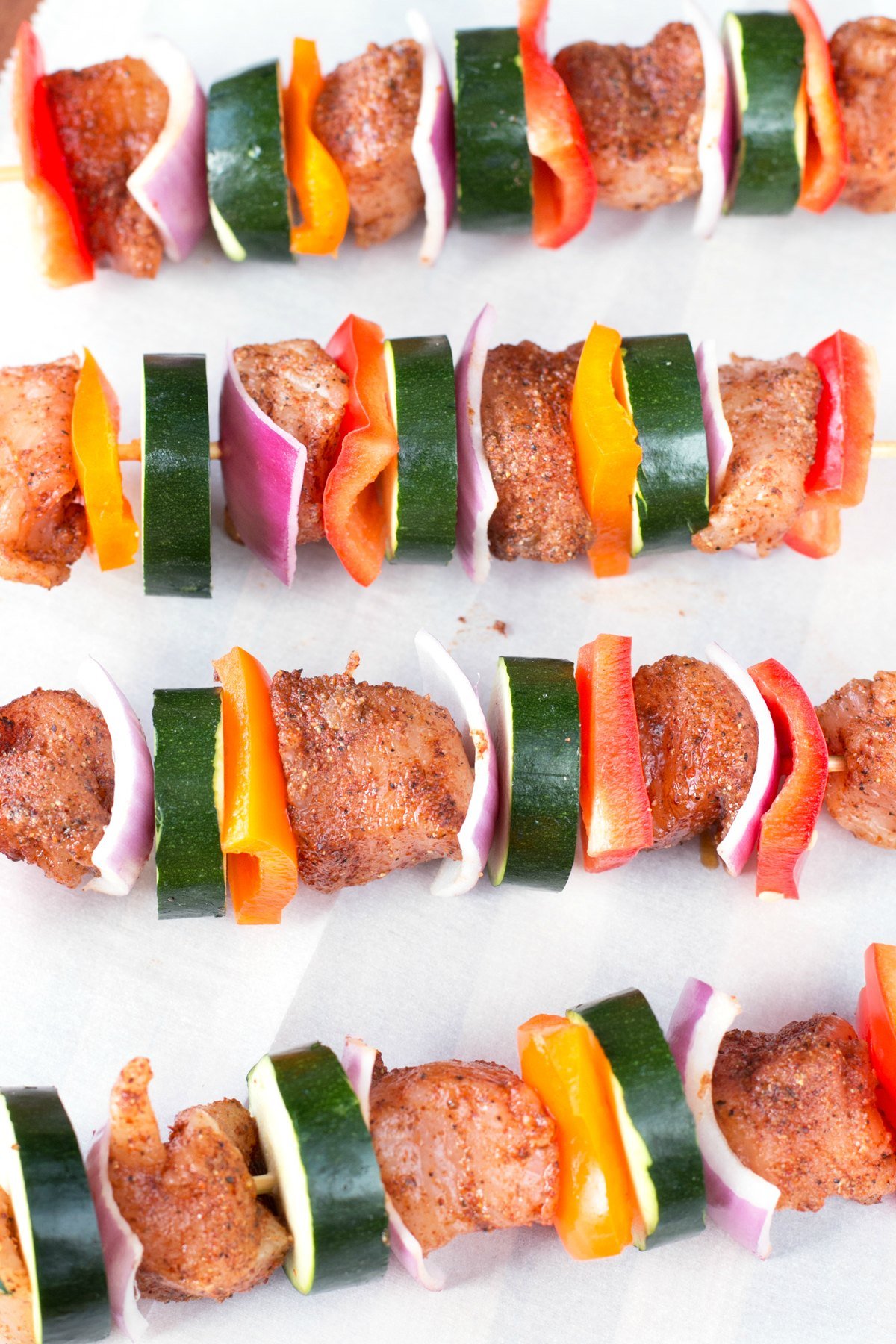 Alternate ingredients by starting with chicken then moving on to onion, bell pepper, and zucchini before repeating the process again until the skewer is full. You will want at least 3-4 pieces of chicken per skewer.
#5 Grill the Meat and Vegetables
Prepare your grill or grill pan with oil, then cook the skewers for around 15 minutes rotating regularly so no side is burned but the chicken is cooked through.
If you try this Easy Chicken Skewers recipe and like it, please use my hashtag to share it with me on INSTAGRAM for a chance to be featured! Also, follow me at Cookin' With Mima on FACEBOOK | INSTAGRAM | PINTEREST for all of my latest social posts and recipes.
MORE GRILLED RECIPES
Grilling food is one of my favorite healthier options for meal planning. I know it will add flavor, be easy to manage, and will always be healthier than pan-frying with extra oil. That's why I have so many delicious recipes for grilled recipes to share with you below.
Chili Rubbed Chicken Skewers with Peppers
This delicious recipe for Chili Rubbed Chicken Skewers with Peppers is a perfect way to fire up the grill tonight! Easy and delicious, this is a healthy recipe for the whole family.
Ingredients
1/2

tsp

onion powder

1

tsp

garlic powder

1/2

tsp

black pepper

1

Tbsp

chili powder

1/2

tsp

salt

4

boneless

skinless chicken breasts, cut into 1-inch cubes

1

yellow bell pepper

cut into 2 inch pieces

2

small red onions

cut into 2 inch pieces

1

red bell pepper cut into 2 inch pieces

1

zucchini

sliced into rounds

8

wooden skewers

Freshly chopped cilantro
Instructions
In a medium bowl, whisk together onion powder, black pepper, salt, garlic powder, and chili powder. Add chicken, tossing to coat the cubes well. Refrigerate and marinate the chicken for 30 minutes to 2 hours.

Preheat grill or grill pan when ready to cook. Soak wooden skewers in a shallow pan filled with cold water for 15 minutes.

Pat dry the wooden skewers.

Build the skewers by alternating pieces of chicken, onion, bell peppers and zucchini.

Each skewer should have at least 3 to 4 pieces of chicken.

Oil the grill or grill pan lightly with vegetable oil.

Cook the skewers for 12 to 15 minutes, rotating throughout the cooking process, until the chicken is cooked through. Remove from grill and sprinkle with chopped fresh cilantro. Serve immediately.
Nutrition
Serving:
4
g
|
Calories:
319
kcal
|
Carbohydrates:
9.1
g
|
Protein:
43.9
g
|
Fat:
11.4
g
|
Saturated Fat:
3.1
g
|
Cholesterol:
130
mg
|
Sodium:
443
mg
|
Fiber:
2.5
g
|
Sugar:
4.3
g