This Mango Chicken kabob or skewers recipe is going to become a favorite way to dress up basic chicken breast or thighs. A simple orange and sriracha marinade brings tons of flavor while keeping the heat manageable.
Serve with this simple mango salsa to create an amazing combination of flavor and texture that pairs beautifully with rice, potatoes, or salad greens.
MANGO CHICKEN RECIPE
There is nothing I love more than throwing something onto the grill for dinner. It's obvious by all of the grill and kabob recipes I have shared that this is definitely a go-to method of cooking. Being fast, easy, and ultimately healthier than other cooking styles, grilling is a great way to add flavor to your menu.
The simple marinade with orange juice and a bit of sriracha brings a nice kick to the mango chicken without being too spicy for those who like a milder flavor.
WHAT IS THE BEST SKEWER FOR MAKING KABAOBS?
Typically, I use wooden skewers for any kabob recipe I make. This is mostly because I like to make a lot of kabobs and it is just easier to manage individual portions for several people when using inexpensive wooden skewers.
When using wooden skewers, make sure to soak them for at least 15 minutes in water before you put your meat and vegetables on them.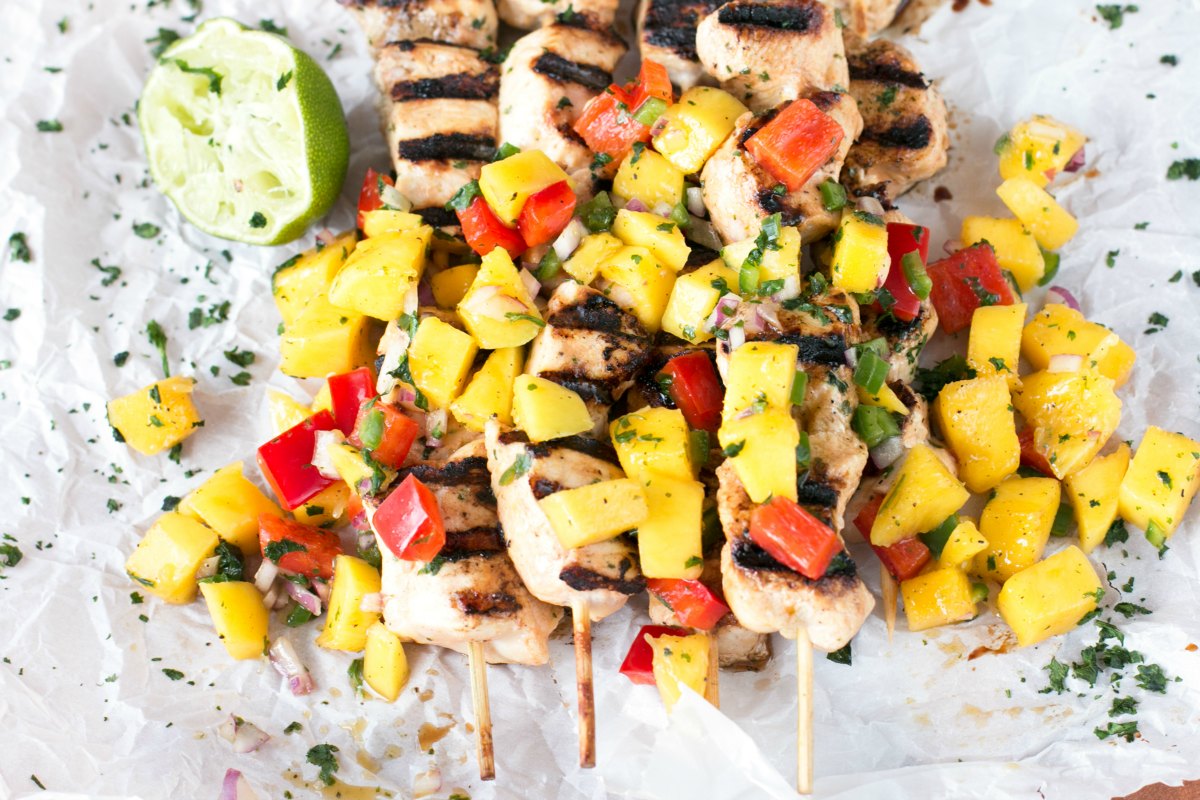 CAN I USE FROZEN MANGO?
This salsa is best made with fresh mango. If you cannot find a ripe mango in your grocery store, you can substitute with frozen, but it will need to be thawed and excess liquid removed before you mix the salsa. Otherwise, it will be too watery and not have as good a flavor.
I do not recommend canned or jars of mango for this recipe as they tend to be a bit too mushy and won't hold up well for the texture you prefer. If you have a good brand that you know has good texture, feel free to use that if needed.
DOES THIS RECIPE FREEZE WELL FOR LATER?
There are two methods of freezing this that I like. The first is to prepare the marinade and chunks of chicken and toss into a large freezer storage bag. Put that bag inside another bag for safety. I hate when a bag has a hidden leak and I end up with a mess! Label the bag with the date it was made and the name of the recipe, then put it into the freezer until you are ready to make them.
When you are ready to make the mango chicken, pull it from the freezer and let it thaw overnight before adding the chicken to the skewers and grilling. I know there can be issues with the citrus juice breaking down the chicken, however, when you immediately freeze it, then cook when it is just thawed, it shouldn't be a problem.
The other method is to go ahead and follow the recipe as listed and once cooled completely, drop the cooked chunks of chicken into the freezer storage bag. When ready to serve, just pop it out of the freezer and place it in the refrigerator to thaw overnight before reheating.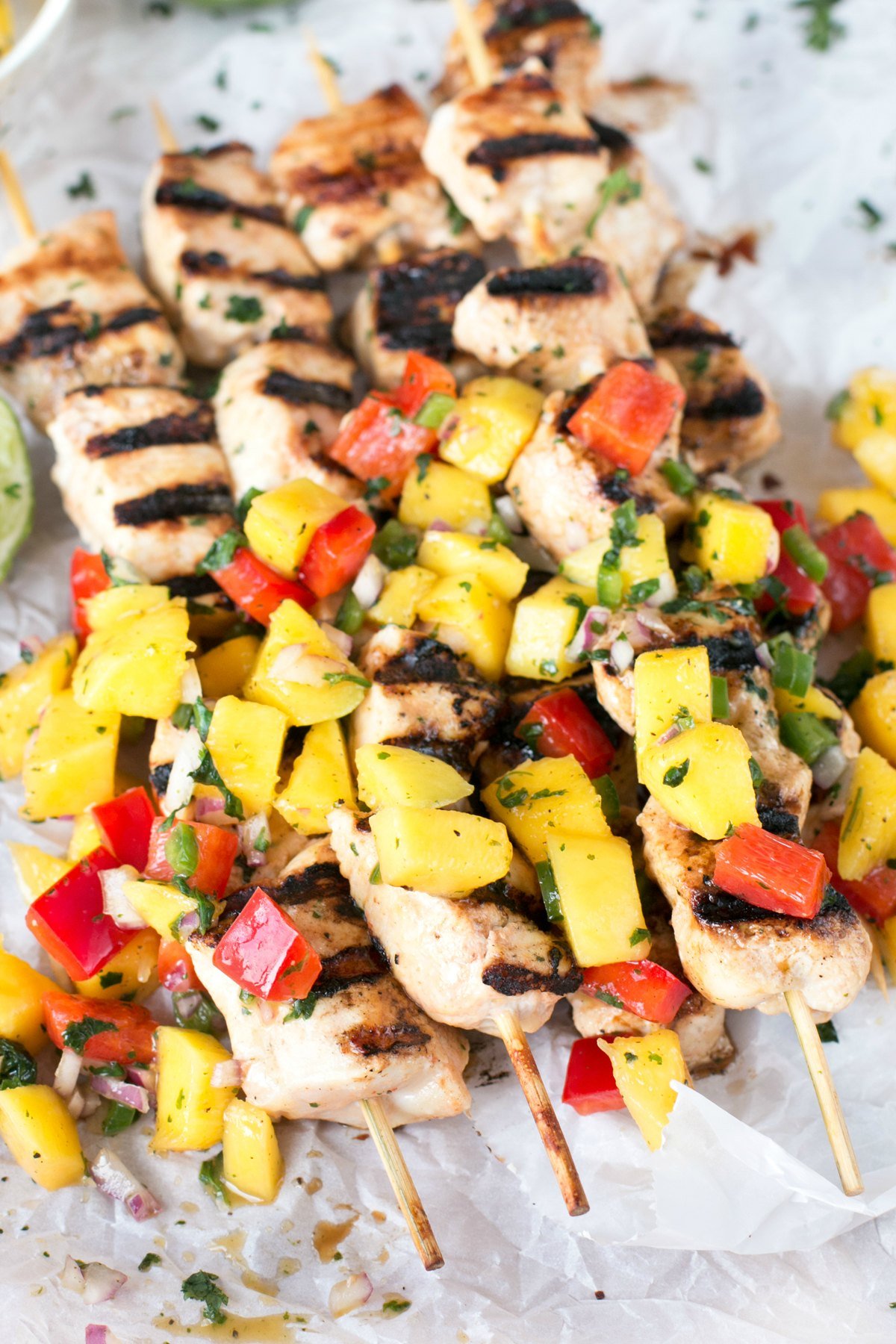 WHAT SHOULD I SERVE WITH THIS MANGO CHICKEN?
For this meal, you will obviously make the simple salsa to go on top of your mango chicken. It's delicious and easy, but you may want more than just chicken and salsa. I have served this with any number of vegetables, but the starchy side can really vary depending upon your personal preferences. You can serve with any of your favorite rice and salad greens for a super simple meal.
If you want to skip the starchy sides, make this avocado mango salad instead of the mango salsa. It adds tons of flavor and gives you more substance with the meal. For those that like something a bit simple on the side, these are the best creamy homemade mashed potatoes you will ever make. I think they are ideal for any meal!
My spicy cilantro Hasselback potatoes are definitely a great pairing with the hint of heat found in the marinade for this grilled chicken. I also love these herbed parmesan potatoes as a simple side that is mild and flavorful.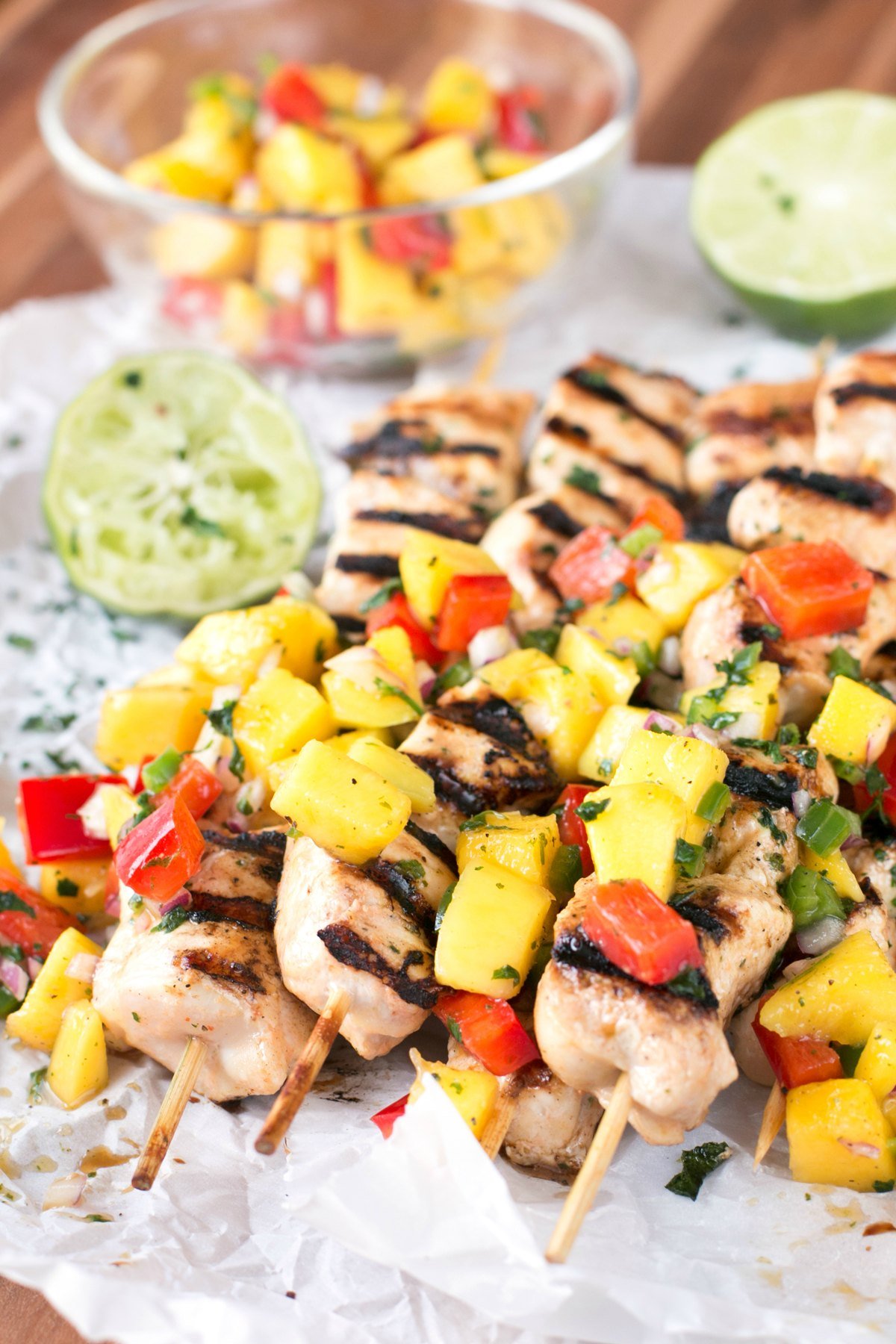 MANGO CHICKEN SKEWERS INGREDIENTS
There are three parts to this recipe – the chicken, the marinade, and the mango salsa.
For the chicken, I prefer to use chicken breasts. But you can use chicken thighs too.
Marinade Ingredients:
Orange juice
Garlic
Sriracha
Lime juice
Agave
Olive oil
Salt
Black pepper
Cilantro
Mango Salsa Ingredients:
Mango
Red bell pepper
Red onion
Jalapeno
Cilantro
Lime juice
Salt
HOW TO MAKE MANGO CHICKEN SKEWERS
The entire recipe is in the printable recipe at the bottom of the post. But first, here is a quick overview of it, along with my tips!
#1 Pre-Soak the Wooden Skewers
To start this recipe, make sure you set aside your skewers to soak for at least 15 minutes prior to adding to the grill.
#2 Blend Together the Marinade Ingredients
Using a food processor or blender, mix together all of the marinade ingredients until smooth and well combined.
Pour half of this marinade into a container and set aside for brushing on the meat as it grills.
#3 Marinate the Chicken
Pour the remaining marinade into a large storage bag or container along with the chicken and stir or shake to coat. This will go into the refrigerator for a half-hour to marinade.
Tip: Place the bag of chicken into a large bowl to prevent any leaks from spreading in your refrigerator should they happen.
#4 Make the Salsa
While the chicken is marinating, prepare your salsa by peeling and dicing the mango, dicing the bell pepper, jalapeno, and onion, and then mixing together with the lime and salt.
#5 Grill the Chicken Skewers
When you are ready to cook the chicken, clean and start the grill or prepare your grill pan with nonstick spray if needed. Slide the pieces of chicken onto the skewers. These usually fit 4-5 chunks of chicken per skewer. Then place them on the grill or pan.
Cook the chicken for 2-3 minutes on each side turning to create nice grill marks as able. Check to see the temperature has reached a safe 165ºF before removing from the grill and serving with salsa and your preferred sides.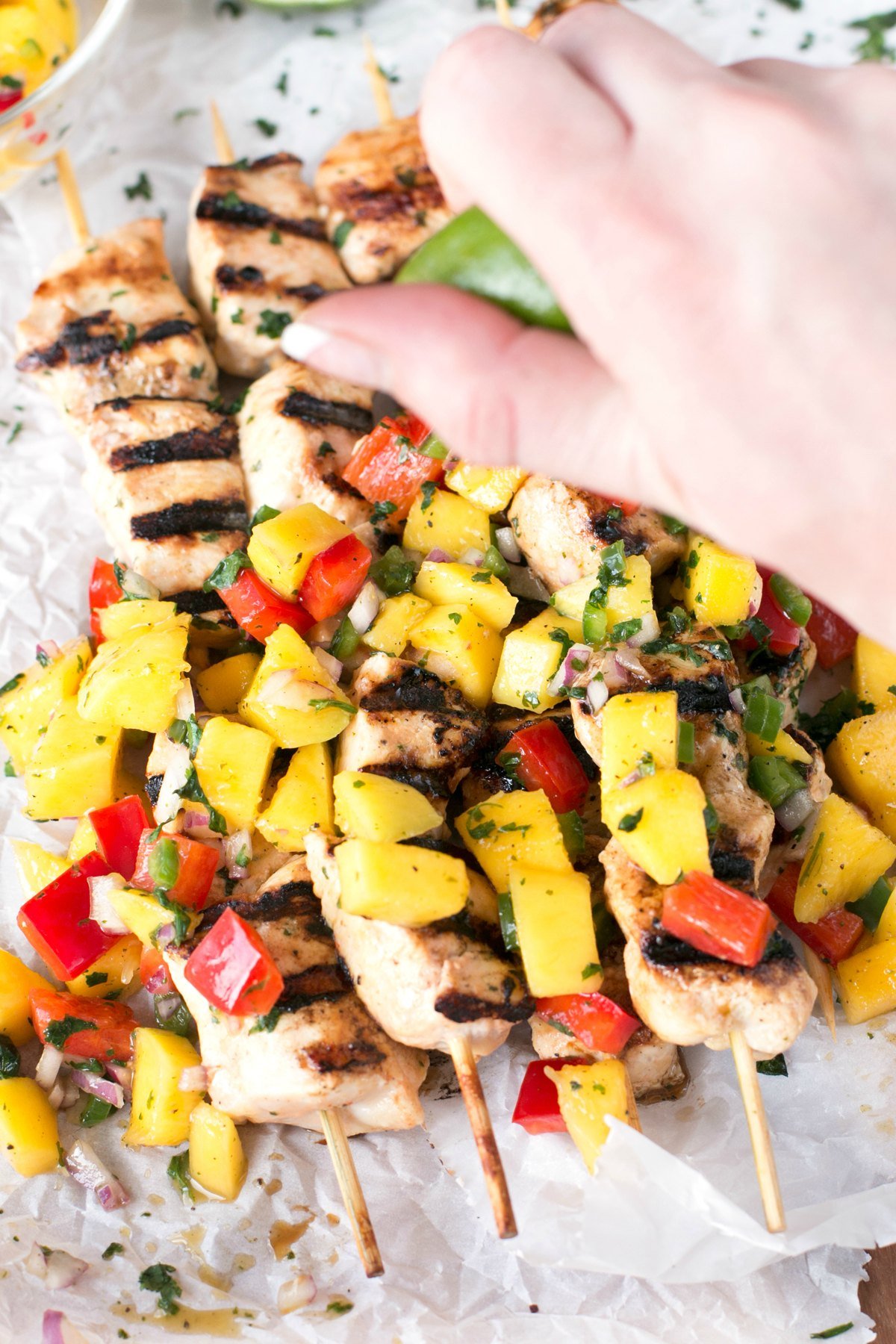 If you try this Mango Chicken Skewers recipe and like it, please use my hashtag to share it with me on INSTAGRAM for a chance to be featured! Also, follow me at Cookin' With Mima on FACEBOOK | INSTAGRAM | PINTEREST for all of my latest social posts and recipes.
MORE SKEWER AND KABOB RECIPES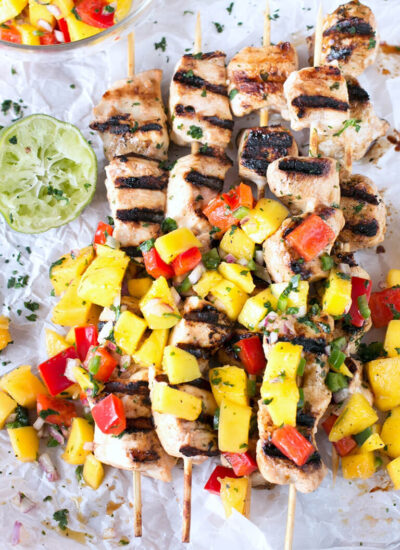 Mango Chicken Skewers
These grilled mango chicken skewers are wonderfully full of flavor and are ready to serve in less than 30 minutes. The grilled chicken kabobs are served with a vibrant and fresh mango salsa for the perfect summer weeknight meal.
Ingredients
2

boneless

skinless chicken breasts, cut into bite-sized pieces
MARINADE
1/2

cup

of orange juice

3

cloves

garlic

3

Tbsp

Sriracha

4

Tbsp

lime juice

1

Tbsp

agave

2

Tbsp

olive oil

1/2

tsp

salt

1/2

tsp

black pepper

1/2

cup

chopped cilantro
SALSA
1 1/2

cups

chopped mango

1/2

red bell pepper

chopped

1

jalapeno

chopped

1/4

cup

red onion

chopped

3

Tbsp

cilantro

chopped

2

Tbsp

lime juice

1/4

tsp

salt

Fill a shallow baking dish with water. Soak skewers for 15 to 30 minutes.
Instructions
In a blender or food processor, add ingredients for the marinade. Blend until smooth. Reserve 1/2 cup of the marinade for grilling. Add the rest of the marinade to a large ziplock bag. Add chicken, seal and shake to coat the chicken. Marinade in the refrigerator for 30 minutes.

In a medium bowl, stir together ingredients for salsa. Set aside in the refrigerator.

Set aside in the refrigerator.

Make the skewers by adding 4 to 5 pieces of chicken to each skewer.

Heat the grill or a grill pan over medium-high heat. Once the pan is hot, add skewers to the grill. Cook 2 to 3 minutes per side, brushing with the reserved marinade as you cook the skewers.

Once the chicken is cooked through, serve the skewers on a platter topped with the mango salsa.
Notes
If you use wooden skewers, be sure to soak them in water before using them on the grill.
Cut the chicken into even pieces so that it cooks evenly.
Don't marinate the chicken for longer than 3 hours. The acid can cause the chicken to deteriorate if you leave it for too long.
The mango salsa can be made ahead of time and kept covered in the fridge for up to 3 days.
Nutrition
Serving:
4
g
|
Calories:
271
kcal
|
Carbohydrates:
15
g
|
Protein:
22.2
g
|
Fat:
14
g
|
Saturated Fat:
3.4
g
|
Cholesterol:
65
mg
|
Sodium:
439
mg
|
Fiber:
2.2
g
|
Sugar:
9.8
g