My family is a HUGE fan of Orange Chicken. We used to eat that out all the time especially at Panda Express, but then I said to myself why not make it at home? At least I know what's in it and save so much money! Then I finally made this Easy Orange Chicken Recipe at home and it was amazing!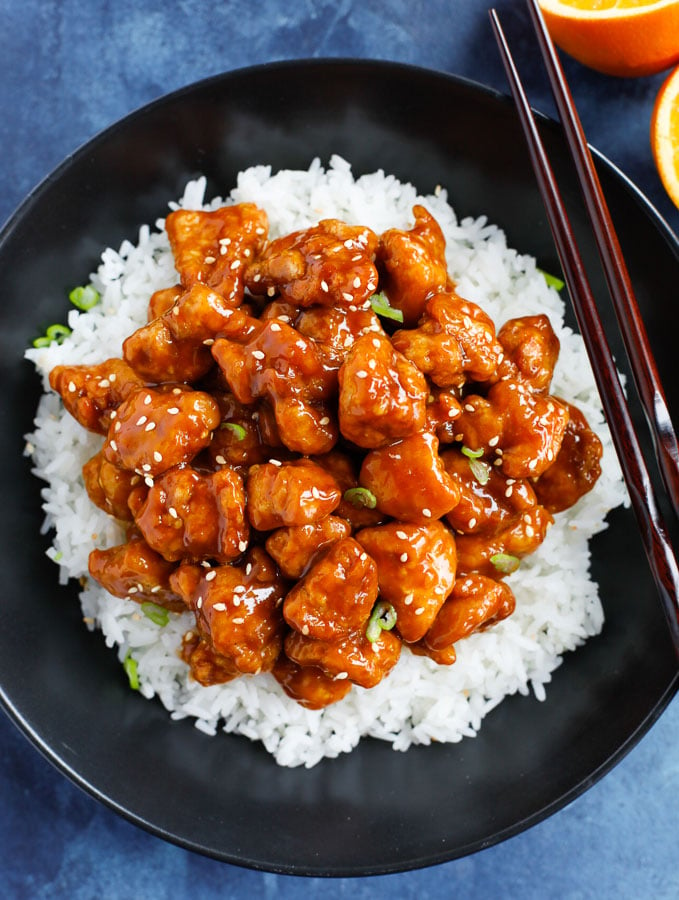 EASY ORANGE CHICKEN RECIPE
HOW TO MAKE ORANGE CHICKEN SAUCE
Before preparing the sauce, I prefer that you fry the chicken first and have that ready. I included instructions below. Once the chicken is ready, prepare the sauce.
This to me is the most important part of the whole dish. Getting the right orange chicken sauce flavor completes this dish! You are welcome to buy store bought but why would you when you can easily make this at home? It's super easy. The orange chicken sauce requires a few ingredients.
MAIN INGREDIENTS YOU WILL NEED:
Orange juice: I like using fresh squeezed orange juice for this recipe but you are welcome to use store bought squeezed orange juice.
Soy Sauce: Grab the low-sodium. Can replace with amino liquids.
Vinegar: You can use rice vinegar or regular white vinegar.
Spices: Black pepper.
Thickening Agent: Corn Starch.
Sweetener: Brown sugar.
Herbs: Garlic and grated ginger.
Spicy: If you would like to make the recipe spicy, you can always add cayenne pepper or chili flakes to the sauce. (optional)
Oil: Vegetable or can use sesame oil. I am not a huge fan of sesame oil's taste so I opt out and use vegetable oil. You can also use tasteless coconut oil.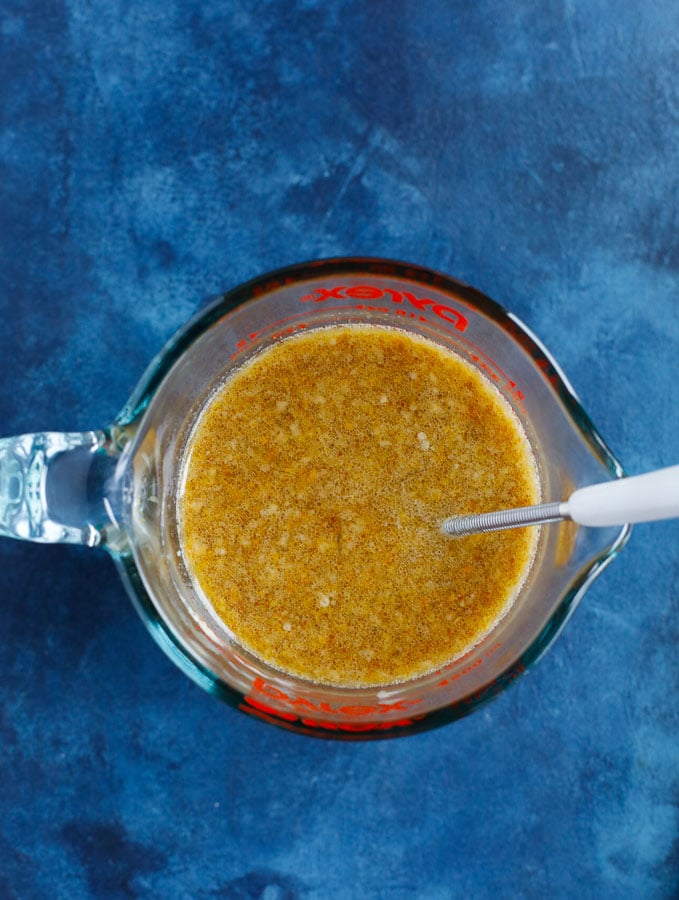 To prepare the orange chicken sauce, bring all the sauce ingredient together in bowl or cup and whisk to well.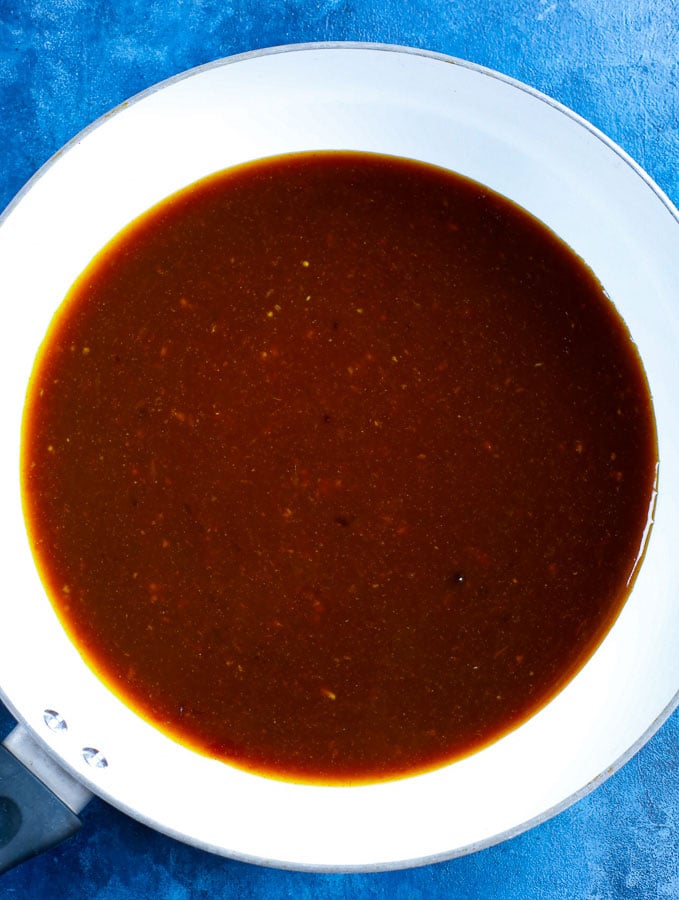 Heat up a skillet or frying pan and simmer the sauce on medium-low heat until it thickens up.
HOW TO MAKE THE EASY ORANGE CHICKEN RECIPE
To prepare the chicken, cut the boneless chicken thighs or breast into small pieces, about 1/2 inch long. You do not want the pieces to be too big. Toss the chicken pieces in a bowl and coat with the flour, corn starch, black pepper, onion powder, salt and ginger powder. I also add a little bit of paprika to make the color of the chicken come out a little more orange after frying.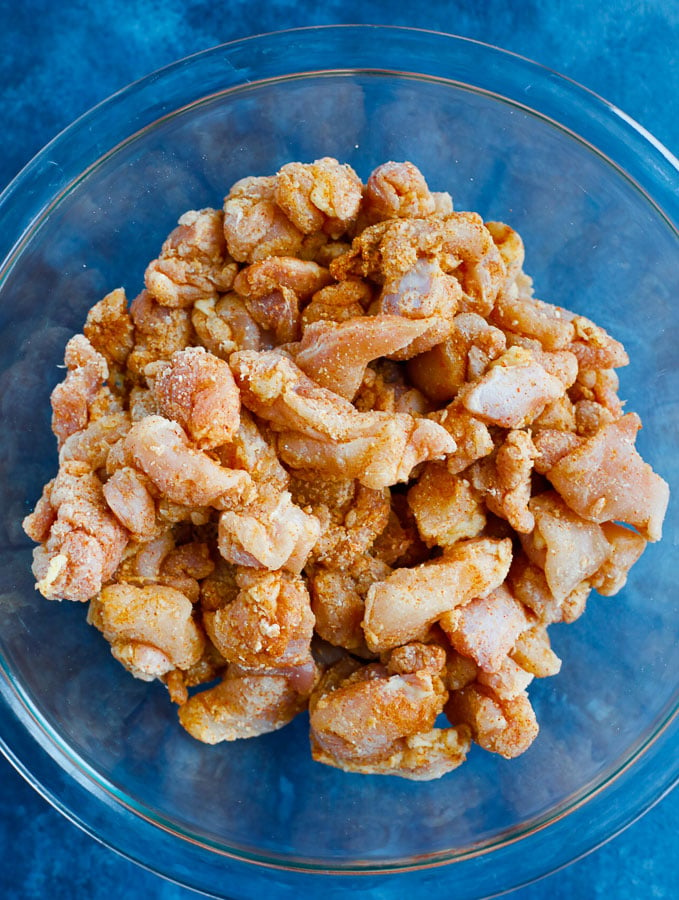 In a deep fraying pan, fry the pieces of chicken leaving some space between them to avoid over crowding. They will only need to be fried for about 2-4 minutes at the most until golden brown, because the pieces are small. If you cut them bigger than 1/2 inch cubes, add more cooking time.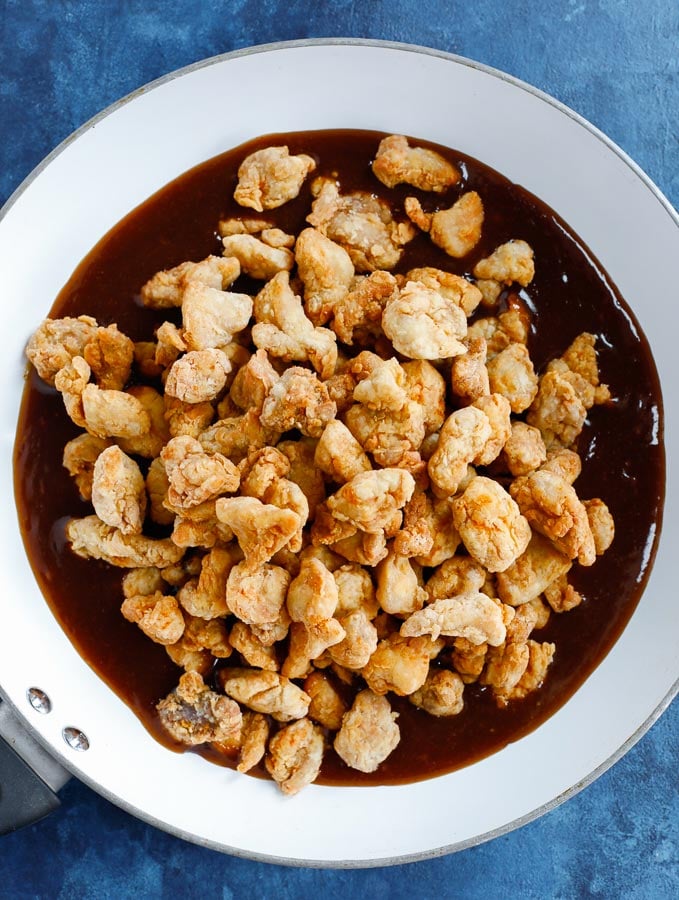 Once the chicken is done cooking, drain well using a sieved spoon and transfer over to the cooked sauce. Toss well with the sauce and allow the chicken and the sauce to cook together for another 1-2 minutes.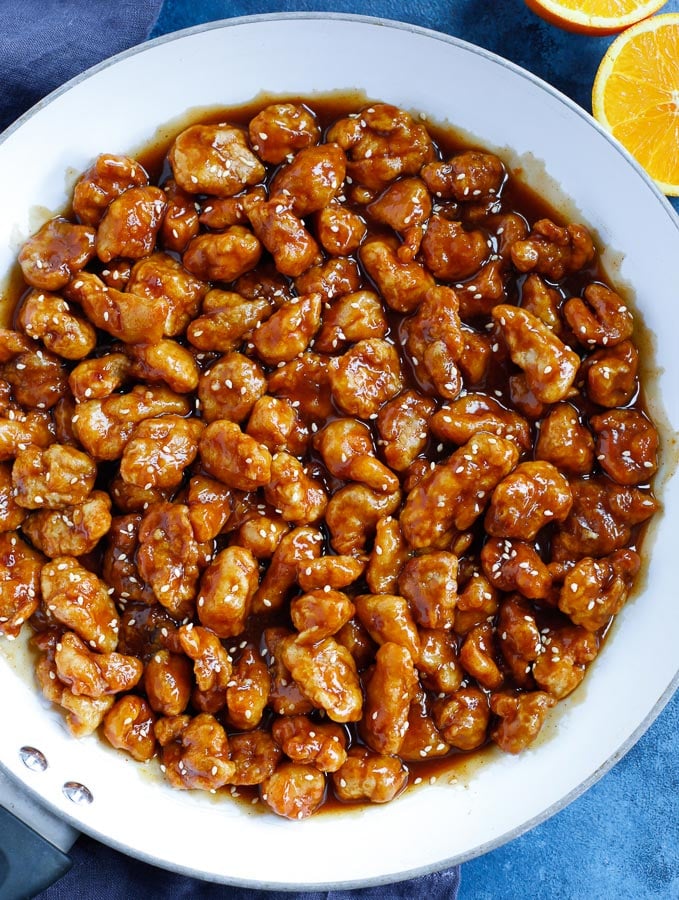 Serve this Easy Orange Chicken Recipe with some homemade Lo Mein Noodles or some white rice. Garnish with sesame seeds and chopped green onions to add color (optional).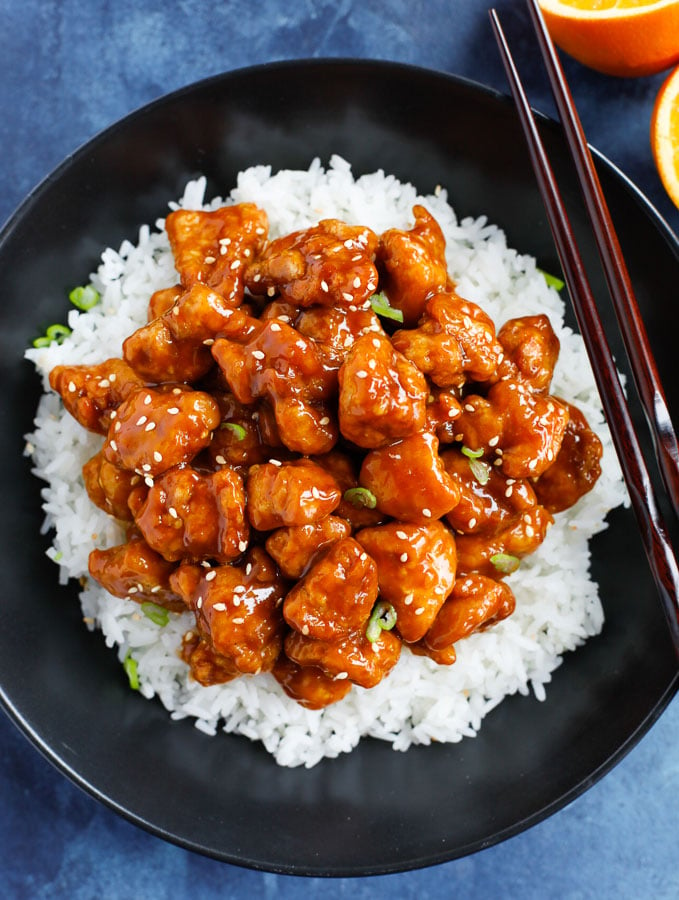 If you try this recipe and you like it, please use my hashtag share it with me on INSTAGRAM for a chance to be featured! Follow me at Cookin' With Mima on FACEBOOK | INSTAGRAM | PINTEREST for all of my latest social posts and recipes.
OTHER RECIPES YOU MAY LIKE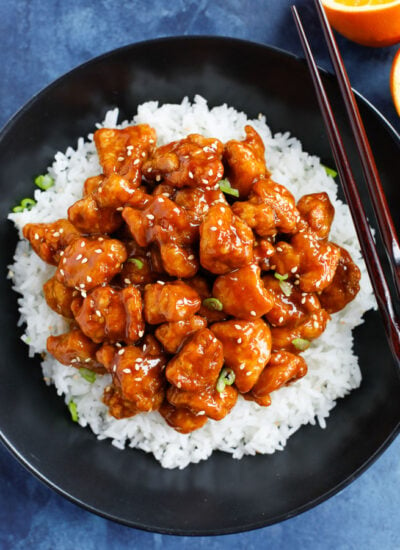 Easy Orange Chicken Recipe
Why buy orange chicken takeout when you can make it at home in less than 30 minutes? Grab this super Easy Orange Chicken Recipe (with homemade sauce).
Ingredients
6

whole

boneless chicken thighs

Or 2 whole chicken breasts

1/4

cup

flour

1

tbsp.

corn starch

1

tsp.

black pepper

1

tsp.

onion powder

1/2

tsp.

ginger powder

1/2

tsp.

salt

1

tsp.

paprika

Vegetable oil for frying
Orange Chicken Sauce
3/4

cup

fresh orange juice

1 1/2

tbsp.

corn starch

2

tbsp.

vegetable oil

3

tbsp.

low sodium soy sauce

1 1/2

tbsp.

rice vinegar

2

tbsp.

brown sugar

1/2

tsp.

grated ginger

1/2

tbsp.

minced garlic

1/2

tsp.

fresh ground black pepper
Instructions
Dice the chicken into 1/2 inch pieces and place in a bowl. Add in the flour, corn starch, salt, black pepper, onion powder, paprika, and ginger powder to coat the chicken.

In a deep frying pan, bring the oil to medium-high heat. Fry the chicken until golden brown. Takes about 2-3 minutes.

Meanwhile, whisk all the sauce ingredients and a bowl. Transfer to a hot skillet or frying pan and cook on low-heat, simmering until the sauce thickens up.

Transfer the fried chicken to the sauce and mix to coat well. Let the sauce and chicken simmer together for 1-2 minutes and then remove from heat.

Serve with homemade Lo Mein Noodles or White rice. Garnish with toasted sesame seeds and chopped green onions. (optional)
Nutrition
Calories:
567
kcal
|
Carbohydrates:
31
g
|
Protein:
30
g
|
Fat:
36
g
|
Saturated Fat:
14
g
|
Cholesterol:
166
mg
|
Sodium:
745
mg
|
Potassium:
527
mg
|
Fiber:
1
g
|
Sugar:
12
g
|
Vitamin A:
832
IU
|
Vitamin C:
24
mg
|
Calcium:
38
mg
|
Iron:
2
mg