This easy to make traditional Lebanese Lentil Soup (Shorbet Adas) recipe is full of flavors, super easy to make, nutritious and very filling. It is made with only 4 simple ingredients you already have in your pantry and only takes 5 minutes of prep. It is one of the most comforting soup to have during the month of Ramadan.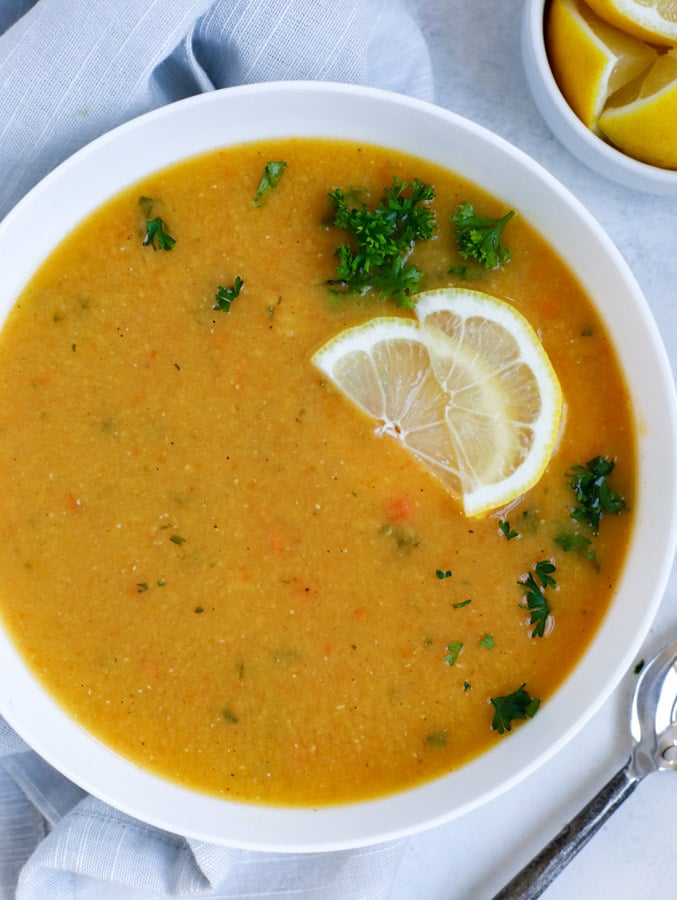 With Ramadan starting this week, I am so excited to share with you some of my favorite dishes that I personally enjoy having during the holy month. This Lebanese Lentil Soup is low in fat and high in protein, it's a hearty vegan soup you will love!
For more Ramadan recipes, be sure to check out my Pistachio Maamoul Cookies and Turkish Bulgur Salad.
Why you'll love this Lebanese Lentil Soup
A healthy soup. This lentil soup is very low in calories, packed with iron and folate and very high in proteins.
Loaded with spices (or not!). This is a versatile soup, it's tasty without spices but it's also a bowl that welcomes spices with open arms! Cumin and 7 spice add many layers of flavor. I am a huge fan of spices, I use them with everything. I like my meals to have bold flavors where the spices stand out. My husband doesn't like spices. He would rather have no spices. So you can always prepare it based on your personal preferences.
An easy soup. Just 5 mins to prep and throw together mainly using kitchen staples, this is a breeze to whip up!
Ingredients you'll need
Red lentils: Use dried red lentils.
Vegetables: Onions, carrots, potatoes.
Water: Nothing special here, just use tap water for the liquid in this soup.
Spices: Cumin, 7 spice, salt & pepper.
Fresh Parsley
Toppings: Fried pita bread and caramelized onions.
How To Make Lebanese Lentil Soup
Prep the lentils: Rinse the lentils in a fine mesh sieve until the water runs clear.
Prep the veggies: Cut the vegetables and place them in a large pot with the lentils.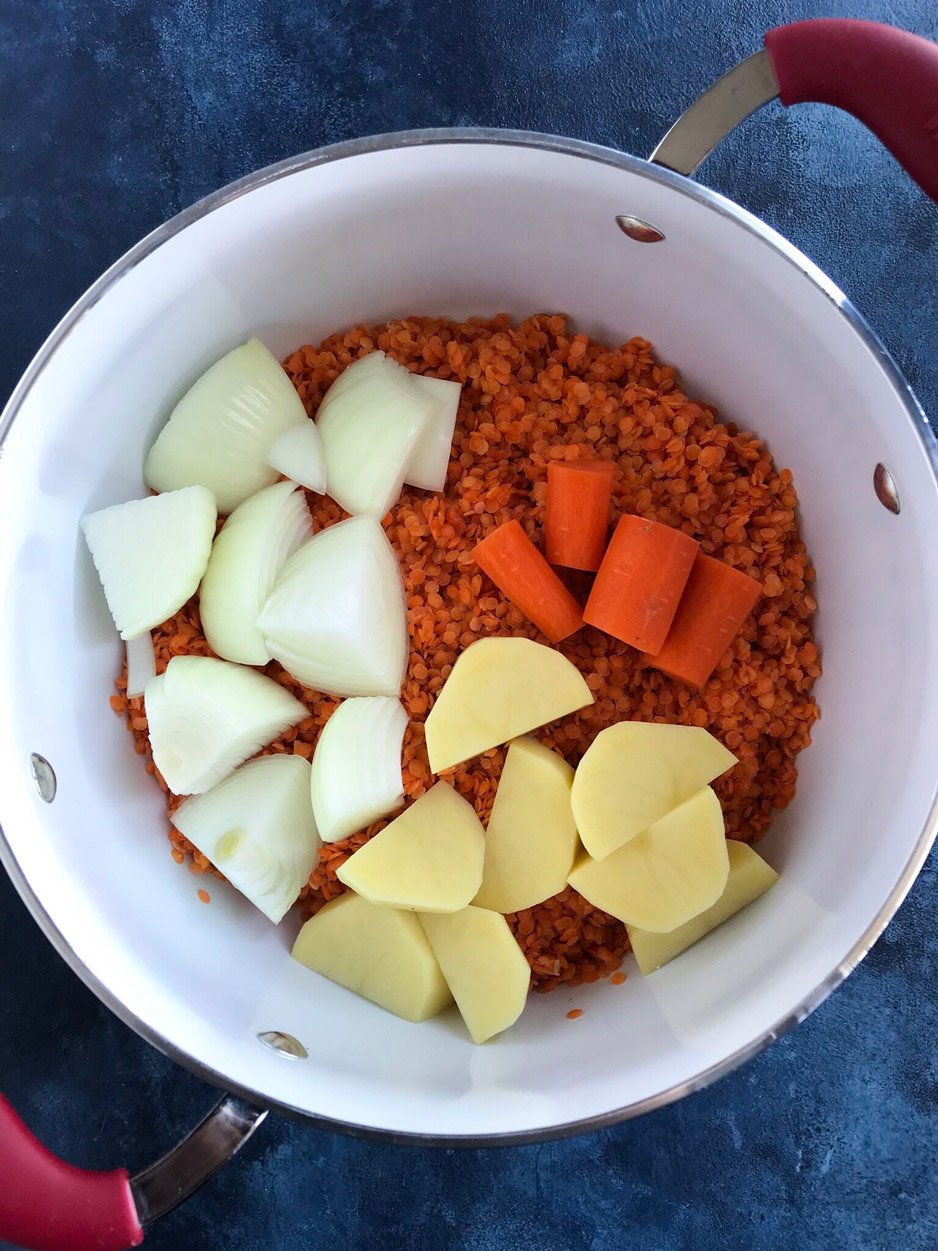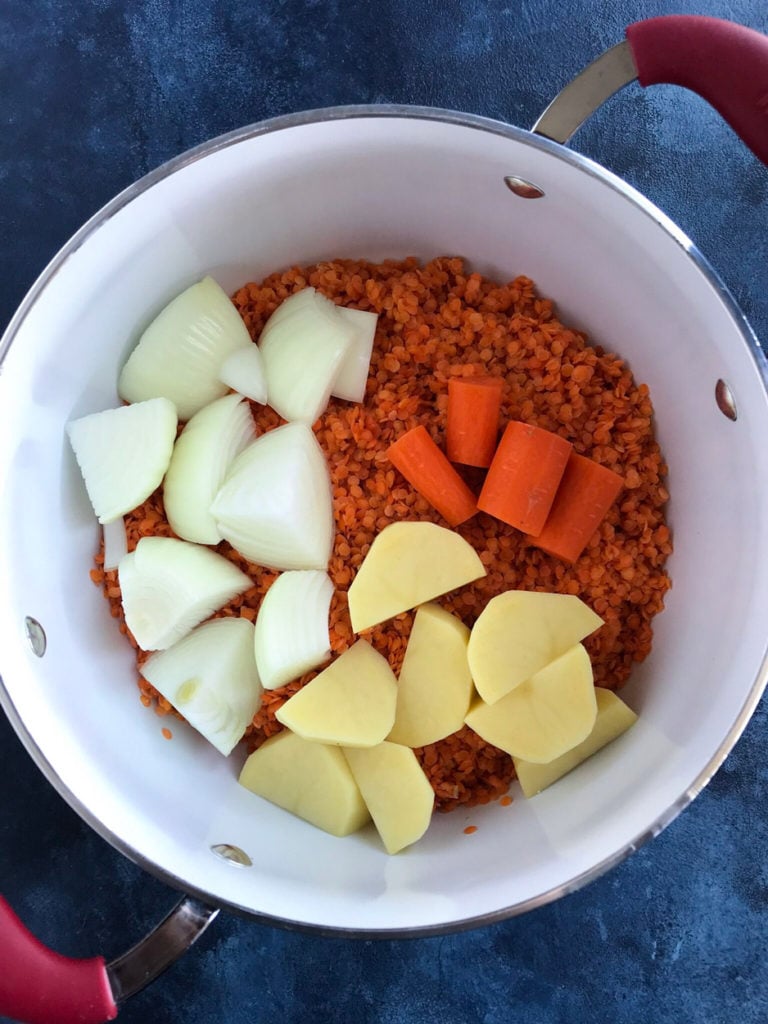 Boil: Add the water and bring the pot to a boil until the lentils and vegetables soften. This will take around 45 minutes to an hour.
Blend: Use an immersion blender to blend the soup into a smooth and creamy texture.
Season: Add back to the pot and stir in the spices and chopped parsley.
Simmer: Cook on a lower heat for another 15 minutes, stirring occasionally.
Stir in the lemon juice and let the soup cool down for 5-10 minutes before serving.

Recipe Notes and Tips
Adjust the amount of water to suit your tastes. You can add more water during cooking and after blending if needed. I usually leave 2 inches of water above the settled lentils.
Mix the spices with water before adding them to the soup. Mix the spices with 2 tablespoons of water, it will help the combine easier so you don't end up with clumps of spices.
Swap out golden potatoes for sweet potatoes or butternut squash. If you want a flavor and texture twist!
Add some greens. If you want to add some more veggies, toss in some swiss chard or kale.
Add salt to taste. Taste the soup once you've blended it and add more if you like.
Give it a spicy kick! top the soup with some crushed red chili flakes for a hit of spiciness.
Make the soup in a heavy bottomed pan or dutch oven. They will distribute the heat more evenly so are less likely to form hotspots than can burn the soup.
Use an immersion blender to blend the soup. This is the easiest way, but you can also ladle the soup into a stand blender in portions. Just be careful as it will be very hot.
FAQ's
What is Lebanese Lentil Soup (Shorbet Adas)?
This soup is a must have in Ramadan for my family. There are many versions to this soup based on where you come from. I am sharing the basic version. No cream or anything. But I do add some extra spices in there that I personally like.
Is Lentil Soup healthy?
Absolutely! Lentil soup is soup-er healthy(!). Lentils are a great source of plant-based protein and packed with vitamins and minerals, like iron and folate. As proteins go, they're a very affordable too!
Can you make it ahead of time?
This soup is great to make ahead of time, perfect for easy to grab meals! Let the soup cool to room temperature and then place it an airtight container and it will keep well in the fridge for around 4 to 5 days. You can reheat the soup on the stovetop or in the microwave.
Can you freeze it?
Yes, this soup freezes really well, so be sure to make a double batch! Let it cool to room temperature before freezing in an airtight container or freezer bags. Thaw the soup in the fridge overnight before reheating on the stovetop. You may need to add a little water to the pot when you reheat it.
Can you use green lentils in this soup?
I prefer the taste of red lentils, but you can absolutely swap them for green lentils if that's what you have. Green lentils may require a slightly longer cooking time.
What goes with this Lebanese Lentil Soup?
This soup is hearty, delicious and excellent on its own but is also great served with some bread, such as pita or sourdough. Also, soup and salads love each other! Serve this up with a leafy salad, such as: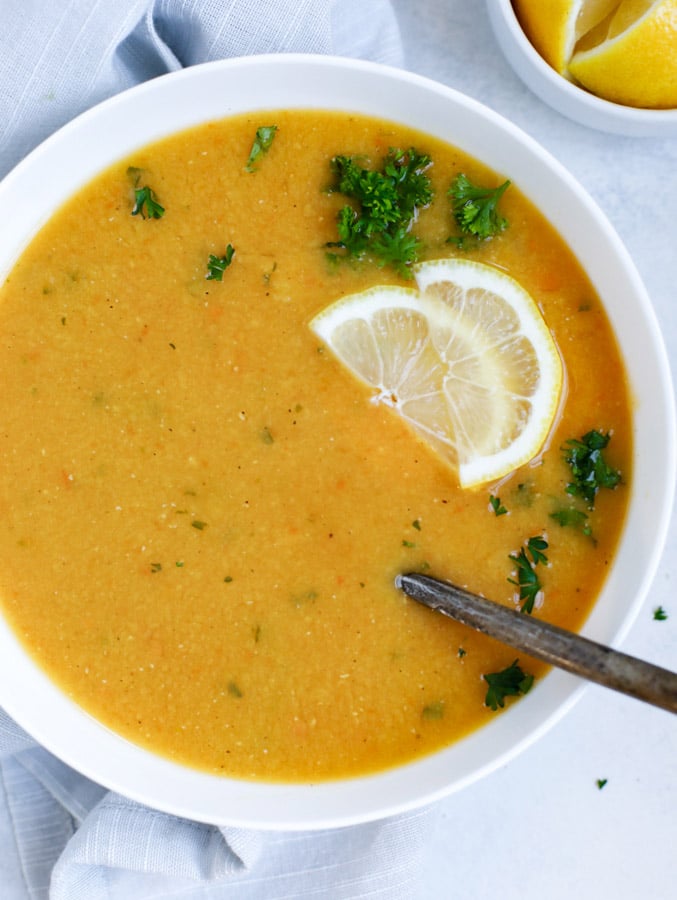 More Lebanese Recipes
I hope you enjoy all the recipes I share with you, including this delicious Lebanese Lentil Soup (Shorbet Adas) recipe. I hope you try it, enjoy it, rate it and share it with your friends and family!
If you try this recipe and like it, please use my hashtag to share it with me on INSTAGRAM for a chance to be featured in my story! Also, follow me at Cookin' With Mima on FACEBOOK | INSTAGRAM | PINTEREST for all of my latest social posts and recipes.