This Lebanese Cheese Rolls (رقاقات بالجبنة, Rakakat Jibneh) is a delicious appetizer served in most restaurants across the Middle East. The recipe is based on the Lebanese version. They are crispy on the outside and gooey on the inside. I grew up eating this appetizer and it always feel like it was the first time because I enjoy it so much!

HOW TO MAKE THE LEBANESE CHEESE ROLLS (رقاقات بالجبنة, RAKAKAT JIBNEH):
The rolls are made with a cheese called Akawi Cheese, which is a very delicious and famous in Lebanon. It's semi salty and it's used to prepare many dishes including desserts. Other options to replace it would be Syrian or Halloumi Cheese (which does not melt). You may have never heard of any of these option before and not sure where to find them. If you google "Middle Eastern grocery stores around me", you will most likely find one. If you absolutely have no other option, you can use Panela Cheese, which can be found at any grocery stores around you.
WRAPPING AND STUFFING THE CHEESE ROLLS: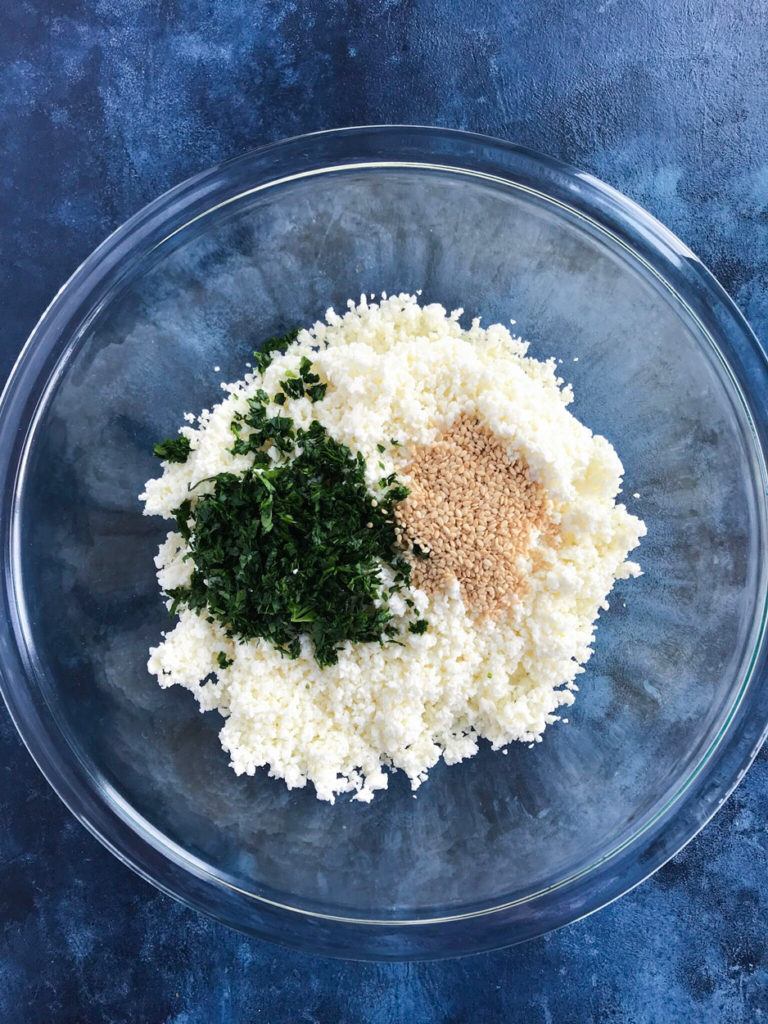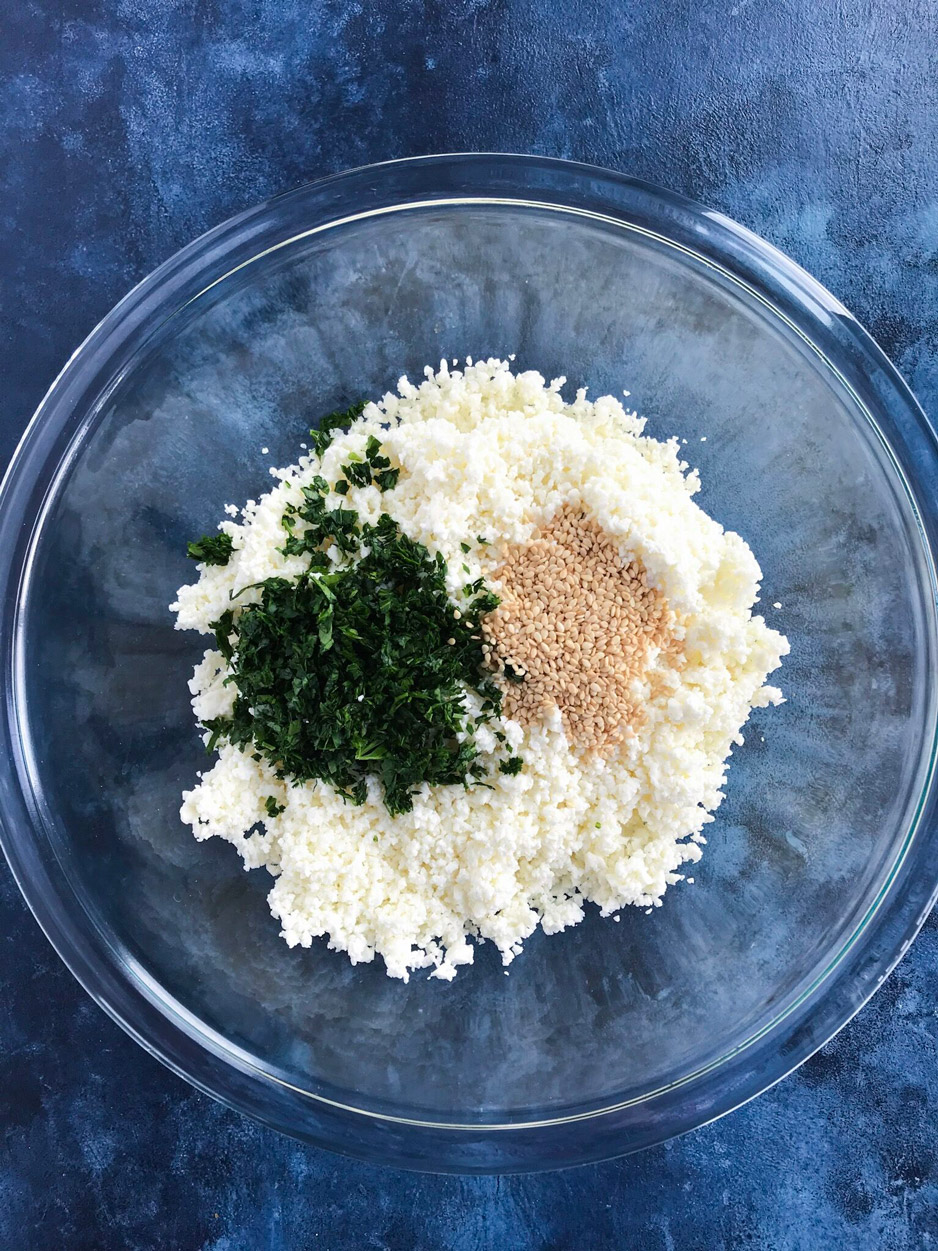 You can use spring roll sheets to wrap the cheese rolls. I find that it works super well with this recipe. Phyllo dough can also be used but the spring rolls are usually easier to handle. The filling consists of a combination of the Akawi Cheese (which I like to shred but you can always cut up into 2 inch along strips that are no thicker that your fingers), toasted sesame seeds, and some fresh herbs like chopped parsley or mint. You can also use just dried mint if you like. If you are using dried mint, use only 1 tsp. instead of 1 tbsp. of fresh chopped mint. That's it. You can wrap and seal the edges of rolls with some egg wash or just water. I have demonstrated the steps in the photo for you.

COOKING THE CHEESE ROLLS:
You can cook the rolls by either frying or baking them. I fry mine most of the time. Heat the oil to medium-high heat and fry them just until they are gold in color. If you prefer baking, you can place the rolls on a non-stick pan, brush each side of the roll generously with some oil or spray it, then bake in the oven on 400 degree for 15-20 minutes (turning it over half way) until both sides are nice and gold on the outside. Remove and enjoy it while it's warm. I personally do not like them cold. It's usually served as a hot appetizer.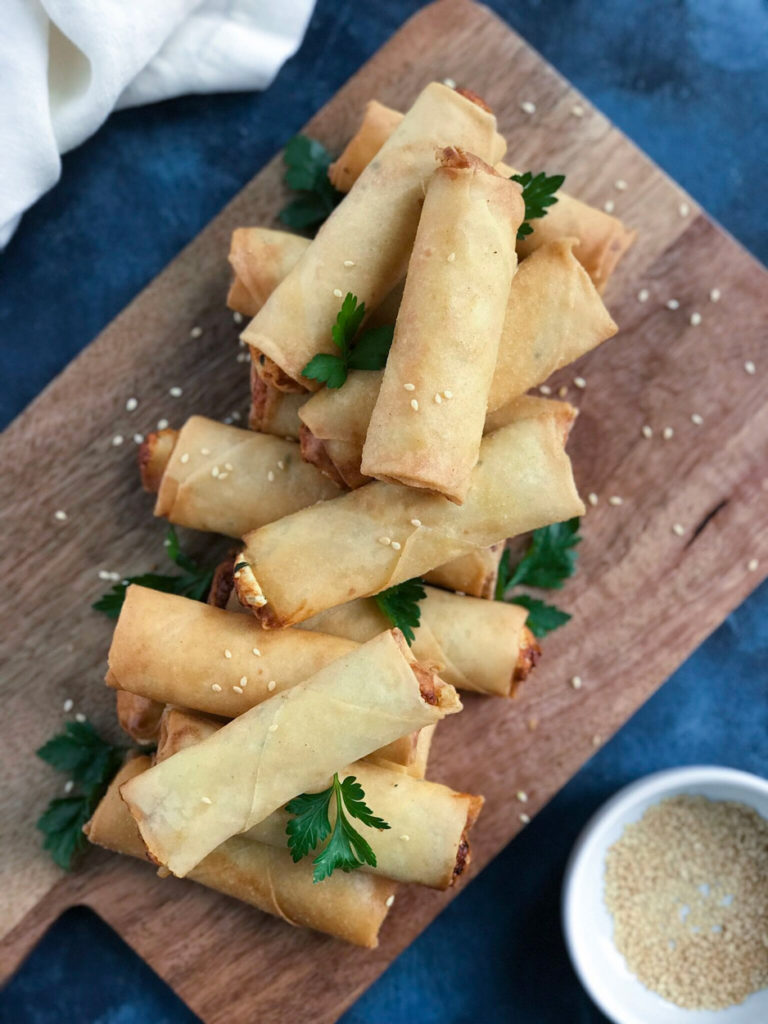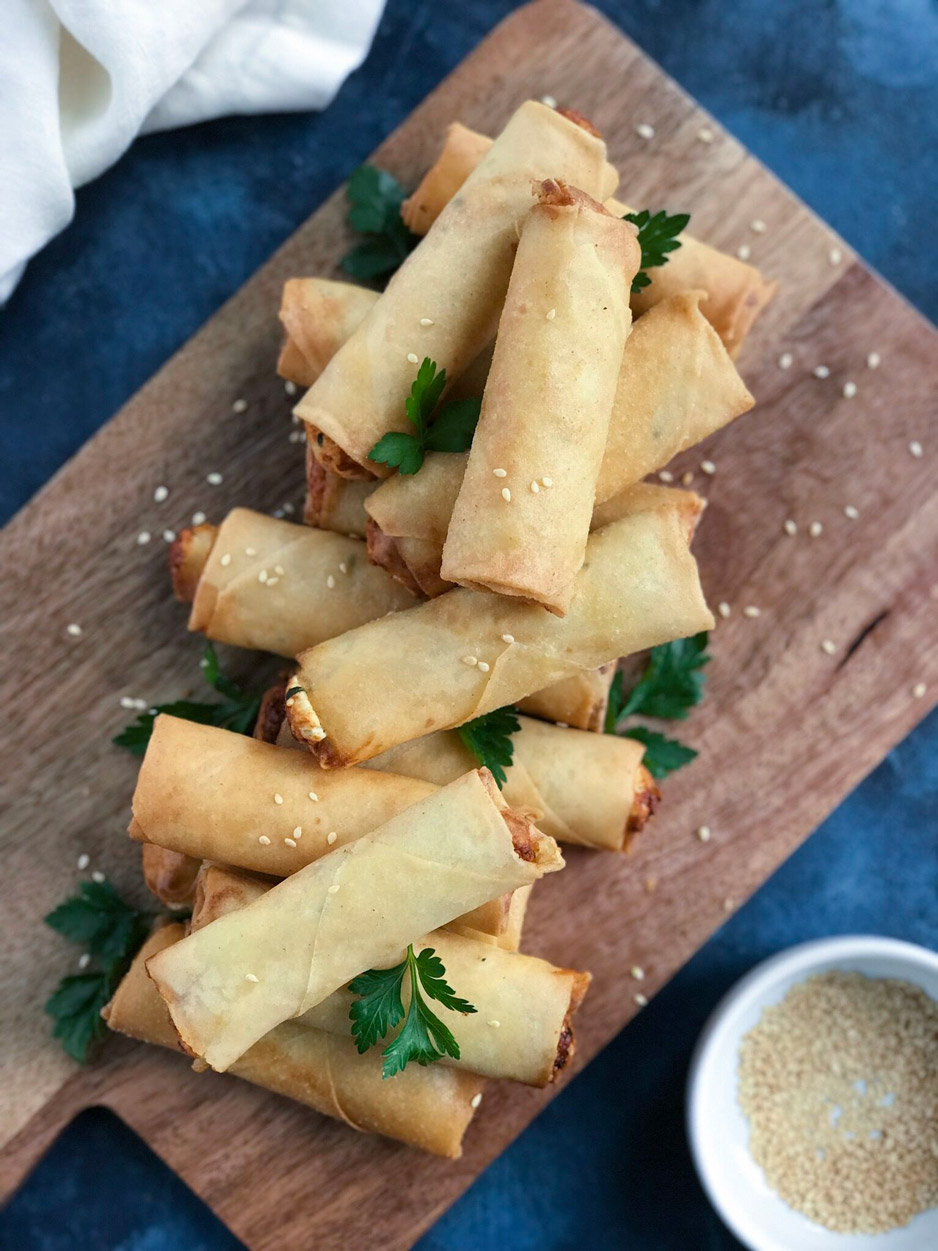 I hope you try and enjoy this delicious Lebanese Cheese Rolls (رقاقات بالجبنة, Rakakat Jibneh) recipe that you can have as an appetizer with other dishes or simply making it any time for breakfast or late night snacking for your family. You an enjoy this with Labneh spread as well. Don't forget to follow me on Instagram and show me your delicious recreations so I can repost them. If you try this recipe, please take moment to Rate it below and Share it with friends and family! Xoxo…
OTHER RECIPES YOU MAY LIKE:
Lebanese Spicy Potatoes (Batata Harra)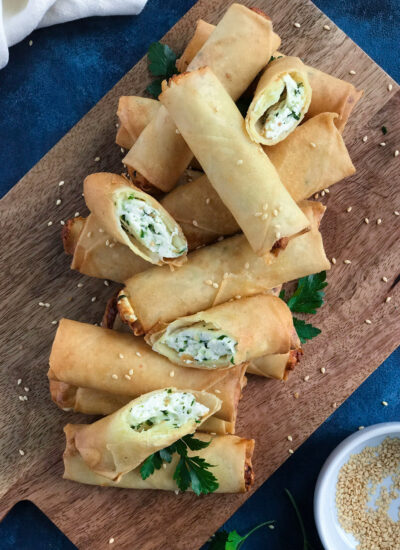 Lebanese Cheese Rolls (رقاقات بالجبنة, Rakakat Jibneh)
These delicious Lebanese Cheese Rolls (رقاقات بالجبنة, Rakakat Jibneh) are made with 3 main ingredients, crispy on the outside and gooey on the inside.
Ingredients
10

oz.

Akawi cheese

shredded or cut into 2 inch long pieces

1

tbsp.

toasted sesame seeds

1

tbsp.

parsley or mint

chopped

12

spring roll sheets

Canola or Vegetable Oil for frying

Water or egg wash for sealing
Instructions
Shred the cheese, chop the parsley or mint.

Place in a bowl and add in the sesame seeds. Mix together to blend well.

Place a full tablespoon (normal spoon) of the cheese mix onto each spring roll sheet, rub the edges with some water or egg wash, nd then fold as shown in photos.

Heat the oil to medium-high heat and fry the spring rolls until they are golden. Typically not more than 3-5 minutes.

Remove and drain on a paper towel and serve while it's warm.
Nutrition
Serving:
1
g
|
Calories:
120
kcal
|
Carbohydrates:
8
g
|
Protein:
8
g
|
Fat:
6
g
|
Saturated Fat:
4
g
|
Cholesterol:
40
mg
|
Sodium:
199
mg
|
Potassium:
30
mg
|
Fiber:
1
g
|
Sugar:
1
g
|
Vitamin A:
176
IU
|
Vitamin C:
2
mg
|
Calcium:
182
mg
|
Iron:
1
mg