You have probably heard of Beef Shawarma a lot, and the first thing that comes to your head is that delicious street sandwich you buy on the go. But a bowl is not a common one you see around. This Easy Beef Shawarma Bowl is just a simple home made dish I enjoy having because it's so simple and can be made super fast.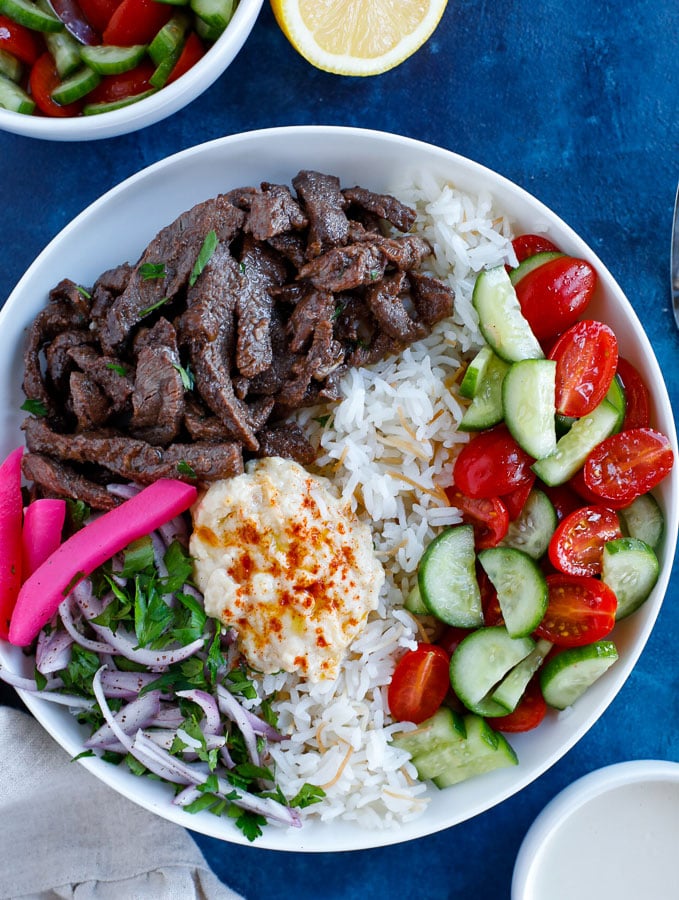 A lot of people might think beef shawarma is the same as Gyro, because they look almost the same thing when set up on the rotating skewer grill, but they are not at all the same. Gyro is a Greek dish, marinated in mostly Greek seasoning. The texture of the beef is also very different from meat shawarma, tending to be more like the texture of luncheon meat, but harder. Shawarma's texture is just like a thin slices of meat. Gyros are served with tzatziki sauce, and shawarma is served with tahini sauce.
HOW TO MAKE THE EASY BEEF SHAWARMA BOWL
Now, this easy recipe is not made with the fancy rotating skewer grill because I don't have that at home. That usually takes lots of work and time to make. You can make a mini mock version if you like in the oven, but that also takes quite a bit of time to cook. What I am making here is just an easy homemade beef shawarma version I grew up eating at home. My mom always made it this way because the other original version was not an option at home.
MARINATING AND COOKING THE MEAT
The beef I like to use for the shawarma recipe is usually tenderloin or fillet. It works very well and it's guaranteed the beef will be soft. You could also use rib eye if you like. I have also see some supermarkets carry thinly sliced stir fry meat, and those work as well. If they are too thin, just thinthem out some more. You will cut the beef into thin strips no longer than 1.5 inches long and as thin in width as you can get. Marinate with the marinade ingredients and let it sit for 30 minutes if you have time. If not it's not required.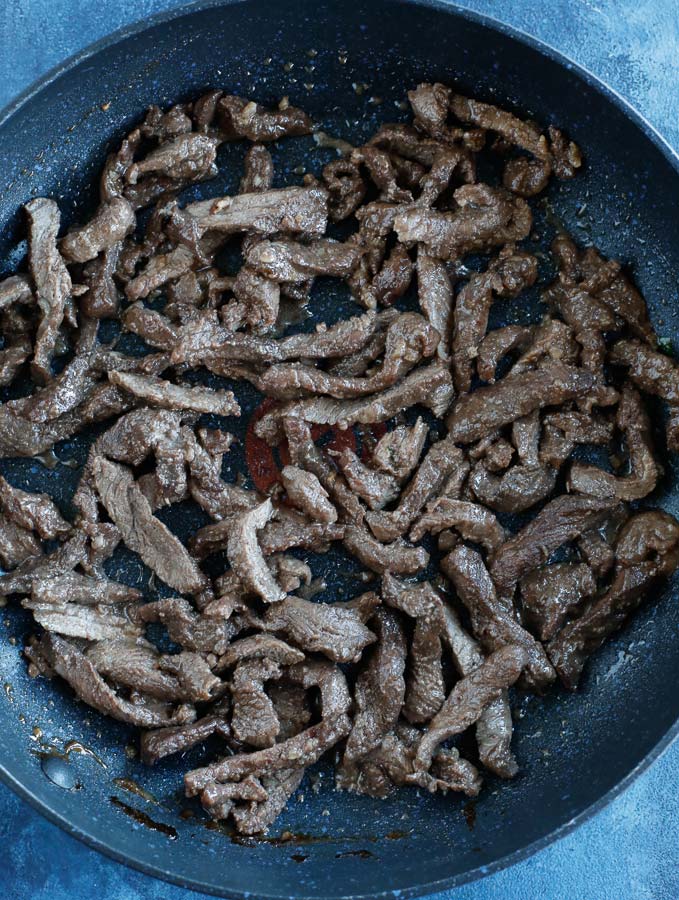 In a skillet, pan sear them until fully cooked and gold in color. You need to use medium-high heat to get the best color for that. That's pretty much it! Cook time will depend on the amount of meat you are preparing.
WHAT TO SERVE WITH THE BEEF SHAWARMA BOWL
I like to keep it super simple and use some of the things that are used in a shawarma sandwich. Mostly at the sandwich stations, there is always a mixture of parsley, onion and sumac. They also always have pickles and pickled turnips. Some stations have hummus as an option, tahini sauce of course, and sliced of tomatoes. Since I served mine with Lebanese vermicelli rice, instead of just putting tomato slices, I made a super simple cucumber and tomato salad that dressed with lemon juice, salt and olive oil. The combinations of sides on this plate go super well with the dish and makes it very pleasing to eat. You can always use different sides to accommodate your preferences.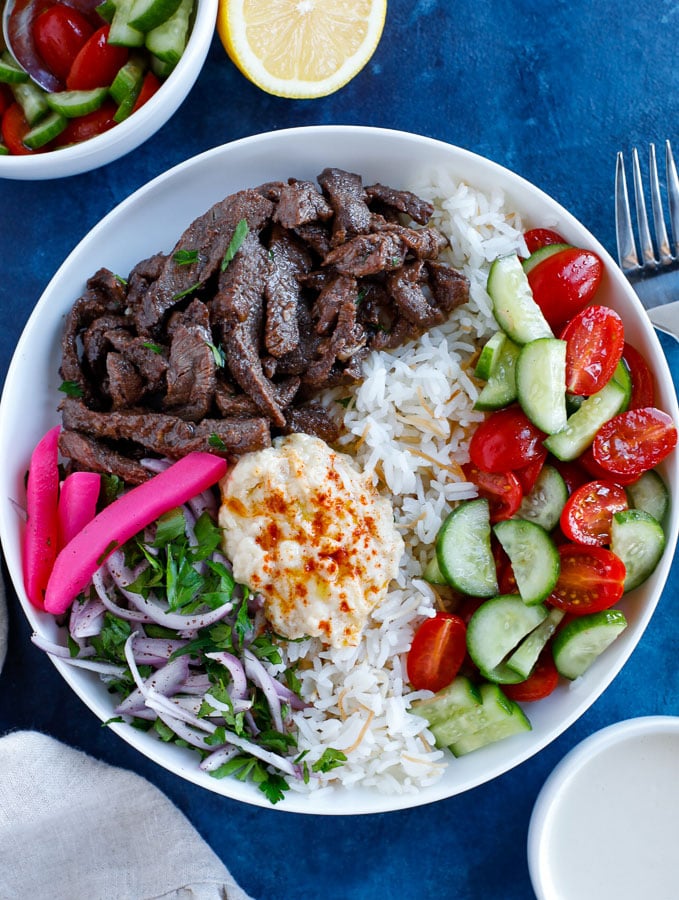 If you want to make this dish as a sandwich, you can place some of the side options onto a pita bread (excluding the rice and salad), some slices of tomatoes, top with tahini sauce and wrap it up to enjoy it. If you want to change things up, try my Chicken Shawarma Recipe.
If you try this Easy Beef Shawarma Bowl recipe and like it, please use my hashtag to share it with me on INSTAGRAM for a chance to be featured! Follow me at Cookin' With Mima on FACEBOOK | INSTAGRAM | PINTEREST for all of my latest social posts and recipes.
OTHER LEBANESE RECIPE YOU MAY LIKE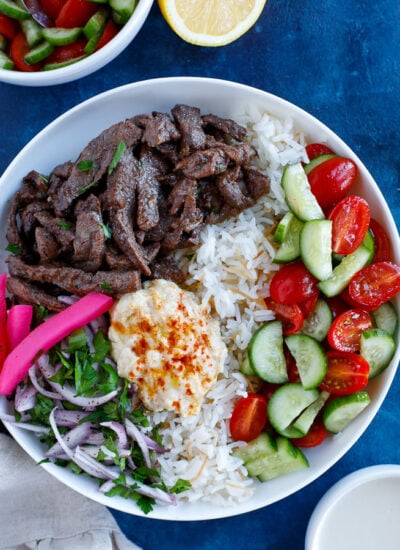 Easy Beef Shawarma Bowl
A simple Lebanese street food recipe made at home into scrumptious bowls.
Ingredients
The Beef
1.5

lb.

tenderloin beef

sliced into smaller strips

2

tbsps.

white vinegar

2

cloves

garlic

minced

1

tbsp.

shawarma spices

store bought or from online

3

tbsps.

vegetable or canola oil

1

tsp.

salt

1

tbsp.

pomegranate molases

optional
Cucumber and Tomato salad
3

small

cucumbers

sliced

½

large

lemon

squeezed

1

tbsp.

olive oil

¼

tsp.

salt

1

cup

tomatoes

halved
Parsley Side Mix
1

bunch

Italian parsley

washed and chopped

½

small

onion

thinly sliced

1

tsp.

sumac
Vermichelli Rice (optional)
1

cup

white rice

1

tbsp.

oil

¼

cup

vermichelli

1

tsp.

salt
Tahini Sauce
¼

cup

tahini paste

1

small

lemon

squeezed

⅛-¼

cup

water

as needed
Other Side Options
Hummus or Baba Ghanouj

Turnip or Regular Pickles
Instructions
Slice and marinate the beef. Heat a skillet and cook the shwarma meat until it optains a nice golden brown color.

Meanwhile, prepare the sides.

If you are making some rice, bring a pot to medium-high heat and fry the vermichelli with the oil. Pour in the washed rice and mix together. Saute the rice for a couple of minutes and then add in 1.5 cups of water as well as the salt. Once the water starts boiling, allow some of the water to evaporate. Once the water goes down a little, cover the rice and keep on low heat to cook for 15-20 minutes

Once everything is ready, prepare your bowls and enjoy!
Nutrition
Calories:
725
kcal
|
Carbohydrates:
12
g
|
Protein:
35
g
|
Fat:
60
g
|
Saturated Fat:
18
g
|
Cholesterol:
119
mg
|
Sodium:
692
mg
|
Potassium:
904
mg
|
Fiber:
3
g
|
Sugar:
4
g
|
Vitamin A:
396
IU
|
Vitamin C:
32
mg
|
Calcium:
67
mg
|
Iron:
5
mg