Your taste buds are going to love you when you learn how to Grill NY Strip Steak with herbs using my powerful recipe. Oregano, thyme, rosemary, garlic, salt, and pepper combine to create a tender and flavorful steak that melts in your mouth. This simple grilled steak recipe is going to become a favorite go-to meal when you are craving red meat.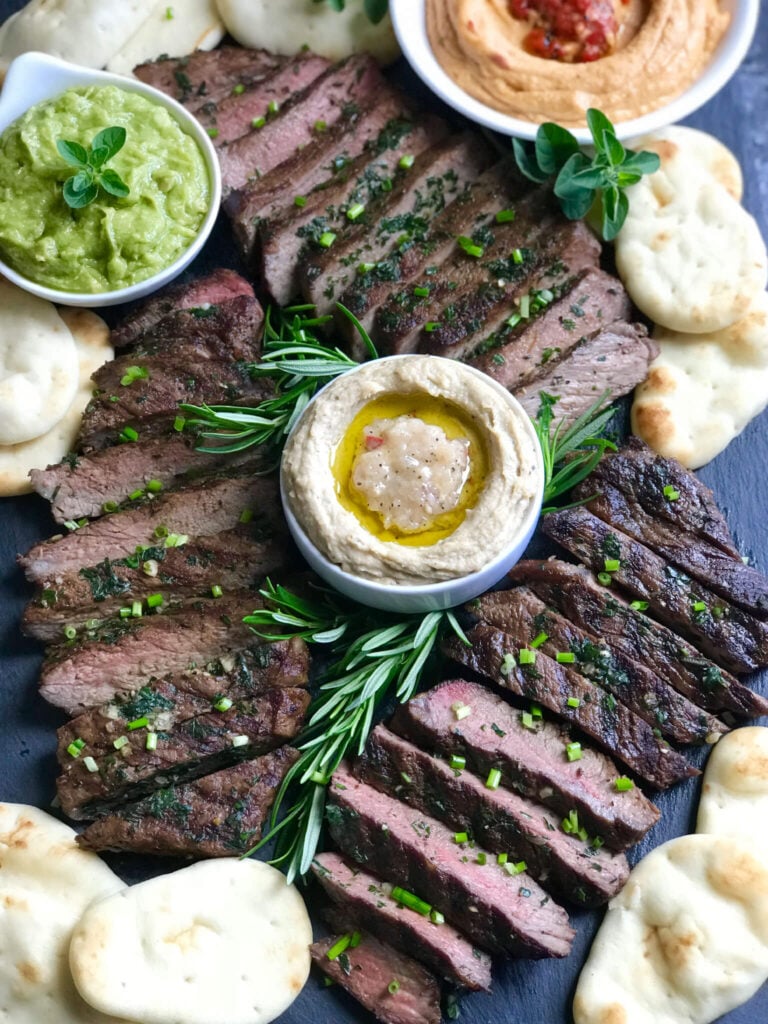 GRILL NY STRIP STEAK WITH HERBS
There is no other meat you can cook that will be as deliciously tender as a good frilled steak. This is my go-to preparation because it has my favorite herbs and butter combination. If you love a rich and juicy steak, this recipe is going to become a beloved meal for your family.
Steak is something many avoid on a regular basis due to cost, but a NY strip steak can often be both affordable and tender when prepared correctly. The next time you see a good price on NY strip steak, make sure to grab extra and put away for making this recipe later down the road.
Tip: Leftover steak is ideal for sandwiches, wraps, or even to top salads the next day!
DO I HAVE TO USE FRESH HERBS FOR THIS GRILLED STEAK RECIPE?
My preference is obviously to use fresh herbs whenever possible. If you do not have access to fresh herbs, you can use the equivalent amounts of dried herbs, but know that the flavor will not be as fresh and bright. The steak will still have a deliciously rich flavor, but you may want to combine earlier and a bit longer to soften the dried herbs and help them release more flavor during cooking.
WHAT SHOULD I SERVE WITH THIS STEAK?
What's better than a juicy steak recipe with lots of delicious sides? When you grill NY strip steak, you want to let it be the focus on your plate. That doesn't mean you have to skip out on other amazing flavors!
I love serving steak with simple sides that compliment the flavors while not overpowering the steak. Some of my favorite sare dips like this Roasted Garlic Hummus, Roasted Red Pepper Hummus, Fresh Guacamole, and mini naans. They add flavor to the meal, and a different creamy texture, but they are also simple alongside the flavor-packed steak.
Another great option alongside this steak is my oven-roasted parmesan herb potatoes.
INGREDIENTS
NY Strip Steak
Black Pepper
Sea Salt
Olive Oil
Butter
Oregano
Thyme
Rosemary
Garlic
HOW TO GRILL NY STRIP STEAK WITH HERBS
For this recipe, I like to season my steak with salt and pepper and let it rest for a few minutes before placing it in a hot pan with olive oil and butter. You will begin cooking turning halfway through cook time to sear both sides and lock in flavor.
While the steak is cooking, you will mix up your herb topping in a small bowl and set it aside.
Cook to your desired temperature or doneness, then remove from the pan and pour the herb mixture onto the steak.
Let your steak rest for 5 minutes before slicing to serve.
If you try this Grilled Steak With Herbs and enjoyed it, please use my hashtag to share it with me on INSTAGRAM for a chance to be featured in my story! Also, follow me at Cookin' With Mima on FACEBOOK | INSTAGRAM | PINTEREST for all of my latest social posts and recipes.
MORE STEAK RECIPES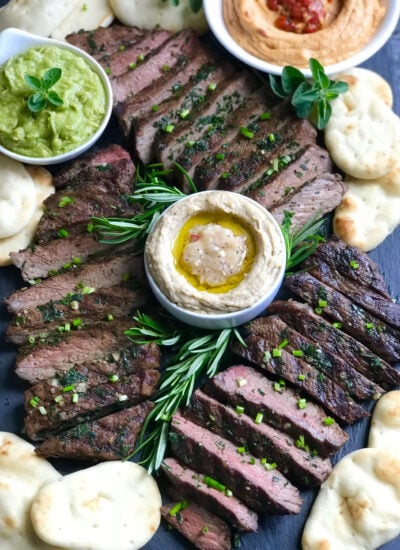 Grilled Steak With Herbs
What's better than a juicy steak recipe with lots of delicious sides? These Grilled Steaks are drenched with fresh herbs and paired with classic sides like these Roasted Garlic Hummus, Roasted Red Pepper Hummus, Fresh Guacamole and mini naans for the perfect dip.
Ingredients
3

Pieces

of Angus Premium Choice NY Strip Steak

Sam's Choice Fresh Ground Pepper

Sams' Choice Fresh Ground Sea salt

1

tps Great Value Organic Extra Virgin Olive Oil

2

Tbsps

Great Value Butter
HERBS MIX
2

tsp

Fresh Oregano

finely chopped

2

tsp

Fresh Thyme

finely chopped

1

tsp

Fresh Rosemary

finely chopped

1

tsp

Fresh Garlic

minced

1

tbsp

melted butter

1

tbsp

Great Value Organic Extra Virgin Olive Oil

½ 

tsp

salt
SIDES
Mini Naans

Marketside Roasted Red Pepper Hummus

Marketside Roasted Garlic Hummus

Marketside Fresh made Guacamole
Instructions
Marinate the steaks with the salt and pepper.

In a hot iron skillet, add the butter and EVOO. Pan sear the steaks until they are perfectly brown and crisp. Cook to the desired level you prefer. Let them rest for about 5 minutes while you prepare the herb mix.

In a small bowl, mix all the herb mix ingredient together.

Slice your steaks and generously brush the buttery herb spread onto the steaks and serve with the sides.
Notes
All of sides items are found in the Marketside Market area at Walmart.