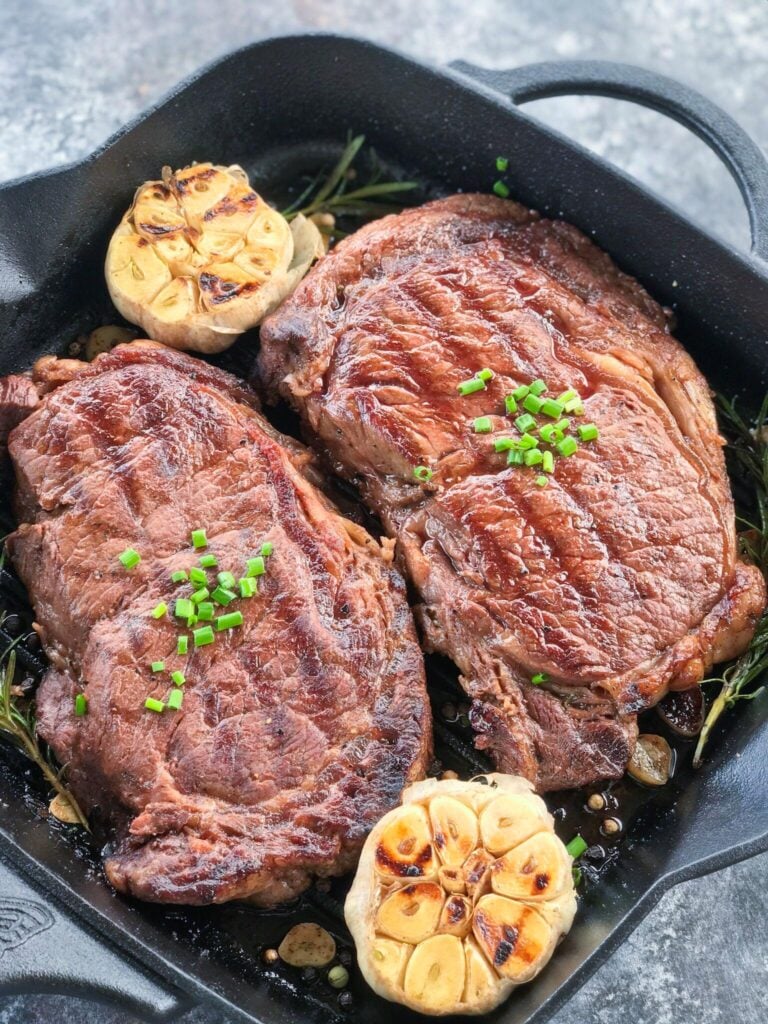 This Simple Skillet Ribeye Steak recipe is just what the name calls it. Simple. It requires very little ingredients and minimal effort. The best part about having a delicious juicy steak is to have the perfect meat that is juicy, tender and flavorful. That's why I love having Ribeye Steaks.
WHAT IS A RIBEYE STEAK?
A Ribeye Steak is juicy and full of flavor with generous marbling throughout. It is also sold bone-in. I usually just stick with the boneless Ribeye Steaks when I am doing indoor grilling or cooking. Due to their exceptional marbling, the steaks are usually super tender and make a perfect choice for steak recipes.
When you go shopping for Ribeye Steaks, make sure you grab the Angus Ribeye Steak or anytime you buy any kind of steak meat in general, always grab the Angus and this is why. Angus Steaks comes from Angus cattle which are known for genes that make meat well marbled, more tender and flavorful. I get mine most from Costco or Walmart. But mostly from Walmart because they have smaller cuts and packages. Their prices are always great as well. Sprouts sometimes has some great cuts as well that are sometimes on sale. So any of those store will be a great choice.
HOW TO MAKKE THE SIMPLE SKILLET RIBEYE STEAK:
This recipe is not rocket science :D. It's so simple and you probably already know how to make it. Marinate the steaks with cracked pepper (fresh ground black pepper) and Sea Salt. Kept it super simple so I can enjoy the full flavor of the steak. I am not a huge fan of steak rub spices. They are usually so salty and I don't like the flavor of the herbs most of them have. I feel like I lose the taste of the actual meat. But I do throw in some fresh herbs into the skillet when I cook my steaks. So what I did here is I heated my skillet on high heat, added 3 tablespoons of real salted butter (Land O' Lakes is a great choice) and threw in some garlic cloves and a couple of stems of fresh rosemary herb. This gives the butter a delicious flavor and adds a nice aroma to the cooking. You then add your steaks and keep the heat on high so the steaks get a nice crispy brown color. Repeat for both side and then reduce the heat to let the steaks cook through to your desired preference.
I love keeping mine somewhere around medium well most of the time. The steaks stay juicy this way and doesn't over cook and dry up. Top with some chives for garnishing. That's about it!
I hope you enjoy this recipe! Don't forget to share it and tag me on my INSTAGRAM page so I can see and repost your delicious recreations on my stories. You can also send the photos to my DM message as well.
ALSO CHECK OUT THESE RECIPES:
One Pot Philly Cheese Steak Pasta
Steak and Potato with Asparagus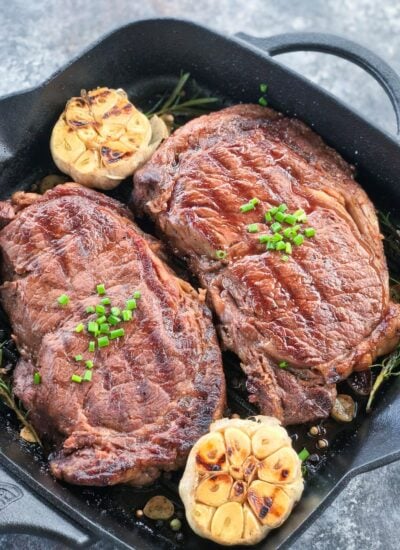 Simple Skillet Ribeye Steak
A delicious steak recipe with very few ingredients to keep the flavor rich and original. This steak is super juicy, tender and flavorful.
Ingredients
24

oz

Angus Ribeye Steak

1

tablespoon

of cracked black pepper

1

tsp

salt

3

tbsps.

full fat pure butter

Fresh rosemary stems

Fresh garlic cloves

cut into large pieces

Chives for garnishing
Instructions
In a high heated skillet, melt the butter and add the garlic and rosemary stems. Let them cook in the butter for about 30 seconds.

Add the steak pieces and cook each side on high heat until they are brown and crisp.

Reduce the head to medium and let them cook on each side for 2-4 minutes depending on the thickness of the steaks. Cook to desired preference.
Nutrition
Serving:
1
g
|
Calories:
709
kcal
|
Carbohydrates:
2.2
g
|
Protein:
74
g
|
Fat:
45.4
g
|
Saturated Fat:
23.1
g
|
Sodium:
1388.1
mg