These Air Fryer Boneless Chicken Thighs are quick, easy, and on your table in less than 20 minutes. Super juicy, with a delicious lemon coating made – just perfect – in your Air Fryer.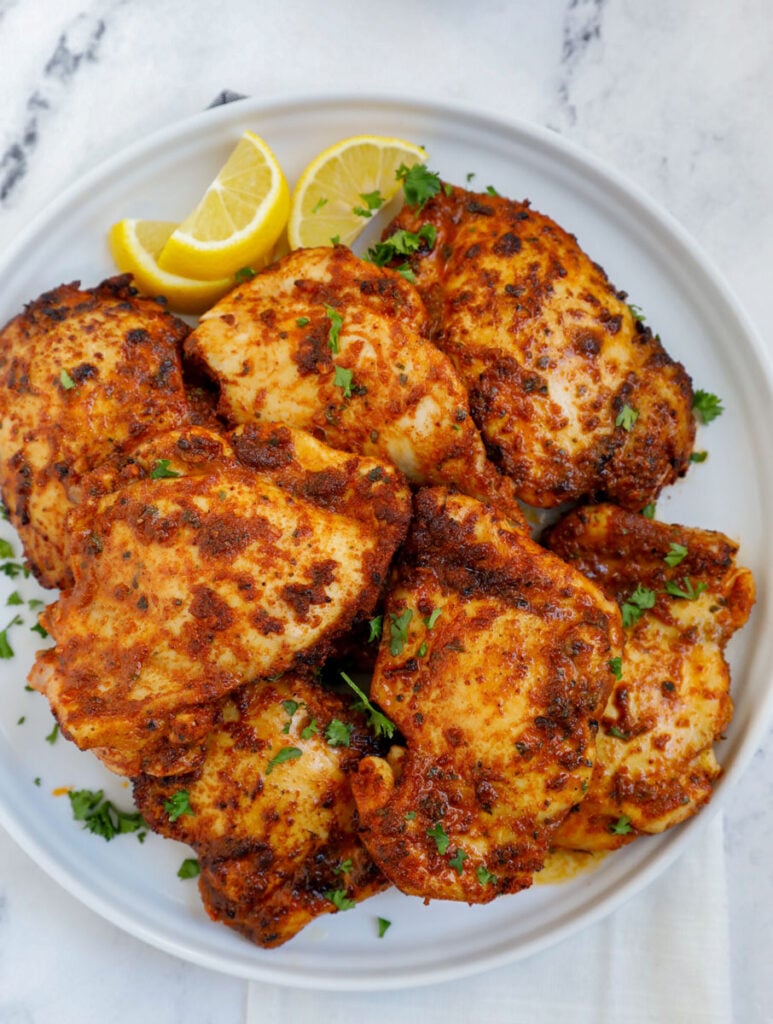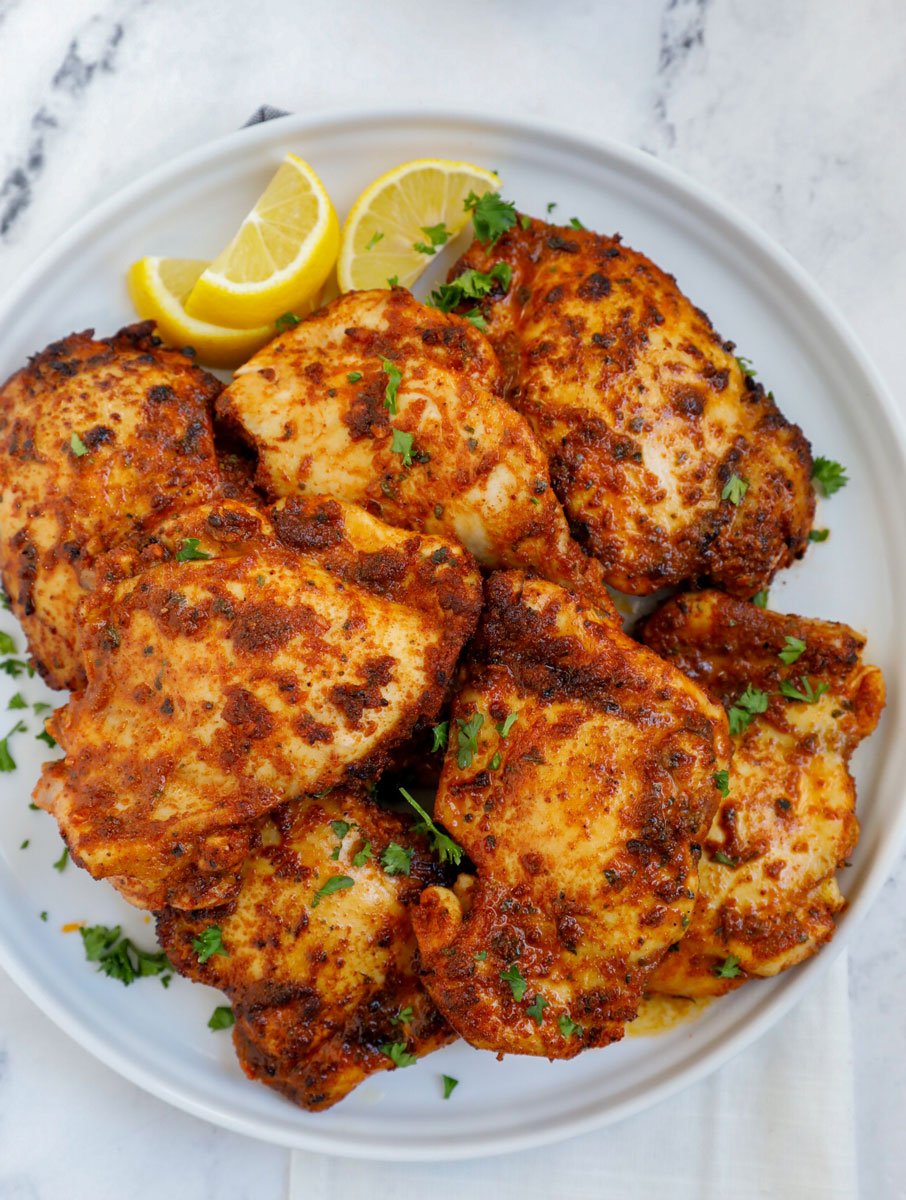 These Air Fried Boneless Chicken Thighs are destined to become your new weeknight favorite. Succulent chicken thighs in a simple and delicious spicy lemon marinade, it's what your air fryer's made for! Serve this easy chicken recipe with your favorite sides for a protein packed, lip smacking meal!
Looking for more chicken recipes? why not also try my Asparagus Stuffed Chicken and my Crispy Baked Chicken Tenders! You can also browse more of my Air Fryer recipes HERE
Why you'll love these Air Fried Chicken Thighs
A delicious chicken marinade. These yummy thighs are coated in an addictive marinade, whip up using lemon juice, paprika, garlic, pepper and onion powder.
Air fryer chicken. Chicken LOVES the air fryers, it comes out melt in the mouth, no grease and ALL flavor!
An easy chicken recipe. Made with a handful of pantry staples, these chicken thighs are on the table in 20 mins.
Chicken Thighs Ingredients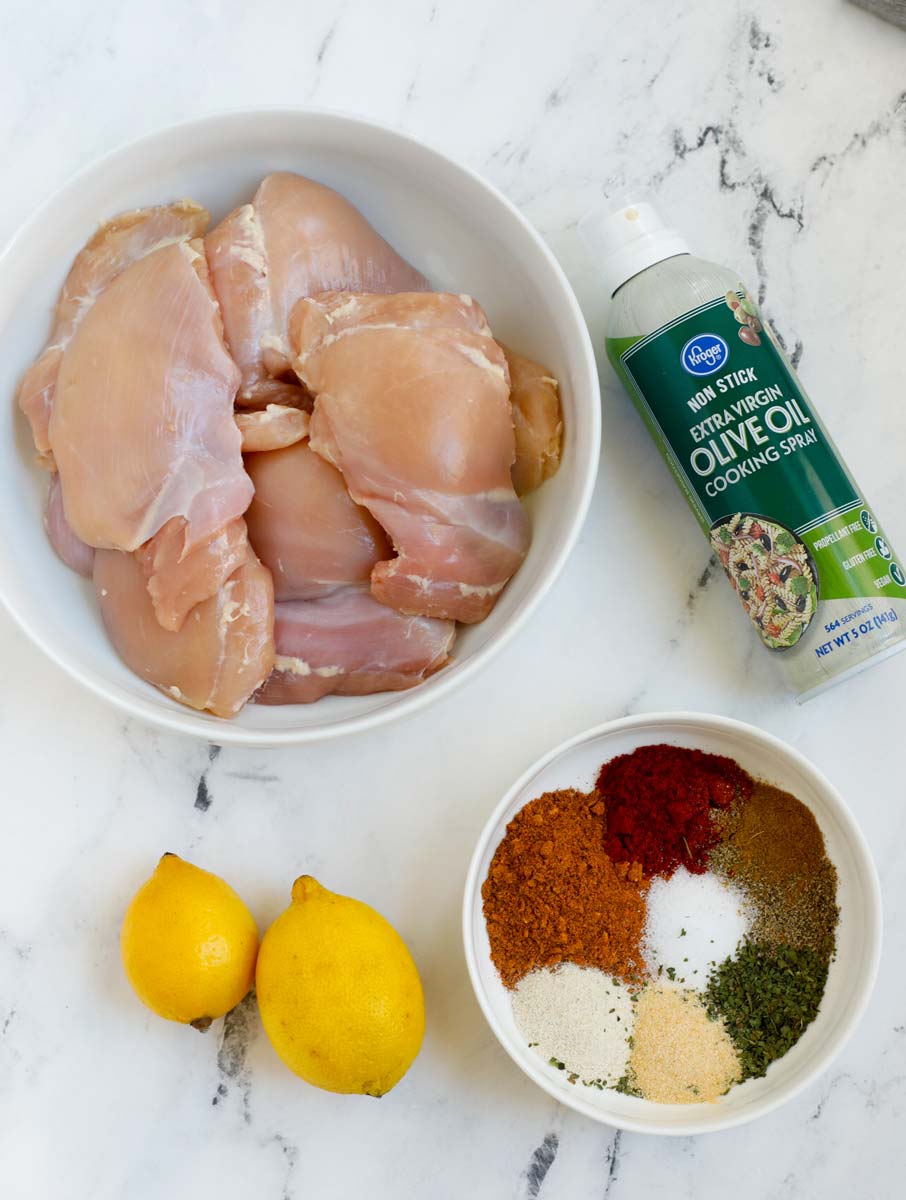 Chicken Thighs– Skinless, boneless preferred to cook quicker. Trim off all fats from the thighs.
Chicken Seasoning: Chili seasoning mix (same as the one you make beef chili with), paprika, garlic powder, cumin powder, onion powder, salt, black pepper and dry cilantro.
Lemons– Always use fresh squeezed lemon juice.
Olive oil spray– to spray the chicken before air frying. It has less calories and fat than adding oil directly to the thighs.
How to Cook Boneless Chicken Thighs In Air Fryer
Marinate the boneless chicken – mix your marinade ingredients in a bowl and coat the chicken for up to 30 minutes.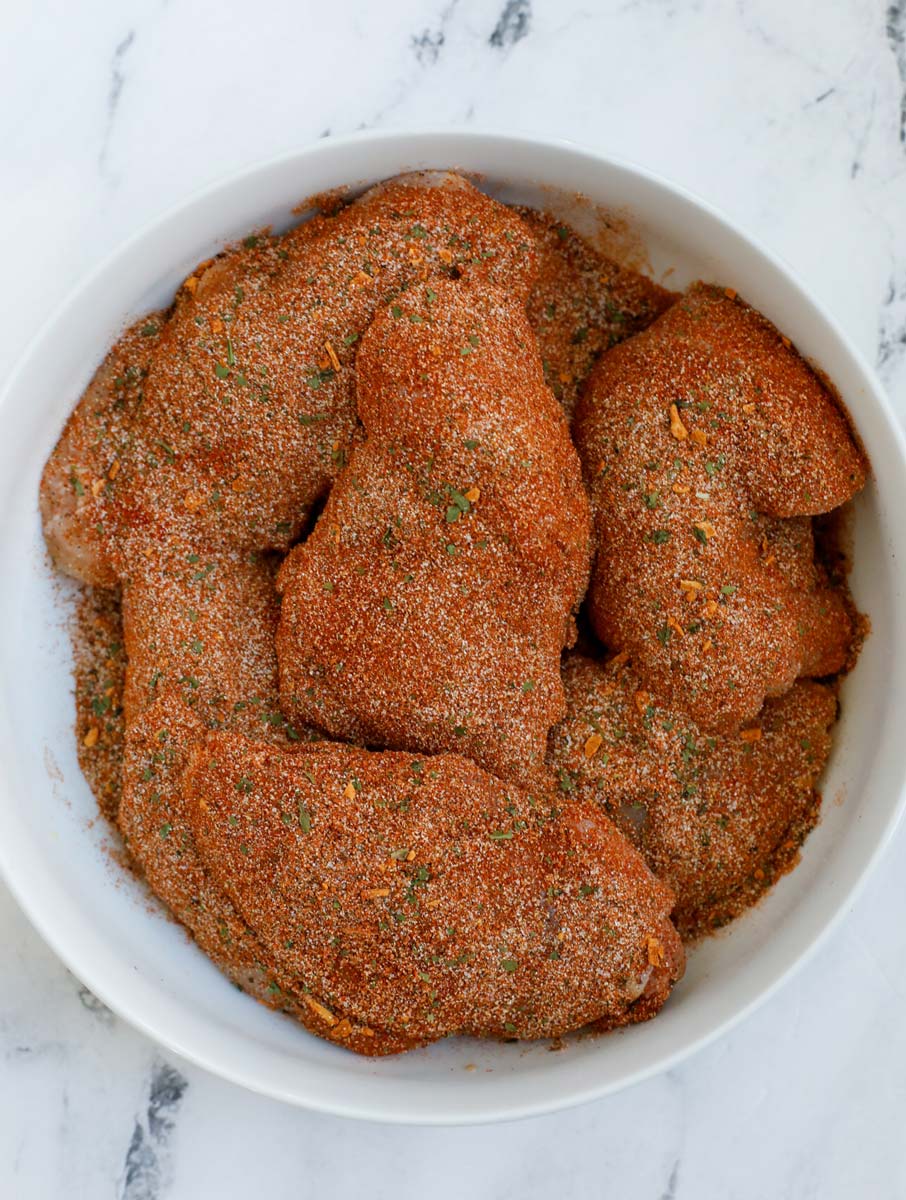 Air fry the chicken thighs- Lay your chicken thighs out in the air fryer and spritz with some oil. Cook for 15 minutes depending on the thickness of the chicken. Internal temperature should be 165 F.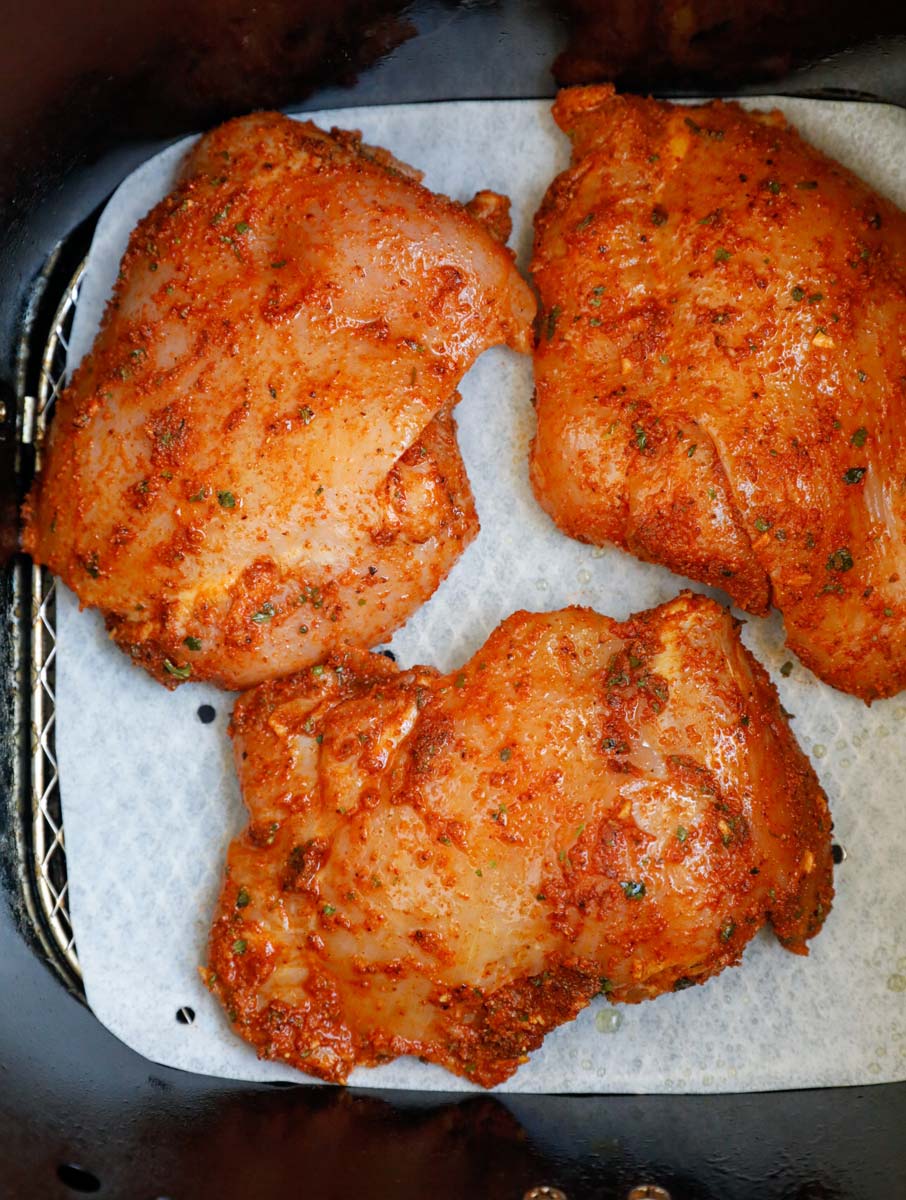 Allow to cool for 5 minutes, garnish and enjoy with your favorite sides!
Tips for Making Skinless Chicken Thighs In the Air Fryer
Use a preheated air fryer.
You can marinate the chicken for 30 minutes but it's not essential.
Depending on the size of your air fryer you may need to cook multiple batches.
Lay your chicken out without overlaps, so they cook evenly.
Cooking time can vary based on size and thickness.
Garnish with fresh chopped parsley or cilantro.
What is an Air Fryer?
An air fryer is like a small convection oven. Air fryers use the same technology for circulating air and evaporating the moisture from the exterior of food to fry it. A fan pushes hot air around the food, creating a crisp exterior, much like as if it were fried in oil. Only it is healthier because you only use a spritz of. It's less greasy but retains the all the flavor!
Frequently Asked Questions
How do I know when the chicken is cooked?
Your chicken may vary in size and thickness, this affects the time. The best way to check the doneness of your chicken is to use a meat thermometer. Stick it in the thickest part of the chicken, if it reads 165F or over, the chicken is done!
How long do I cook chicken thighs in air fryer?
Boneless skinless chicken thighs: Air fry at 360°F for 12-15 minutes, flipping halfway through.
Bone in, skin on chicken thighs: Air Fry at 360 °F for 18-20 minutes, flipping half way through and an additional 5 minutes to crisp up the skin.
How to cook boneless chicken thighs in the oven?
You can bake these chicken thighs instead of air frying them. You can bake boneless chicken thighs on 425 F for 20-22 minutes, or until the internal temperature is 165 F.
How to reheat chicken thighs in the air fryer?
To reheat already cooked chicken thighs in the air fryer, preheat the air fryer to 350 F and let the thighs heat up for 350°F for 2-3 minutes.
Do you have to flip foods in air fryer?
Yes, foods are supposed to be flipped over half way through the cooking time.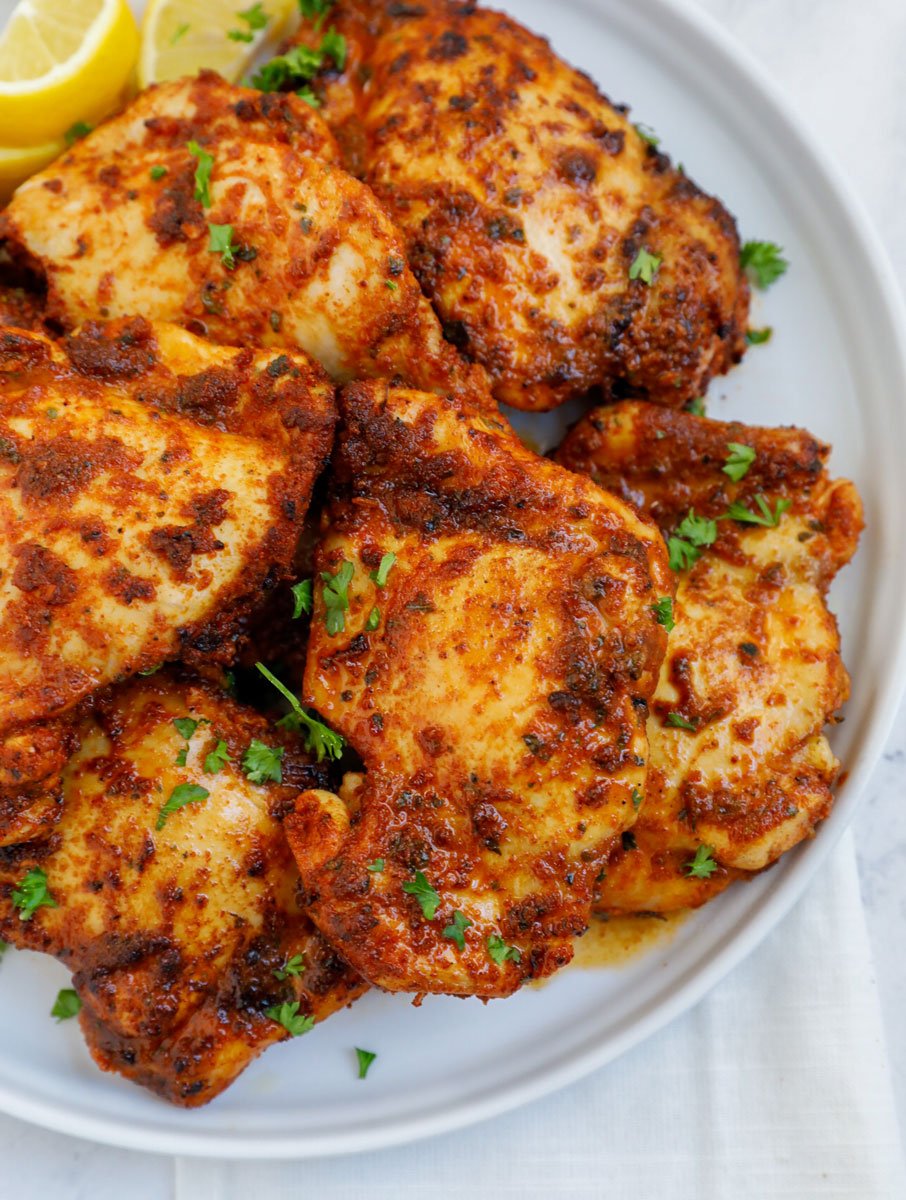 More Easy Chicken Recipes
I hope you enjoy all the recipes I share with you, including this Air Fryer Boneless Chicken Thighs recipe. I hope you try it, enjoy it, rate it and share it with your friends and family!
If you try this recipe and like it, please leave a star rating and comment below. Use my hashtag to share it with me on Instagram so I can see your delicious recreations! Also, follow me at Cookin' With Mima on FACEBOOK |INSTAGRAM |PINTEREST for all of my latest social posts and recipes.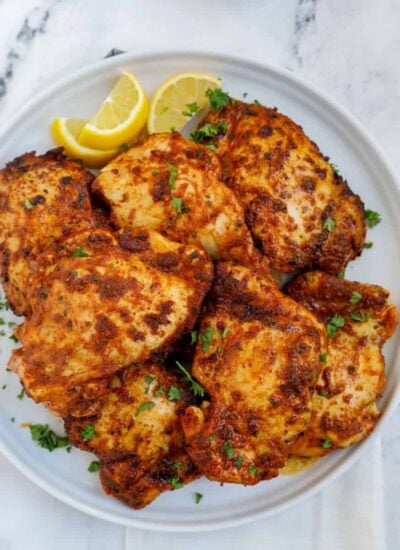 Air Fryer Boneless Chicken Thighs
These Air Boneless Fryer Chicken Thighs are quick, easy, and on your table in less than 20 minutes. Super simple and delicious!
Ingredients
6

large

boneless chicken thighs

fats trimmed off

2

tbsps.

chili seasoning

1

tsp.

paprika

1

tsp.

onion powder

1

tsp.

garlic powder

½

tsp.

cumin

½

tsp

black pepper

1

tsp.

cilantro

dry

¾

tsp.

salt

⅓

cup

lemons

olive oil spray
Instructions
Preheat air fryer to 360 F.

In a bowl, season the chicken with spices and lemon juice. You can marinate them for 30 minutes if you have time, but not required.

Lay the chicken thighs flat without overlaps or folds, spray generously with olive oil. Cook for 15 minutes, flipping over half way through and spraying the new side before throwing them back in. Cook in two batches if your air fryer is small.

Make sure the internal temperature is 165 before removing. Use an instant read thermometer to check. Cooking time varies based on their size and thickness. Cook more if needed.

Once completely cooked, remove and wrap in aluminum foil and let it rest for 5 minutes before serving.

Garnish with some fresh chopped parsley if you like and some lemon wedges.
Nutrition
Calories:
275
kcal
|
Carbohydrates:
6
g
|
Protein:
20
g
|
Fat:
20
g
|
Saturated Fat:
5
g
|
Trans Fat:
1
g
|
Cholesterol:
111
mg
|
Sodium:
332
mg
|
Potassium:
411
mg
|
Fiber:
3
g
|
Sugar:
1
g
|
Vitamin A:
2983
IU
|
Vitamin C:
7
mg
|
Calcium:
34
mg
|
Iron:
2
mg