My Triple Chocolate Avocado Brownies are a dreamy combination of chewy brownie with heavenly fudge. Every single bite is a mouthful of chocolate. The avocado base imparts a depth that is unlike anything else. While it may seem an odd combination, I promise these will become a favorite gluten-free dessert from now on!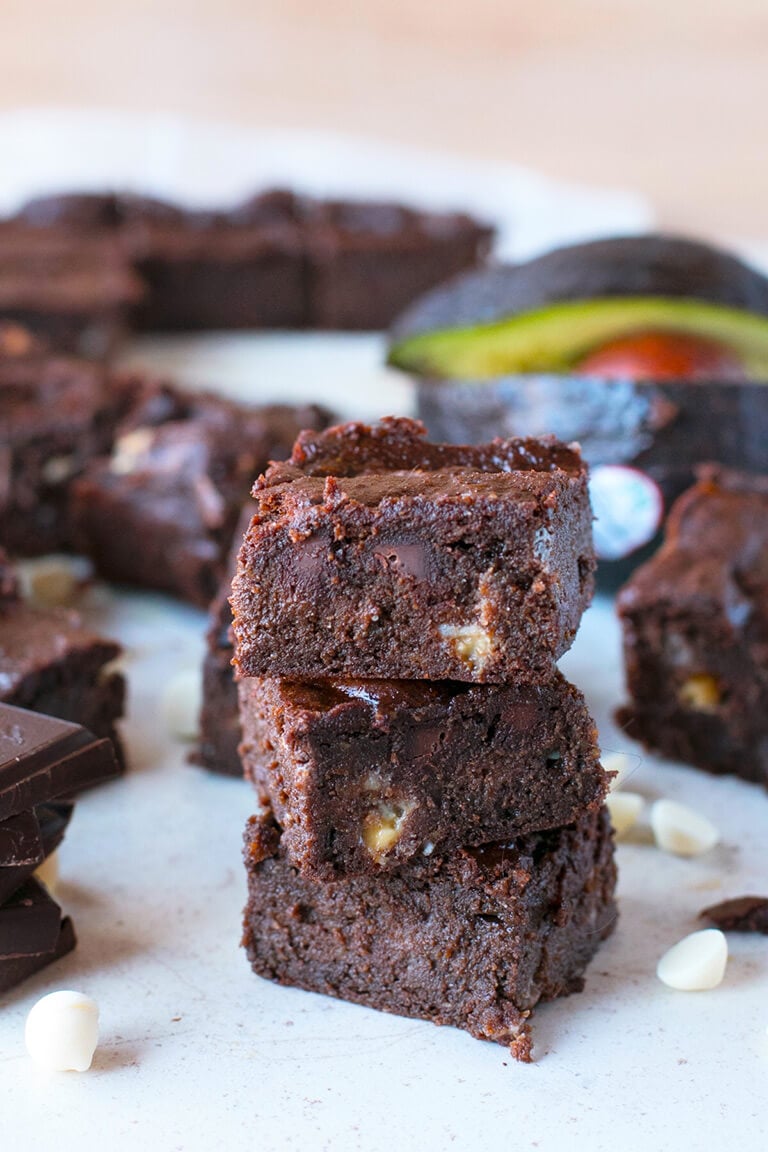 WHAT ARE TRIPLE CHOCOLATE AVOCADO BROWNIES
The first time I saw someone say they added avocado to brownies, I didn't understand. Don't get me wrong, I love a good avocado, but in a dessert? It just made no sense, that is, until I tried it for myself!
Basically, these are gluten-free brownies that have a fudgy texture. And they taste amazing!
WHY WE LOVE THIS GLUTEN-FREE DESSERT
The addition of avocado to this recipe has created the perfect brownie. It is rich in chocolate flavor, has a slightly dense and fudgy texture, but is also a bit chewy. Just like I love my brownies!
HOW DOES AVOCADO MAKE BROWNIES BETTER?
Avocado is a substitute in baking is common because it offers great healthy fats and moisture you need, without the higher calorie count. Yes, avocado does have fat and calories, but they are lower than if you used traditional butter. This is also a great option for anyone that is lactose intolerant, or who prefers to eat dairy-free.
Additionally, avocado is a great source of many vitamins and nutrients. So, when I say eating brownies are healthy, it truly is with this recipe!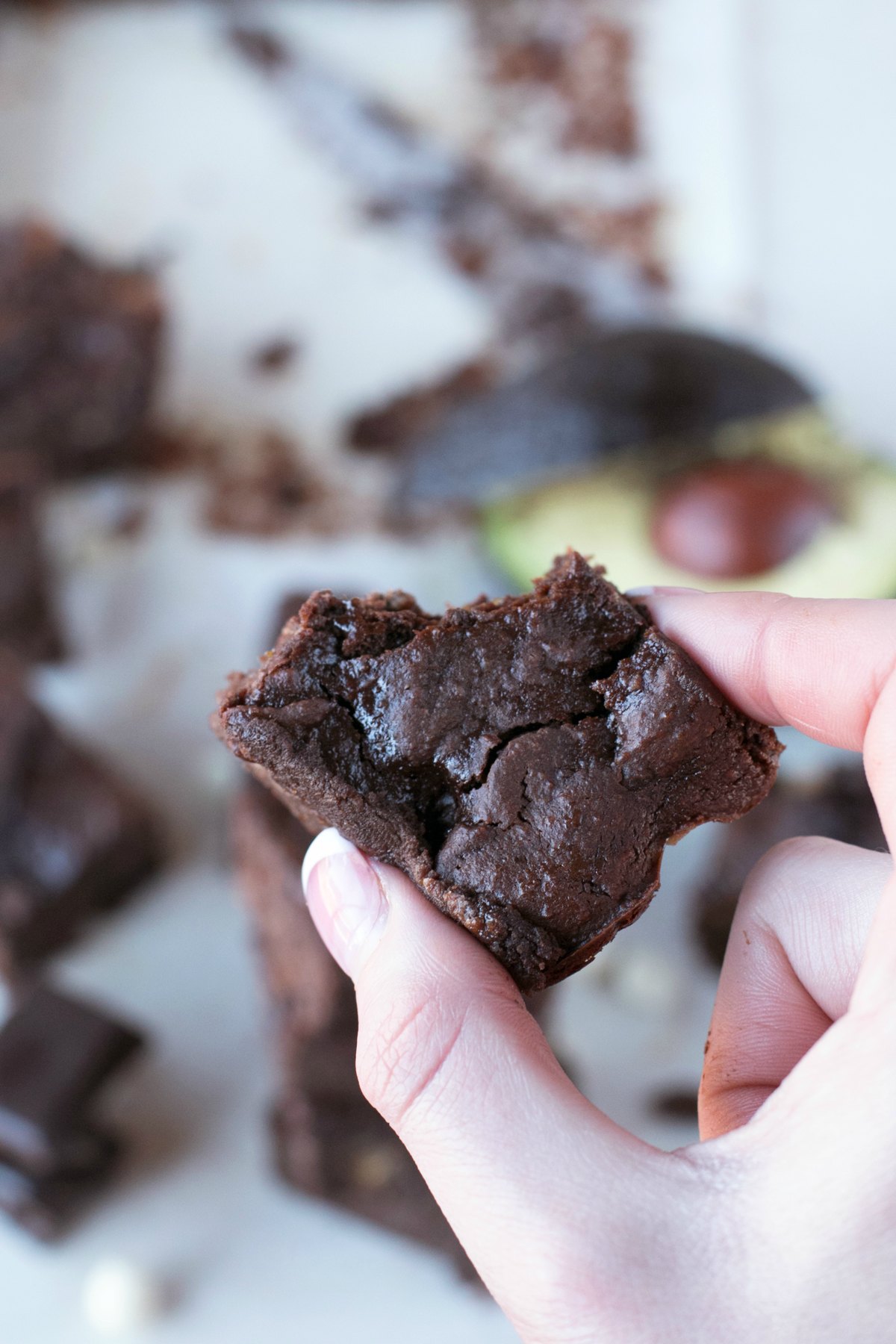 CAN I USE DIFFERENT CHOCOLATE IN THIS?
If you prefer to use semi-sweet or milk chocolate chips, feel free to do so. I find that the dark chocolate works best with avocado, but all are amazing options that offer delicious flavor. Depending on your preference, you could even substitute in butterscotch, caramel, peanut butter, or even peppermint chips instead of the white chocolate in this recipe.
CAN I ADD NUTS TO MY AVOCADO BROWNIES?
If there are no concerns about nut allergies, feel free to mix in some chopped pecans or walnuts into the batter, or simply drop a few on top before baking. They add a nice crunch and pair well with the rich chocolate brownie batter. Plus, since you have cut the calories by using avocado instead of butter in this recipe, you can afford the added calories from the nuts.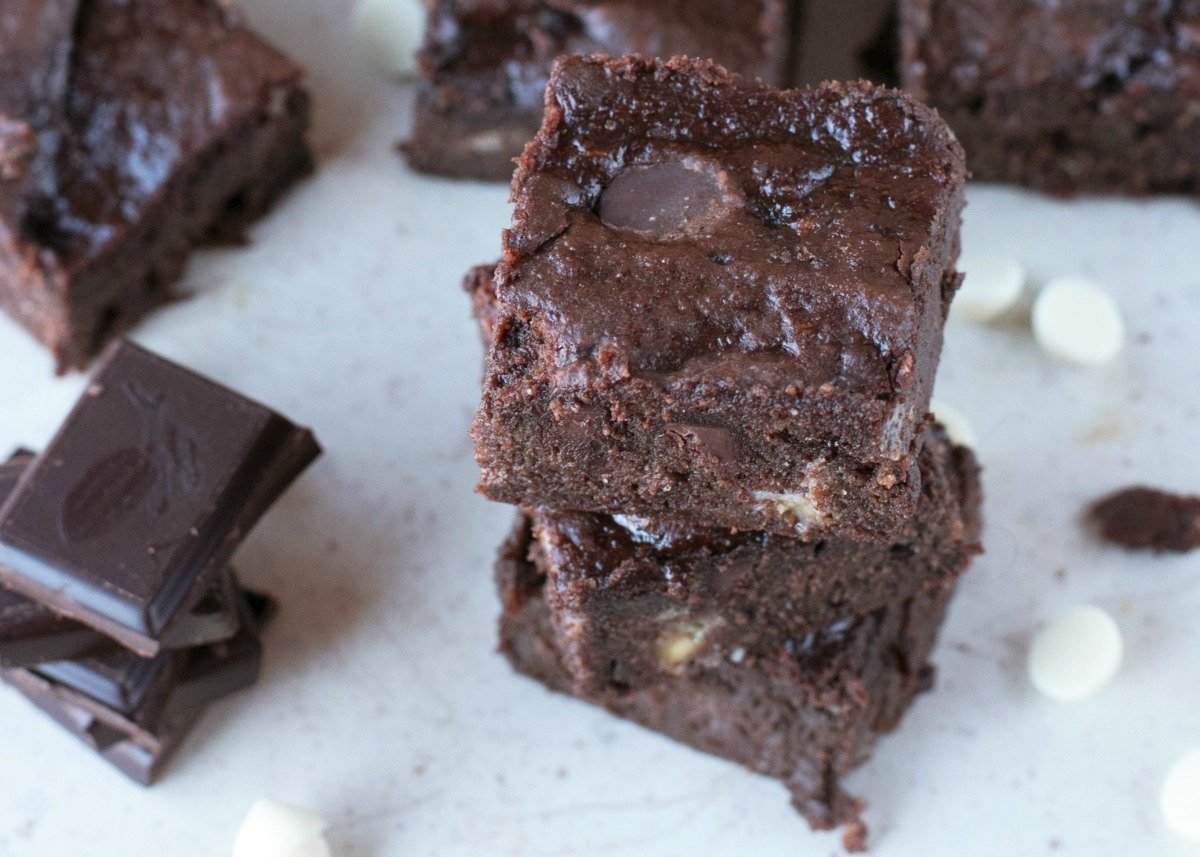 ARE THESE BROWNIES GLUTEN FREE?
As listed, these are a naturally gluten-free dessert. I do always recommend that you check all ingredients just to make sure they are processed in a gluten-free facility for safety. The chocolate, vanilla, and cocoa powder should be checked, just in case of cross-contamination.
HOW TO MAKE TRIPLE CHOCOLATE AVOCADO BROWNIES
INGREDIENTS
Dark Chocolate – Any type of dark chocolate will work. You could use milk chocolate instead, but it won't have the same deep flavor.
Avocado – It needs to be easy to mash, so make sure it's ripe.
Sugar – If you want to make this keto-friendly, you can use Stevia or Monk Fruit Sweetener. Otherwise, use granulated sugar.
Vanilla Extract – Using pure vanilla has a richer flavor, but you can use imitation vanilla extract too.
Eggs – Any eggs will work, you don't have to get a specific kind.
Unsweetened Cocoa Powder – Use the unsweetened kind. If you use sweetened, it will be way too sweet.
Almond Flour – I love the texture the almond flour gives it. Use almond flour, not almond meal. Almond meal isn't ground as fine and will change the texture of your brownies.
Salt – Any kind of salt will work for this recipe.
Dark Chocolate Chips – If you don't like how rich the dark chocolate chips are, you can substitute with milk chocolate or semi-sweet chocolate chips.
White Chocolate Chips – This is what makes it "triple chocolate." But it will taste just as delicious without these chips.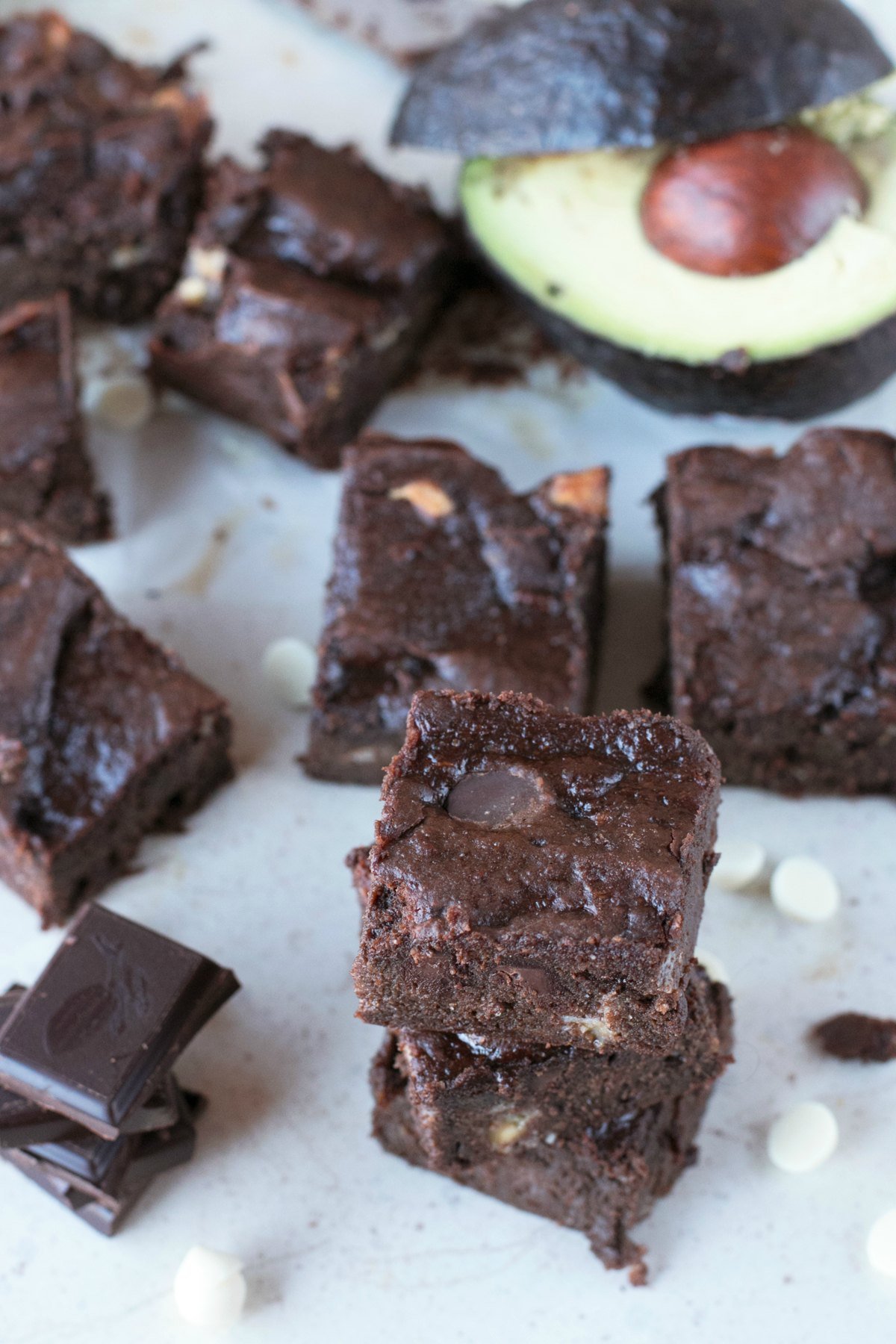 HOW TO MAKE CHOCOLATE AVOCADO BROWNIES
Here's how to make a gluten-free dessert that everyone will enjoy!
Begin by preparing your baking pan with parchment paper and preheating your oven as directed.
Next, you will put your dark chocolate (chopped not chips) into a microwave-safe bowl then heat in 30-second increments on medium heat in the microwave. Heat until just melted and stir between to make sure it does not burn.
Once the chocolate is melted, you will add it to a large mixing bowl along with your avocado, vanilla extract, and sugar. Mix this until well-combined, then add in eggs and mix well.
Next, you will add in the almond flour, salt, and cocoa powder. Mix until just combined, then fold in your chocolate chips.
Pour into the baking pan and cook as directed. Make sure to not overbake as this will dry out the brownie.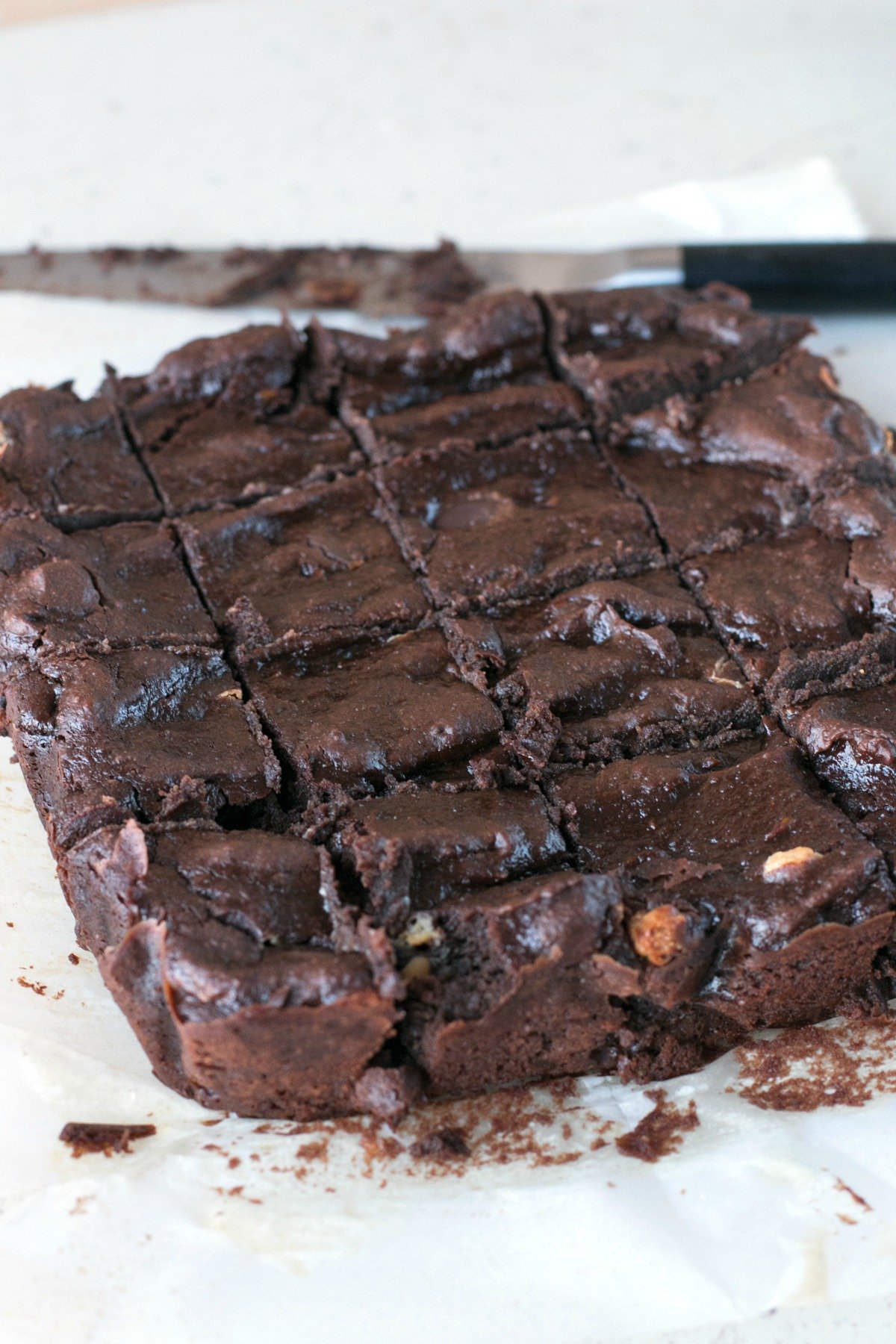 If you try this Triple Chocolate Avocado Brownies recipe and like it, please use my hashtag to share it with me on INSTAGRAM for a chance to be featured in my story! Also, follow me at Cookin' With Mima on FACEBOOK | INSTAGRAM | PINTEREST for all of my latest social posts and recipes.
MORE CHOCOLATE RECIPES YOU'LL LOVE
Ingredients
3

oz

dark chocolate

chopped

2

ripe avocados

pitted and skinned

3/4

cup

sugar

2

tsp

vanilla extract

2

eggs

1/2

cup

unsweetened cocoa powder

1/2

cup

almond flour

1/4

tsp

salt

1/2

cup

dark chocolate chips

1/2

cup

white chocolate chips
Instructions
Preheat oven to 350 degrees. Line an 8x8-inch baking dish with parchment paper.

In a small bowl, melt chopped dark chocolate in the microwave in 30-second increments. Stir in between increments until melted.

In a large bowl, beat avocado, sugar, melted chocolate and vanilla together with an electric mixer. Add eggs and beat until combined.

Add cocoa powder, flour and salt to the bowl. Beat until well-combined.

Fold in dark and white chocolate chips.

Add batter to the lined pan, spreading evenly. Bake for 40 to 45 minutes, until set. Make sure you do not over bake or the brownies will come out too dry.

Cool completely before slicing and serving.
Nutrition
Serving:
12
g
|
Calories:
242
kcal
|
Carbohydrates:
29.5
g
|
Protein:
3.8
g
|
Fat:
14
g
|
Saturated Fat:
5.6
g
|
Cholesterol:
30
mg
|
Sodium:
76
mg
|
Fiber:
3.8
g
|
Sugar:
23.4
g