My Almond Butter Chocolate Chip Cookies are a wonderful new spin on a classic. Rich and chewy with perfect bits of chocolate in every bite, these are a delightful addition to your dessert menu. Serve alongside an ice-cold glass of milk or your favorite coffee for the perfect end of day treat.
ALMOND BUTTER CHOCOLATE CHIP COOKIES
There is nothing like sinking your teeth into a perfectly chewy cookie. Especially if you know it fits into your diet needs, and you can eat with no fear or guilt. This recipe uses almond butter rather than the more popular peanut butter. This can be to fit into a peanut-free diet or just as a different flavor profile.
When making this recipe, you may want to double the batch in case you plan to share them with others. They will disappear fast from the cookie jar!
CAN I ADD NUTS TO THESE COOKIES?
If you don't have any allergies to pecans or walnuts, they are a great addition to add crunch in this recipe. You could always add in slivers of almonds as well, but I find that pecans or walnuts work better in this recipe for additional texture and flavor.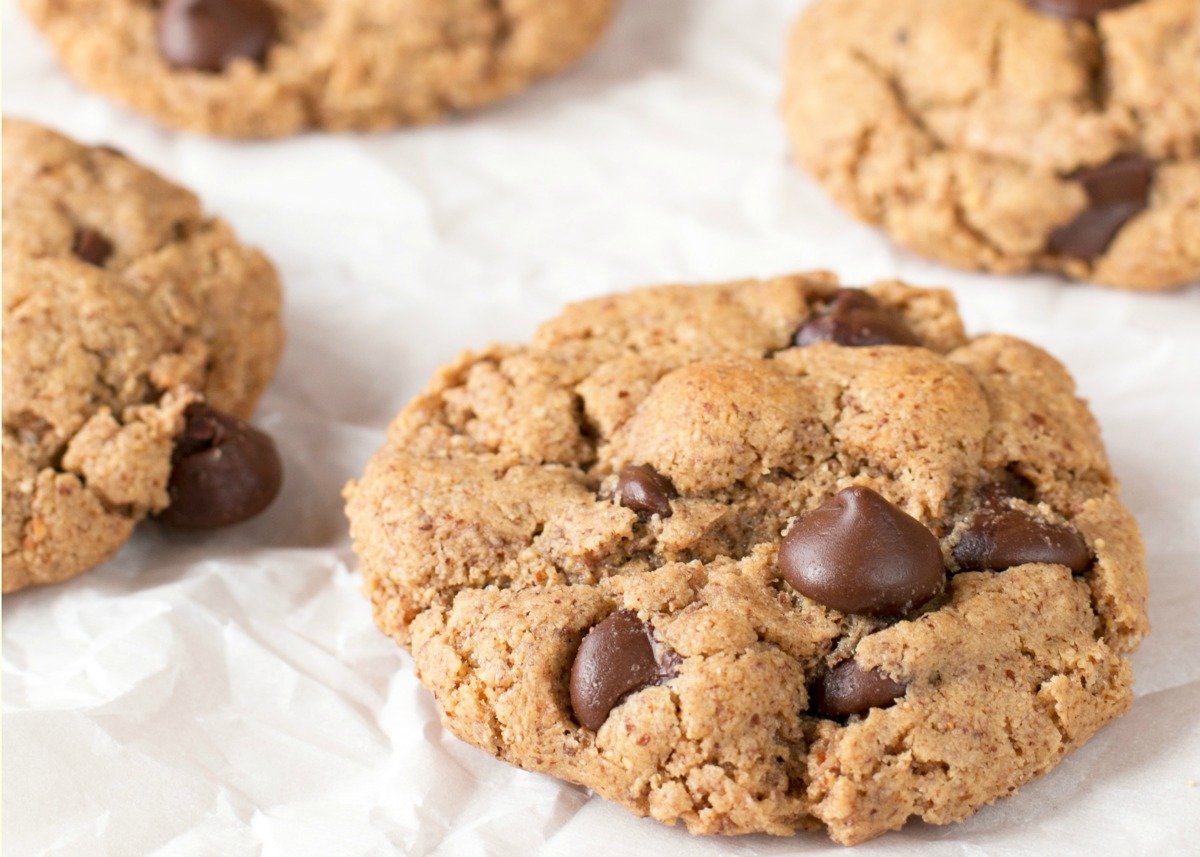 ARE THESE COOKIES GLUTEN-FREE?
As this recipe has no flour, as long as the almond butter and chocolate chips you choose are certified gluten-free, these are as well. Always verify with all ingredients that they have been processed in a gluten-free certified plant. Cross-contamination can be a painful thing for those with celiac disease.
ARE ALMOND BUTTER CHOCOLATE CHIP COOKIES PALEO?
While almond butter is safe on a paleo diet, the brown sugar and sugar prevent it from being a paleo recipe. You may also notice that the chocolate chips are not paleo.
You could test the recipe with a paleo-approved sugar substitute to see if they turn out well. If so, let me know in the comments how you liked them and what changes you made.
CAN I USE MILK CHOCOLATE CHIPS INSTEAD OF DARK CHOCOLATE?
If for some reason, you are not a fan of dark chocolate, you can definitely substitute in semi-sweet or even milk chocolate chips. I prefer using dark chocolate as it adds a richness that pairs really well with the almond butter in the recipe. You could mix and match and try white chocolate chips, caramel chips, or even butterscotch chips if you prefer. Use your imagination and have fun making these cookies!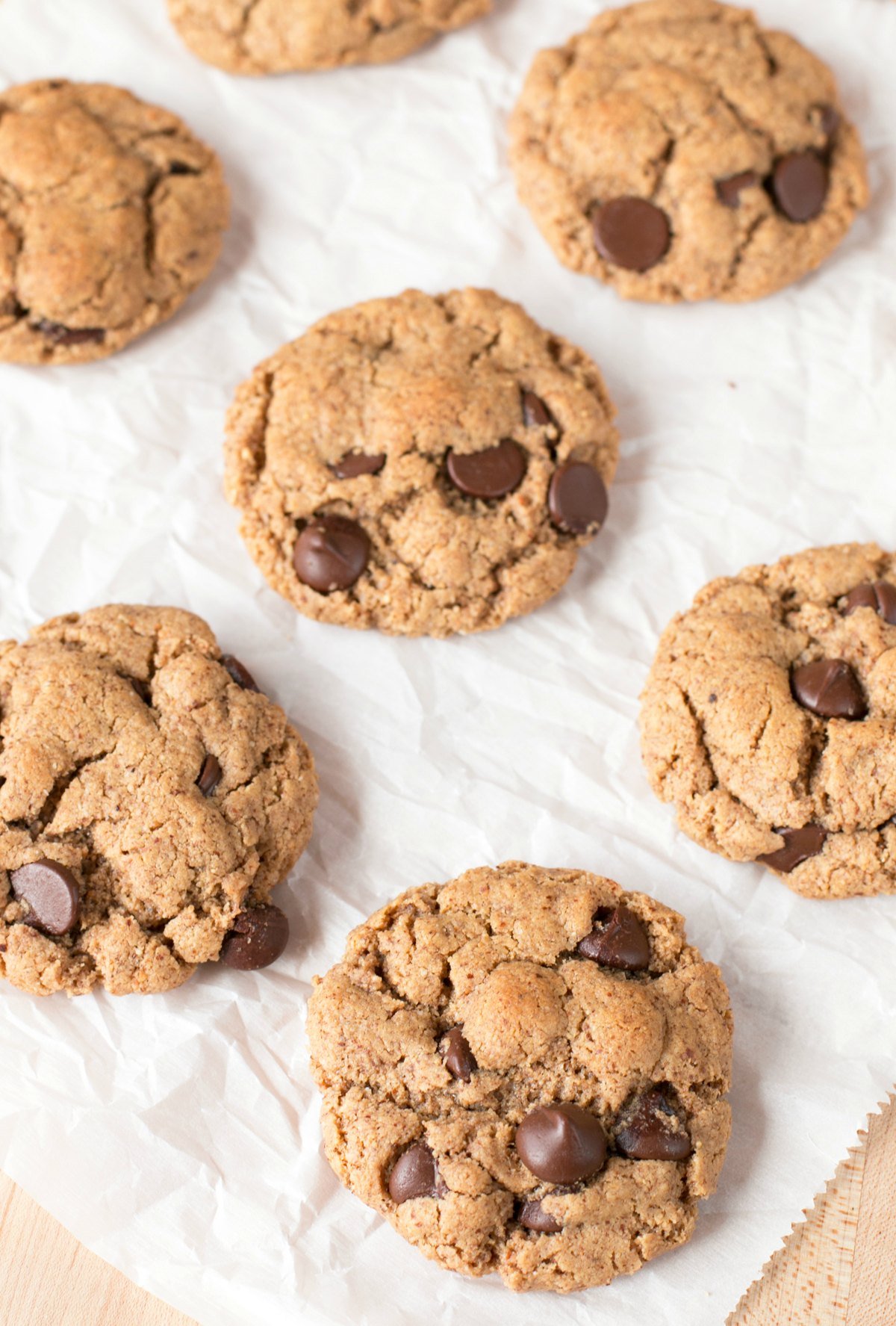 CAN I FREEZE THIS DOUGH FOR LATER?
Yes! You can easily freeze this dough to cook later. When doing so, I recommend that you make the dough into balls to flash freeze. Just place them on a lined baking sheet, then place that baking sheet into the freezer for 1 hour to harden. Remove it from the freezer and drop the now hard balls of dough into a labeled and dated freezer bag.
When ready to cook them, you can just pop straight from the oven and put it onto the baking sheet. Allow them to thaw for about 30 minutes before putting into the oven to bake at the same temperature.
This almond butter chocolate chip cookies dough is good in the freezer for up to 4 months.
HOW LONG ARE THESE COOKIES GOOD FOR?
If you are storing these cookies in an airtight container outside of the refrigerator, they typically are good for around 3-4 days. You can also store them in the refrigerator for up to 1 week with good results.
To soften them after storing in the refrigerator, wrap in a paper towel and pop into the microwave for 5-10 seconds before serving.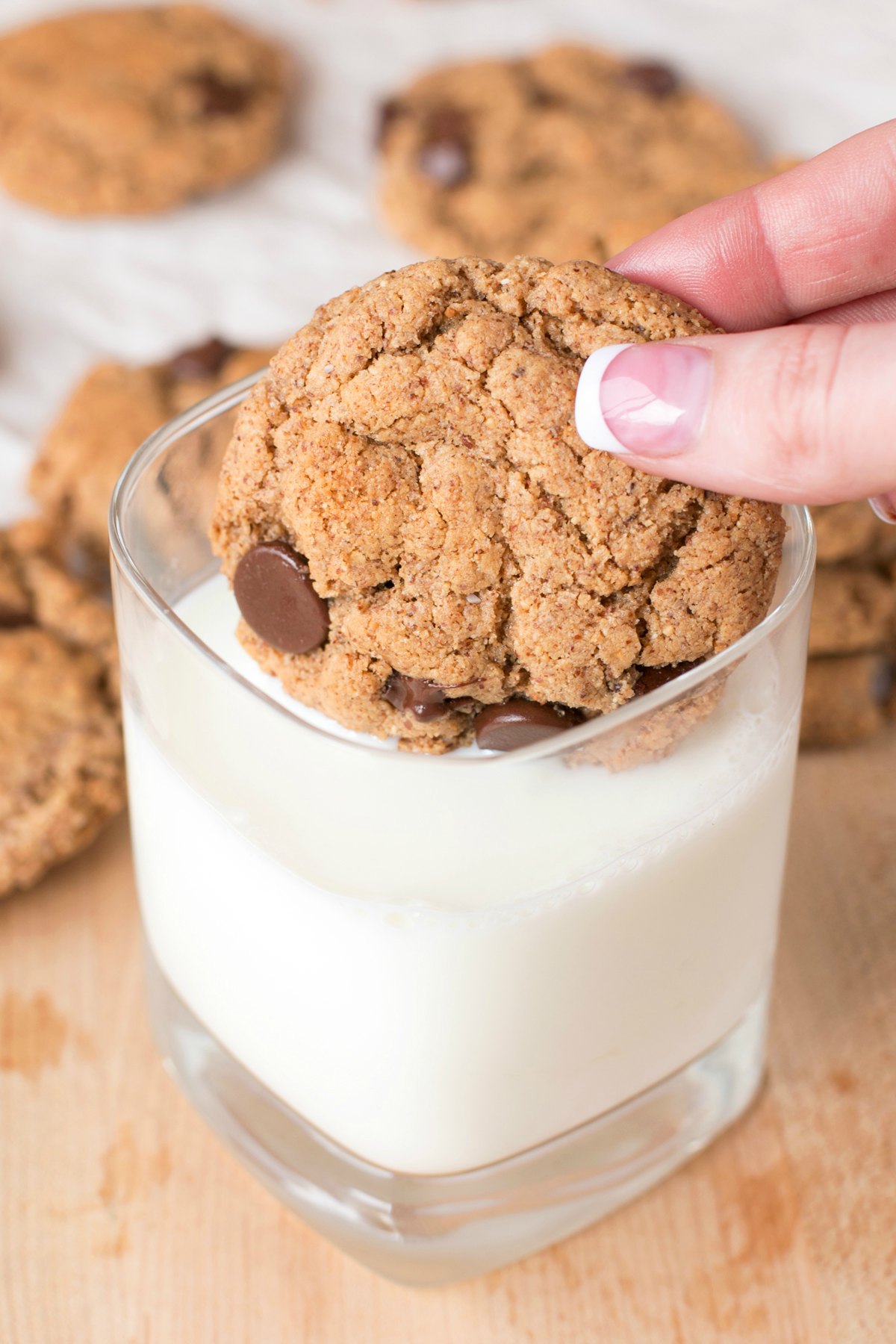 INGREDIENTS
Almond Butter
Egg
Granulated Sugar
Brown Sugar
Baking Soda
Vanilla Extract
Dark Chocolate Chips
HOW TO MAKE ALMOND BUTTER CHOCOLATE CHIP COOKIES
When making these cookies, I recommend lining your baking sheet(s) with a silicone baking mat or parchment paper. The cookies won't stick, and they just turn out better with this method.
Once your pan is prepared, you will combine the almond butter, sugars, baking soda, and vanilla extract together in a large bowl. Mix until combined well and smooth.
Fold in your dark chocolate chips, and nuts if you chose to add them.
Form dough balls and place them on the baking sheet, but pop them into the refrigerator for 10-15 minutes before placing them in the oven. This keeps the dough from melting down too fast and allows the texture you prefer.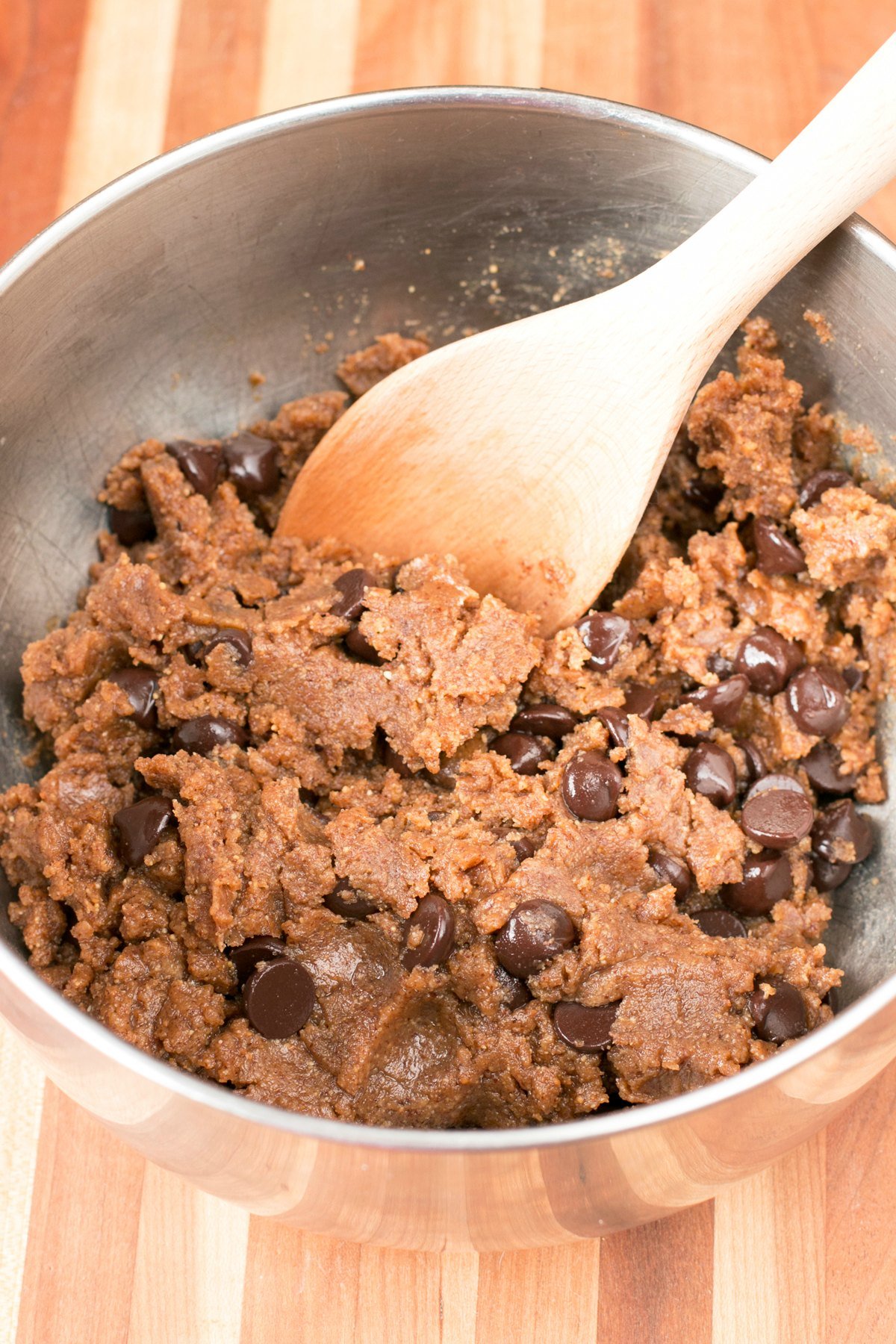 If you try this Almond Butter Cookies recipe and like it, please use my hashtag to share it with me on INSTAGRAM for a chance to be featured! Follow me at Cookin' With Mima on FACEBOOK | INSTAGRAM | PINTEREST for all of my latest social posts and recipes.
MORE COOKIE RECIPES
Keep baking! Try one of these cookie recipes next.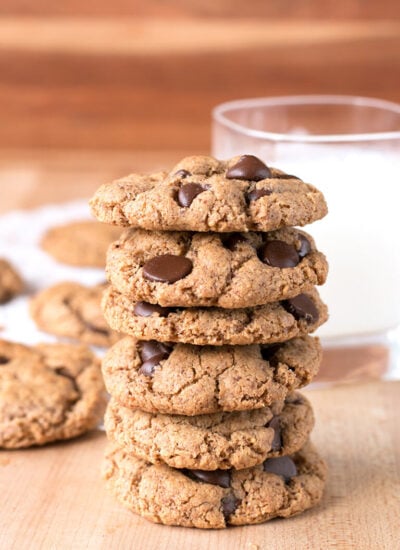 Almond Butter Chocolate Chip Cookies
Almond Milk Chocolate Chip Cookies are a perfect addition to your baking menu!  Naturally gluten-free, easy to make, and loaded with dark chocolate morsels, they will become a favorite way to satisfy your sweet tooth!
Ingredients
1

egg

1/4

cup

granulated sugar

1

cup

almond butter

1/3

cup

dark brown sugar

1

tsp

baking soda

1/2-1

tsp

vanilla extract

1

cup

dark chocolate chips
Instructions
Preheat oven to 350 degrees F. Line two baking sheets with silicone mats or parchment paper.

In a large bowl, stir together egg, almond butter, granulated sugar, brown sugar, baking soda and vanilla extract until well-combined. Fold in dark chocolate chips.

Measure out 1 1/2 to 2 Tbsp of the cookie dough. Form dough into balls and place on cookie sheets. Chill dough balls for 10 to 15 minutes.

Bake for 10 to 13 minutes, until the edges are golden and the center is still soft. Cool on the pan for 10 minutes before removing to cooling racks.
Nutrition
Serving:
18
g
|
Calories:
61
kcal
|
Carbohydrates:
10.1
g
|
Protein:
0.9
g
|
Fat:
2.5
g
|
Saturated Fat:
1.2
g
|
Cholesterol:
9
mg
|
Sodium:
75
mg
|
Fiber:
0.1
g
|
Sugar:
9
g