Learn how to make your own batch of cauliflower rice. This low carb, gluten free, Keto, and Paleo food is the perfect side for any healthy recipe!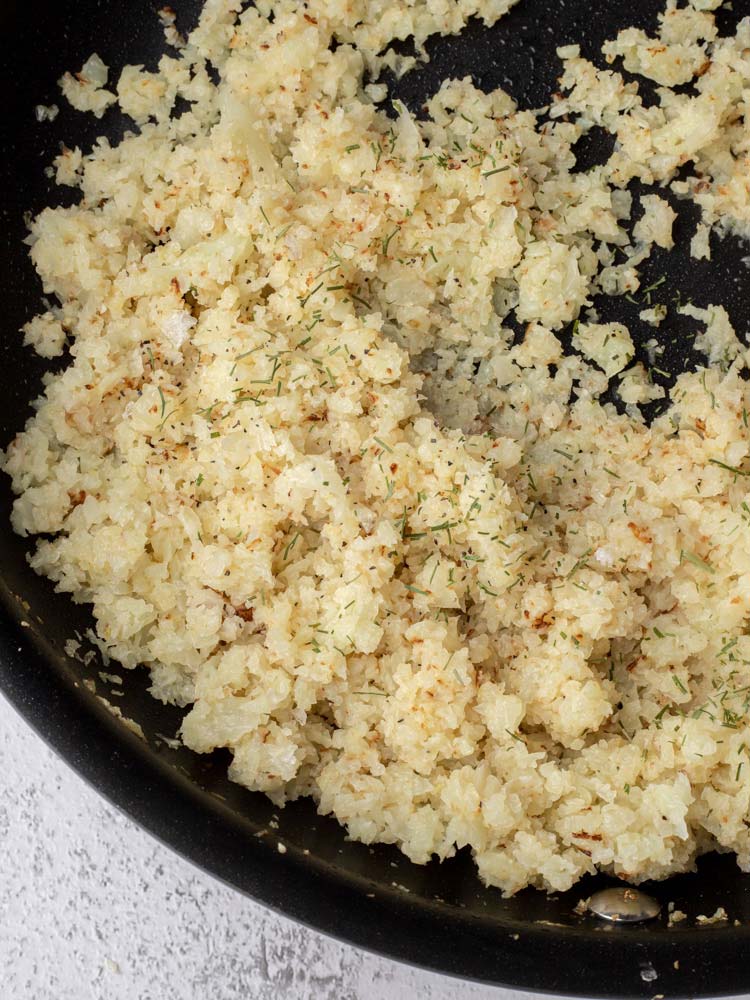 What is Cauliflower Rice?
Cauliflower rice is one of my favorite ways to replace rice with an extra serving of vegetables. It's a quick and easy replacement for rice when you are following a low carb diet and can easily take the place of rice in just about any recipe.
There are many different brands that sell pre-made riced cauliflower but I find it's much easier, as well as more cost effective, to make a batch of riced cauliflower on your own at home.
Health Benefits of Cauliflower Rice
Using cauliflower rice instead of rice provides a number of health benefits. For starters a cup of cauliflower rice contains 25 calories versus a cup of white rice which has about 240 calories. Cauliflower rice is also high in fiber, with about 3 grams per cup. Another reason to swap the rice for cauliflower is that it's high in vitamin C.
How to Make Cauliflower Rice
While you could buy pre-riced cauliflower at the grocery store in the fresh produce section or a bag of cauliflower in the frozen section, I find the best tasting cauliflower rice is the one you make yourself. It is also much cheaper to make your own riced cauliflower. All it takes are a head of cauliflower and a few minutes.
With a Grater
Split the head in half and remove the core and leaves from the cauliflower.
Chop the head into 4 quarters, this makes it easier to hold while you grate.
Using a cheese grater, rub the quarters of cauliflower along the larger holes of the grater until it's a fine consistency. Repeat with remaining florets of cauliflower.
In a Food Processor
Begin by splitting the head in half, then remove the core and leaves of the cauliflower.
Cut the cauliflower into 2 inch sized florets.
Place in the food processor, be sure not to fill the processor more than 3/4 full. If you need to run it in two batches that's ok.
Pulse the cauliflower for about 3 seconds at a time until crumbled to your desired consistency.
While you are removing the riced cauliflower check for any pieces that are larger than the usual size and re-pulse those pieces until they are riced.
How to Cook Cauliflower Rice
Once you have made a batch of riced cauliflower you can cook it right away or store it in the refrigerator or freezer.
On the Stove
Heat about 3 Tbsps. of olive oil over medium heat.
Add the riced cauliflower and cook for about 5-8 minutes.
Stir to prevent the cauliflower rice sticking to the pan.
Remove from heat and serve.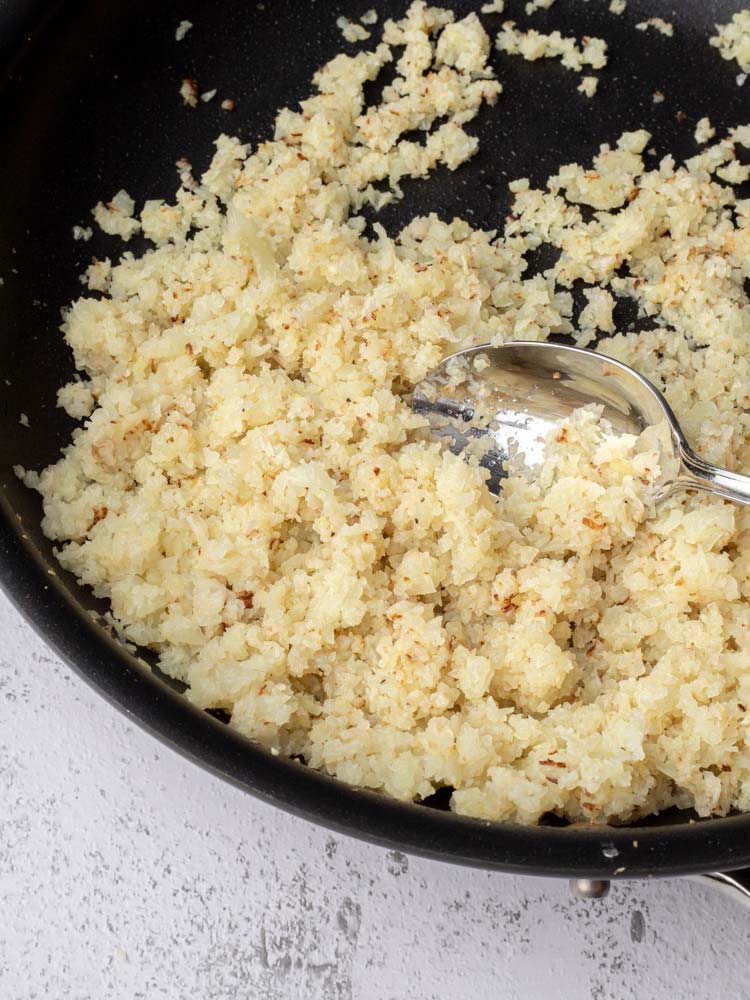 Frequently Asked Questions
Is cauliflower rice good for you?
Absolutely! This is the ULTIMATE health food hack! It's a low carb addition that fits the Keto, Whole 30, and paleo diet. Not to mention, it's also a naturally gluten free food!
Can I freeze cauliflower rice?
Yes! Simply place the freshly grated cauliflower rice into a freezer safe bag or Tupperware before placing in the freezer. It will last in the freezer for about 3 months. When you are ready to use it, simply remove from the freezer and allow to thaw on the counter before using.
How long does cauliflower rice last?
In the refrigerator you can store riced cauliflower for roughly 3 days uncooked. If you want to store it longer, simply freeze and thaw when you're ready to cook.
Recipes to Serve with Cauliflower Rice
Once you've made this delicious and easy low carb side, you can pair it with just about any healthy main dish for some added vegetables such as:
I hope you enjoy all the recipes I share with you, including this delicious Cauliflower Rice Recipe. I hope you try it, enjoy it, rate it and share it with your friends and family!
If you try this recipe and like it, please use my hashtag to share it with me onINSTAGRAM for a chance to be featured in my story! Also, follow me at Cookin' With Mima onFACEBOOK |INSTAGRAM |PINTEREST for all of my latest social posts and recipes.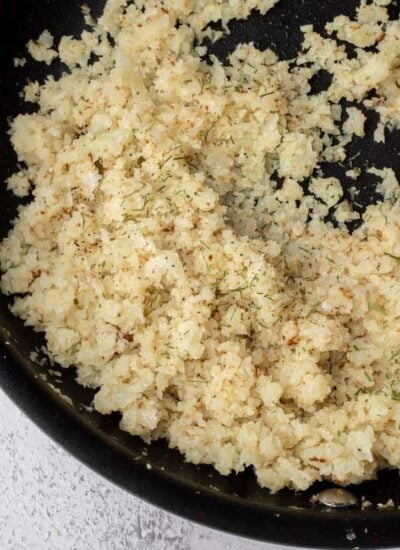 How to make Cauliflower Rice
Cauliflower rice is a great substitution to white rice for those who are looking to cut back on carbs. It's keto friendly, light, healthy and very easy to make.
Ingredients
1

medium

cauliflower head

cut into florets

3

tbsps.

olive oil

½

tsp.

salt

herbs or spices

optional
Instructions
Place cauliflower florets in a food processor and pulse until grated. Do not over pulse so they don't become too fine.

In a pot over medium heat, heat up 3 tbsps. or olive oil and then add in the grated cauliflower.

Sauté the cauliflower for a couple of minutes on medium heat and then reduce the heat to low and cover to simmer for about 5 minutes, stirring at least once.

Remove the pot from heat and let the cauliflower rest for a couple of minutes before serving.
Notes
If you would like to flavor up the rice, you can add some lime and cilantro in it.
Add spices or herbs to flavor up the rice if you like.
Nutrition
Calories:
134
kcal
|
Carbohydrates:
7
g
|
Protein:
3
g
|
Fat:
11
g
|
Saturated Fat:
2
g
|
Sodium:
282
mg
|
Potassium:
430
mg
|
Fiber:
3
g
|
Sugar:
3
g
|
Vitamin C:
69
mg
|
Calcium:
32
mg
|
Iron:
1
mg