Make this Chicken Caesar Wrap for the perfect healthier but flavorful lunch on the go! A perfect portable way to eat your favorite salad, this wrap will become a favorite on your meal plan. The homemade caesar dressing is simple to make but has all of the flavors you want!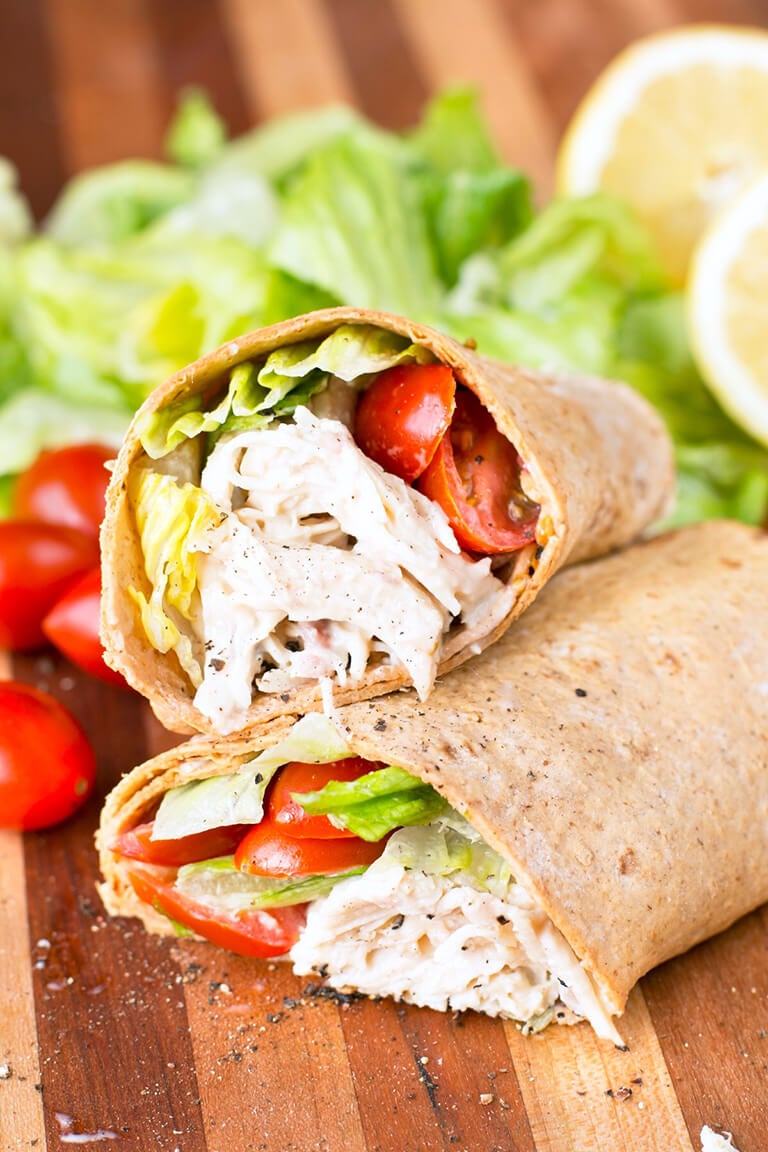 CHICKEN CAESAR WRAP
My favorite salad is the classic caesar. Filled with a creamy but tangy dressing, it is a very simple salad that is focused on the dressing more than the ingredients. Traditionally, it is served with lettuce, croutons, parmesan, and fresh cracked pepper. For this wrap, I have added chicken and tomatoes for extra flavor and protein.
The creamy homemade dressing makes this better than a plain salad wrap. This is a great idea for using up leftover grilled or rotisserie chicken breasts the next day! I love making a meal one night, and being able to serve it up the next day with a new twist. This is a great way to use up leftover chicken or even to finish off that little bit of salad that isn't quite enough for a full meal.
WHAT TORTILLA SHOULD I USE FOR THIS WRAP?
For my wraps, I like to use a good quality whole-wheat tortilla. I've even picked up a few of the lower-carb options with success. You can use your preferred tortilla, but I find this wrap is best when using whole wheat or flavored tortilla.
If you are looking for more variety in your wrap, consider using flavor-infused options. Spinach herb or sun-dried tomato tortillas also add significant flavor that pairs well with the creaminess in this caesar dressing. I have seen a few wraps in the past with jalapeno and cilantro that would add a whole other element of flavor to the wrap.
Joseph's Pita also offers a low-fat and high-fiber flatbread that is an excellent option for a healthy wrap for any salad like this!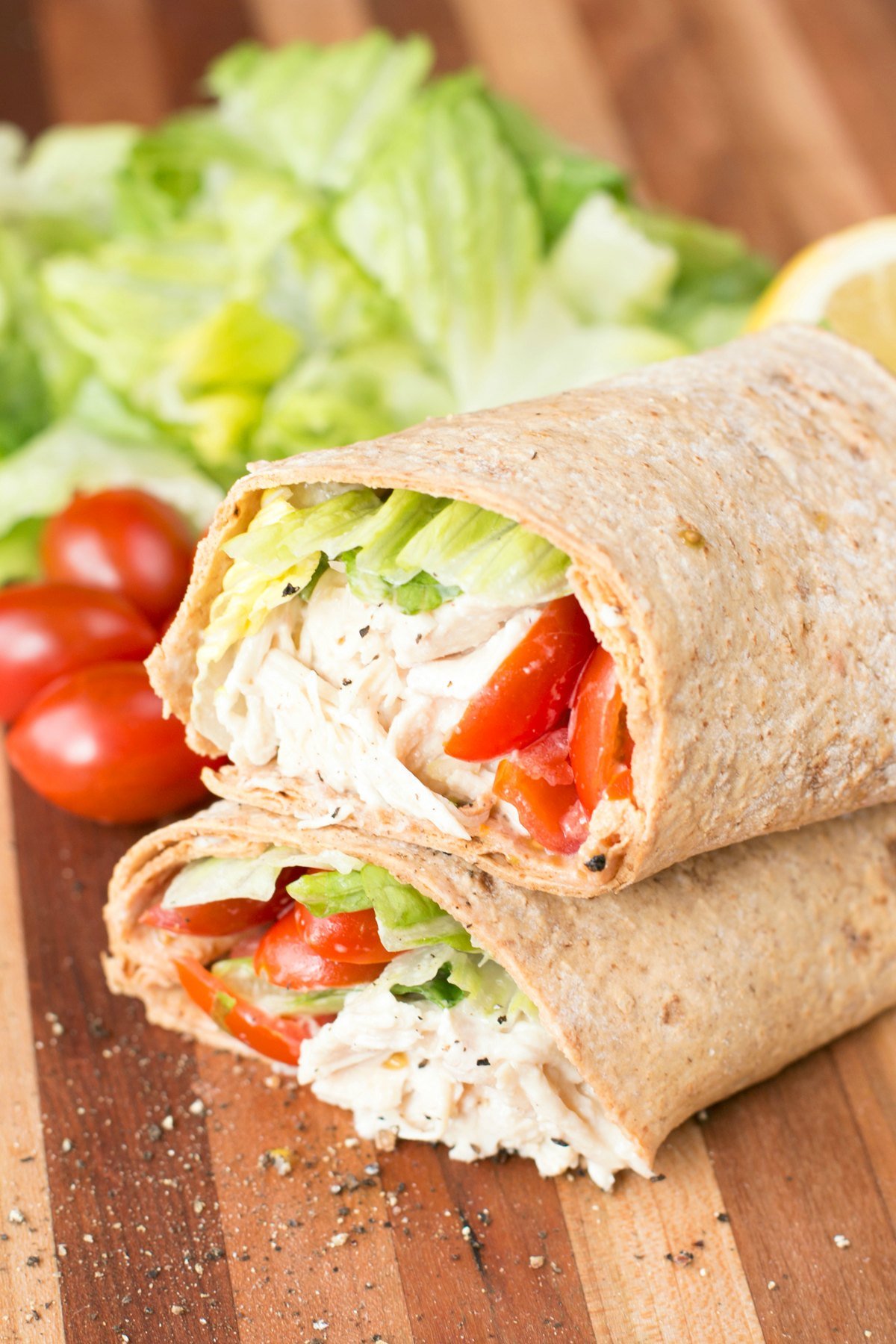 DO I HAVE TO ADD CHICKEN TO THIS WRAP?
If you prefer to use shrimp, or just make it veggies only wrap, you can definitely do that. Just remember that some may not consider the dressing vegetarian with the added anchovies. You could even add some sauteed tofu in the wrap for added protein.
Some great vegetables to mix into the wrap are below:
Shredded carrots
Sliced cucumbers
Diced mushrooms
Roasted potatoes
Hard-boiled eggs
Avocado slices
Yellow bell pepper slices
Roasted zucchini or squash
Asparagus spears
DO I HAVE TO ADD ANCHOVY TO THE DRESSING?
You do not have to add the anchovy to this salad dressing, but you will miss the richer flavor if you skip it. Many are afraid that anchovy will be too strong and make the dressing not taste as good. This isn't true!
Anchovy is the signature ingredient that makes Caesar dressing have that hint of tang and a bite to it. Without the anchovy, you will find this dressing recipe falls a bit flat. It will still be delicious, but won't be as good as it would with this special ingredient in the mix.
If you are concerned about handling the anchovy, it really is simple to just add in with the other ingredients. You can even toss all of the ingredients into a blender to mix instead of chopping them by hand. Just don't think about it being a little fish. Consider it a nice rich sauce added to your homemade Caesar salad dressing.
INGREDIENTS
For the filling:
Chicken
Romaine lettuce
parmesan cheese
Cherry tomatoes
Tortillas
For the dressing:
Garlic
Anchovy
Lemon juice
Worcestershire sauce
Dijon mustard
Mayonnaise
Salt
Black pepper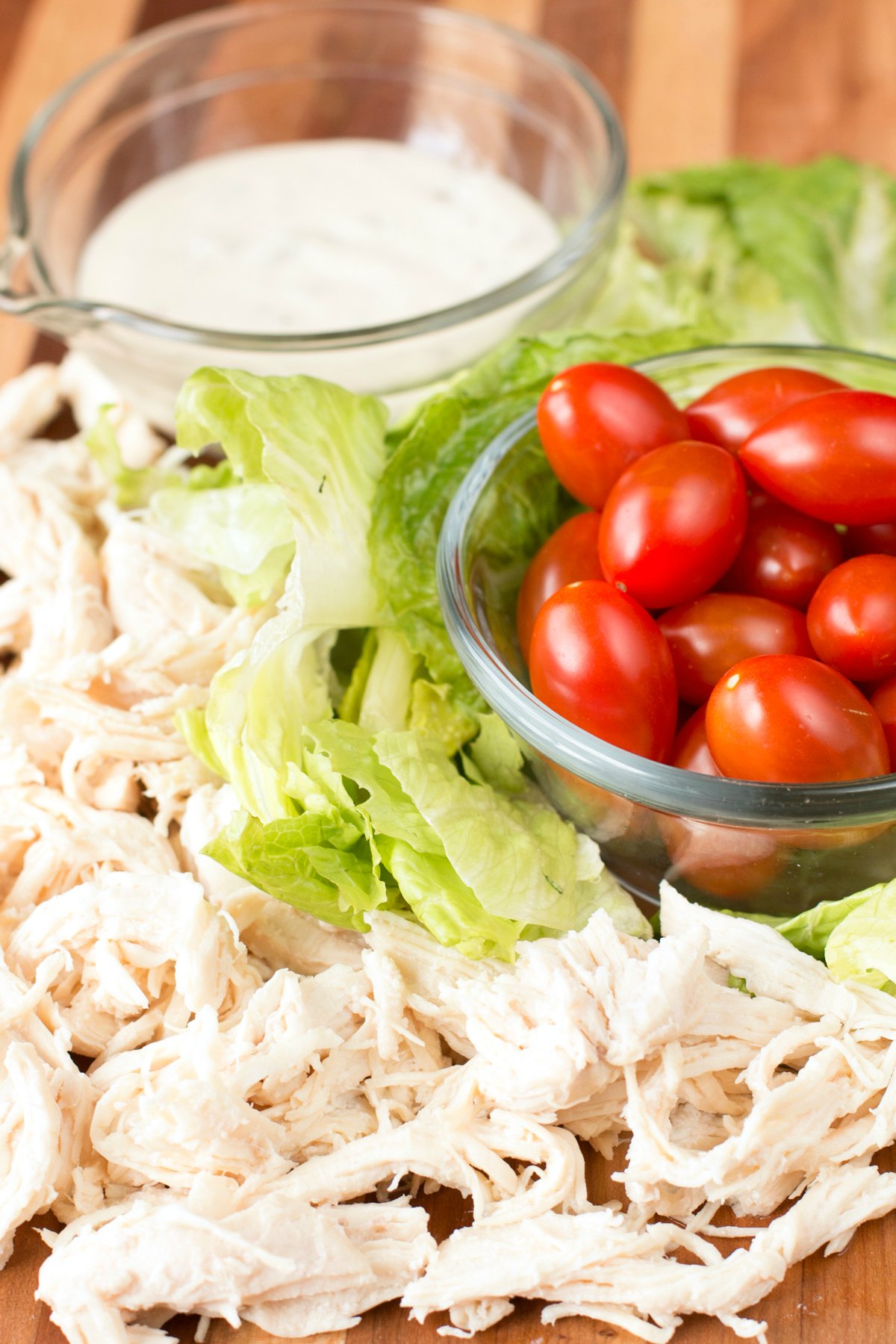 HOW TO MAKE A CHICKEN CAESAR WRAP
For this recipe, you will be using leftover chicken or making a small batch of chicken by baking, broiling, or grilling a few chicken breasts. Shred or dice the chicken breasts, wash and separate the lettuce leaves, and wash and slice the tomatoes, then set them all aside.
In a bowl or blender, you will mix together the ingredients for the Caesar dressing. Mix until well combined, then pour over the chicken in another bowl. Toss together until the chicken is coated in the dressing.
Heat your chosen tortilla until warmed through. Next, you will put a layer of lettuce, a few pieces of tomato, some shredded cheese, and then top with a portion of the dressed chicken. You may add a bit of fresh cracked black pepper at this point before folding.
Fold the tortilla with ends tucked in and roll in a wrap or burrito fashion.
Cut in half to serve.
If you try this Chicken Caesar Wrap recipe and like it, please use my hashtag to share it with me on INSTAGRAM for a chance to be featured! Also, follow me at Cookin' With Mima on FACEBOOK | INSTAGRAM | PINTEREST for all of my latest social posts and recipes.
MORE WRAP RECIPES
I love salads and wraps. I've only shared a few here with you so far, but plan to come back with even more in the future. For now, check out these recipes and add them to your lunch menu in the near future.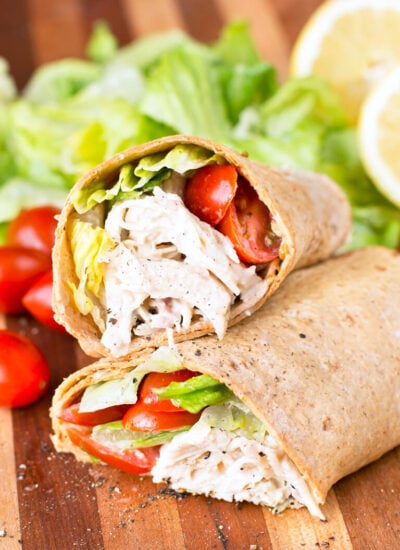 Chicken Caesar Salad Wraps
Make this Chicken Caesar Wrap for the perfect healthier but flavorful lunch on the go!  A perfect portable way to eat your favorite salad, this wrap will become a favorite on your meal plan. 
Ingredients
1

large chicken breast

cooked and shredded

2/3

cup

chopped romaine lettuce

Freshly shaved parmesan cheese

2

flatbread wraps or large flour tortillas

Halved cherry tomatoes
CAESAR DRESSING
2

garlic cloves

4

anchovy fillets

finely chopped

1

Tbsp

lemon juice

1

tsp

Worcestershire sauce

1/2

tsp

Dijon mustard

1/3

cup

mayonnaise

Salt and pepper
Instructions
In a small bowl, stir together ingredients for the caesar dressing. Add the dressing into a bowl with the shredded chicken. Stir to coat chicken.

Heat wraps, whether you are using a flatbread wrap or tortilla, for 10 seconds in the microwave to make them more pliable.

To assemble the wraps, lay the wraps or tortillas flat on a clean work surface. Add a layer of lettuce to the wrap in the center of each. Top the lettuce with chicken, halved cherry tomato, and a few shaves of parmesan cheese.

Wrap the chicken wraps up tightly. Cut in half and serve immediately.
Notes
For this recipe, you will be using leftover chicken or baking, broiling, or grilling a few chicken breasts. You can cook chicken breasts in the oven at 400F for about 20 minutes.
You can make the filling and dressing ahead of time and keep covered in the fridge for up to 3 days.
If you want to pack these as part of a packed lunch, just make them in the morning and wrap them in foil or plastic wrap and keep in a fridge.
Nutrition
Serving:
2
g
|
Calories:
446
kcal
|
Carbohydrates:
31.3
g
|
Protein:
32.1
g
|
Fat:
21
g
|
Saturated Fat:
3.7
g
|
Cholesterol:
92
mg
|
Sodium:
984
mg
|
Fiber:
1.8
g
|
Sugar:
4.1
g