If you follow me on Instagram you probably saw me making these Valentine's M&M Chocolate Chip Cookie Bars the other day when the kids were off school and they came out super yummy. The kids loved it! Who doesn't love Chocolate Chip Cookies with M&M's in them? It makes a delicious Valentine's treat for kids and even your loved ones.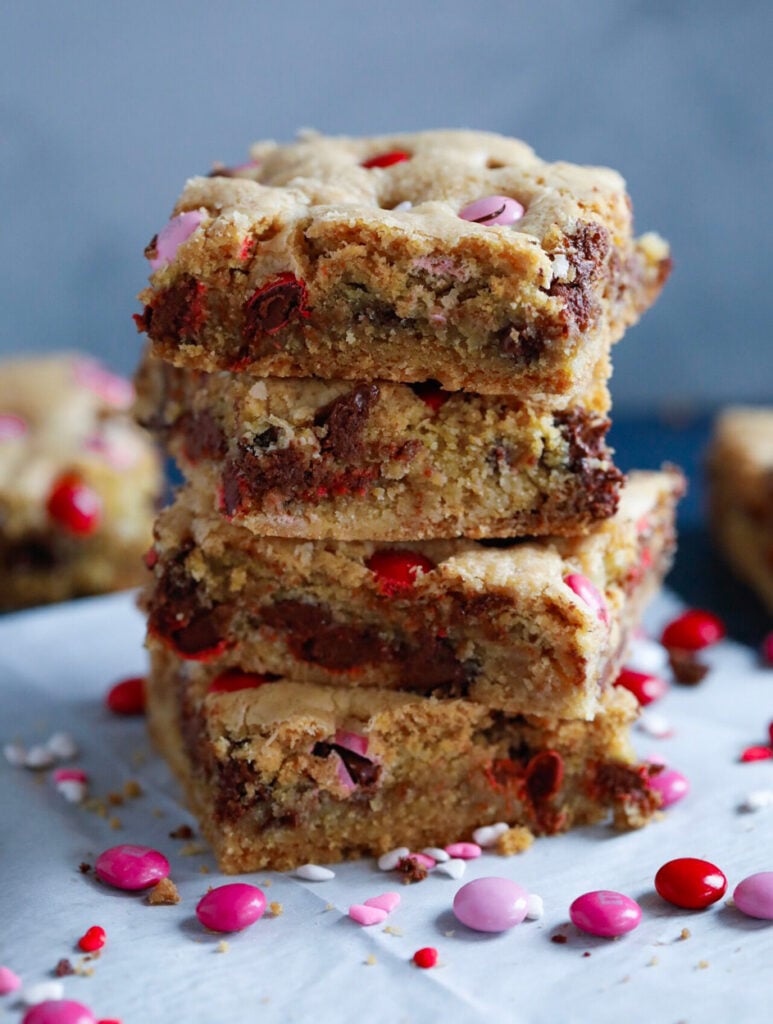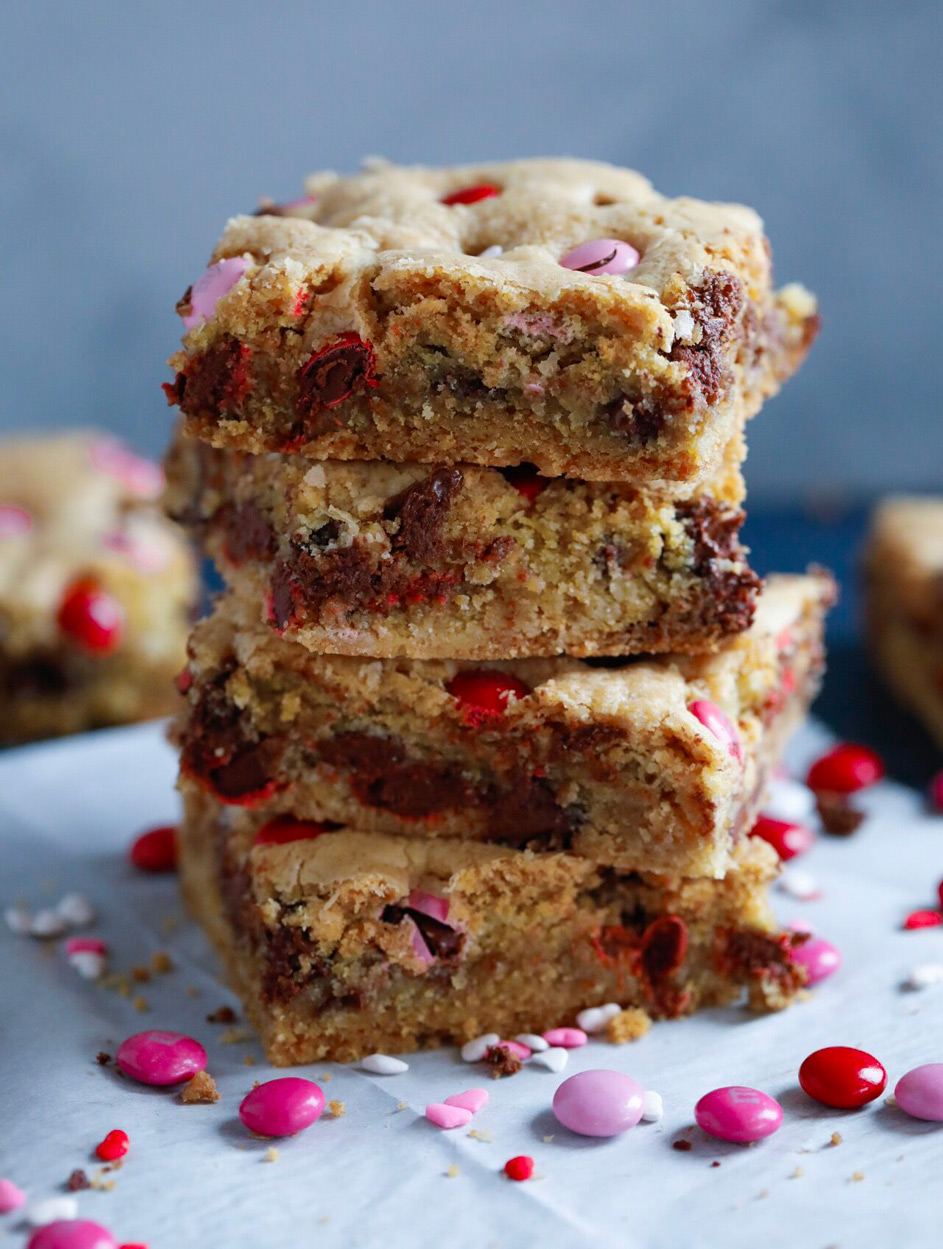 HOW TO MAKE THESE VALENTIME'S M&M CHOCOLATE CHIP COOKIE BARS
I usually get the butter out like half hour before making the recipe so it softens up at room temperature. Once that's ready, I whip up the sugar and the butter really well until it becomes very creamy. This usually takes about 2-3 minutes. I then add the eggs and vanilla extract. Mix together to obtain a fluffy yellow cream texture (another 2-3 minutes). I always use an electric mixer to do this. My hands are not strong enough.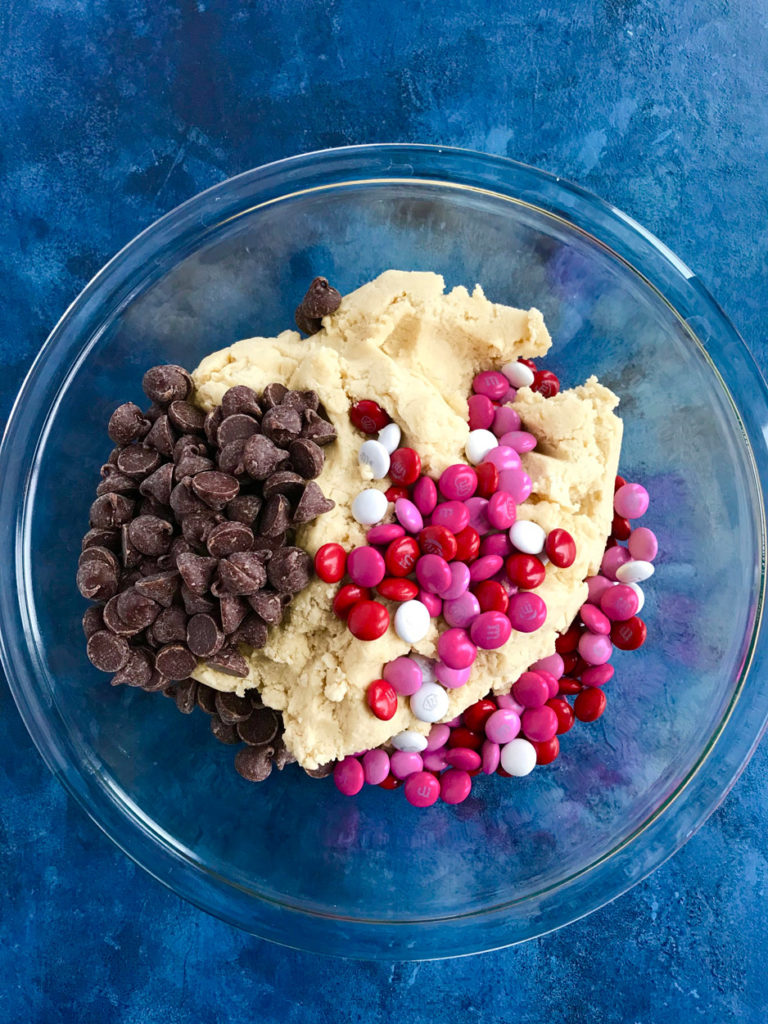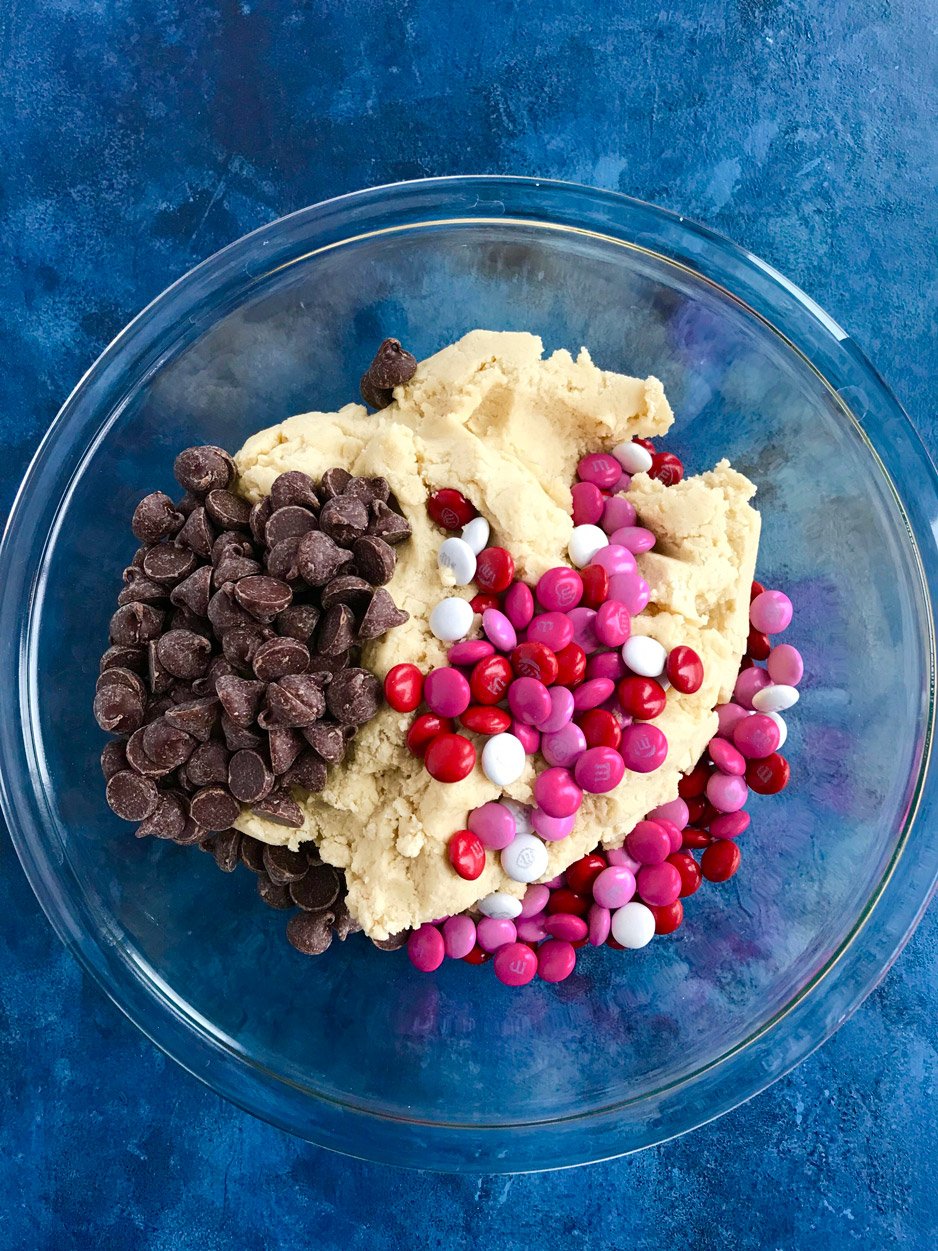 Add in the flour, baking powder, salt and mix to obtain a cookie dough consistency. Place the M&Ms and chocolate chips and stir on the lowest speed. This is just to incorporate them into the dough, preventing them from crushing.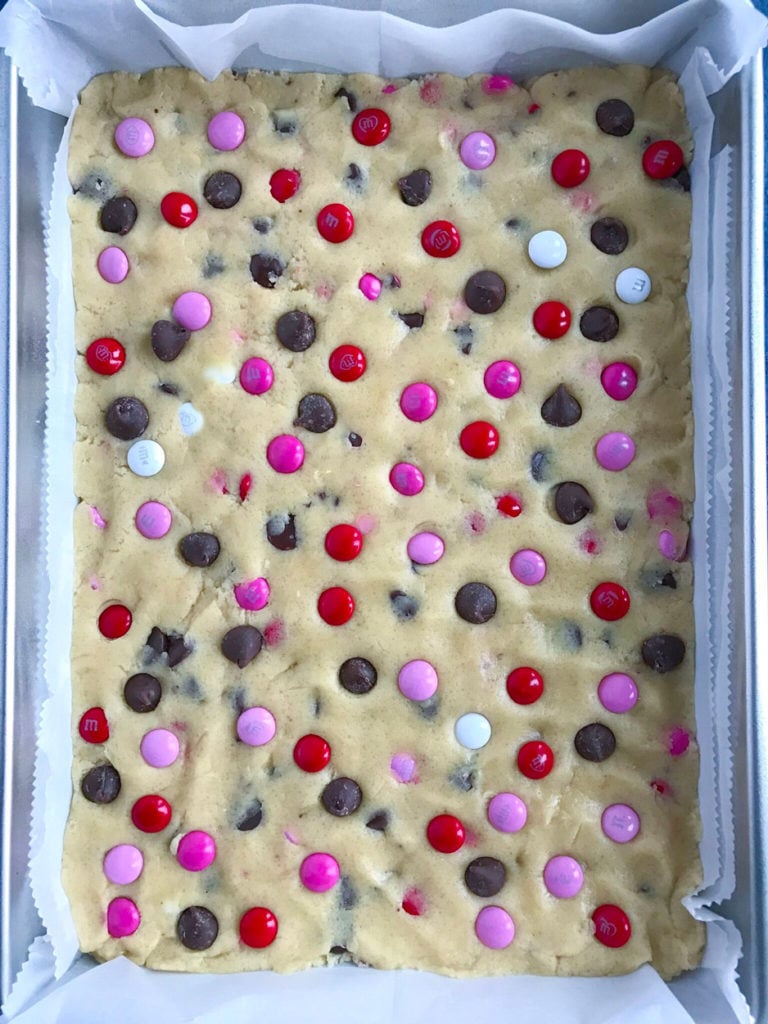 I used large chocolate chips for this recipe so I can enjoy bigger chunks of the melted chocolate when I eat them warm ;). Soooo gooood! I really do try to diet and stay away from sugary stuff but it's so hard! I love food so much especially desserts. What can I say, I have zero control over that matter. I may not eat a ton of it, but I will sure enjoy a piece of it. I'm just human, and life is too short!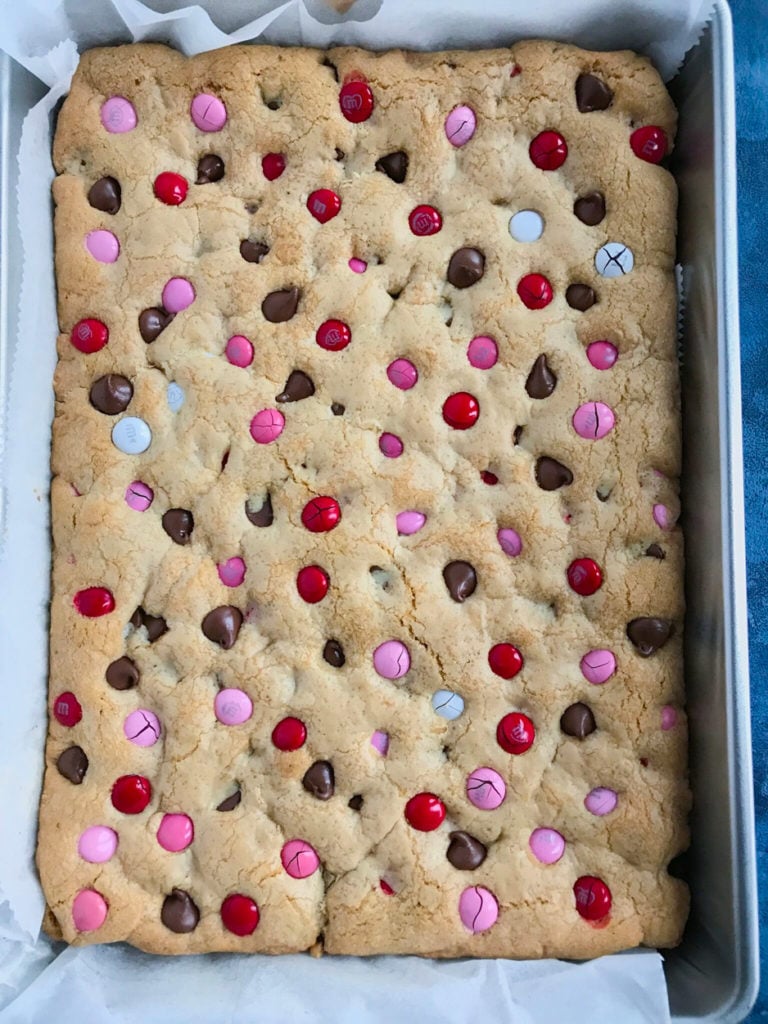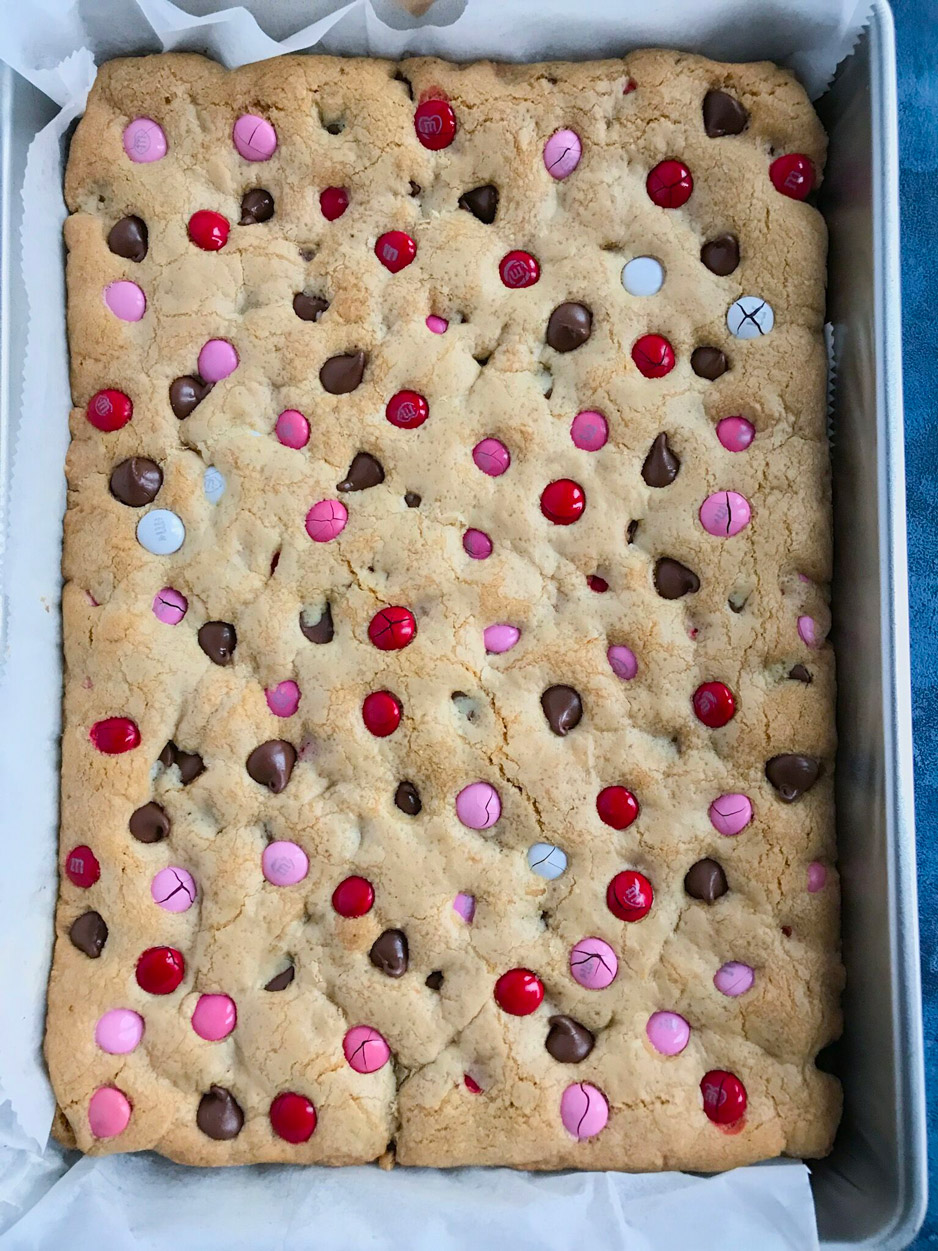 Ok, so now depending on how thick you want the cookie bars to be, you can choose the baking tray you bake it in. Remember, the thinner, the harder they will be. The thicker, the softer. But let me tell you, a 9 x 9 is too small to bake this mount of cookie dough in. It will come out a good 2 inch thick. I used a 9 x 13 inch sheet pan to make mine and I think they are a perfect thickness based on my preference. Spray the pan and line with parchment paper. Add in the batter mix, spreading it flat with your palms. Top with 1/2 cup of M&Ms and 1/2 cup of chocolate chips.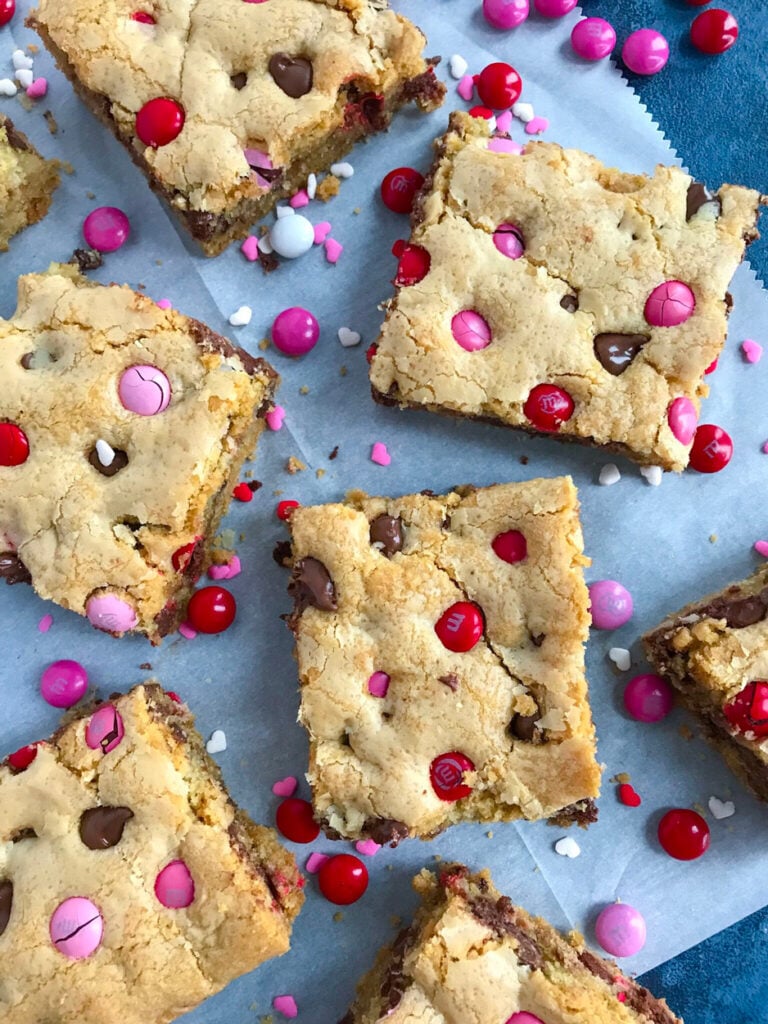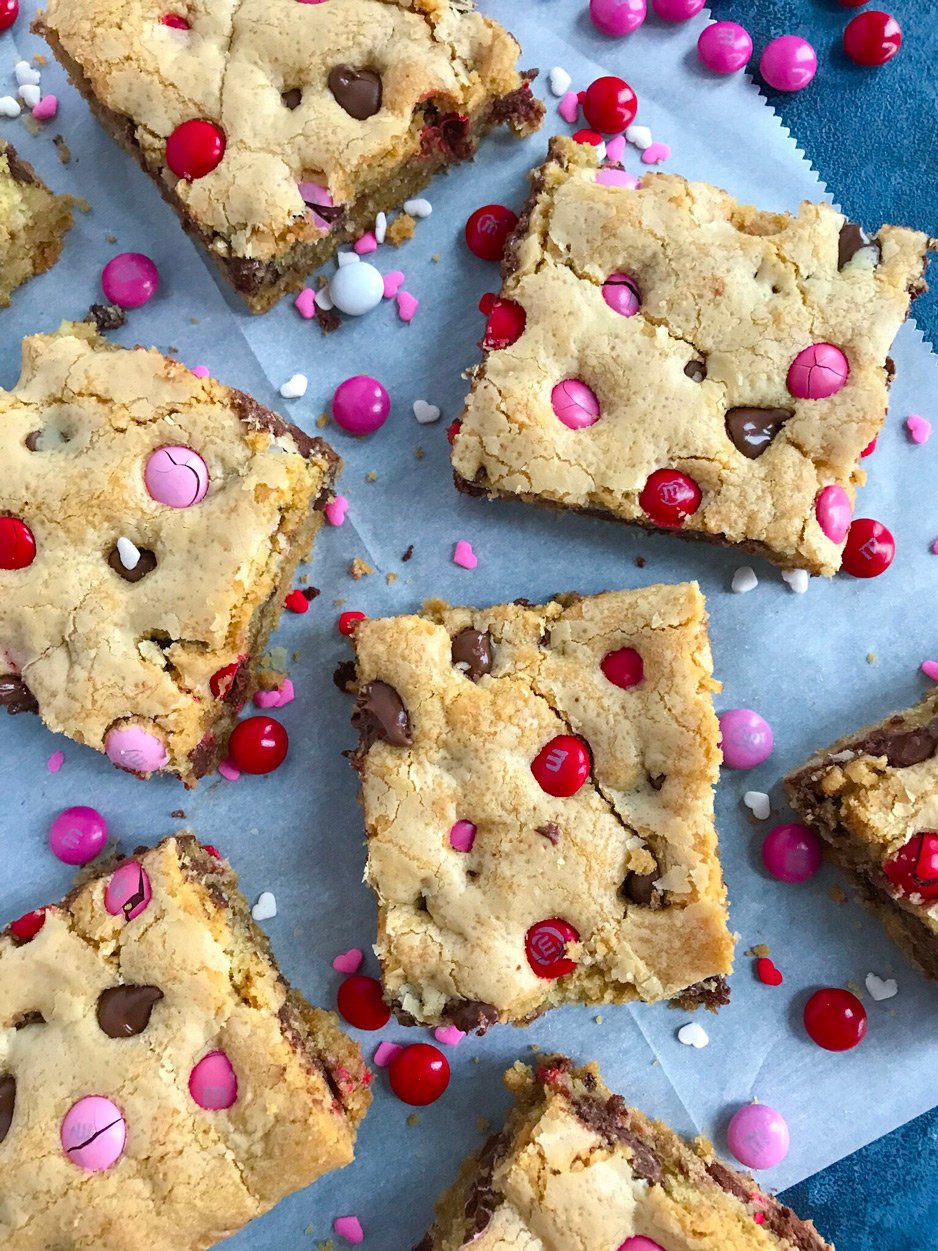 Bake in a preheated 350 degree oven for 30 minutes and remove from the oven. Cover with a kitchen towel and let them cool for 20-30 minutes to be able to cut perfect looking bars. If you like eating yours warm like me, I usually dig right in and enjoy my piece deliciously soft melted chocolate chips. These cookie bars are more on the semi-soft side after they get cold. A good tip to keep your cookies soft is to store them in an air tight container with a piece of toast bread in it.
I hope you enjoy these Valentine's M&M Chocolate Chip Cookie Bars and remember to share and tag me to see your delicious recreation! XoXo…
OTHER RECIPES YOU MAY LIKE:
Triple Chocolate Avocado Brownies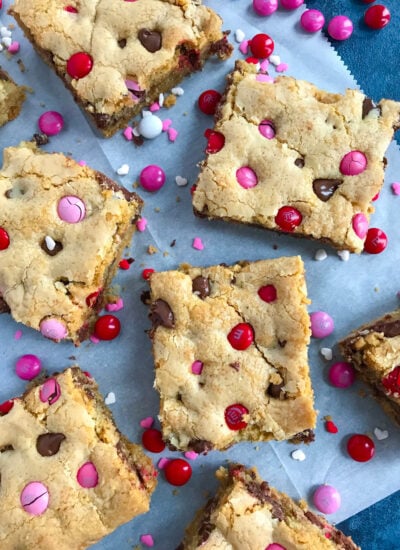 Valentine's M&M Chocolate Chip Cookie Bars
Deliciously soft and chewy, this Valentine's M&M Chocolate Chip Cookie Bar recipe is super easy to make and loveed by kids and adults!
Ingredients
1

cup

butter

at room temperature

1

cup

cane sugar

1

cup

light brown sugar

3

cups

all purpose flour

2

eggs

1

tbsp.

vanilla extract

1

tsp

baking powder

1/2

tsp

baking soda

1/4

tsp

salt

1 1/2

cup

large chocolate chips

save 1/2 cup for topping

1

cup

M&M Chocolate

I used the Valentines pack, save 1/2 cup for topping
Instructions
In a bowl using an electric mixer, whip up the sugar and butter together to obtain a creamy texture. (2-3 minutes)

Add in the eggs, vanilla and keep mixing for another 2-3 minutes.

Add the dry ingredients: flour, baking powder, baking soda, salt. Mix to obtain a thick cookie dough texture.

Add in 1 cup of chocolate chips and 1/2 cup of the M&M chocolate, folding slowly at the lowest speed for about 30 seconds to incorporate them with the cookie dough.

Spray and line a 9 x 13 in sheet pan with parchment paper. Place the dough and spread evenly with your palms.

Top the dough with 1/2 cup of M&Ms and 1/2 cup of chocolate chips. Bake for 25-30 minutes on a 350 degree oven.

Remove and cover with a kitchen towel for 20-30minutes before serving to obtain a nice square shape when you cut it.
Nutrition
Serving:
1
g
|
Calories:
457
kcal
|
Carbohydrates:
64.3
g
|
Protein:
5.5
g
|
Fat:
21.3
g
|
Saturated Fat:
12.9
g
|
Sodium:
102.6
mg
|
Sugar:
42.4
g