These delicious Roasted Garlic Mushrooms are the simplest side dish you will ever make! Literally takes 5 minutes to prepare, oven baked and they are perfect with almost anything. I love making them during the holidays and through out the year with steaks and other healthy proteins!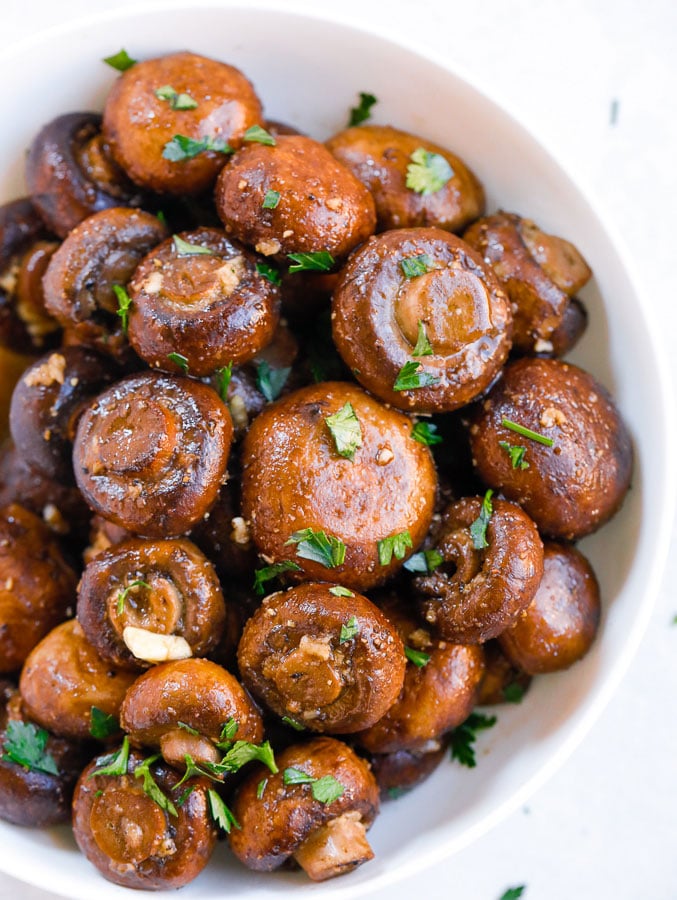 When it comes to mushrooms it's a love or hate relationship! A lot of people do not like to eat mushrooms and as a child myself, I used to hate it. But then I discovered all the delicious ways I can enjoy it and I have loved it since then!
TYPES OF MUSHROOMS TO USE FOR THE ROASTED GARLIC MUSHROOMS
You can any type of mushrooms you like. I prefer using button mushrooms (whole) while roasting or baking them in the oven. There are different kinds of mushrooms and here are a few commonly used mushrooms to get you familiar with what to choose.
White Button Mushrooms: This is an immature version of mushrooms and has a very mild in flavor which makes it more versatile. Very commonly used in soups, pizza, stews and salads.
Portobello Mushrooms: They are large in size, about the palm of your hand. Portobello mushrooms are dense in texture and have a rich taste. They're perfect for grilling and stuffing. If you haven't tried my Caprese Portobello Mushroom recipe, you should!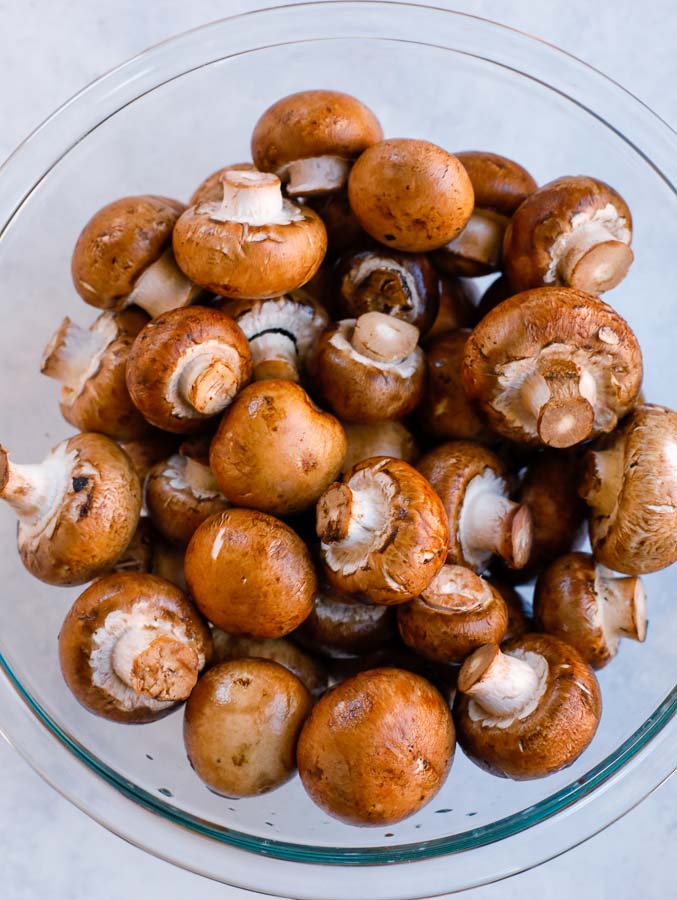 Cremini Mushrooms: Which I used for this recipe, are young Portobello mushrooms. They are labeled as baby Portobello  Or BabyBella mushrooms in most stores. They are basically more matured than white mushrooms and have a bolder flavors. They are great with stews,  for grilling/roasting and sautéed dishes.
HOW TO MAKE THE ROASTED GARLIC MUSHROOMS
This part won't take too long! As I mentioned, making these Roasted Garlic Mushrooms is super easy and fast. After rinsing, dry the mushrooms with a paper or kitchen towel. If you have time you can always dry them on a sieved rack.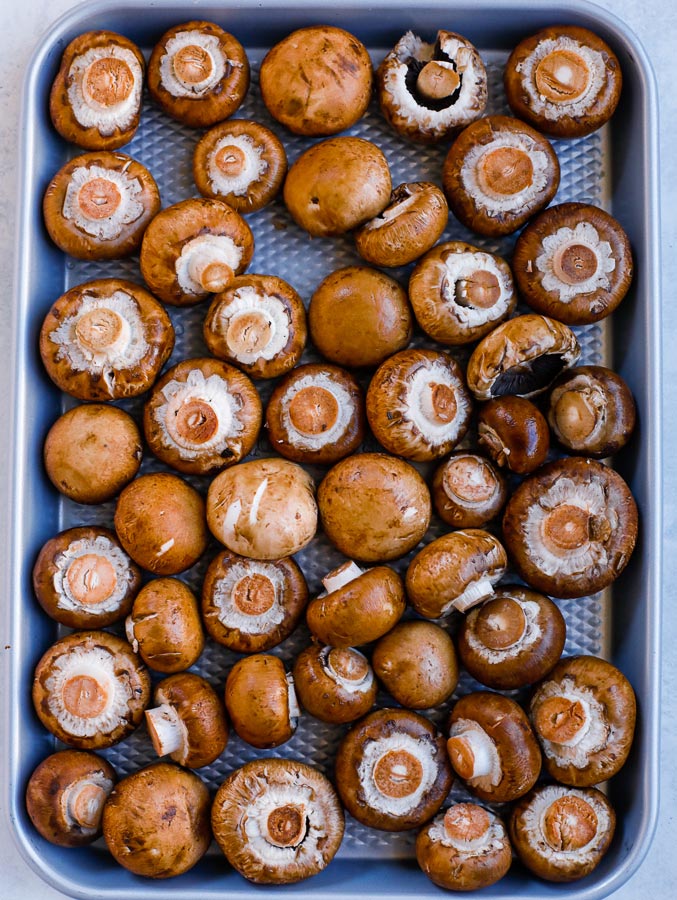 Toss them into a sheet pan and prepare the garlic butter. It's basically melted butter with some fresh minced garlic, black pepper, salt and a tiny little bit of low sodium soy sauce. You can replace the soy sauce with balsamic vinegar if you like. Coat the mushrooms well and pop them in the oven to bake.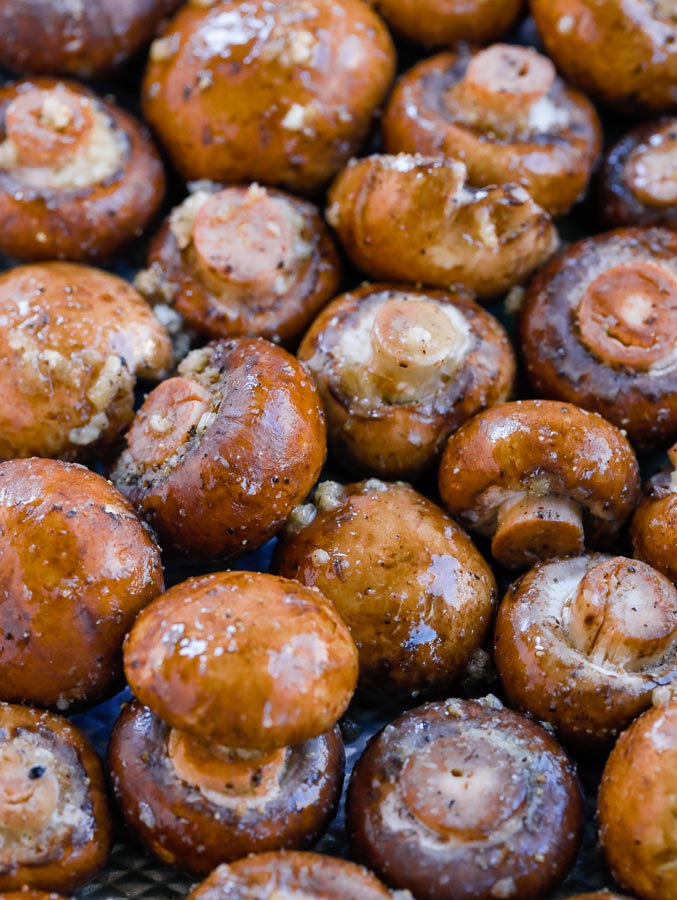 Bake in a pre-heated 400 degree oven for 15 minutes and they are ready to be devoured! Transfer to a serving dish and garnish with some fresh chopped parsley.
TIPS FOR BUYING AND WASHING MUSHROOMS
When buying whole loose mushrooms, choose the ones that are look fresh without dark spots or molded look. They should feel dry to touch and always firm. If they are mushy or flimsy or slippery, do not buy them. Mushrooms should always be stored in a refrigerator and kept sealed in it's original packaging to preserve it's freshness. If you are buying them loose without packaging always store in a paper bag (I just use the brown lunch bags).
Many recipes say to wipe whole mushrooms clean with a damp paper towel or cloth only. But I like to rinse mine first and then dry them down with a kitchen towel or paper towel. There are also special brushes to clean mushroom if you prefer that fancy way. But who has time to brush every single mushroom? I personally chose the fastest way out always 🙂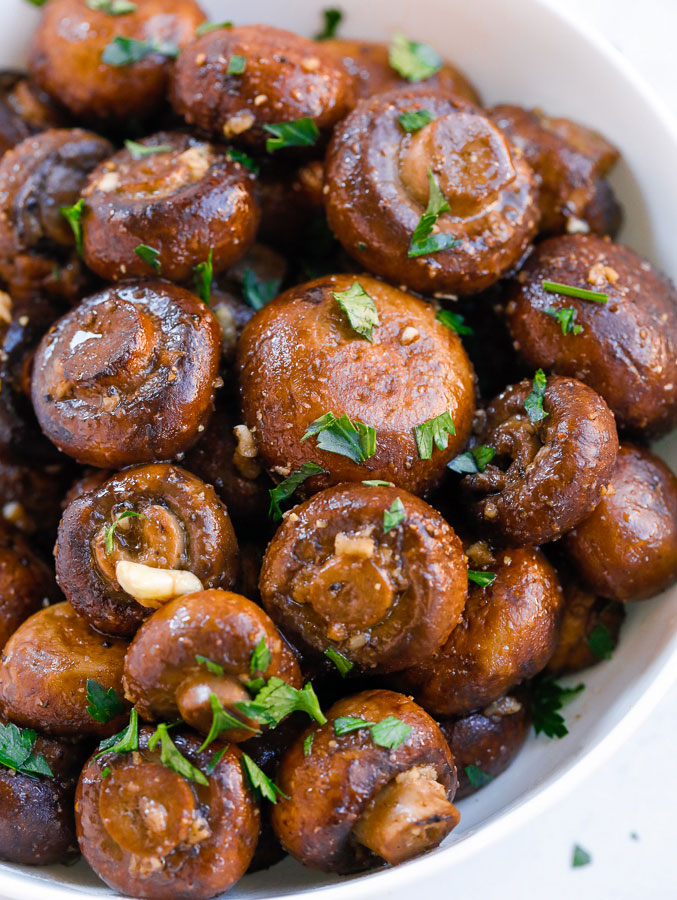 If you give this Roasted Garlic Mushrooms recipe a try, I would really appreciate your feedback in the comments and rating on the recipe card. You can do so by clicking the rate button on my recipe card. Please send your delicious recreations to my Instagram account. I would also love to have you on all my social media platforms so feel free to follow me on Facebook and Pinetrest as well. Xoxo..
OTHER HOLIDAY SIDE DISH RECIPES: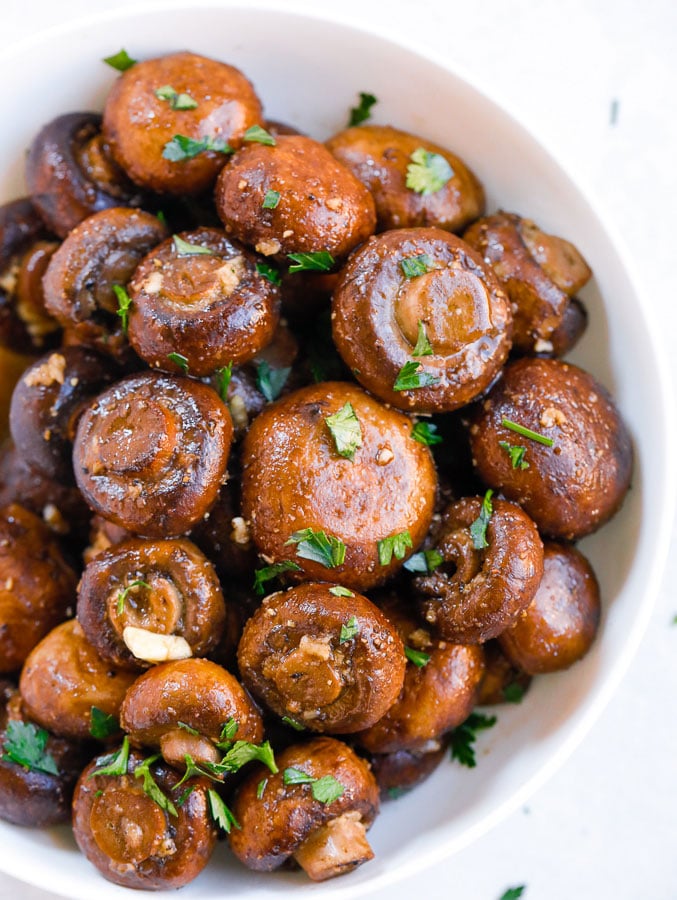 Garlic Butter Mushroom
Easy Mushroom recipe marinated with a buttery garlic mixture, then baked to perfection in the oven. Makes a perfect side dish.
Print
Pin
Rate
Ingredients
32

oz.

BabyBella Mushrooms (Cremini)

whole

1/3

cup

butter

melted

6

cloves

garlic

minced

1

tbsp.

black pepper

freshly cracked

2

tbsps.

soy sauce

low sodium

1/2

tsp.

salt

1

tbsp

parsley

chopped for garnishing (optional)
Instructions
Rinse the mushrooms and pat them dry. Trim the stems edge and transfer to a sheet pan

In a bowl, add the butter and melt it in the microwave for 20 seconds. Add in the garlic, black pepper and soy sauce into the butter and whisk well.

Pour the butter mixture onto the mushrooms and coat well.

Baked in a pre-heated 400 degree oven for 15 minutes, mixing them half way through. If you like the mushrooms to be over cooked, you can add additional time.
Notes
Use a preheated oven.
Use a non stick sheet pan or line a pan with foil for easy clean up.
If you prefer, you can halve or slice the mushrooms, just be sure to reduce the cooking time slightly and keep an eye on them.
Spread your mushrooms into one layer, so they cook evenly.
If you want a slight browning on your mushrooms, increase the cook time buy a couple of minutes.
Add an Italian twist with some Italian seasoning.
Want a spicy kick? Add some red chili flakes near the end of the cook time.
These mushrooms are best served immediately.
If you don't have soy sauce you can use some balsamic vinegar.
Top with fresh herbs for a pop of freshness and color.
Nutrition
Serving:
1
person
|
Calories:
138
kcal
|
Carbohydrates:
9
g
|
Protein:
5
g
|
Fat:
10
g
|
Saturated Fat:
7
g
|
Cholesterol:
27
mg
|
Sodium:
535
mg
|
Potassium:
733
mg
|
Fiber:
2
g
|
Sugar:
3
g