Making a simple Pepper Steak Recipe with pineapple and jalapenos is a perfect way to create a delicious stir fry that is both sweet and savory. I love the combination of bright flavors of the fresh pineapple and spicy jalapeno. Tender bits of beef served over rice or noodles make this a complete meal that is far better than any takeout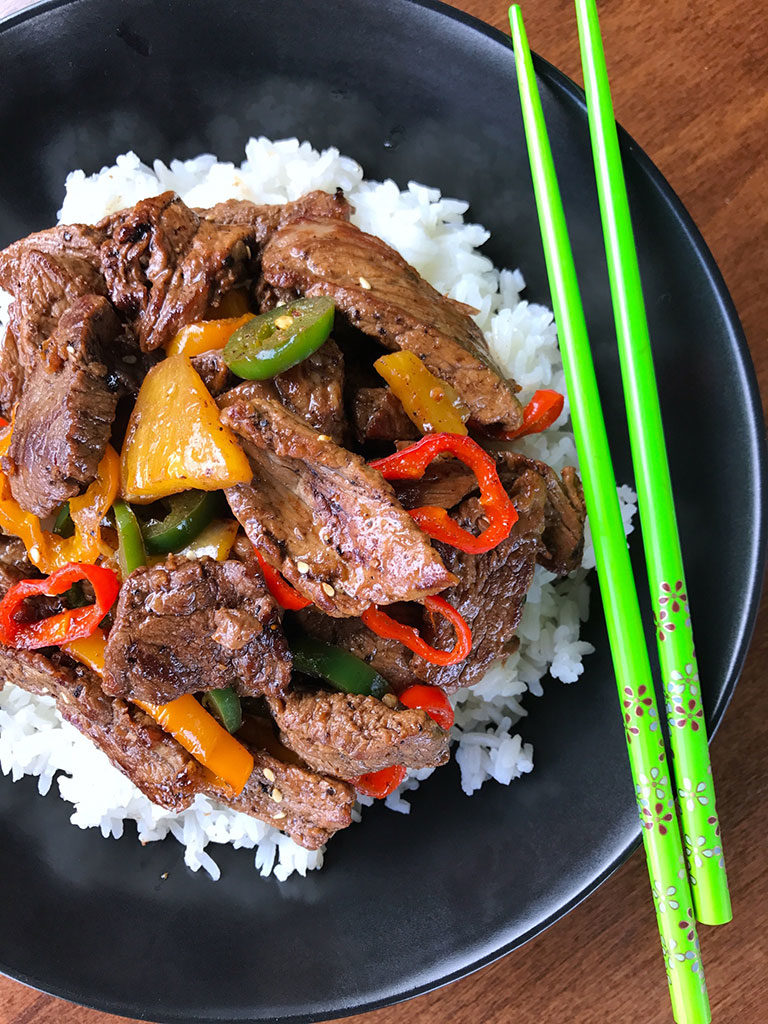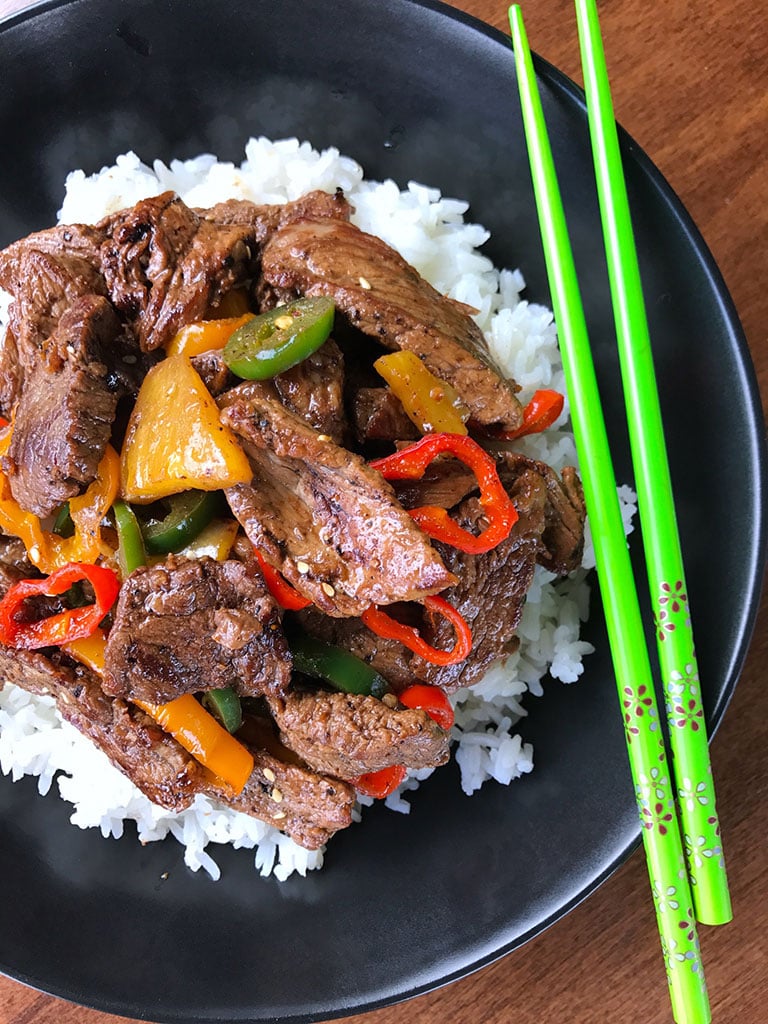 PEPPER STEAK RECIPE
Pepper steak is one of my favorite takeout dishes, but I hate paying so much just for a single meal. I would much rather recreate a meal at home with my family to enjoy. It doesn't hurt that when cooking at home I can control the ingredients and make sure the heat level is up to my preferences.
This recipe is simple but full of flavor. The addition of jalapeno and ginger paste adds a nice level of heat to the meal without being overpowering. While I used bell peppers in this to make it a traditional pepper steak, you could substitute a different vegetable like broccoli or snow peas if you prefer. The sauce makes it delicious, and the vegetables are just an addition to that.
WHAT SHOULD I SERVE WITH THIS PEPPER STEAK RECIPE?
Traditionally this is served over steamed rice. I personally love the jasmine rice, but you can use any rice you enjoy for this recipe. Alternately, you can serve this over pasta, ramen noodles, or even potatoes if you wish.
Versatility is one of the things I love the most about this meal, and knowing I can serve it alongside whatever options I have on hand makes it a favorite. For a healthier option, you can serve with brown rice, cauliflower rice, broccoli rice, or even zoodles.
CAN I LEAVE OUT THE JALAPENO?
If you prefer a mild flavor without the heat, you can definitely leave out the jalapeno. On the other side of the spectrum, you can definitely add more pepper or even hotter pepper. The heat level is a personal preference, so while this recipe suits my tastebuds, it is easy for you to adapt and change to suit your own.
Note that ginger paste adds a bit of extra heat to the recipe. You can definitely cut back on this or even use ginger powder to lessen the impact of the heat that comes with the flavor. Remember though, that the sweetness of the pineapple really cuts down on the heat of the other ingredients. So, you may want to test as listed before adding or subtracting pepper or ginger from the recipe.
WHAT IS THE BEST CUT OF STEAK FOR THIS RECIPE?
I typically use New York strip steak for this recipe as it has a great flavor and cooks up very tender. You could definitely use a ribeye steak, or even flank steak for this recipe if you prefer. Since this is a recipe that cooks quickly, you want to choose a cut of beef that is tender without slow cooking.
One cut of beef that is tender that I would avoid using in this recipe is filet mignon. While it would be delicious, it is much better savored as a stand-alone steak than in a recipe such as this.
INGREDIENTS FOR PEPPER STEAK RECIPE
New York Strip steak
Red bell peppers
Orange bell peppers
Jalapeno pepper
Garlic
Pineapple
Ginger
Black pepper
Salt
Soy sauce
Olive oil
Sesame seeds
HOW TO MAKE THE PEPPER STEAK RECIPE
Begin by preparing your vegetables and steak so they are ready to simply toss into the pan when ready.
To cook, you begin by haeting olive oil in your wok or skillet on high heat. Place your steak into a hot skillet and cook for 2-3 minutes on each side until they have browned are beginning to get crispy.
Remove the steak from the skillet and begin cooking the vegetables. When they are almost done the cooking, you will mix in the ginger paste and garlic to cook for a bit before adding the steak back to the pan to finish cooking.
Add in the soy sauce, salt, and pepper to finish cooking before serving over rice.
If you try this Pineapple Pepper Steak recipe and enjoyed it, please use my hashtag to share it with me on INSTAGRAM for a chance to be featured in my story! Also, follow me at Cookin' With Mima on FACEBOOK | INSTAGRAM | PINTEREST for all of my latest social posts and recipes.
MORE ASIAN INSPIRED RECIPES
The flavors of Asia are some of my favorite culinary experiences. There are so many bold flavors, but mostly these meals contain a ton of great vegetables and tender protein. Making a simple one-skillet meal or stir fry is an easy way to give my family a solid meal that is both homemade and delicious.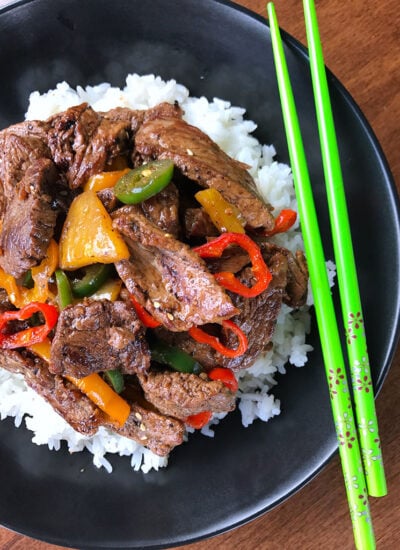 Pineapple Pepper Steak
This is literally the easiest dish you will ever make. It can be made instantly with little to no preparations ahead. I make this dish a lot when I don't have enough time to prepare a meal. I also use it a lot for mealprep. It can be served with white rice or even quinoa. But you can use any side dish you like depending on your preference.
Ingredients
2

lbs

N.Y strip steak

thick cut, 2 inch strips

3

pieces

baby red bell peppers

sliced

1

jalapeño pepper

sliced

3

pieces

baby orange bell peppers

sliced

1

tbsp

garlic

minced

1/2

cup

fresh pineapple chunks

thinly sliced

2

tsp

black pepper

fresh ground

1

tsp

salt

2

tsp

low sodium soy sauce

1

tsp

ginger paste

2

tbsp

Extra Virgin Olive Oil

Sesame seeds

garnishing
Instructions
In a large skillet, bring 1 tbsp of olive oil to medium-high heat. Add the steak strips and keep them flat, cooking each side for 2-3 minutes until they are semi crispy and brown. Transfer to a plate and set aside. 

Pour the remaining 1 tbsp of EVOO into the skillet. Add the bell peppers, jalapeños, pineapple chunks and continue stirring until they are almost fully cooked.

Add the minced garlic, ginger paste and stir well to cook for about a minute. 

Return the steak strips to the skillet and add the soy sauce, salt, black pepper. Continue stirring everything together to cook for about 2 minutes.

Remove from heat and serve with a side of white rice or any side dish you prefer. 
Nutrition
Serving:
1
g
|
Calories:
400
kcal
|
Carbohydrates:
10.8
g
|
Protein:
71.3
g
|
Fat:
17.8
g
|
Saturated Fat:
4.5
g
|
Sodium:
1064.3
mg
|
Sugar:
4.5
g