This Roasted Brussels Sprouts recipe is very simple and delicious. If you are not a fan of Brussels Sprouts, you need to rethink it through after trying this recipe because it has the perfect blend of spices, making this mini cabbage looking veggie not so boring after all!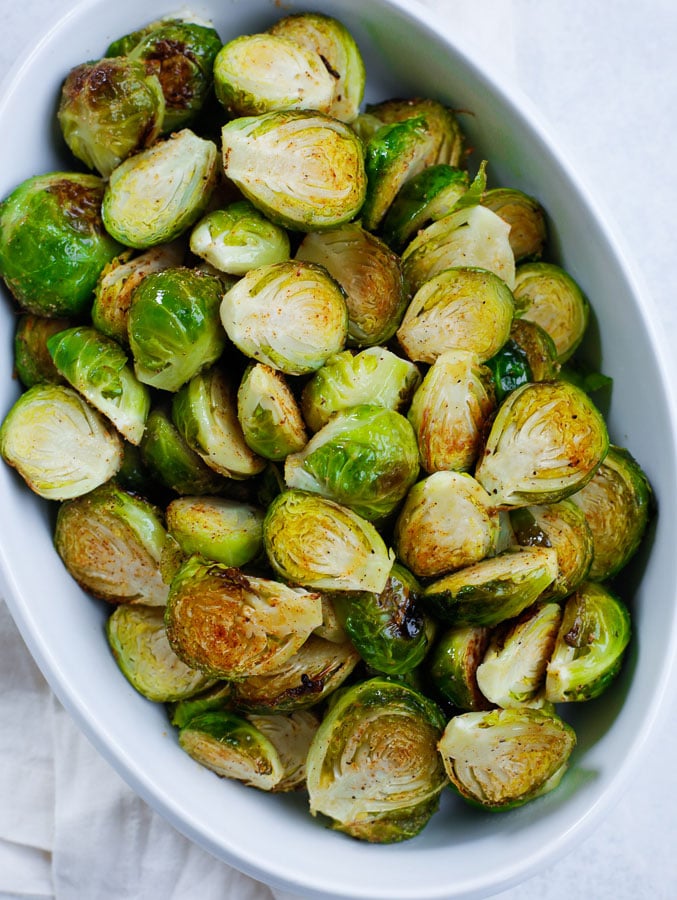 I did not go all crazy with these Roasted Brussels Sprouts because the goal is to make a delicious yet easy side dish. I did not grate any cheese, nor did I mince any garlic or any extra steps to add time to the prepping of this dish. Pure, simple and delicious!
If you're after other easy sides, why not also try my Herb and Parmesan Oven Roasted Potatoes or my Brown Sugar Glazed Carrots!
Why you'll love these Roasted Brussels Sprouts
An awesome texture. Oven baked brussels sprouts come out crispy edged with a softer center. I could eat these on their own, fresh out of the cooker, totally addictive!
An easy side dish. More often than not, simpler is better. Let the flavor of these little lovelies shine through – just a touch of seasoning and then pop in the oven!
A healthy side dish. Brussels sprouts are absolutely packed with beneficial nutrients, plus they are roasted in just a spritz of avocado or olive oil.
Ingredients you'll need
Brussels Sprouts
Seasoning: Salt, garlic powder, onion powder, pepper.
Avocado or Olive Oil Spray
How to make these Roasted Brussels Sprout
Prep the sprouts – Clean, trim and cut in half. Then spray with some oil.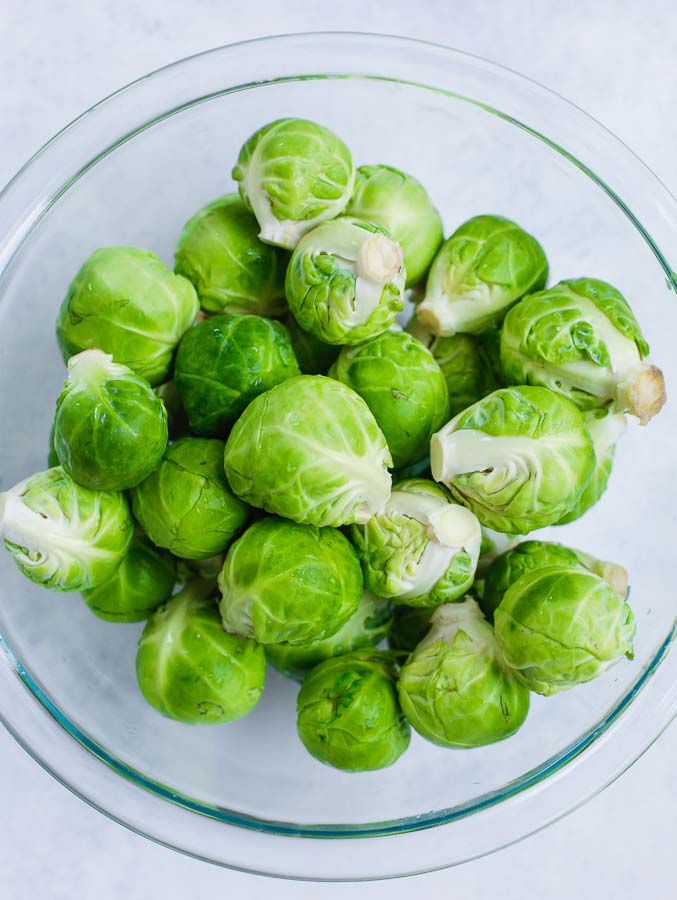 Season – Mix the spice together in a small bowl and coat the sprouts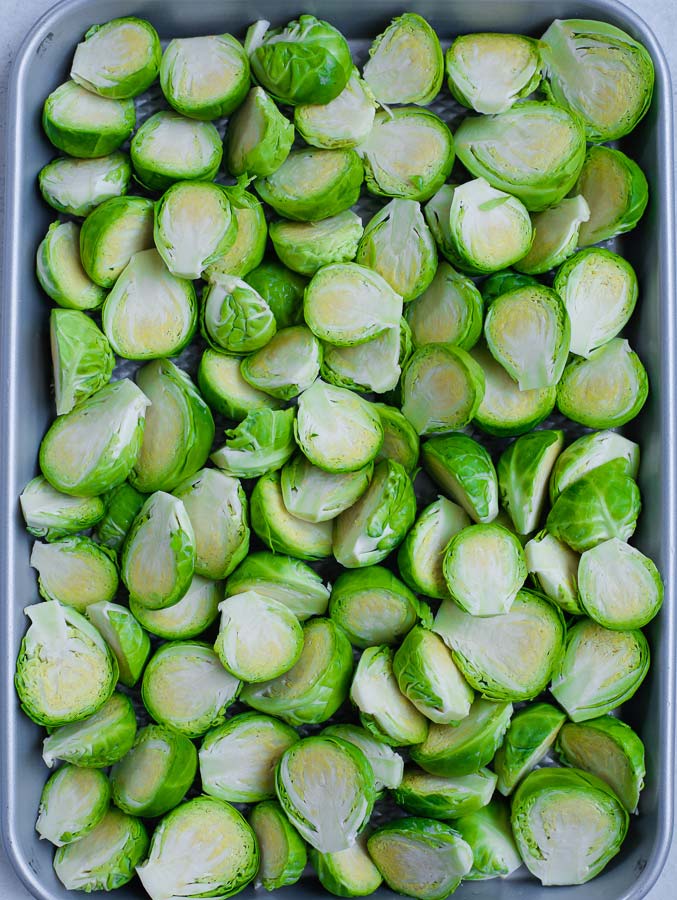 Roast – Cook in a preheated oven for 20 mins.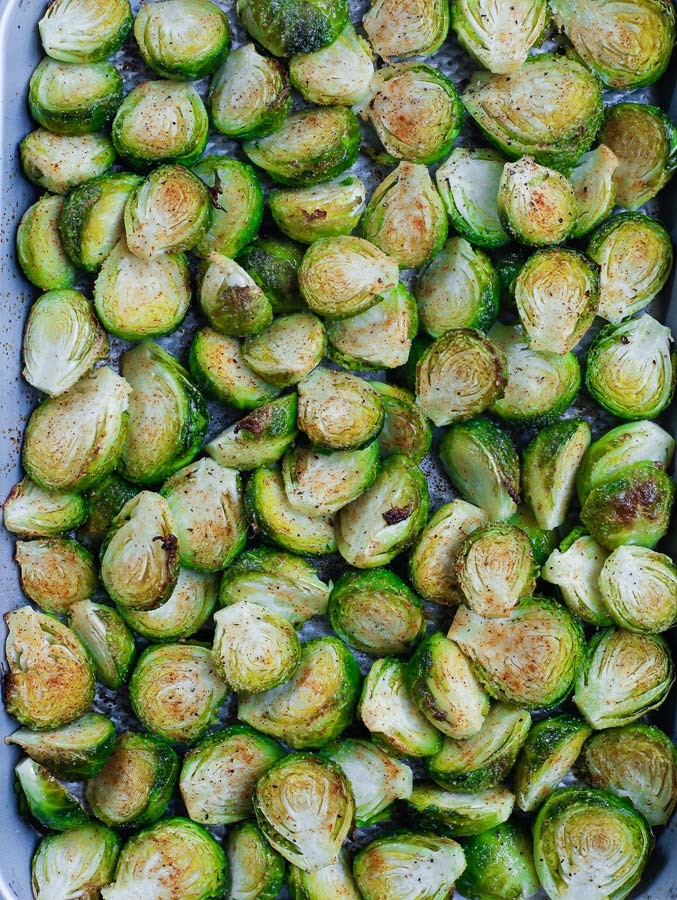 Recipe notes and tips
In the U.S, brussels sprouts are in season from September through March, although you can find them year-round.
Ideally choose sprouts that are roughly the same size, this means they'll be done around the same time.
Ready brussels sprouts should feel firm when gently squeezed.
Smaller sprouts will taste sweeter.
I highly recommend that you wash the sprouts very well and peel a couple leaves from the outside before you prepare them. I know some bags say pre-washed and everything on it, but almost 80% of the time you will find dirt or weird things underneath the first couple of leaves!
Use a preheated oven.
Leave the sprouts alone! You don't have to worry about turning the sprouts over while cooking. If you roast flat side down, the moisture in the sprouts will cook the centers to tender perfection!
Spray the oil onto the sprouts before seasoning, this allows the spices to stick.
I use my most favorite, super simple spices that are always in my drawer: paprika, onion powder, garlic powder, black pepper and salt. They make a perfect blend and very simple for kids to eats.
Roast the sprouts until they are golden on the flat sides and can be easily pierced with a fork.
FAQ's
What to serve with these Roasted Brussels Sprouts
You can sevrve with many proteins including chicken, shrimp, meats, turkey, fish and anything you can think off. You can also chop and serve in as a salad dish instead of cooking them. You can prepare them with cubes of sweet potatoes, squash, zucchini and other veggies together in a sheet pan all together. The options are countless, and the creativity is yours!
Ways to cook Brussels Sprouts
Sauté: Prepare and sauté with olive oil in a skillet for 8-10 minutes on medium-low heat, stirring occasionally.
Bake: Prepare and place in a baking dish or sheet pan and bake in a 400 degree pre-heated oven for 20 minutes.
Steam:

You can place in a steamer for 6-8 minutes and then season afterwards.

Grilled: Prepare and grill for 5 minutes on each side.
Benefits of Brussels Sprouts
Brussel Sprouts are loaded with beneficial vitamins and minerals. They are rich in vitamin A and C, high in fiber, folic acid and they are also low in calories and carbs. They are from the same family as cabbage and broccoli so they make you full much faster.
How to store Roasted Brussels Sprouts
The sprouts will last for a couple of days in the fridge in an airtight container if you would like to use them for meal-prep.
Unused sprouts will keep in your salad drawer for 7 days.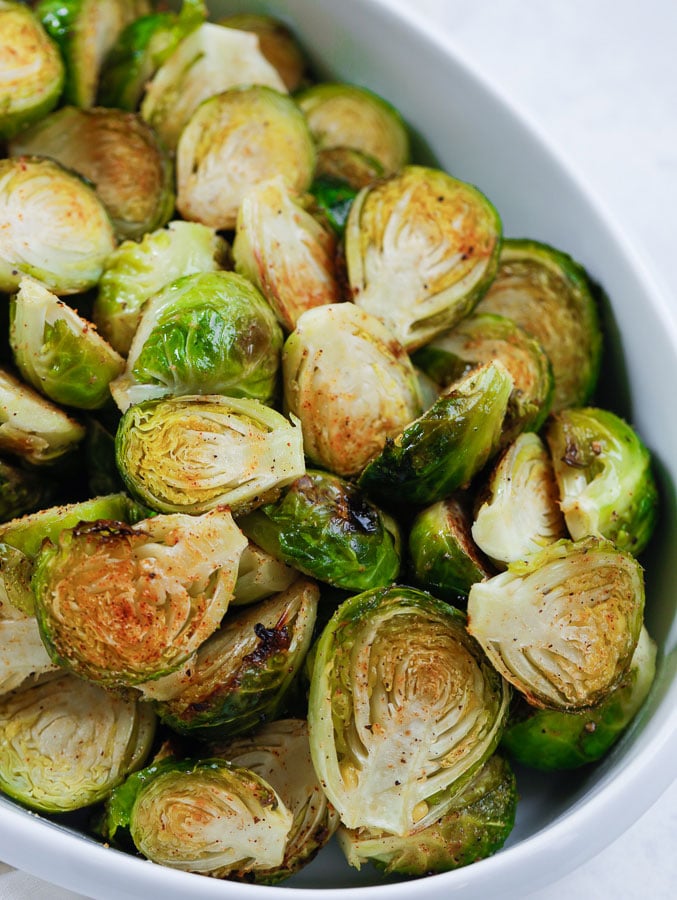 Other delicious side dishes:
I hope you enjoy all the recipes I share with you, including this delicious Roasted Brussels Sprouts recipe. I hope you try it, enjoy it, rate it and share it with your friends and family!
If you try this recipe and like it, please use my hashtag to share it with me on INSTAGRAM for a chance to be featured in my story! Also, follow me at Cookin' With Mima on FACEBOOK | INSTAGRAM | PINTEREST for all of my latest social posts and recipes.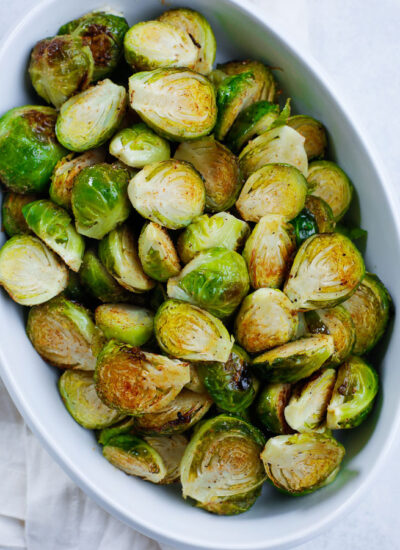 Oven Baked Brussel Sprouts
This Oven Baked Brussel Sprouts recipe is very easy to make and requires just a few spices that you already have in your kitchen. Can serve all year round.
Ingredients
2

lbs.

Brussel sprouts

cleaned and trimmed

1

tsp.

salt

1

tsp.

paprika

1

tsp.

onion powder

1

tsp.

garlic powder

1

tsp.

black pepper

avocado or olive oil spray
Instructions
Clean and trim the sprouts.

Spray with olive or avocado oil.

Mix the spices together in a small bowl and season the sprouts

Bake in a pre-heated 400 degree oven for 20 minutes.
Notes
In the U.S, brussels sprouts are in season from September through March, although you can find them year-round.
Ideally choose sprouts that are roughly the same size, this means they'll be done around the same time.
Ready brussels sprouts should feel firm when gently squeezed.
Smaller sprouts will taste sweeter.
I highly recommend that you wash the sprouts very well and peel a couple leaves from the outside before you prepare them. I know some bags say pre-washed and everything on it, but almost 80% of the time you will find dirt or weird things underneath the first couple of leaves!
Use a preheated oven.
Leave the sprouts alone! You don't have to worry about turning the sprouts over while cooking. If you roast flat side down, the moisture in the sprouts will cook the centers to tender perfection!
Spray the oil onto the sprouts before seasoning, this allows the spices to stick.
I use my most favorite, super simple spices that are always in my drawer: paprika, onion powder, garlic powder, black pepper and salt. They make a perfect blend and very simple for kids to eats.
Roast the sprouts until th
Nutrition
Calories:
75
kcal
|
Carbohydrates:
16
g
|
Protein:
6
g
|
Fat:
1
g
|
Saturated Fat:
1
g
|
Sodium:
358
mg
|
Potassium:
636
mg
|
Fiber:
6
g
|
Sugar:
3
g
|
Vitamin A:
1545
IU
|
Vitamin C:
129
mg
|
Calcium:
72
mg
|
Iron:
2
mg