Manakeesh Zaatar (aka, manaeesh, mana'ish, manaqish) is a famous savory flatbread breakfast pastry known in Lebanon. It's basically a delicious fluffy homemade dough topped with a za'atar spread.
Manakeesh is a very popular breakfast food based in the Levantine regions of the Middle-East not just Lebanon. No matter which part you go to, you will find Manakeesh on the menu at all bakeries.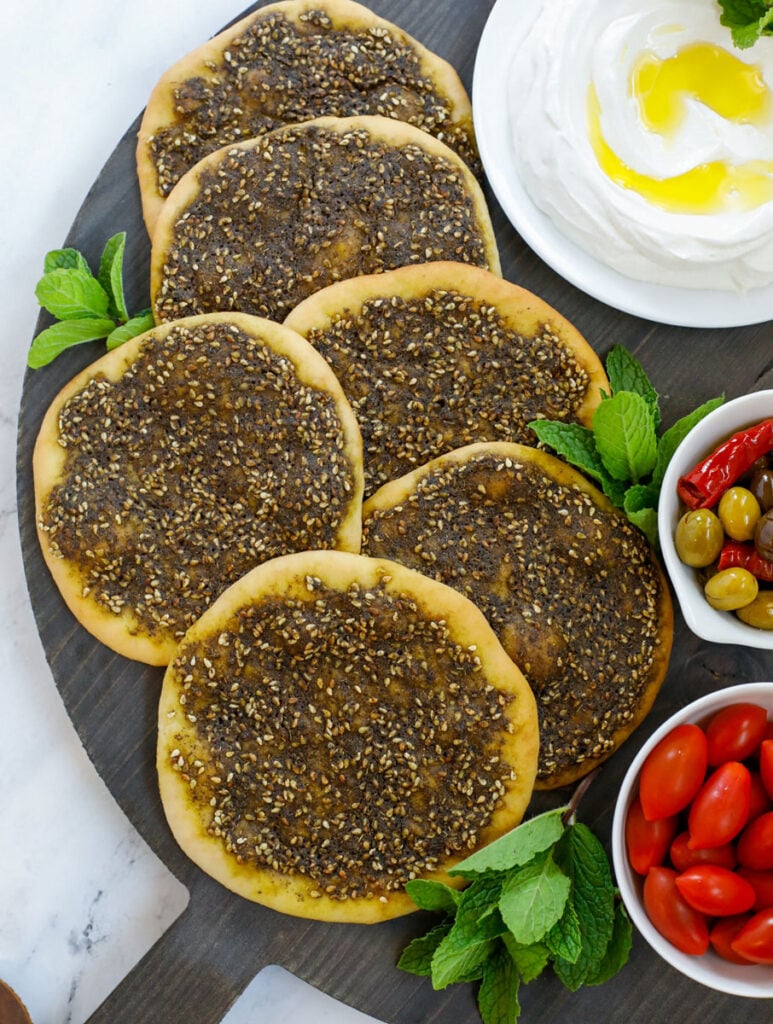 Some bakeries also offer a cocktail version, which is basically a blend of Akawi cheese and zaatar for the topping. It's also one of my favorite choices. Growing up, we ate Manakeesh of all sorts at home. But in school, my favorite was Zaatar in particular with a can of Pepsi. The BEST EVER! I still have that on the go when I can't really take a cup off tea with me. But at home, I prefer serving it with a cup of tea and some Labneh spread.
Why you will love this Zaatar Manakeesh recipe
Super easy-This recipe is very simple and straight forward. You basically just make the dough and spread the zaatar mixture on top. No need to activate yeast to make the dough or anything.
Freezes and store well- This recipe can last for up to 10 days in your fridge if properly stored and freezes well for months
Made with simple ingredients- Apart from the dough ingredients that you already have in your pantry, you will need only one more ingredient, which is the Za'atar.
What is Zaatar?
Zaa'tar is a traditional Middle Eastern spice blend made from a combination of wild thyme, salt, sumac, and toasted sesame seeds. Some regions might edit the combination a bit but this is what the Lebanese version is made of. My mother in law always makes a batch for us when we visit Lebanon so we can bring it back with us.
I usually don't buy the store versions because the blend is not up to my taste. But recently I found 2 really good sources for zaatar blend that comes straight from Lebanon. One is from my friends at Albustan Foods, and the other is from Terranean Herbs and Spices. They are both very good.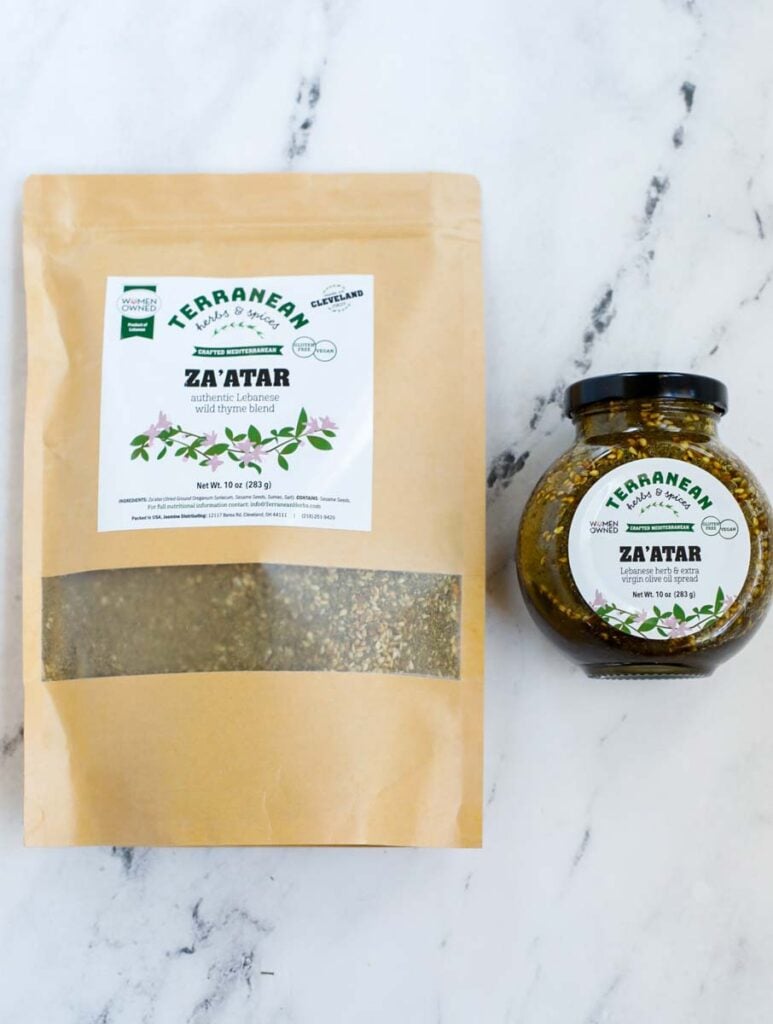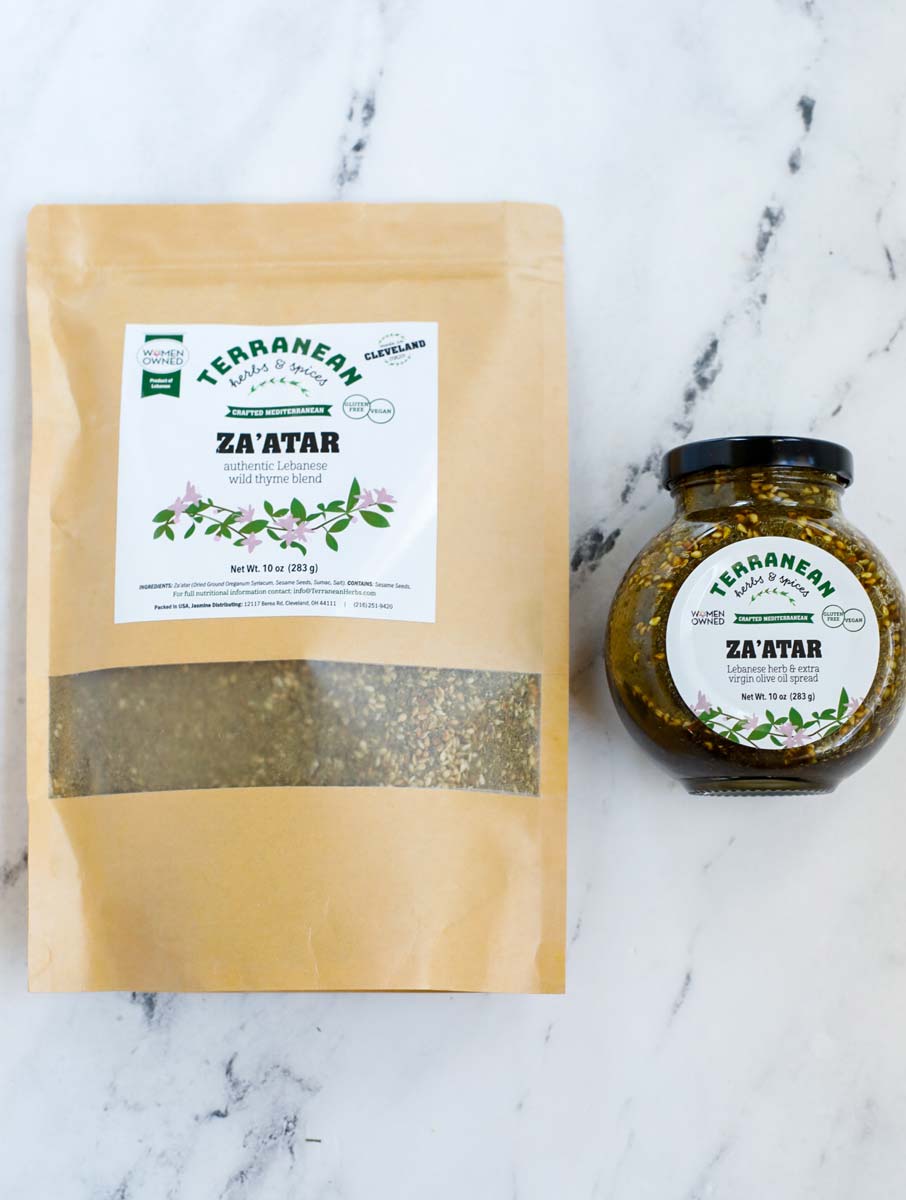 What is Manakeesh?
Manakeesh is basically a flatbread made with different types of toppings. My most favorite types of Manakeesh are Zaatar Manakeesh, Akawi Cheese Manakeesh, Meat Manakeesh, Cocktail Manakeesh (Blend of cheese and Zaatar), Keshek Manakeesh, and the Tomato and Onion Manakeesh. They are devouring and I can eat them any time of the day. Even though Manakeesh is considered breakfast, people also eat them any time of the day. You can't go wrong at all with when you eat it.
For the dough I use my simple Pizza dough recipe. It works well for so many recipes. The best Manakeesh is baked in a wood brick oven. But to make homemade Manakeesh, we have to settle for the oven, unless you have one of the other two mentioned.
How to make homemade Zaatar Manakeesh
What you'll need:
Homemade dough (see below)
Zaatar and olive oil mix
Rolling pin
Homemade Manakeesh Dough
Ingredients: Flour, Instant Yeast, Oil, Milk, Sugar and Yogurt.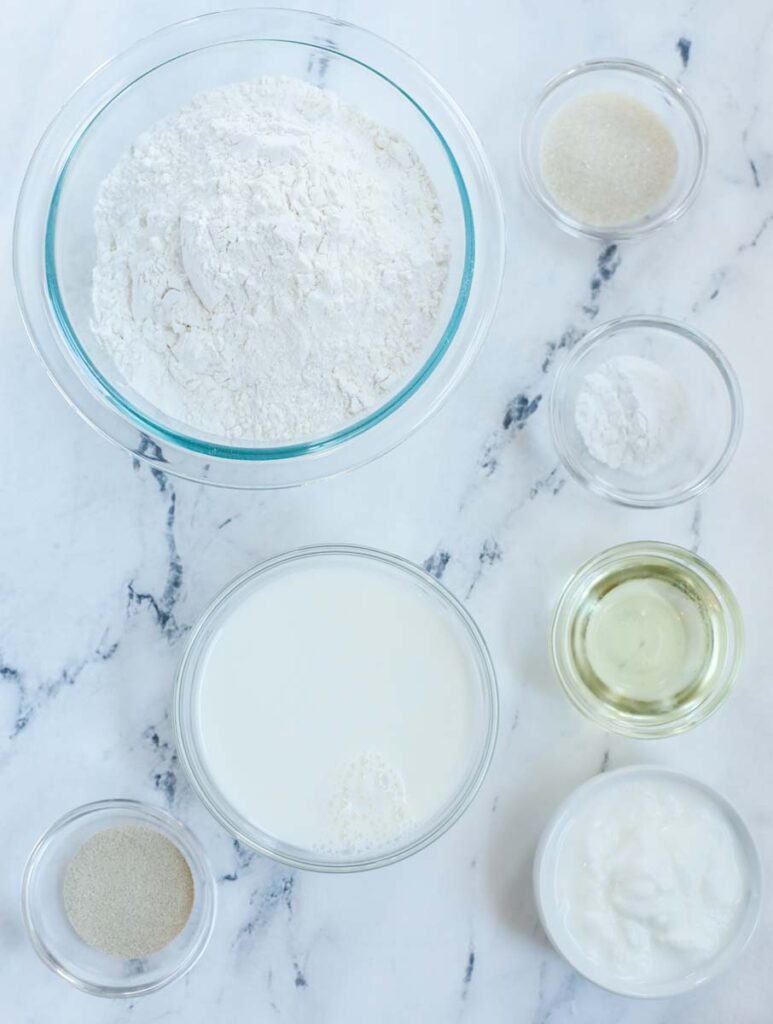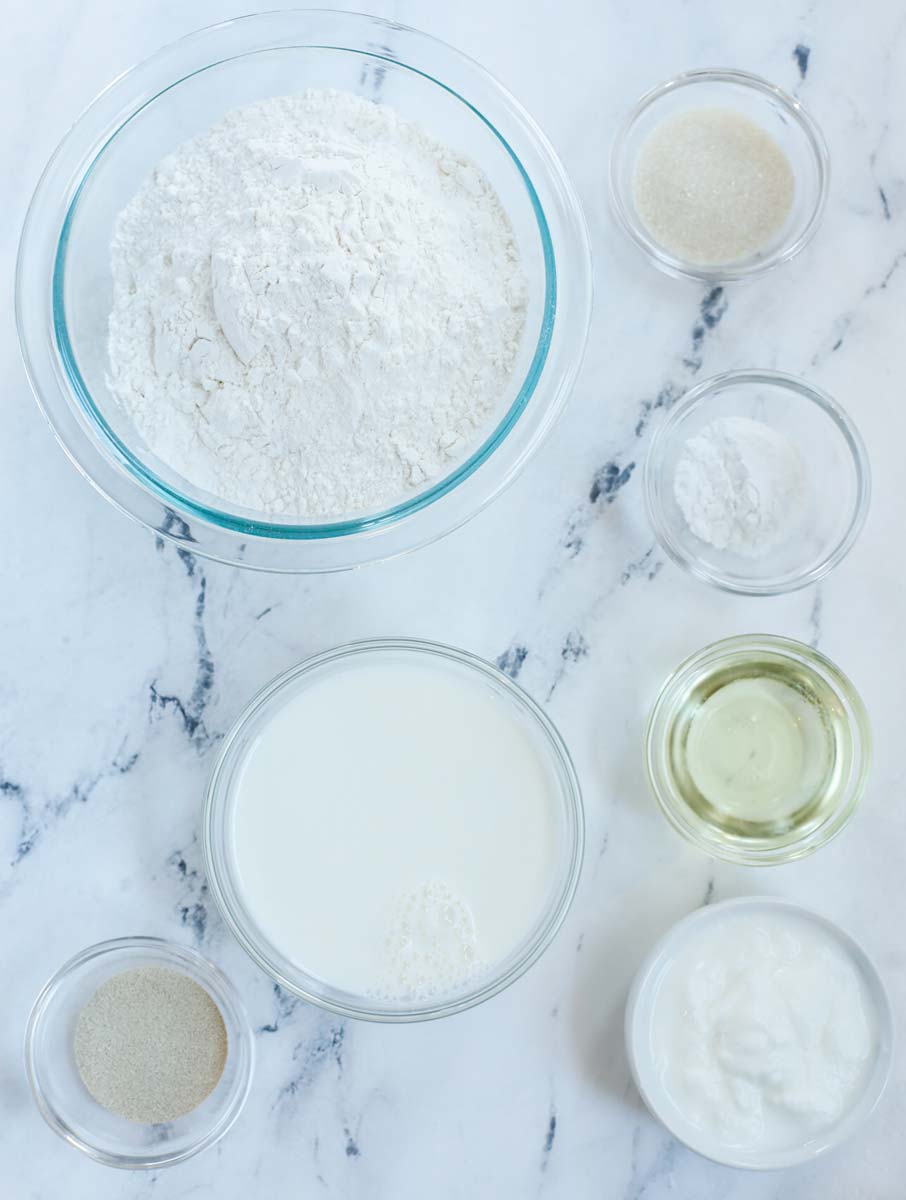 Mixing- Mix dry ingredient in a mixing bowl. Wet in another. Then add in the wet into the dry and mix on low speed using an electric mixer for 3-4 minutes. Be sure to use the dough attachment for this step.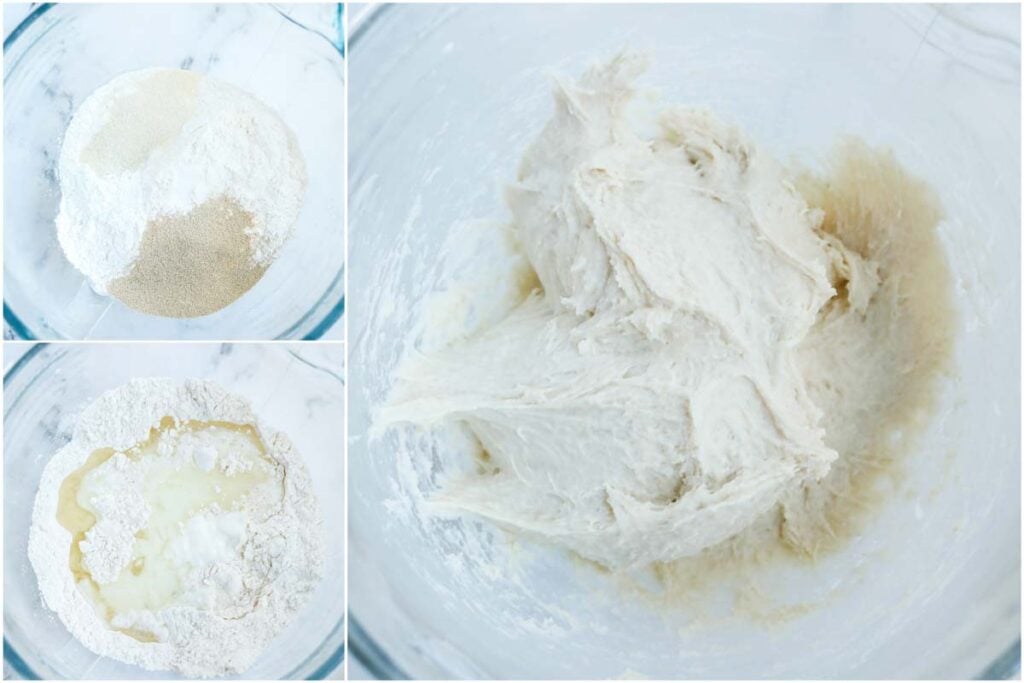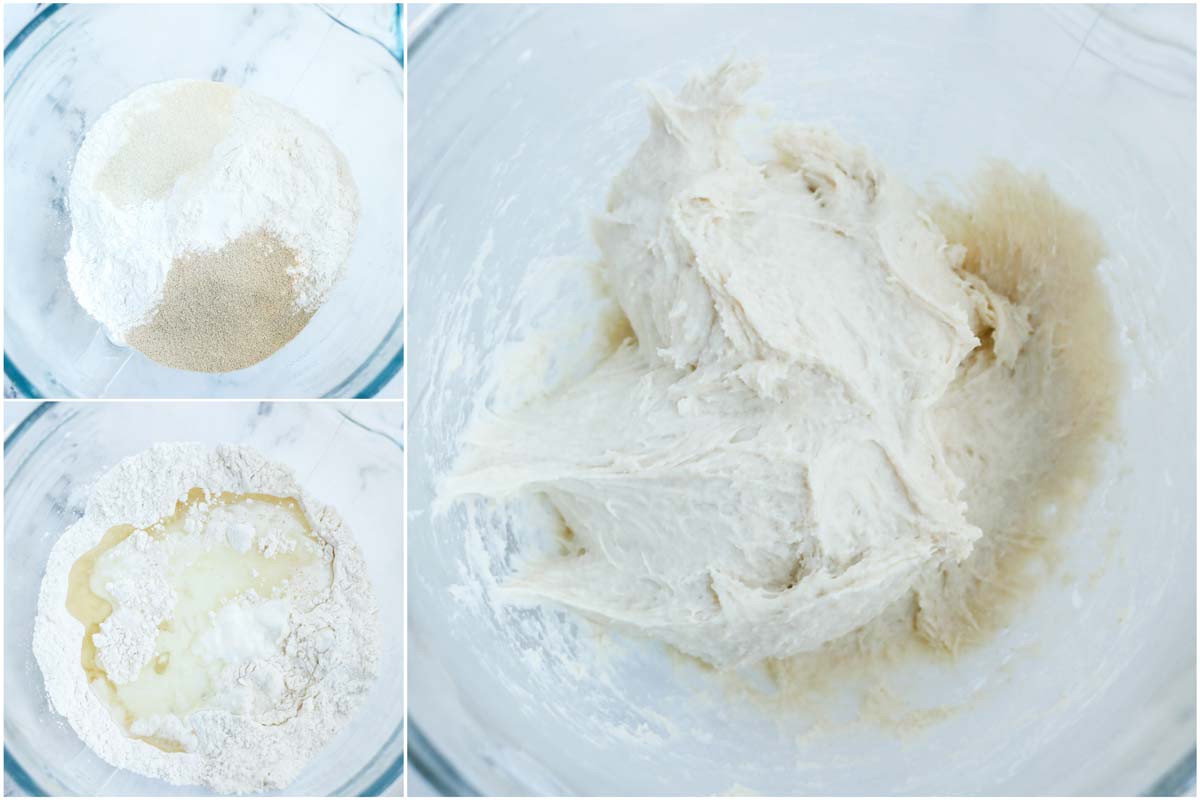 Kneading- Sprinkle some dough onto a cutting board. Remove the dough from the mixer and knead it by hand for a minute and form into a ball shape. Spray the bowl with some oil and return the dough back into the bowl.
Let it rise- Cover and allow the dough to rest and rise for 1 hour.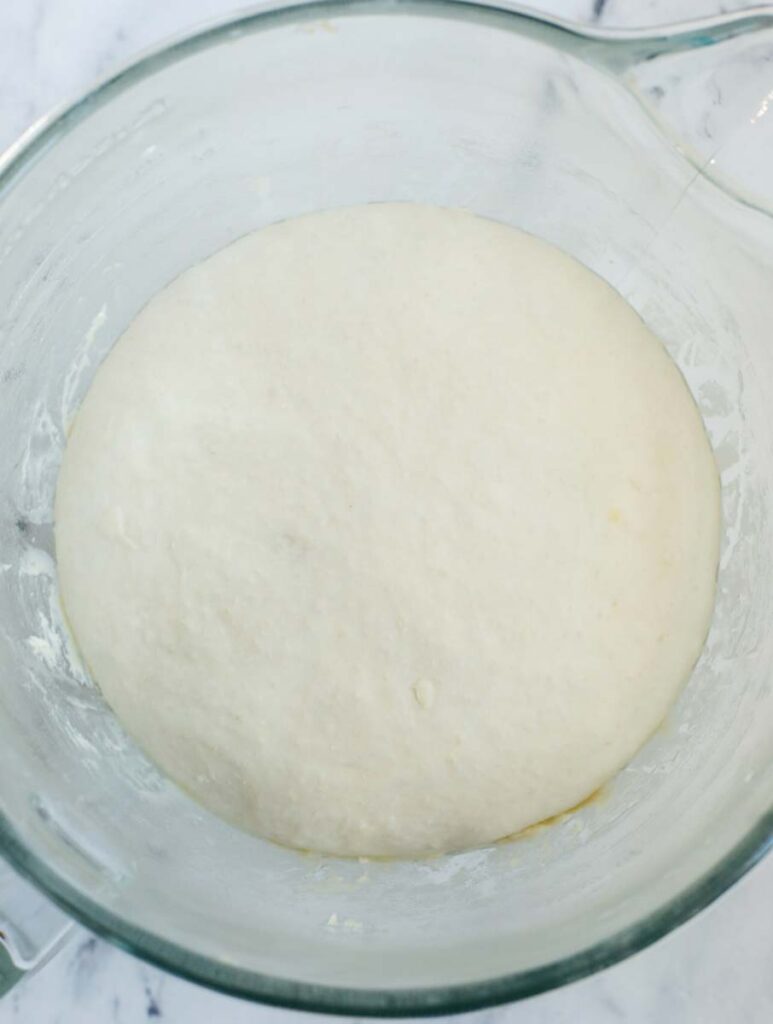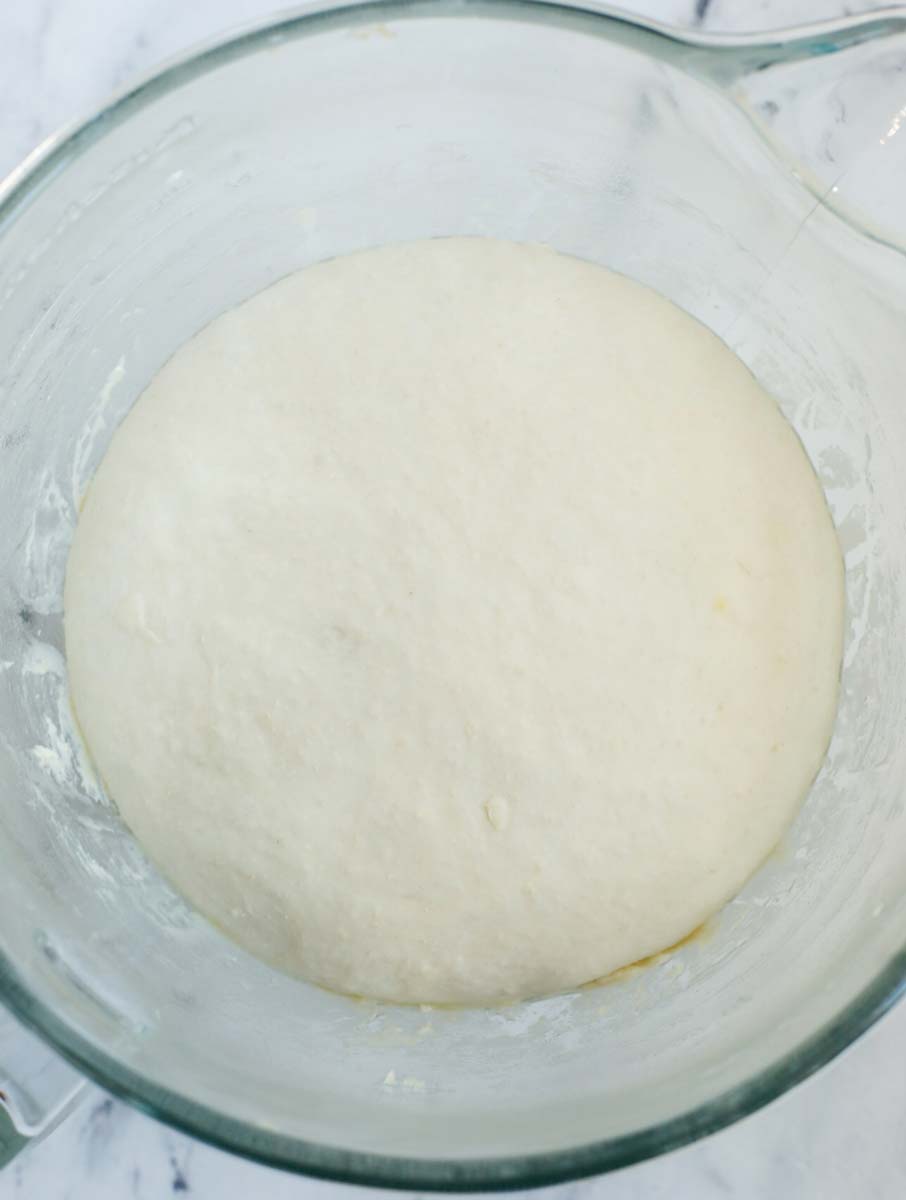 Portion the dough- Deflate and remove the dough from the bowl and transfer to a cutting board again. Sprinkle with some flour and form a ball shape. Cut the dough into 8 equal parts, and each part into 2 portions, making 16 portions total.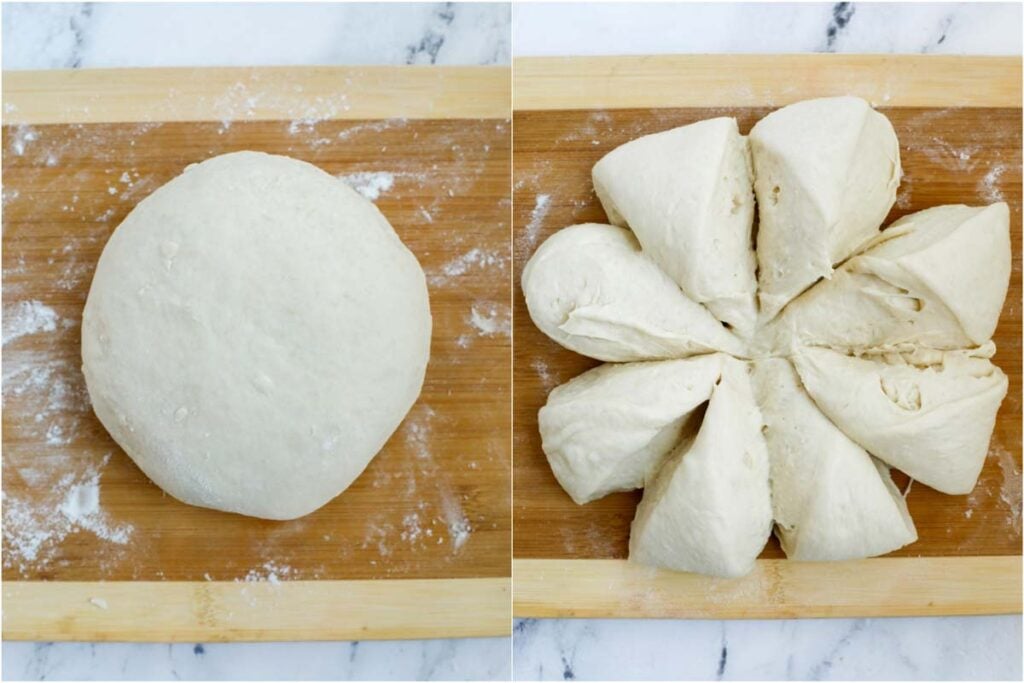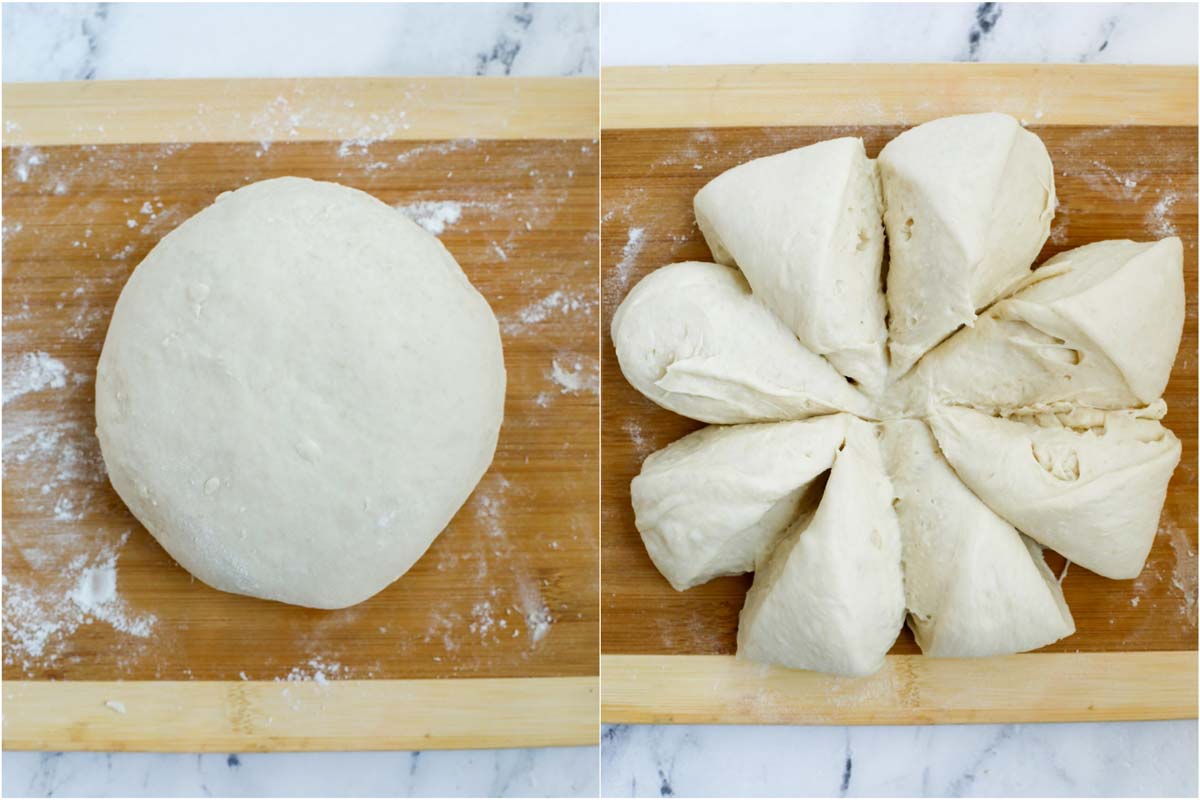 Final Rise- Form the portions into balls and place on a sheet pan. Cover and allow them to rise one more time for 10 minutes.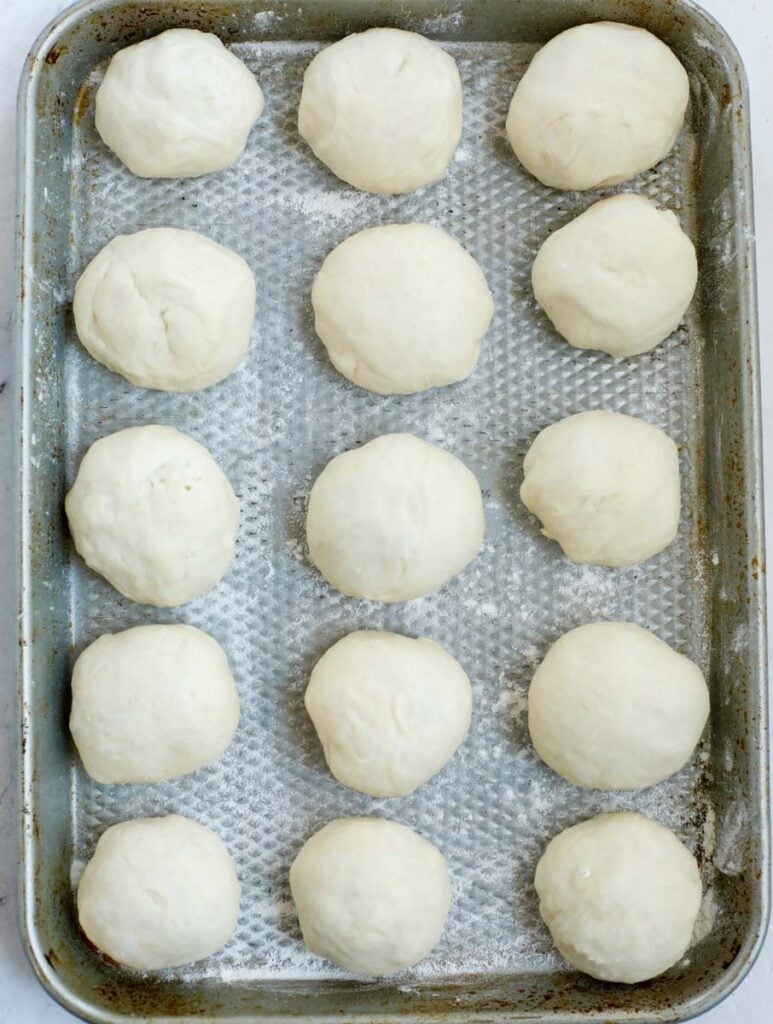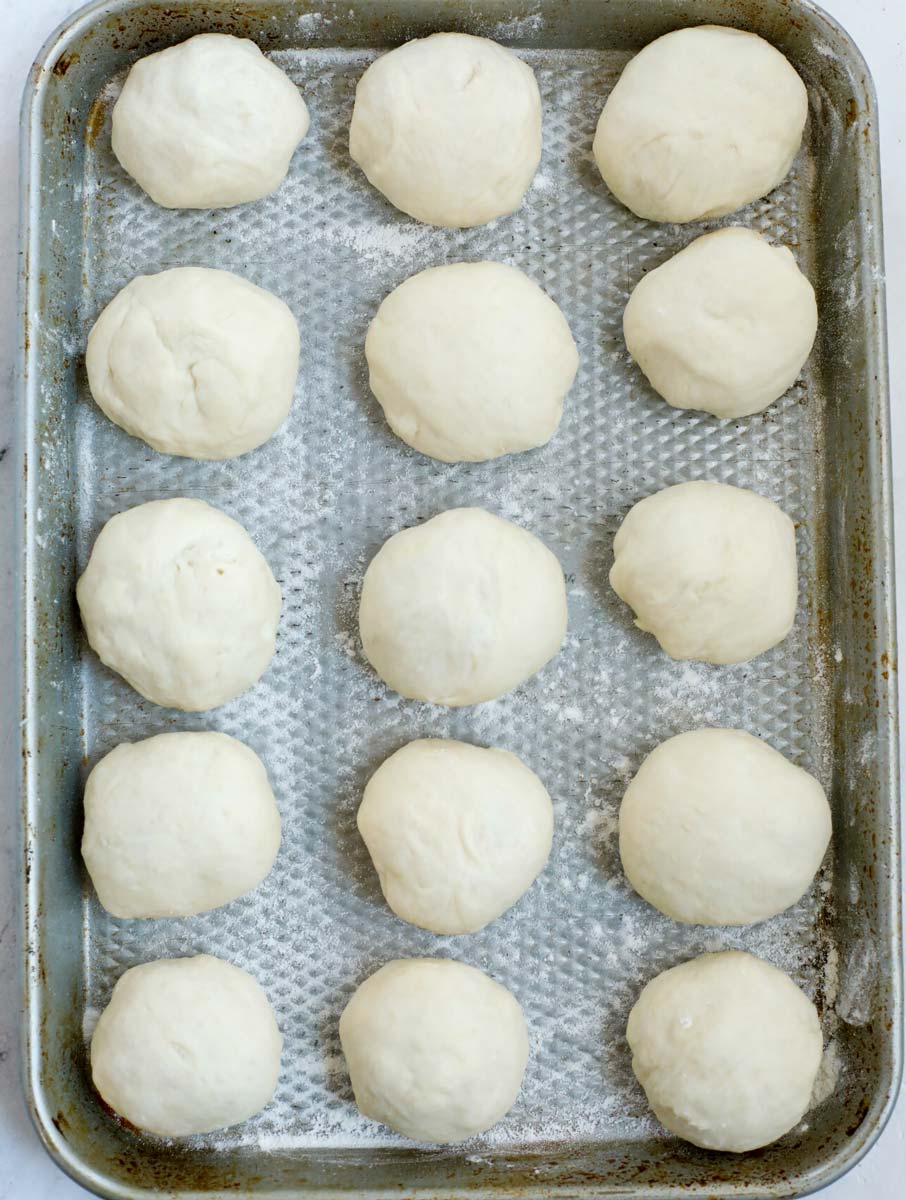 Assemble and Bake
Preheat oven- Preheat oven to 425 F.
Roll out dough- Using a rolling pin, roll the dough balls into a round 4 inch flat dough.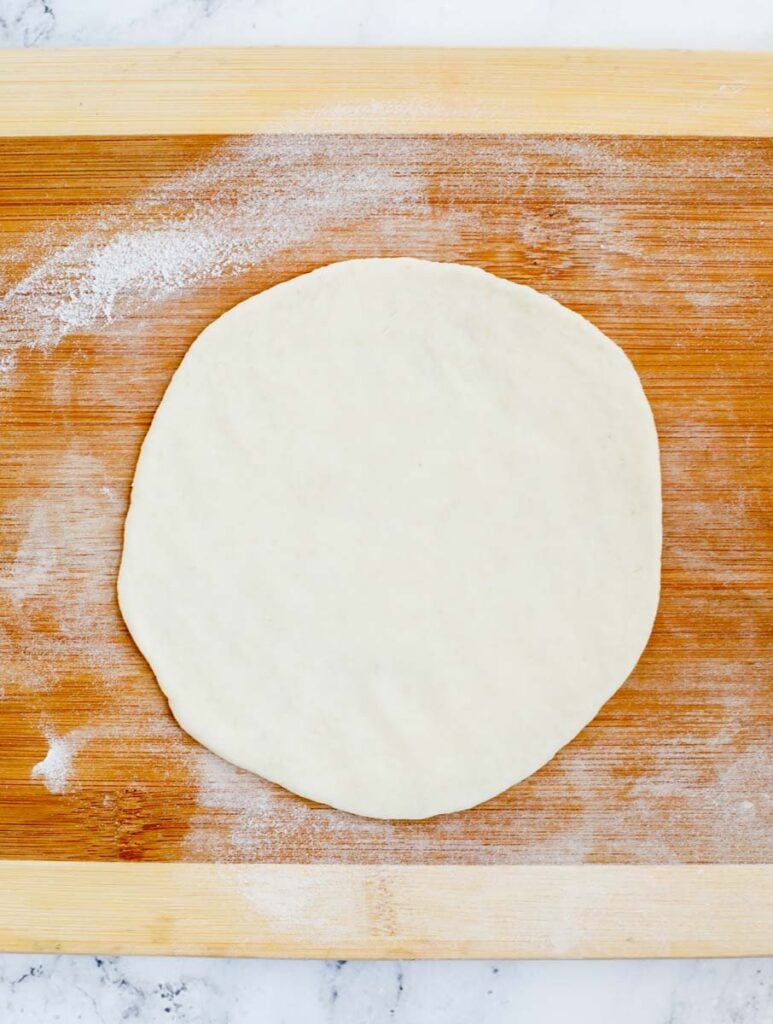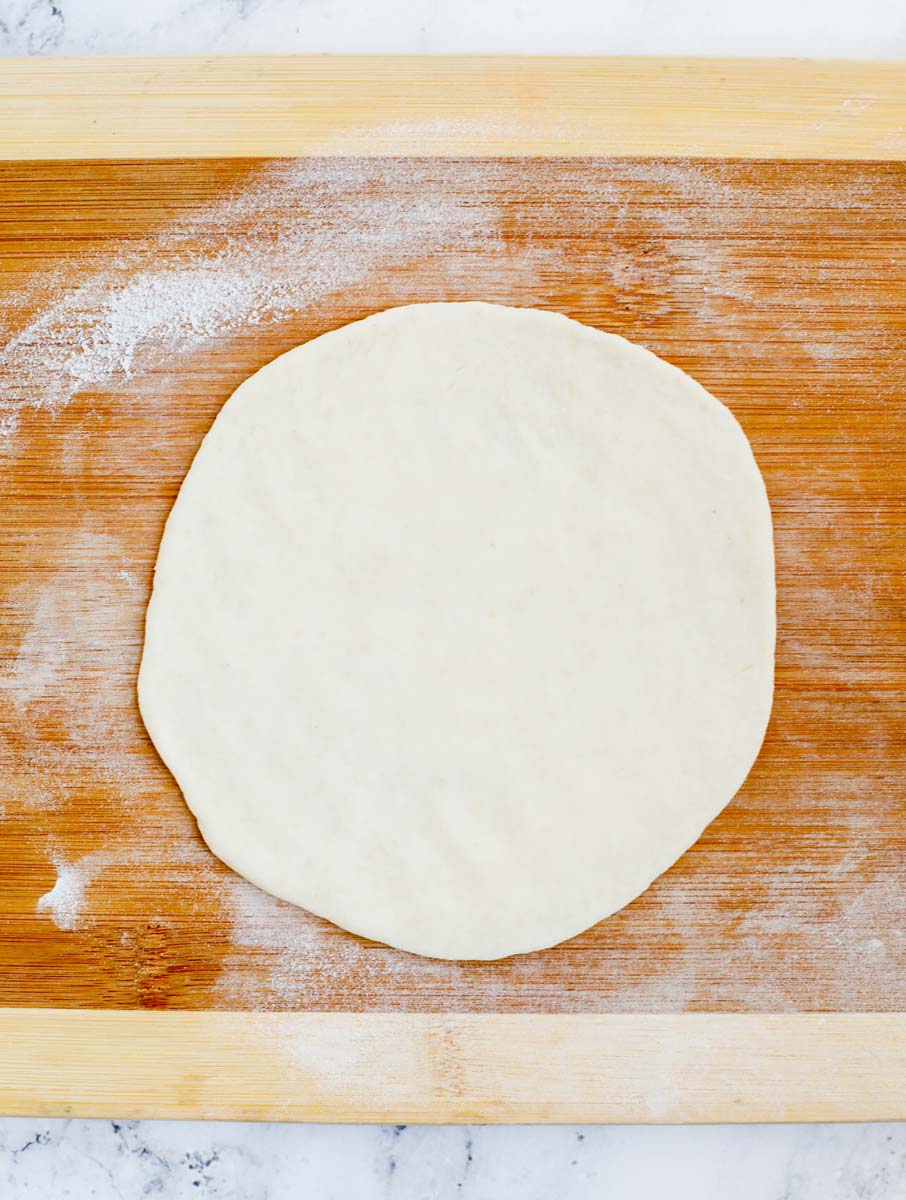 Top- Spread the Zaatar spread onto the dough.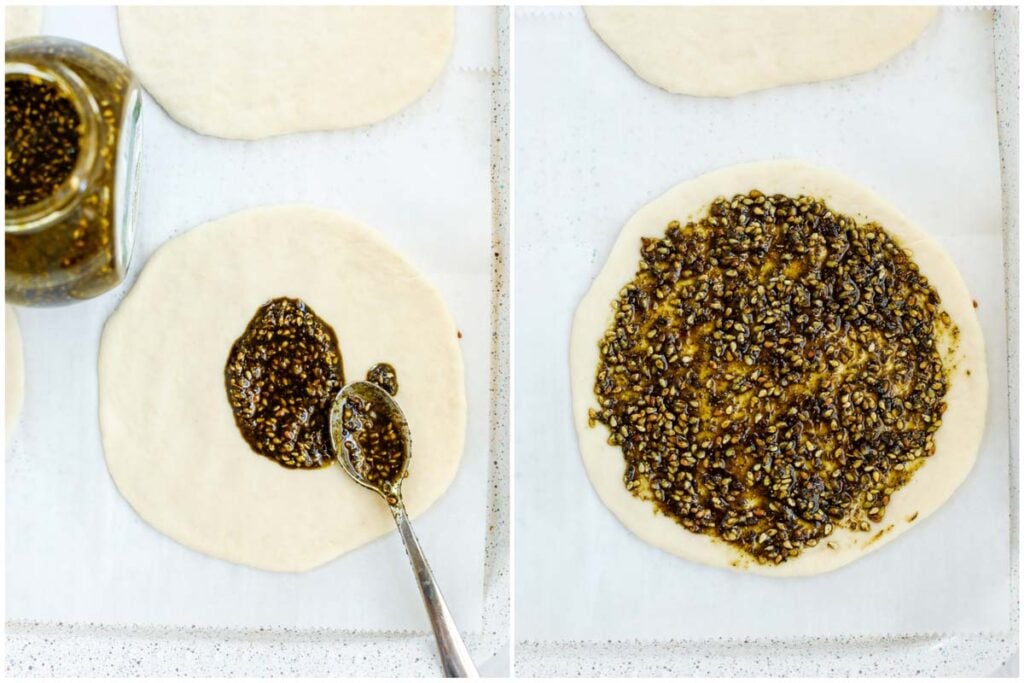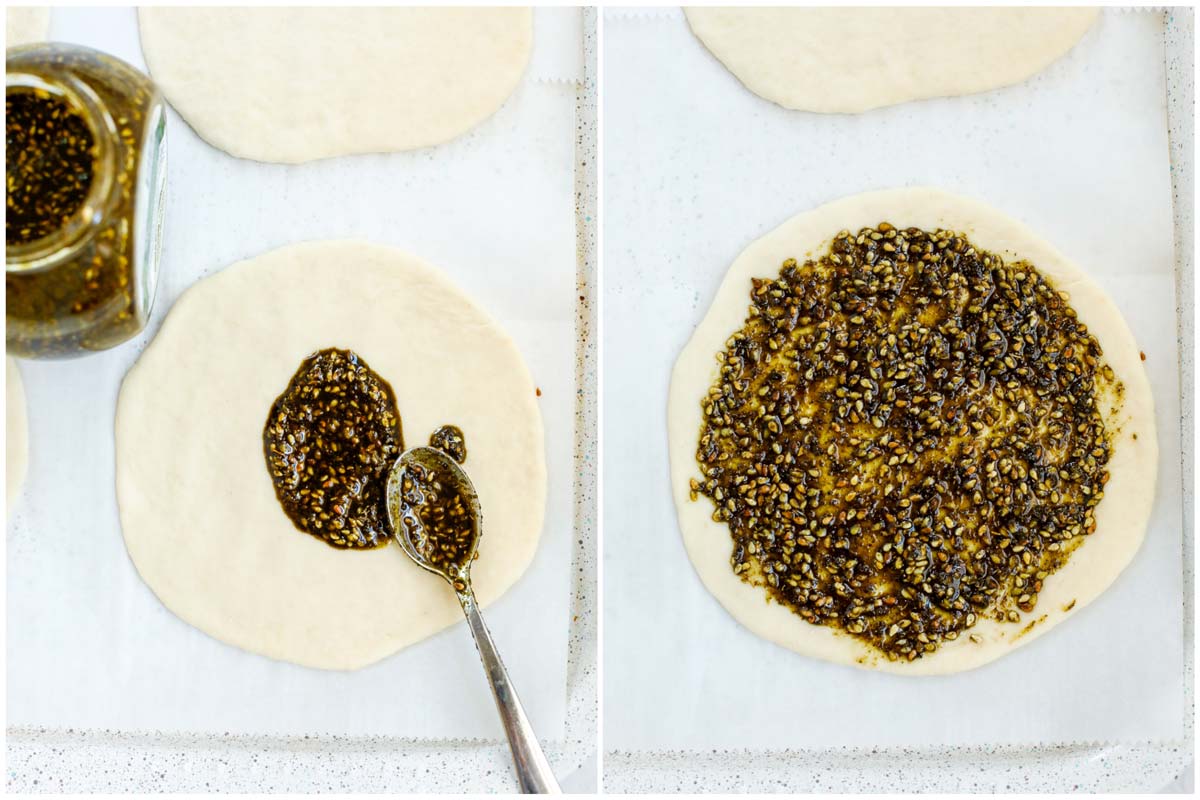 Bake- Bake for 12-15 minutes in the oven until the outer edge is lightly golden brown.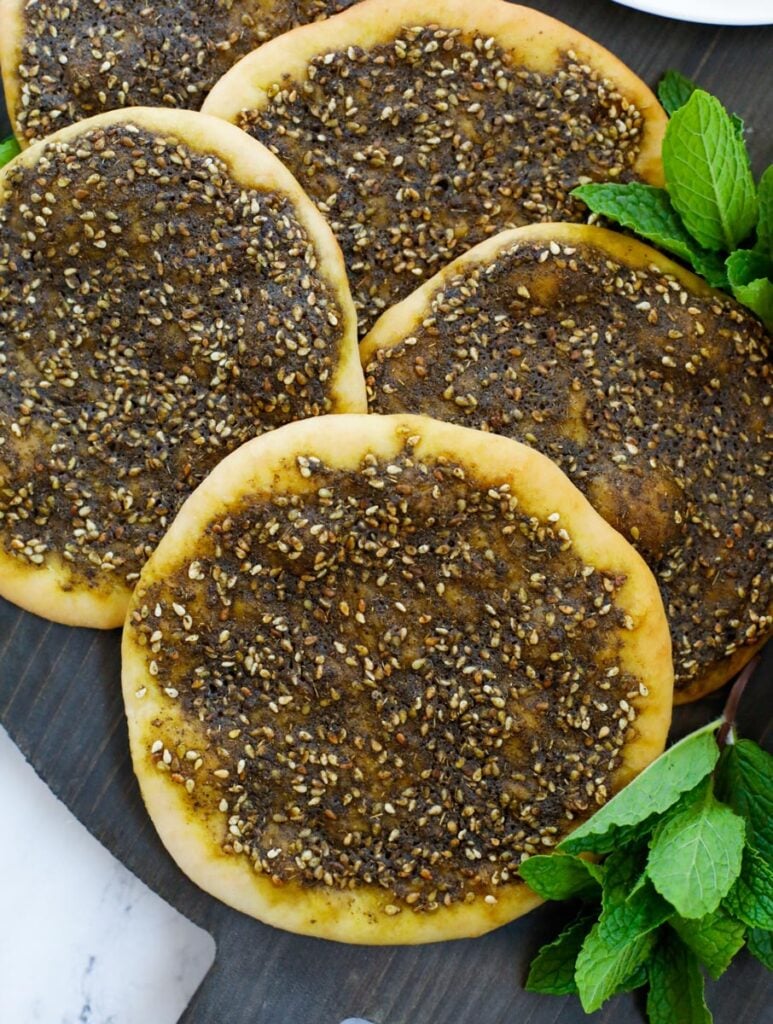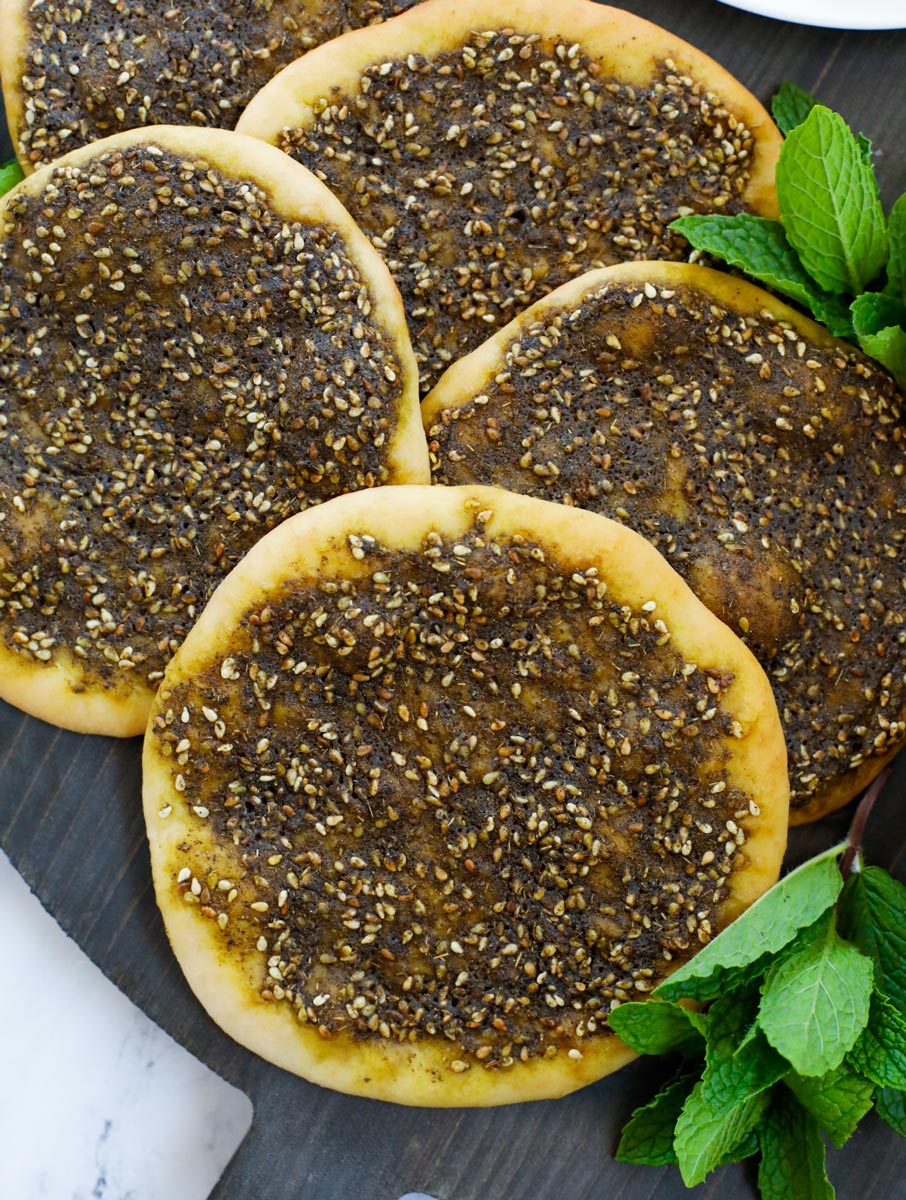 Recipe Tips:
If you are making a batch to freeze for later use, under cook the recipe by a couple of minutes. When you thaw and ready to bake, bake at 350 F for 10 minutes.
Do not over bake the Manakeesh or else they will become crunchy. You want it to be more soft and fluffy.
Store well in a good quality zip lock bag or air tight container to preserve longer and keep fresh.
What is Zaatar Manaeesh served with?
Zaatar Manakeesh is mostly served with some Labneh spread, olives, tomatoes, cucumbers, cheese, mint leaves and a warm cup of tea. Just imagine how delicious all that combination is in one plate! It's a yes please for me! I also mentioned eating Zaatar Manakeesh with Pepsi as a kids and still do. It's another great combination.
Can you freeze leftover Manakish Zaatar?
Yes, you can. Allow the Manakeesh to completely cool after baking and place them in zip lock bag or an air tight container before freezing. They last 1-2 months at their best in the freezer. Simply remove from the freezer, thaw and reheat in a preheated 350 F degree oven for 5-7 minutes before serving. You can also heat it up in the microwave for about 30 seconds if you are in a hurry.
Where was Manakeesh originated?
It is known to be originated in the Levantine region of the Middle-East (Lebanon, Syria, Palestine, Jordan and Egypt)
Is manakeesh vegetarian?
This Zaatar manakeesh is vegetarian.
What is Man'oushe?
Man'oushe term is used in Lebanon as a singular form when referring to Manakeesh.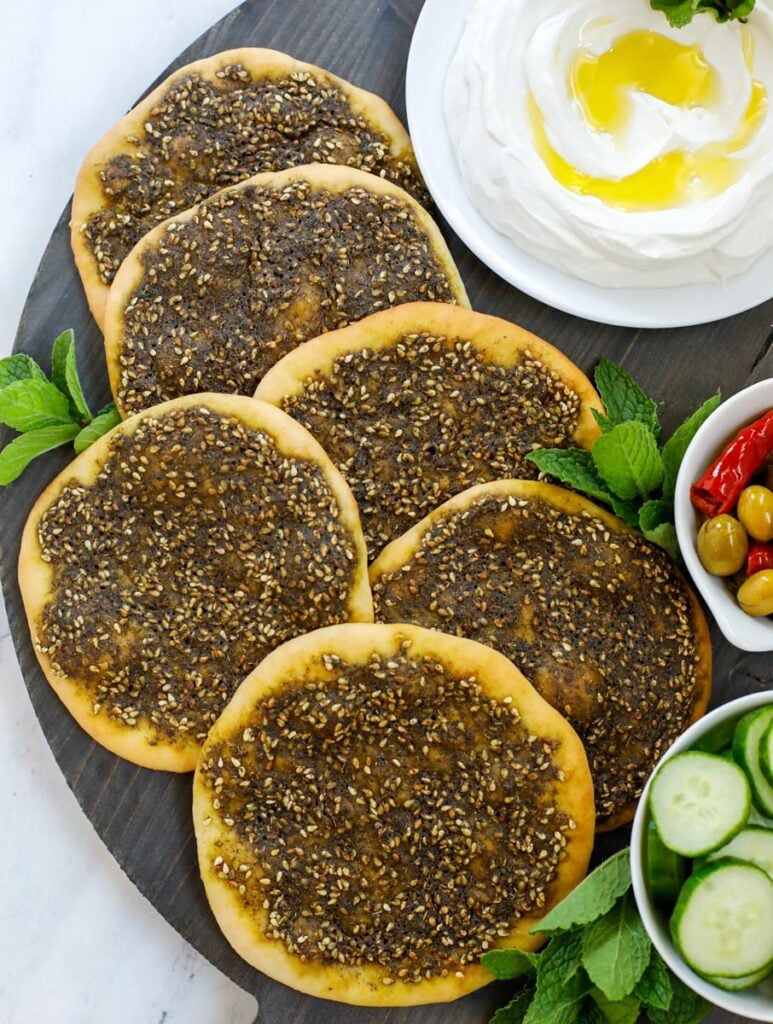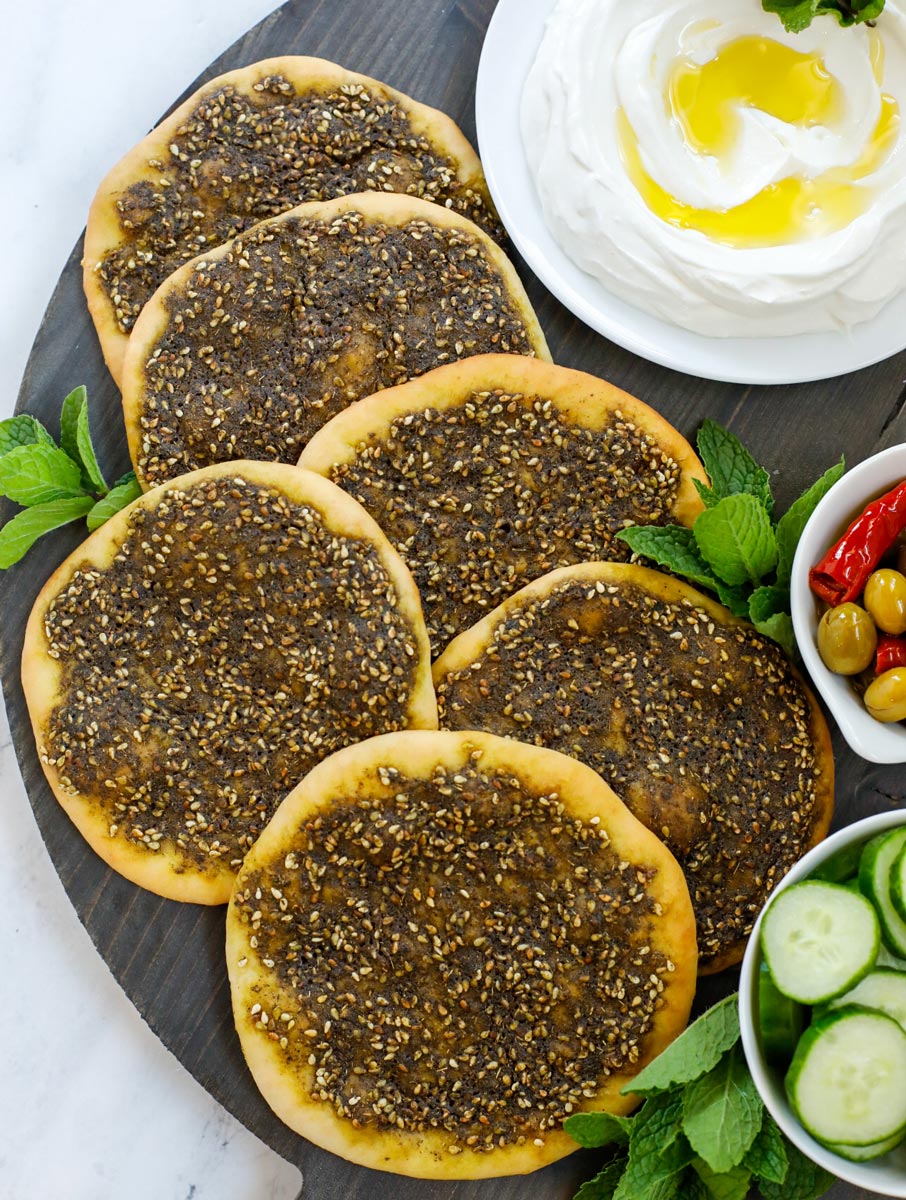 More Lebanese Recipes to try
I hope you enjoy all the recipes I share with you, including this delicious Zaatar Manakeesh recipe. I hope you try it, enjoy it, rate it and share it with your friends and family!
If you try this recipe and like it, please leave a star rating and comment below. Use my hashtag to share it with me on INSTAGRAM So I can see your delicious recreations! Also, follow me at Cookin' With Mima on FACEBOOK |INSTAGRAM |PINTEREST for all of my latest social posts and recipes.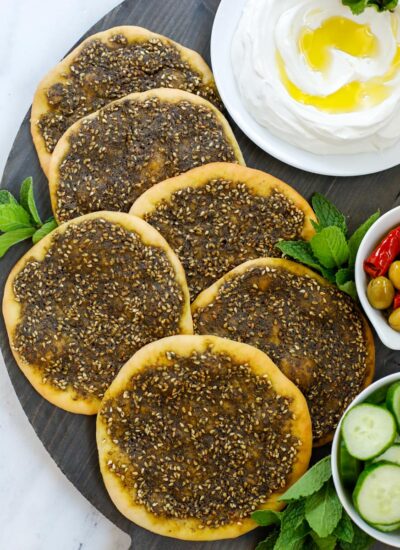 Manakeesh Zaatar
Manakeesh Zaatar is a famous savory flatbread breakfast pastry known in Lebanon. It's basically a delicious fluffy homemade dough topped with a zaatar spread.
Ingredients
1¼

cup

Zaatar

dry

¾

cup

olive oil

adjust for consistency needed

flour for dusting and rolling
The Dough
3

cup

All purpose flour

sifted

1½

tbsp.

sugar

¼

tsp.

salt

2

tbsps.

instant yeast

¾

tbsp.

baking powder

3

tbsps.

canola or vegetable oil

½

cup

whole fat yogurt

1

cup

milk

whole milk, lukewarm

oil spray
Instructions
The Dough
Mix the dry ingredients in a mixing bowl and the wet ingredients in another. Then add in the wet into the dry and mix with an electric stand mixer to combine well using a flour dough hook for 2-4 minutes on low speed.

Remove the dough from the bowl and sprinkle some flour on a cutting board. Knead the dough a little with your hands and then from a nice ball shape. Spray the bowl with some oil spray and return the dough back to the bowl. Cover and let the dough rest for 1 hour.

When the dough rises double its size, punch it and release the air from it. Remove the dough again from the bowl and transfer to a cutting board. Sprinkle with some flour and knead to shape it again into a ball shape.

Cut the dough evenly into 16 pieces. Another way you can do this is cut the round dough into 8 triangles and then use each of those triangles to divide the piece into portions. If you like your Manakeesh bigger or smaller, you can adjust the dough size accordingly. Completely up to you.

Form the dough portions into small balls and place on a sheet pan. Cover with a kitchen towel or saran wrap and let them rest for 10 more minutes. The balls will have a final rise.
Assembly and Baking
Mix zaatar with the olive oil. Consistency must be spreadable.

Dust the cutting board with some flour and roll one piece of dough out, about 4 inches wide. It doesn't have to be perfect. Just don't thin it out too much or else it will loose it's fluff. Place onto a lined sheet pan or non stick baking pan. Repeat the same step for the rest of the dough.

Spread 1-1½ tablespoon of the spreadable zaatar mixture evenly onto the each rolled dough.

Bake on the middle rack for 12-15 minutes until the edges are a little golden brown in color. Do not over cook or else they will crisp up.

Allow to cool for a minute or two and enjoy with some Labne spread, olives and a cup of tea.
Notes
Leftovers can be store in an airtight container for up to 10 days in your fridge.
You can bake a batch and freeze them in a good zip lock bag and warm them up whenever needed. Simply thaw and place them to reheat in a preheated 350 F oven for 5-7 minutes.
Nutrition
Calories:
266
kcal
|
Carbohydrates:
31
g
|
Protein:
5
g
|
Fat:
15
g
|
Saturated Fat:
5
g
|
Cholesterol:
3
mg
|
Sodium:
125
mg
|
Potassium:
217
mg
|
Fiber:
8
g
|
Sugar:
3
g
|
Vitamin A:
735
IU
|
Vitamin C:
9
mg
|
Calcium:
420
mg
|
Iron:
24
mg