I love making seafood recipes and this Teriyaki Shrimp recipe is one of my favorites. It's super easy to make and can literally be on your plate in 15 minutes. It's also a great choice for meal prepping.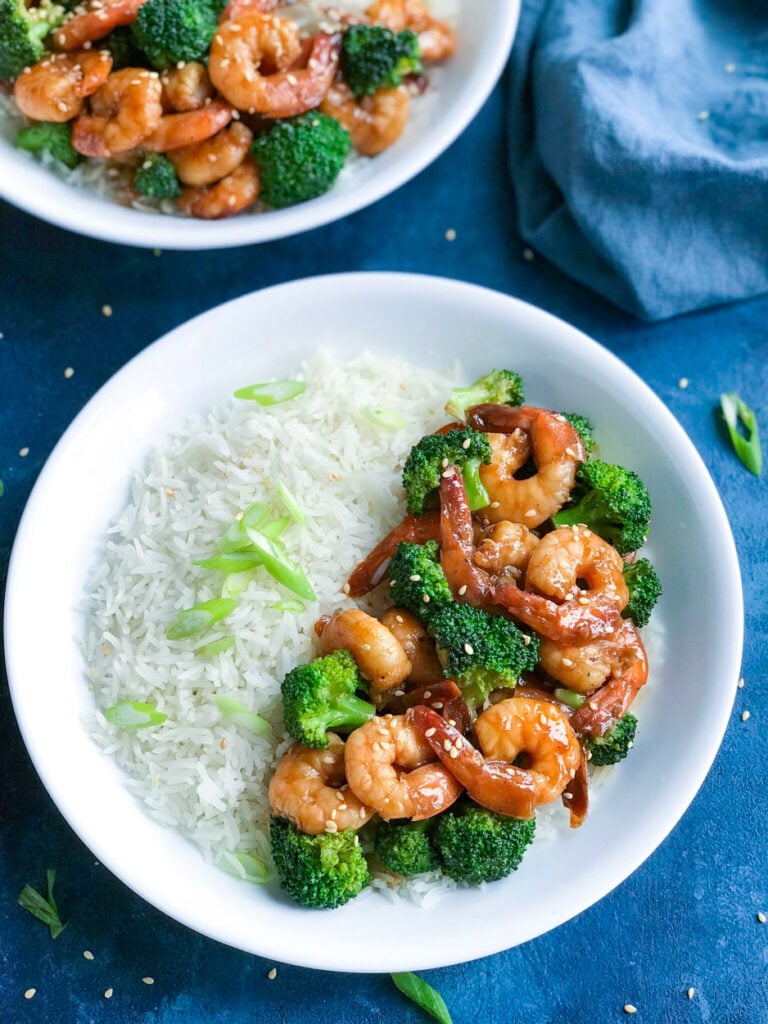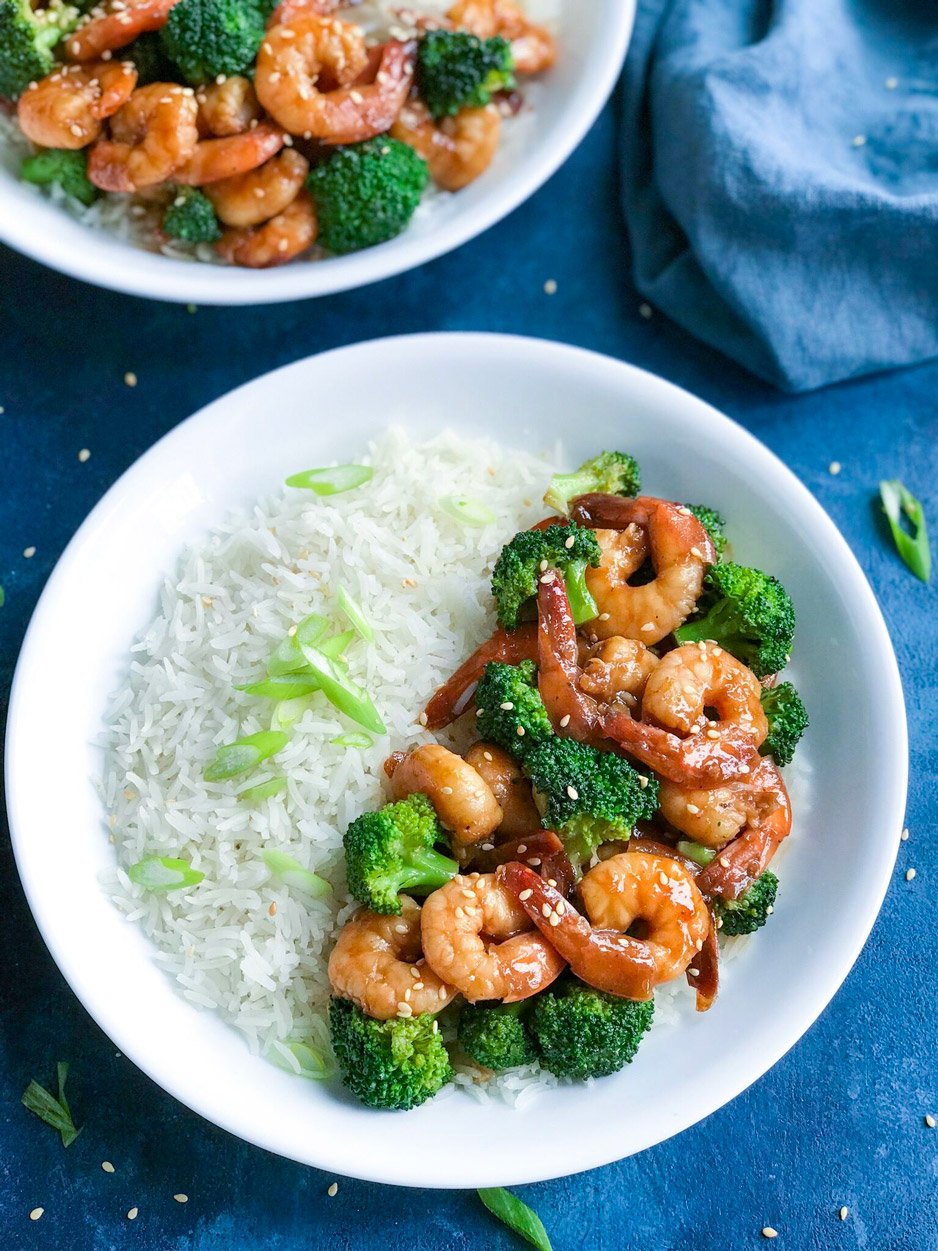 These delicious and succulent Teriyaki Shrimp are a super easy 15 minute recipe. They are the perfect combo of sweet, salty and savory. Serve them up with rice and veggies for an ultra quick weeknight meal that's bound to satisfy!
If you're looking for other delicious shrimp recipes, why not also try my Cilantro Lime Shrimp or my Zucchini Noodles with Shrimp!
A 15 min meal. Made with only a handful of kitchen staples, these Teriyaki Shrimps go from pantry to table in a flash! Perfect for busy weeknights.
Healthier and tastier than takeout. Ditch the takeout and whip this these mouthwatering shrimp up, quicker than a takeaway and healthier, plus they're lip smackingly delicious! Serve them up with rice and veggies for a balanced meal.
A finger licking homemade marinade. Sweet, salty and savory! This simple marinade is great for shrimps or chicken.
Ingredients you'll need
Raw Shrimp
Teriyaki Sauce
Garlic
Seasoning: Salt, pepper, onion powder, parpika.
Olive Oil
Broccoli Florets
How to make these Teriyaki Shrimp
Marinate the shrimp – Mix your marinade ingredients and the marinate the shrimp.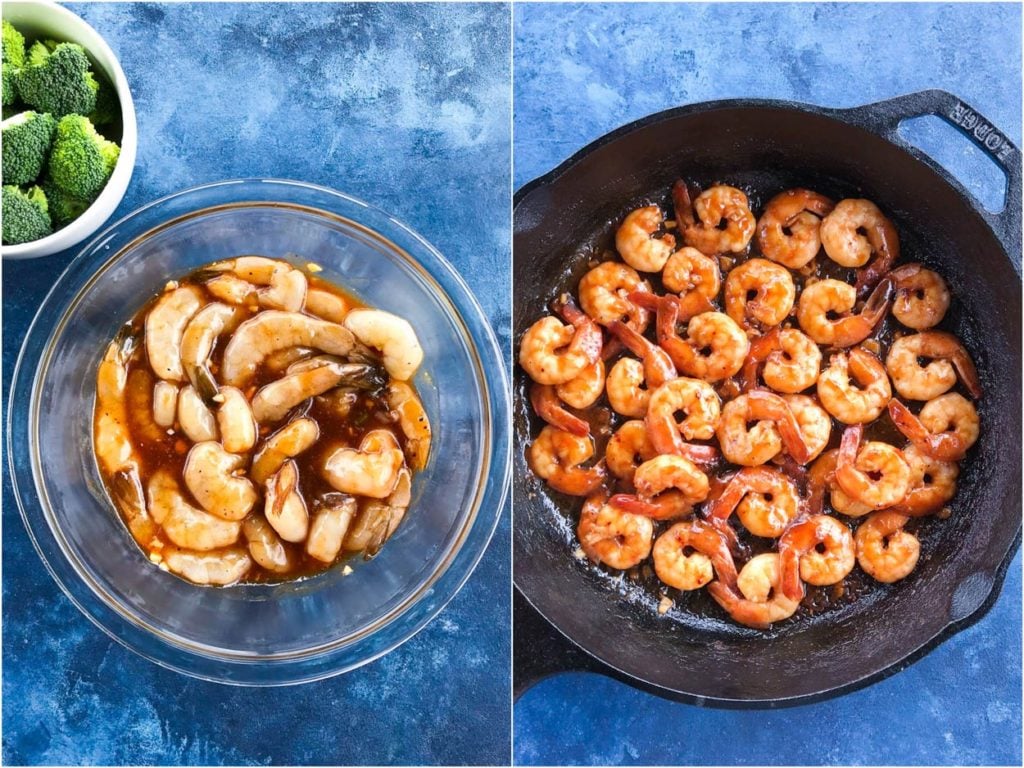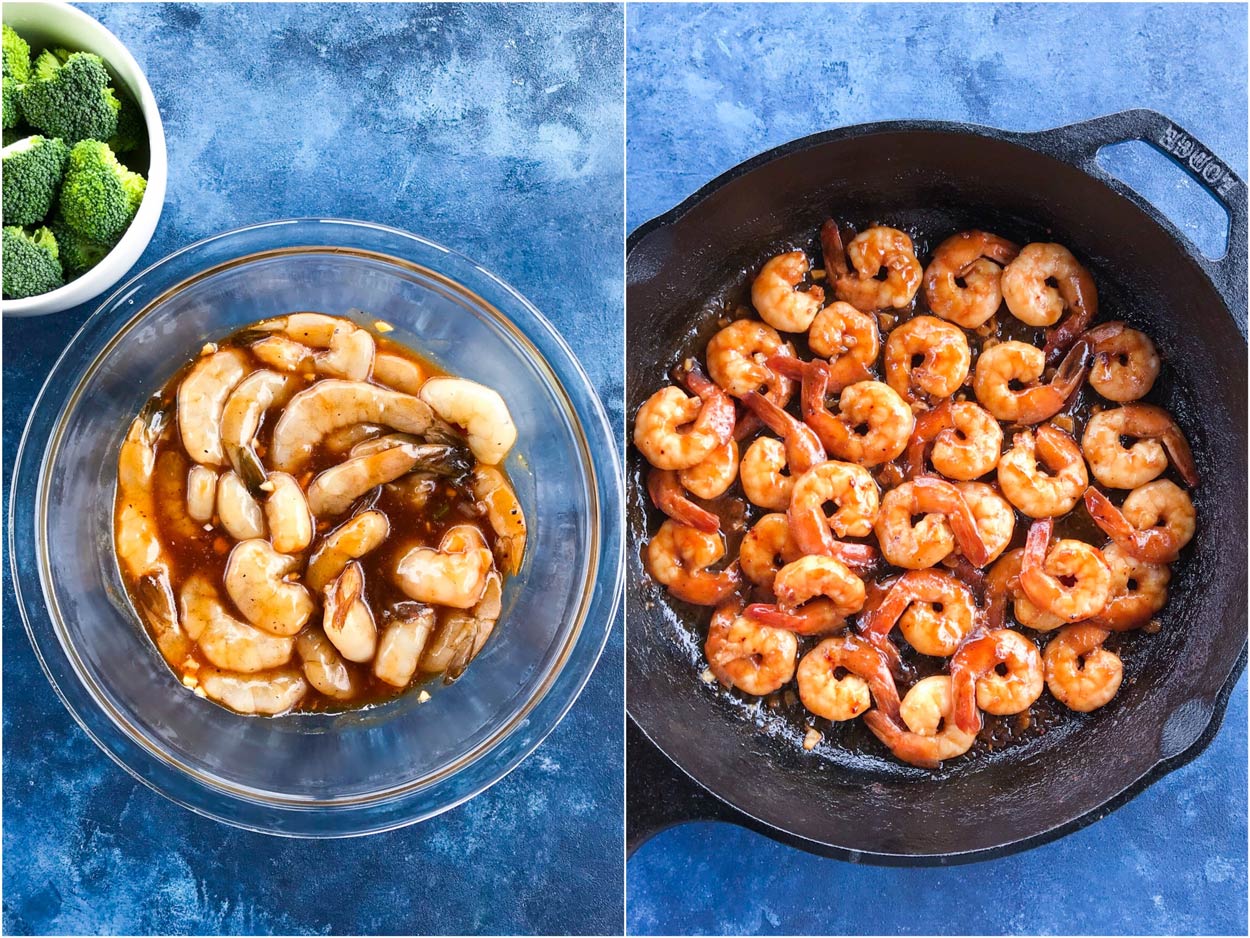 Cook the shrimp – Sauté the shrimp for 5-7 minutes, flipping the pieces occasionally.
Add the veggies – Add in the broccoli florets and fold everything together, allow to cook for 3 more mins.
Serve and enjoy!
Recipe notes and tips
For this recipe, I had store bought sauce in the fridge, so I don't have to take the extra steps and use extra ingredients to make the meal.
The shrimp only need a quick marinade, 10 mins is fine.
The teriyaki sauce can be made up to 5 days before you want to use it.
Shrimp cook quick! Keep an eye on them so they don't overcook and turn rubbery. Shrimp are done once they turn opaque and form a 'C' shape.
Also, don't overcook your veggies! You don't want them mushy, they're best with a bit of bite!
For more spice you can add some chili flakes or chili powder.
You can remove the shrimps' tails or leave them on, whatever you like best!
This Teriyaki Shrimp recipe is also a great choice for meal prepping. They store and reheat well for lunch meals when you go to work
FAQ's
What's the best shrimp to use?
You can use either raw or cooked shrimp in this recipe. However, raw shrimp ( the ones sold frozen in bags or at the seafood counter), tastes way better. You may need to peel it and devein raw shrimp, although you can find ones already peeled and deveined.
Also, go for larger shrimp, they are meatier and much more satisfying – 16-20 count are great.
How to peel and devein shrimp
To peel shrimp, it's best to start at the bottom where the legs are attached and carefully pull off the shell, leaving the tail piece on. Keeping the tail on for this recipe is useful because the tail will act as a handle for you to pick up and eat your shrimp, however it's not essential,
You'll then need to devein your shrimp. You do this by running a small knife down the back of each shrimp and removing the dark vein. If you've purchased pre-peeled shrimp you can leapfrog all of these steps and just continue with the recipe.
What to serve with these Teriyaki Shrimp
These Teriyaki Shrimp are great with all kinds of veggies, perfect for clearing our the fridge!
Broccoli is obviously great but you could also go for sugar snap peas, mushrooms, carrots or zucchinis.
If you want to keep things even lower, you can pair up this easy shrimp recipe with some cauliflower rice.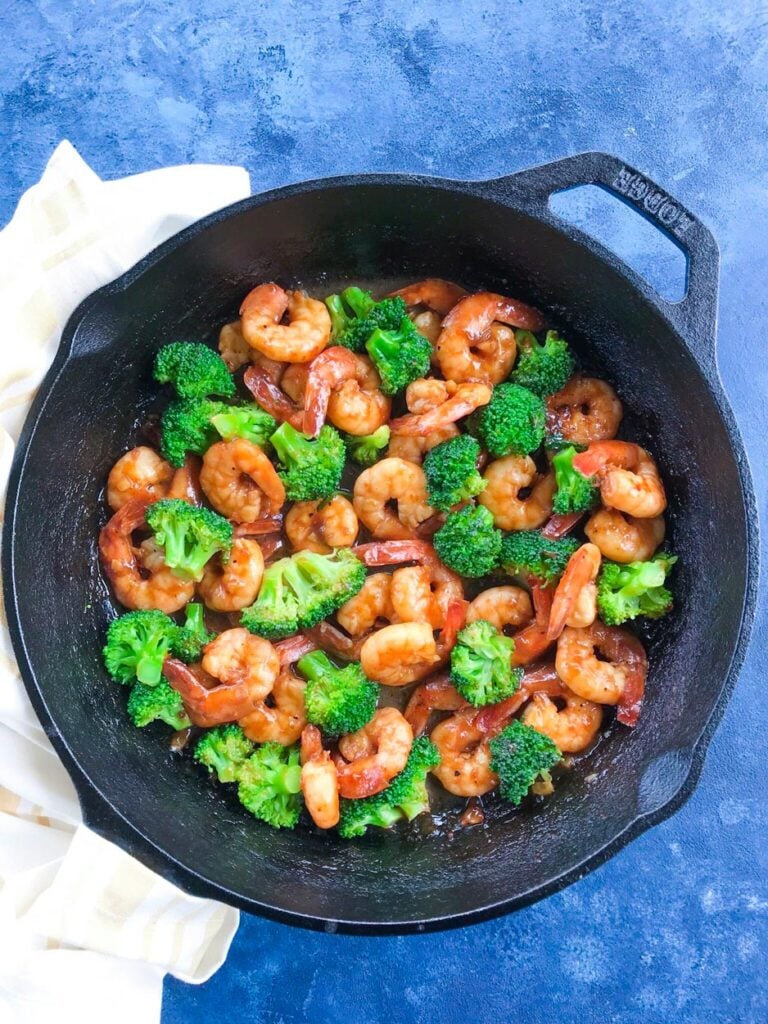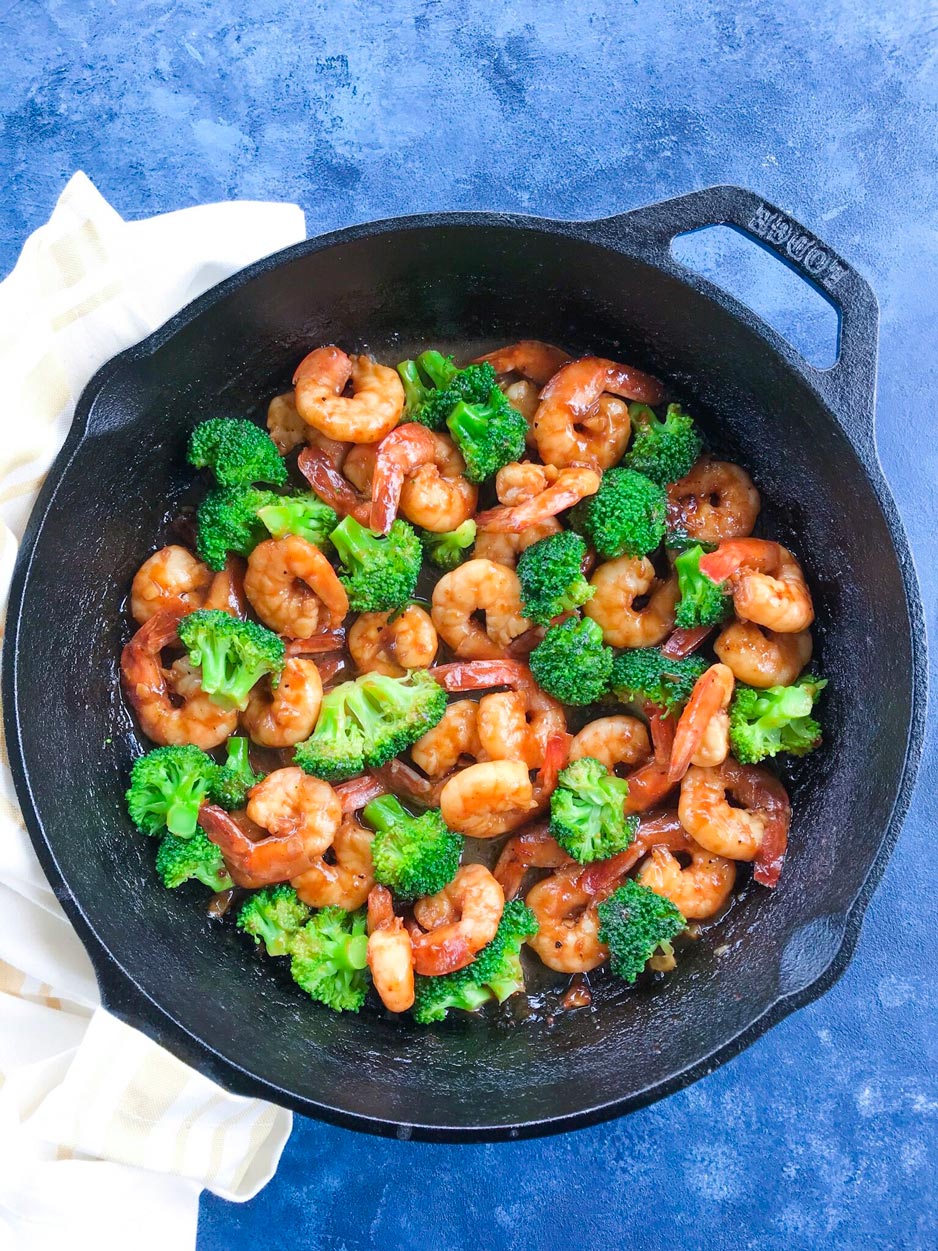 Other recipes you might like
I hope you enjoy all the recipes I share with you, including this delicious Teriyaki Shrimp recipe. I hope you try it, enjoy it, rate it and share it with your friends and family!
If you try this recipe and like it, please use my hashtag to share it with me on INSTAGRAM for a chance to be featured in my story! Also, follow me at Cookin' With Mima on FACEBOOK | INSTAGRAM | PINTEREST for all of my latest social posts and recipes.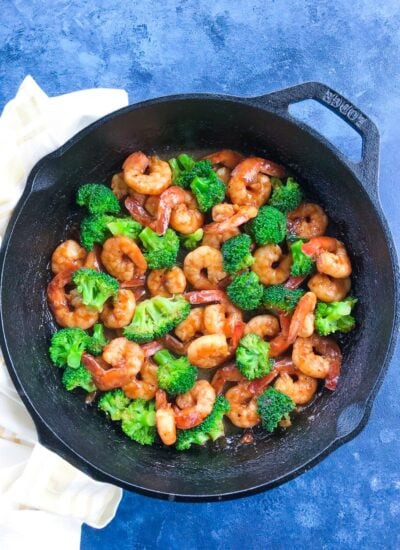 Teriyaki Shrimp
This easy Teriyaki Shrimp recipe can be prepped and ready on your plate within 15 minutes. It is super easy to make and great for meal prepping.
Ingredients
2

lbs.

raw shrimp

large

1/2

cup

teriyaki sauce

2

garlic cloves

minced or sliced

3/4

tsp.

salt

or less, to your taste

1

tsp.

paprika

1/2

tsp.

onion powder

2

tbsps.

olive oil

2

cups

or broccoli florets
Instructions
Marinate the shrimp with all of the ingredients listed, saving 1 tbsp. of olive oil for sautéing.

Heat a non-stick skillet or cast iron skillet and add one tbsp. of olive oil. Sauté the shrimps for 5-7 minutes, flipping the pieces occasionally and then add in the broccoli florets.

Fold everything together well and let them cook for 3 more minutes until the broccoli is tender.

Remove from heat and serve with a side of your choice.
Notes
For this recipe, I had store bought sauce in the fridge, so I don't have to take the extra steps and use extra ingredients to make the meal.
The shrimp only need a quick marinade, 10 mins is fine.
The teriyaki sauce can be made up to 5 days before you want to use it.
Shrimp cook quick! Keep an eye on them so they don't overcook and turn rubbery. Shrimp are done once they turn opaque and form a 'C' shape.
Also, don't overcook your veggies! You don't want them mushy, they're best with a bit of bite!
For more spice you can add some chili flakes or chili powder.
You can remove the shrimps' tails or leave them on, whatever you like best!
This Teriyaki Shrimp recipe is also a great choice for meal prepping. They store and reheat well for lunch meals when you go to work
Nutrition
Serving:
1
g
|
Calories:
199
kcal
|
Carbohydrates:
5.6
g
|
Protein:
32.6
g
|
Fat:
5.6
g
|
Saturated Fat:
0.8
g
|
Sodium:
904.2
mg
|
Sugar:
3.8
g