These deliciously Baked Stuffed Zucchini Boats are tender zucchinis that are stuffed with ground turkey and veggies, topped with cheese baked to perfection to create the perfect low-carb and healthy dish for those busy weeknight dinners with family.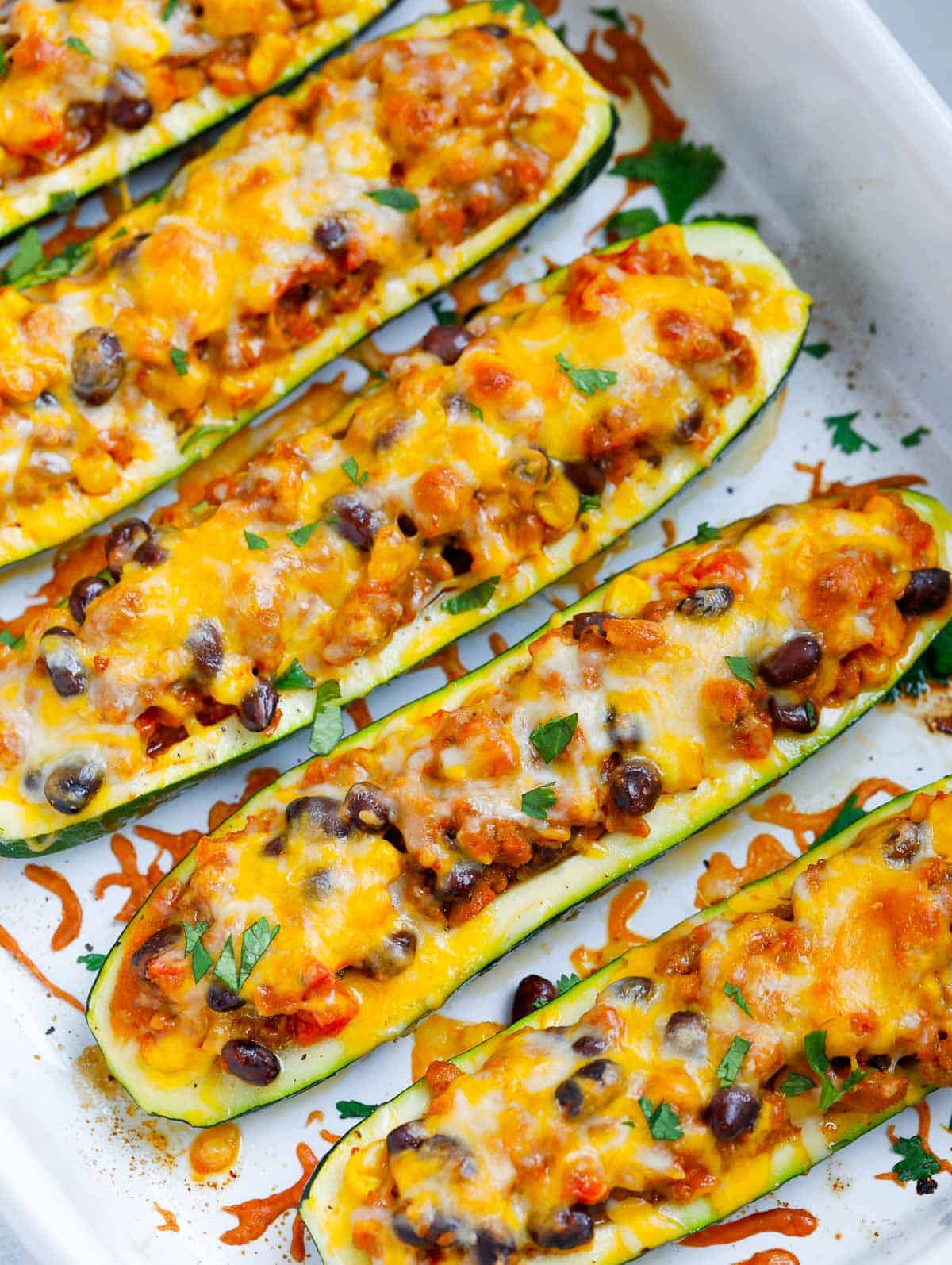 Baked Stuffed Zucchini is super easy to make and put together. The stuffing consists of ingredients you probably already have in your pantry. It can be served as a side dish, or meal of it's own. The flavors for this dish are Mexican inspired, and more of a Southwest Zucchini Boat. This recipe can easily be customized to your liking.
If you love zucchini recipes, check out my Zucchini Chicken Enchilada, Air Fryer Zucchini Sticks, Spicy Zucchini Fries, and Zucchini Fritters.
Why you'll love this Southwest Stuffed Zucchini Recipe
Adaptable: You can easily swap ingredients around for this recipe to customized it to your liking. Use beef or chicken instead of ground turkey and add more veggies that you like.
Healthy: These stuffed zucchini boats are low in carb, keto and healthy.
Filling: The protein rich filling makes this recipe very filling and keeps you full longer.
Stuffed Zucchini Ingredients
Meats: You can use any type of meat you like. Ground beef, ground turkey and ground chicken work perfectly fine for this recipe.
Beans: I love using black beans for this recipe. If you are not a fan of the bean's color or just don't like black beans you can substitute the black beans for a smaller type of brown bean.
Veggies: I used corn and diced tomatoes as well as some diced onions. You can most certainly add different types of bell peppers if you like to add into the flavor of this dish.
Spices: It's all up to your preference here. I used some taco seasoning, paprika, black pepper and garlic powder. I also used black pepper and salt to season the zucchinis before baking them for the first time. You can use chili seasoning mix if you like instead of taco seasoning. I also added a tiny bit of Italian seasoning to the beef mixture.
How to Make Zucchini Boats
Pre-heat the oven to 400 F degrees and spray a 13 by 9-inch baking dish with non-stick cooking spray.
Hollow out the zucchini: Cut the top end of the zucchini. Using a spoon or a fruit scooper, carve out the center flesh of the zucchini to create a hollow center.
Season and Bake: Season the zucchini with salt and pepper and spray or drizzle with olive oil bake until just tender, about 7-8 minutes.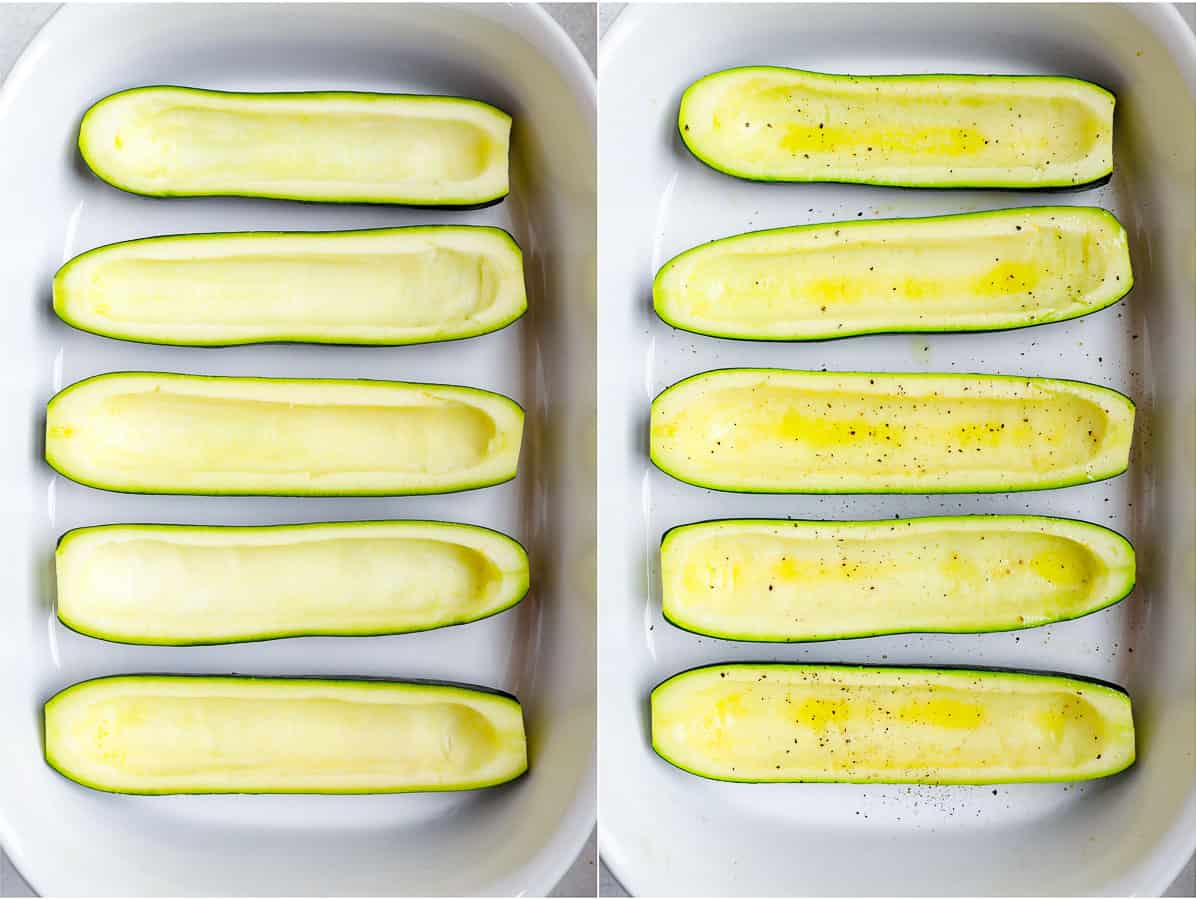 Prepare the filling: Sauté the onion until translucent in color. Add in the meat and spice and cook until fully cooked.
Add in the tomatoes, corn, tomato paste, beans and any other veggies you would like to add.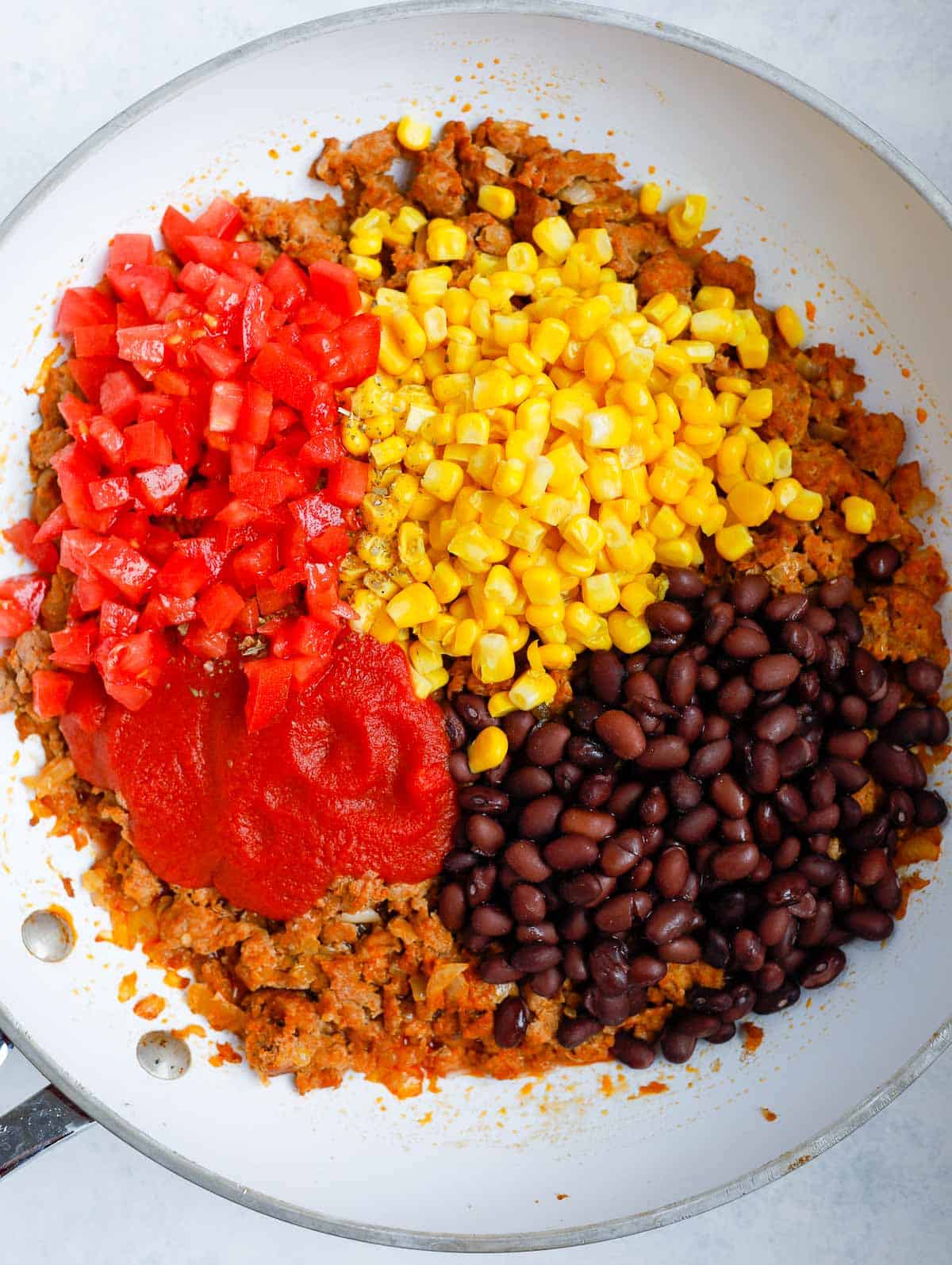 Stuff the zucchini boats: Once the zucchini has partially cooked, stuff them with the filling. Top with shredded cheese and bake again for another 10 minutes in the oven.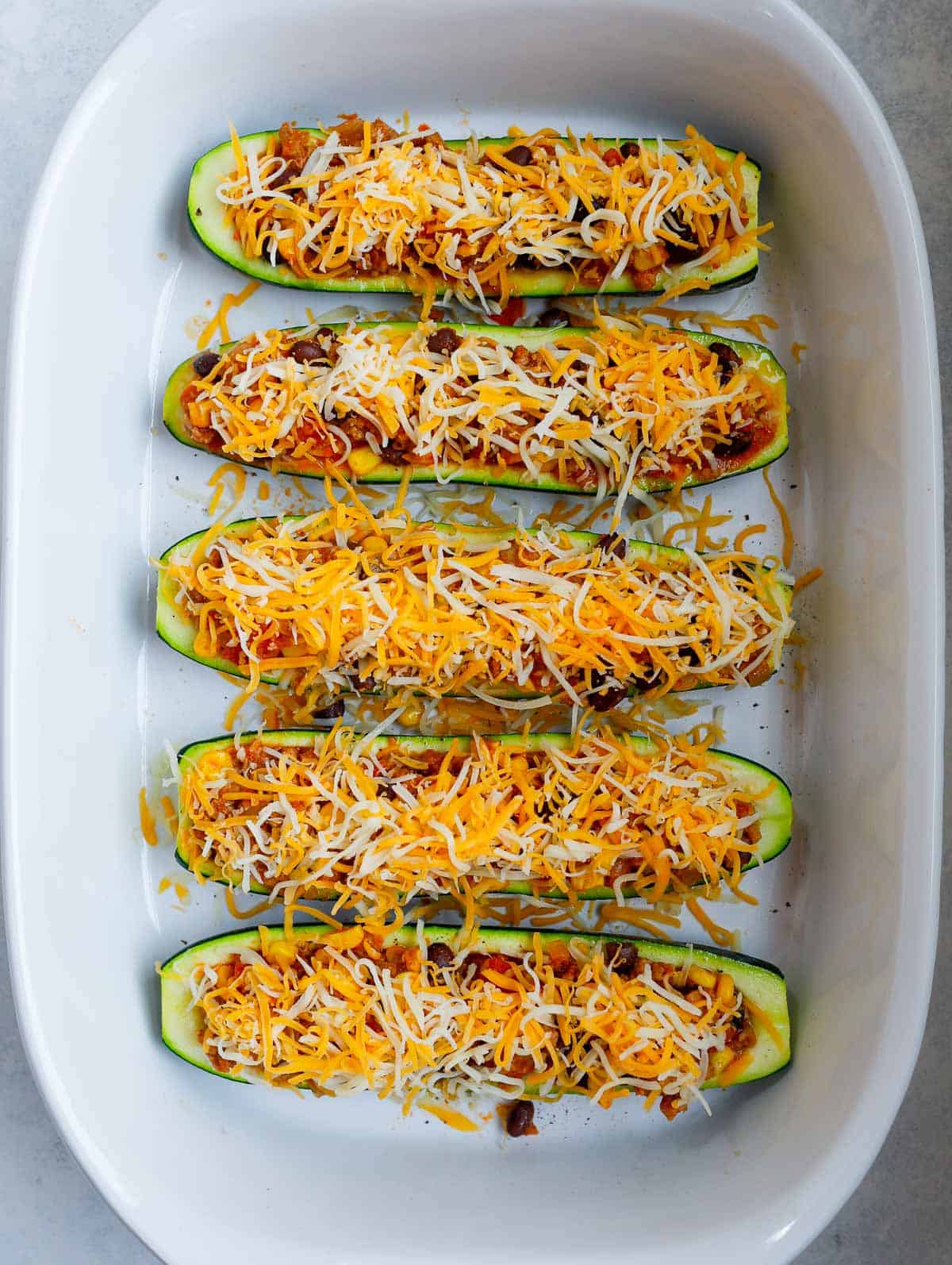 Serve: Once cooked, garnish with some fresh chopped parsley or chives and serve with any sides you like.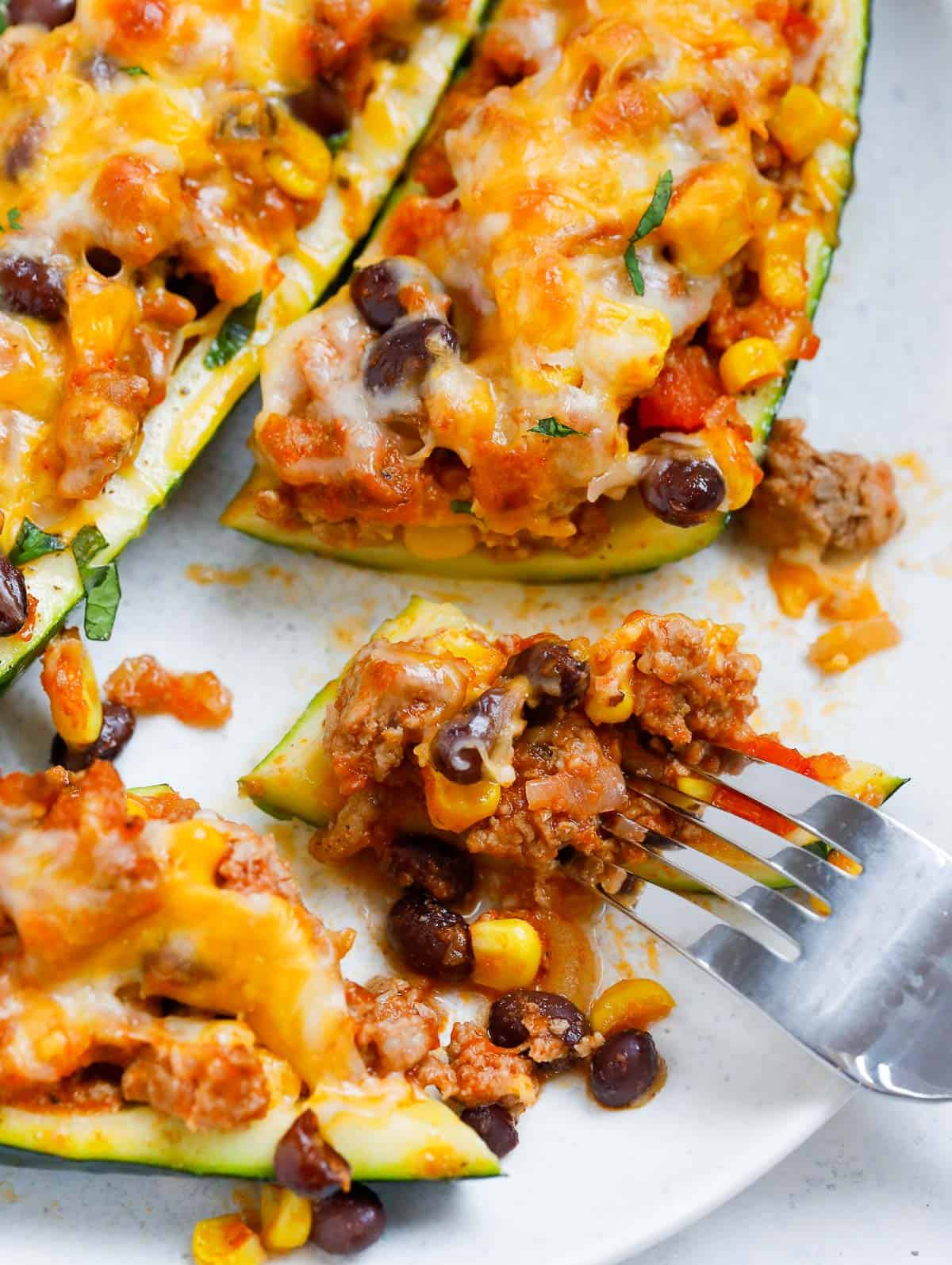 Tips to Make Baked Stuffed Zucchini Boats
If you like the zucchini to be super soft and not crunchy in any way, cook for more time. If you like it more crunchy, cook for less time. This can be adjusted in the first part of pre-cooking the zucchini.
Add more veggies like, mushrooms, bell pepper or jalapeños to add a spicy kick to it.
Be sure to pile up the zucchinis well with filling to make them more protein packed.
Serve with some salsa and sour cream to add more Mexican flavors to the dish.
Best served fresh and never frozen.
Core of the zucchini can be chopped and added to the filling and cooked with the meat.
Frequently Asked Question
Can you freeze stuffed zucchini?
I do not recommend freezing this zucchini recipe or any other zucchini recipe. Once you freeze zucchini, the texture changes and becomes soggy and watery.
How to store and reheat baked stuffed zucchini?
Store leftovers in an air tight container in the fridge. Reheat servings in the microwave about 60-90 seconds until heated through. Reheating zucchini will create some moisture, so don't be alarmed.
How do you prevent zucchini from being mushy?
First, do not over cook. Second, you can cook it on a baking rack over a baking sheet pan to allows extra moisture to drop down to the pan and evaporate.
How to make vegetarian stuffed zucchini?
Opt. out on the meat and add quinoa instead. You can also use plant based meats to replace the protein.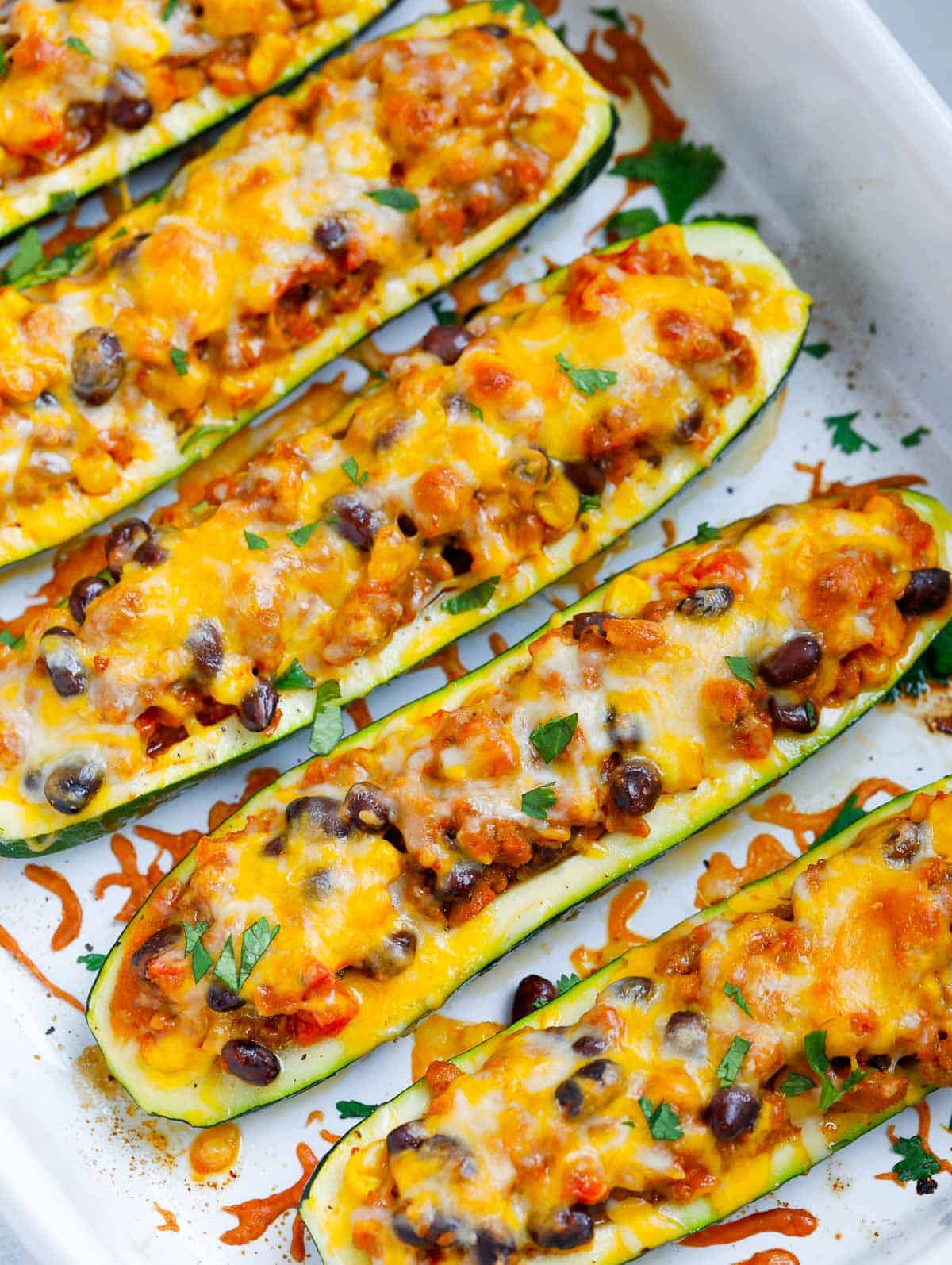 Stuffed Chicken Recipes to Try
I hope you enjoy all the recipes I share with you, including this delicious Baked Zucchini Stuffed Boats recipe. I hope you try it, enjoy it, rate it, and share it with your friends and family!
If you try this recipe and like it, please leave a star rating and comment below. Use my hashtag to share it with me on Instagram so I can see your delicious recreations! Also, follow me at Cookin' With Mima on FACEBOOK |INSTAGRAM |PINTEREST for all of my latest social posts and recipes.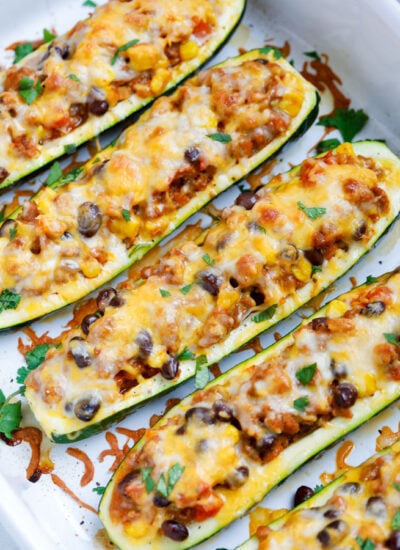 Baked Stuffed Zucchini Boats
A super delicious and healthy recipe that is low in carb, these Baked Zucchini Boats are stuffed with a meat and veggies mixture that can be adapted with different kinds of proteins or made vegetarian based on your preference.
Ingredients
5

large

zucchinis

cut in half and cored

1

tbsp

olive oil

drizzle on zucchini

1

cup

shredded mexican cheese

salt & fresh cracked pepper

to sprinkle on the zucchini
STUFFING
1

lb

ground turkey

or any meat

1

small

onion

petite diced

2

medium

vine tomato

or 4 plum tomatoes

1

tsp

black pepper

1

tsp

garlic powder

¾

cup

corn

¾

cup

black beans

1

tsp

italian seasoning

1

tbsp

taco or chili seasoning

½

cup

tomato sauce

¾

tsp

salt

1

tbsp

olive oil

1

tsp

paprika
Instructions
Pre-heat oven to 400 degrees

Prepare the stuffing ingredients and cut and core out the zucchinis as shown in the photos.

Place the zucchinis in a baking dish, drizzle some olive oil, add some salt and pepper. Bake in the oven for 10 minutes

In a large skillet, bring 1 tbsp. of olive oil to medium-high heat. Add in the onions and cook until they are tender. Add in the ground turkey, spices and salt. Cook for a couple of minutes.

Add in the black beans, corn, diced tomatoes and tomato sauce. Mix and simmer on medium-low heat for about 5 minutes. Turn off the heat and set aside.

Remove the zucchini dish from the oven and generously stuff them with the stuffing mixture. Top them with some shredded Mexican cheese and bake for another 10 minutes.

Remove the dish from the oven and garnish with some fresh chopped parsley or cilantro. Serve with some lemon wedges and sour cream. (Optional)
Nutrition
Calories:
185
kcal
|
Carbohydrates:
14
g
|
Protein:
17
g
|
Fat:
8
g
|
Saturated Fat:
3
g
|
Cholesterol:
36
mg
|
Sodium:
355
mg
|
Potassium:
765
mg
|
Fiber:
4
g
|
Sugar:
6
g
|
Vitamin A:
1041
IU
|
Vitamin C:
34
mg
|
Calcium:
112
mg
|
Iron:
2
mg