These deliciously Baked Southwest Zucchini Boats are tender zucchinis that are stuffed with super flavorful protein and veggies to create the perfect low-carb and healthy dish anyone would love to eat. It's perfect for weeknight dinners with family, perfect for people looking for healthier meal options and even meal-prepping.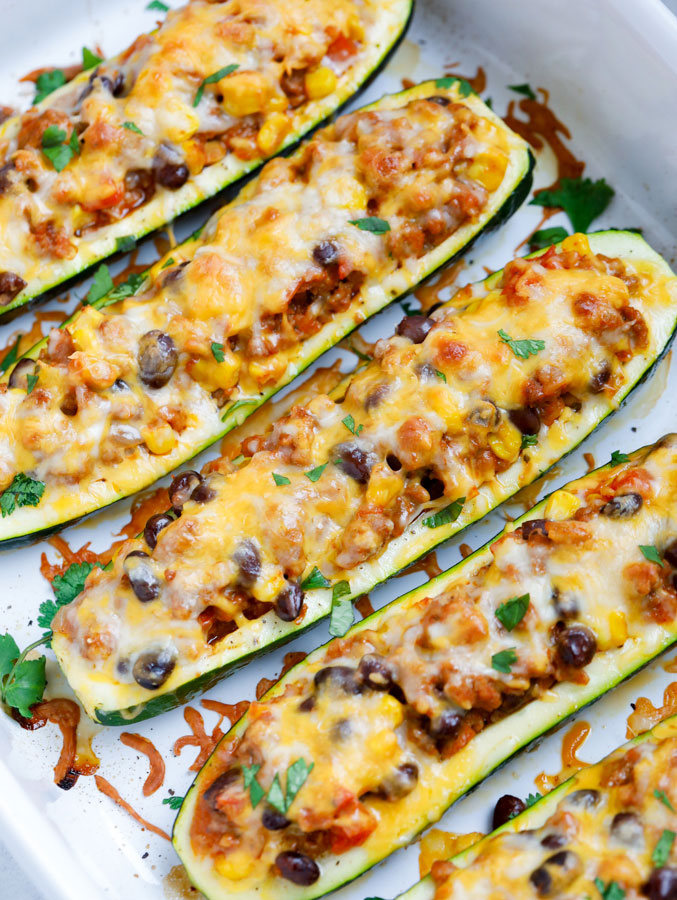 HOW TO MAKE THE BAKED SOUTHWEST ZUCCHINI BOATS
This dish is super easy to make and put together. The stuffing consists of ingredients you probably already have in your pantry. Here are the main ingredients you will need for this dish.
INGREDIENTS:
Meats: You can use any type of meat you like. Ground beef, ground turkey and ground chicken work perfectly fine for this recipe.
Beans: I love using black beans for this recipe. If you are not a fan of the bean's color or just don't like black beans you can substitute the black beans for a smaller type of brown bean.
Veggies: I used corn and diced tomatoes as well as some diced onions. You can most certainly add different types of bell peppers if you like to add into the flavor of this dish.
Spices: It's all up to your preference here. I used some taco seasoning, paprika, black pepper and garlic powder. I also used black pepper and salt to season the zucchinis before baking them for the first time. You can use chili seasoning if you like instead of taco seasoning. I also added a tiny bit of Italian seasoning to the beef mixture.
PUTTING TOGETHER THE BAKED SOUTHWEST ZUCCHINI BOATS
Pre-heat the oven to 400 degrees.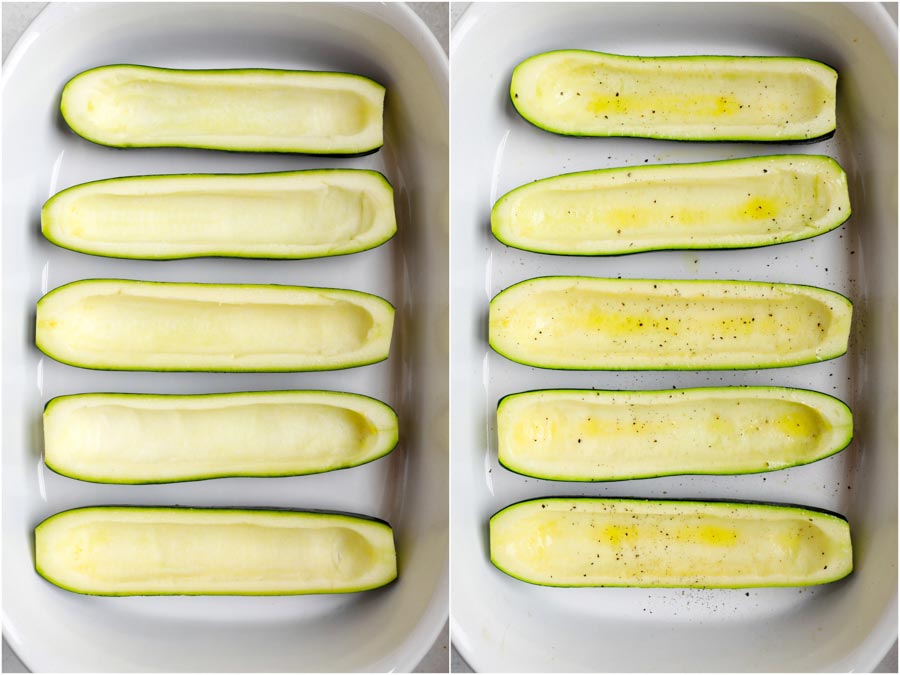 First, thing I do is get all the ingredients ready to make the stuffing and core out the zucchinis. Cut out the ends of the zucchini and core out the center with a spoon or fruit scooper. Add some salt and fresh cracked black pepper and drizzle some olive oil onto them. Place in the oven to bake for about 12 minutes.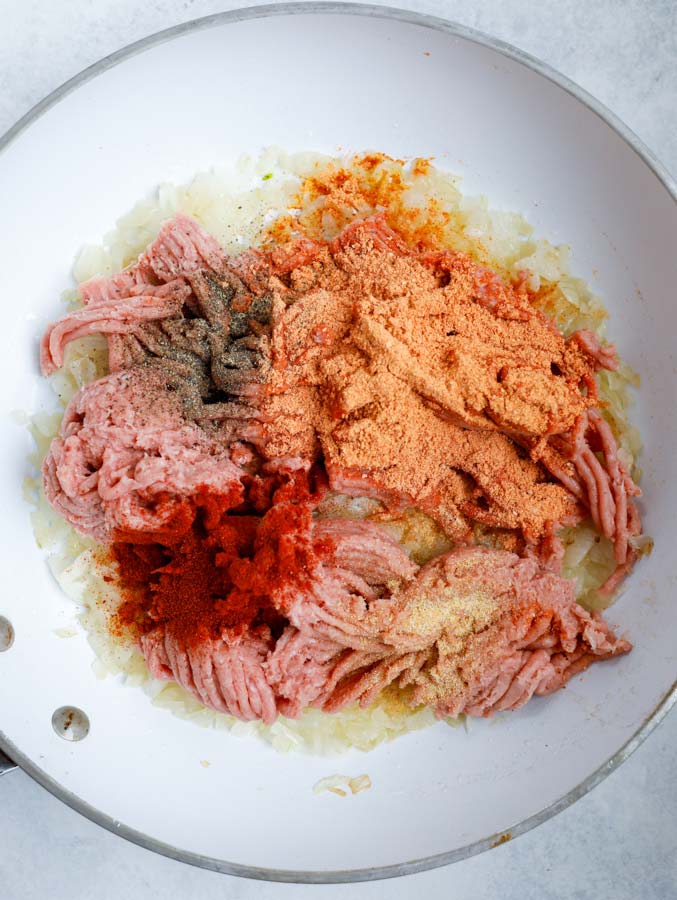 Meanwhile prepare the stuffing. You will need to sauté the onions until they are tender and then add in the ground turkey and spices. Cook those together until the turkey is cooked. It usually only takes a couple of minutes for it to cook through.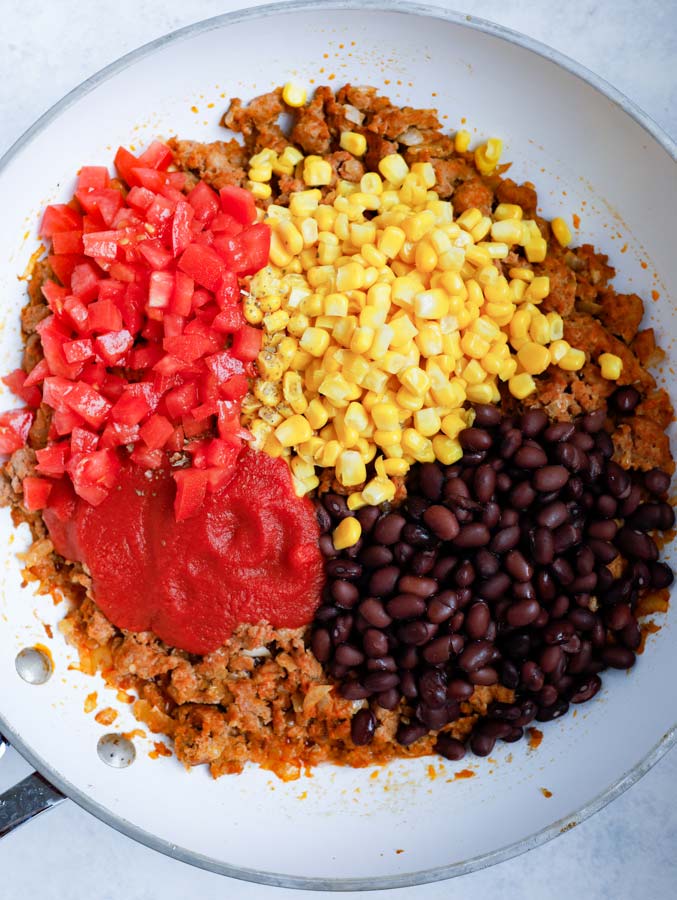 Next add in the veggies, beans and tomato sauce. Mix together and let them simmer on low for about 5 minutes. Turn off the heat and wait for the zucchini boats to come out of the oven.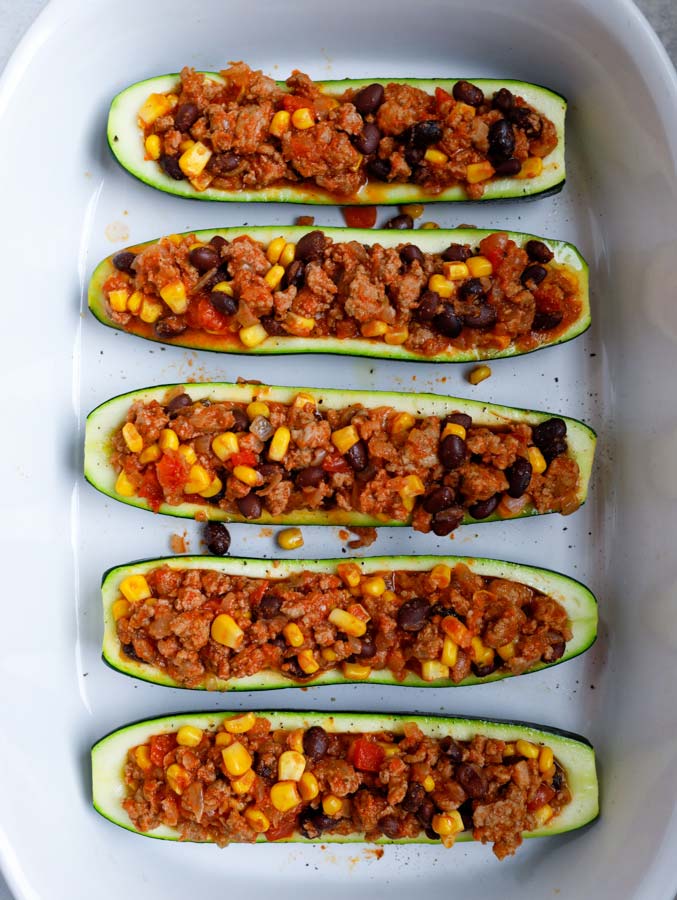 Once they come out, fill the zucchini boats generously with the turkey mixture. Top them with some Mexican or shredded cheddar cheese.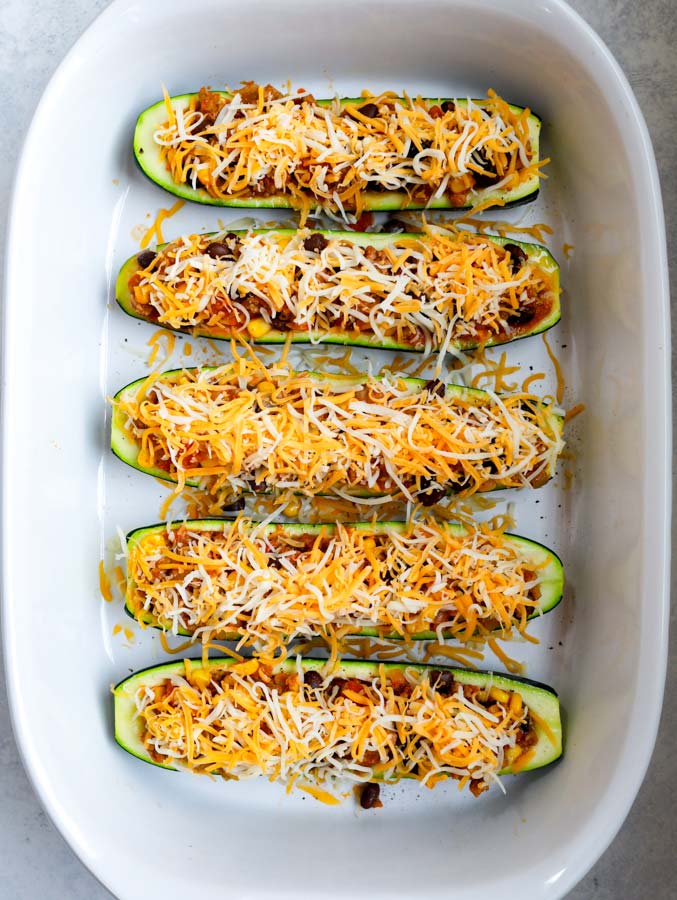 Bake again in the oven for another 10 minutes. Remove and top with some fresh chopped herbs like parsley or cilantro. I love having lime wedges on the table when I serve with some sour cream as well. It will taste super delicious all together.
BAKED VEGETARIAN ZUCCHINI BOAT OPTION
If you are vegetarian, you can always replace the meat with plan based proteins. You can also not add any type of plant based protein but instead make it more filling by adding cooked quinoa or cooked brown lentils. Another low carb vegetarian option would be just strictly cooking it with lots of vegetables. I love doing the my vegetarian zucchini boats with onions, carrots, mushrooms, bell peppers, diced zucchini, diced tomatoes and corn. It comes out super delish. I will be posting that recipe sometime soon for you as well.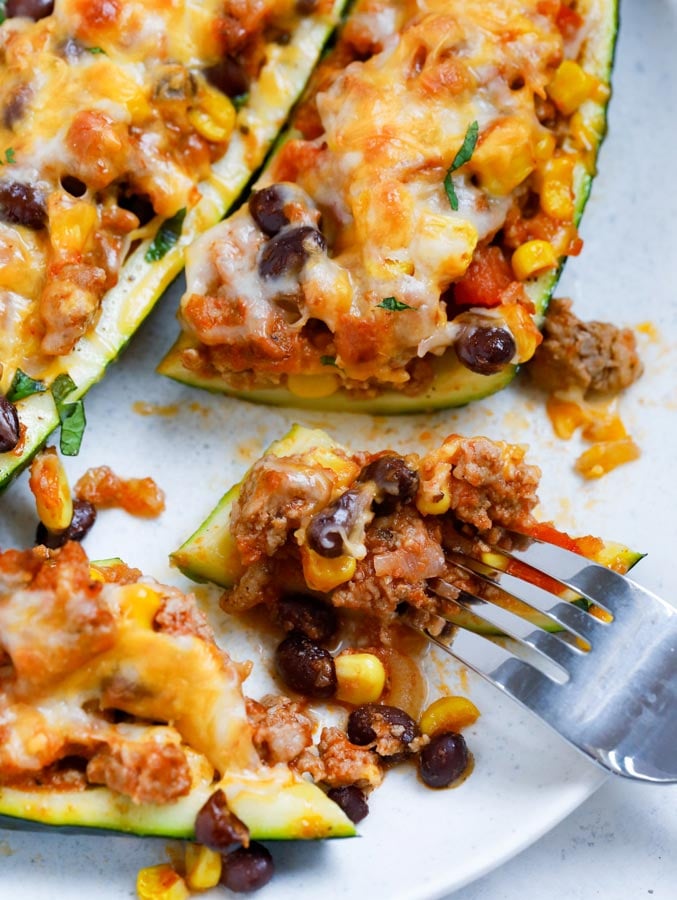 If you try this Baked Southwest Zucchini Boats and love it, please leave a rating on my recipe card below. You can use my hashtag #cookinwithmima or tag me on your story to share it with me on INSTAGRAM so I see your delicious recreations! I am also at Cookin With Mima on all my social channels, FACEBOOK | INSTAGRAM |PINTEREST so be sure to follow me there for my latest social posts and recipes.
OTHER RECIPES YOU MAY LIKE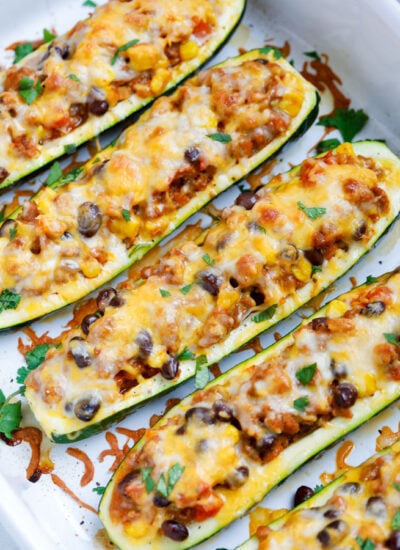 Baked Southwest Zucchini Boats
A super delicious and healthy recipe that is low in carb, the zucchini boats are stuffed with a meat and veggies mixture that can be adapted with different kinds of proteins or made vegetarian based on your preference.
Ingredients
5

large

zucchinis

cut in half and cored

salt & fresh cracked pepper

to sprinkle on the zucchini

1

tbsp

olive oil

drizzle on zucchini

1

cup

shredded mexican cheese
STUFFING
1

lb

ground turkey

or any meat

1

small

onion

petite diced

2

medium

vine tomato

or 4 plum tomatoes

1

tsp

black pepper

1

tsp

garlic powder

3/4

cup

corn

3/4

cup

black beans

1

tsp

italian seasoning

1

tbsp

taco or chili seasoning

1/2

cup

tomato sauce

3/4

tsp

salt

1

tbsp

olive oil

1

tsp

paprika
Instructions
Pre-heat oven to 400 degrees

Prepare the stuffing ingredients and cut and core out the zucchinis as shown in the photos.

Place the zucchinis in a baking dish, drizzle some olive oil, add some salt and pepper. Bake in the oven for 10 minutes

In a large skillet, bring 1 tbsp. of olive oil to medium-high heat. Add in the onions and cook until they are tender. Add in the ground turkey, spices and salt. Cook for a couple of minutes.

Add in the black beans, corn, diced tomatoes and tomato sauce. Mix and simmer on medium-low heat for about 5 minutes. Turn off the heat and set aside.

Remove the zucchini dish from the oven and generously stuff them with the stuffing mixture. Top them with some shredded Mexican cheese and bake for another 10 minutes.

Remove the dish from the oven and garnish with some fresh chopped parsley or cilantro. Serve with some lemon wedges and sour cream. (Optional)
Nutrition
Calories:
185
kcal
|
Carbohydrates:
14
g
|
Protein:
17
g
|
Fat:
8
g
|
Saturated Fat:
3
g
|
Cholesterol:
36
mg
|
Sodium:
355
mg
|
Potassium:
765
mg
|
Fiber:
4
g
|
Sugar:
6
g
|
Vitamin A:
1041
IU
|
Vitamin C:
34
mg
|
Calcium:
112
mg
|
Iron:
2
mg