This is a sponsored post written by me on behalf of Albertsons and Tom
Thumb . All opinions are 100% my own.
Summer may be winding down but that doesn't mean the fun has to stop! Here's how to throw a super laid-back small summer soirée (virtual) to end off the season!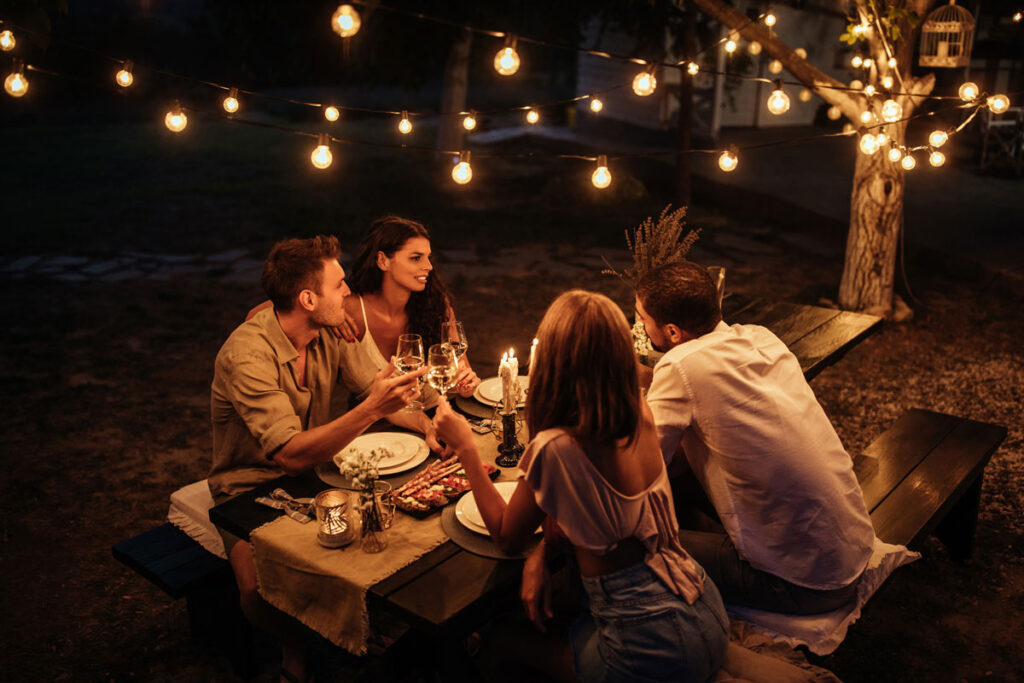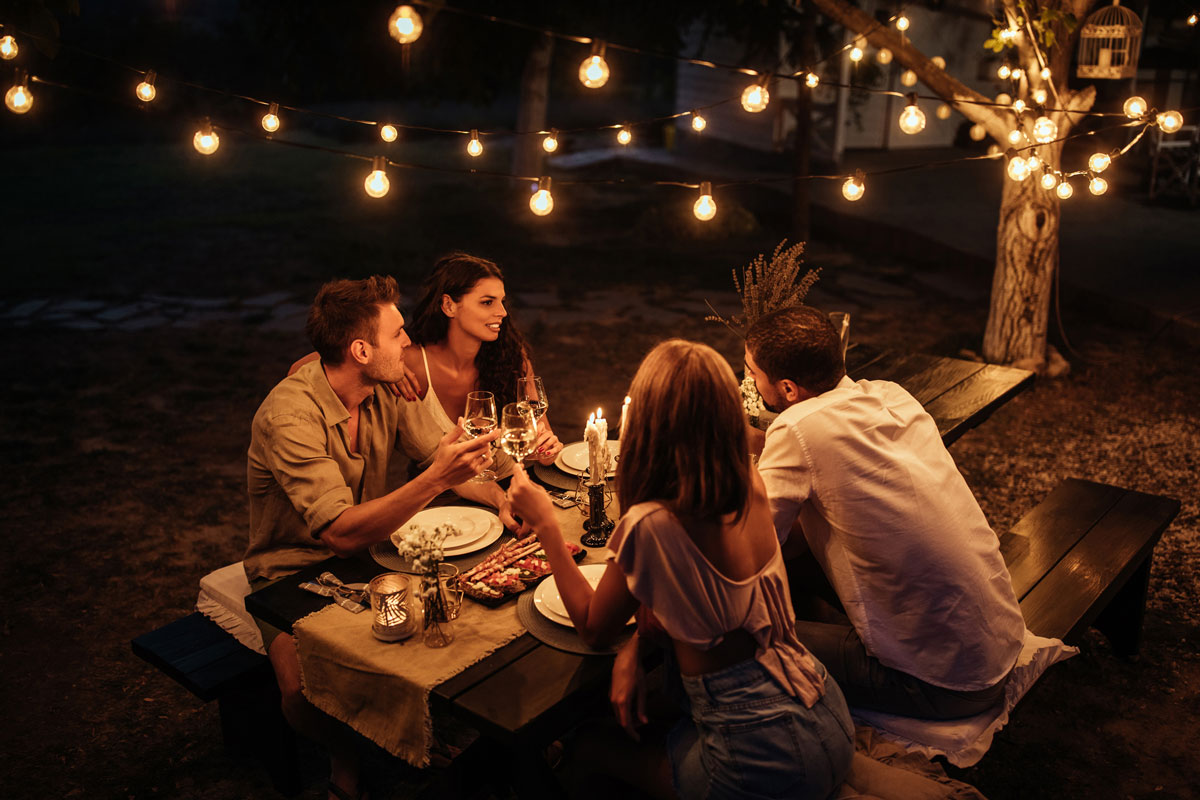 A (Virtual) Summer Soirée
So, you might be wondering what a summer soiree is! A soiree is an evening gathering with finger food, entertainment, and a sit down dinner. However, with everything going on right now, it'd be difficult to pull off so I thought I'd host a laid back, easy going virtual summer soiree so I can connect with friends and family and share with you tips on how you can do the same!
Planning the Guest List
Since traveling is out of the picture right now, a virtual summer soiree means you can have the guest list as large or as small as you'd like! You can even just make it just for your own family if you'd prefer. However, I think this is a great way to be able to virtually hang out with your friends and family that you haven't seen in a while.
Send a simple Zoom invite with some fun instructions. For example, you can pick a theme to follow, something as simple as everyone should wear a Hawaiian shirt or that recipes should be inspired by a certain cuisine. This makes it so everyone is involved and helps connect everyone in a physical way despite it being a virtual soiree!
Picking the Menu
With a laid-back virtual summer soiree, you can take it easy on the menu. Instead of spending all day in the kitchen, I prefer to take some shortcuts so I can save my energy for catching up with everyone on video chat. I suggest that you plan out a finger food portion so you can chat while playing games, then some easy recipes for the dinner that doesn't take you away from the get together too long to make.
I recommend something that you can enjoy at room temperature or chilled so you can make it ahead of time. I like using Open Nature® Turkey Breast to make turkey pinwheels! They're super easy to make and I'll be showing you down below how I make them.
Open Nature's Turkey Breast is a great choice as the turkeys are raised without antibiotics and the meat is minimally processed so your menu can be wholesomely delicious!
Frozen food is also a great option. I really like the Open Nature Gluten Free Roasted Vegetable Cauliflower Pizza as well as the Open Nature Cauliflower Crust Margherita Gluten Free Pizza as this can be easily placed in the oven and taken out without taking away from the time spent with our virtual guests. They're so tasty and convenient while still being the high-quality minimally processed products that I value for my family. Everyone on the video call can also purchase the same items so it feels like we are sharing a meal together! In addition to being delicious, these pizzas are gluten-free so it can be easily enjoyed by everyone if someone has a gluten sensitivity.
I purchased my Open Nature product at my local Albertsons and Tom Thumb in the Dallas area but you can easily find Open Nature products at Albertsons® Companies family of stores, such as Safeway, Vons, Pavilions, ACME Markets, Randalls, Shaw's, Star Markets, Jewel-Osco, United Supermarkets, and Carrs/Safeway stores. All Open Nature® products are dedicated to clean, minimally processed products, free from 110 food additives like nitrates, benzoates, artificial flavors, and preservatives. The store managers at my local store are always amazing and can point out these products, so be sure to ask if you need help getting them!
Plan an Activity
There are a lot of online games that can be played over video chat. You can do virtual bingo, scattergories, trivia games, charades, and more! Your activity pick should be something that can easily be played while snacking on some finger foods.
You could also make the appetizer portion of the night part of the activity! You could do a virtual "build your own charcuterie board" so those who have mastered making a gorgeous charcuterie can teach and share that knowledge! For this part, you can send guests a shopping list so you can all be prepared. I like making my list with my local Albertsons in mind so everyone can take advantage of their savings tool apps as well as having a shopping list that they can easily order using their grocery delivery services to make life easier. With Albertsons and Tom Thumb's convenience and great product selection in their stores, an activity like this should be a breeze.
Another reason I keep Albertsons in mind is because you can also pick up wine to go with your charcuterie boards (or dinner) as well as Open Nature Compostable Plates, Open Nature Assorted Compostable Cutlery, and Open Nature Kitchen Compostable Bags for easy clean up as Albertsons is a one stop shop. You can get everything you need for your soiree quickly and easily by shopping at Albertsons!
Have Fun!
And that's pretty much it! That's how I throw a stress-free laid back virtual summer soiree! The important thing here is being able to connect with your loved ones over some delicious, wholesome food, so be sure to enjoy yourself at your soiree!
Chicken Macaroni Salad
On top of the meal suggestions I have listed above, I also like to share this recipe with everyone in the soiree guest list since it's always a hit at parties and potlucks and goes with everything. My go to macaroni salad with chicken is a great addition to everything as it only takes a few simple ingredients and takes 20 minutes to make. I used Open Nature Roasted Rotisserie Chicken to save time.
Turkey Pinwheels
For an easy finger food, I love these turkey pinwheels as they take so little time to put together and even the little ones can help with it. I used Open Nature Oven Roasted Turkey Breast.
Tips and Notes
The reason I picked these recipes for a summer soiree is because you can make this recipe ahead of time! So if you go with my pizza choices up above, you can quickly pull this out of your fridge and serve it alongside the pizzas. Make everything the day before and keep the dressing aside in a jar then you can mix them together when ready to eat.
Pinwheels can be made ahead of time for easy snacking.
To make this recipe even easier, you can always pick up a rotisserie chicken from Albertsons or Tom Thumb ahead of time to cut down on time cooking this recipe.
Be sure to visit albertsons.com to find a store near you and discover more tips and recipe ideas as well as virtually clip their coupons.
How To Shred a Rotisserie Chicken Fast
Start with a warm rotisserie chicken.
Break down your chicken and remove the skin. Start by pulling off the legs and wings then separate the breast meat from the breastbone before flipping the chicken over to remove the meat from the back.
Remove any bones from the meat and either add the meat to a mixer to shred or grab two forks and pull the meat apart with that.
Set aside the meat to add to your pasta salad or store it in the fridge in an airtight container until ready to use!
Need More Inspo on What To Get For Your Summer Soiree?
Open Nature Veggie Chips in cups for easy portion snacking
Open Nature Sea Salt Pita Chips with side of hummus
Open Nature Crunchy Almond Butter and Open Nature Creamy Cashew Butter with side of rice crackers
Open Nature Gluten Free Brownie Mix for an easy dessert
Open Nature Sea Salt Pita Chips with some homemade tzatziki dip with Open Nature Plain Nonfat Greek Yogurt
I hope you enjoy all the recipes I shared with you and found this Summer Soiree blog post helpful to you. Try the recipes, enjoy it, rate it, and share it with your friends and family!
If you try any of these recipes and like it, please use my hashtag to share it with me on INSTAGRAM for a chance to be featured in my story! Also, follow me at Cookin' With Mima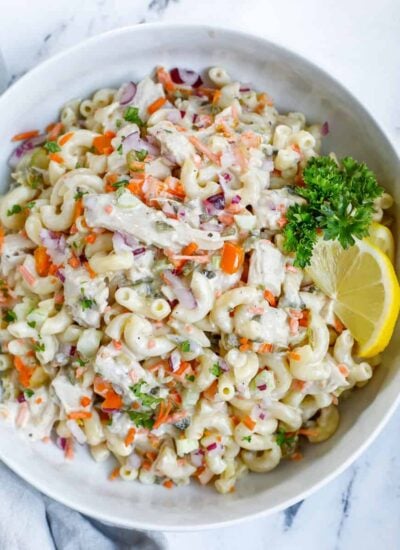 Chicken Macaroni Salad
A super easy Chicken Macaroni Salad recipe that'll be a hit at summer soirees, parties, potlucks, picnics, BBQ's or just as an easy weeknight side.
Ingredients
1 1/4

cup

elbow pasta

dry, uncooked

1

whole

rotisserie chicken breast (both breasts)

used Open Nature Whole Chicken

1/2

cup

bell pepper

petite diced, red or orange

1/4

cup

purple onion

petite diced

1/3

cup

pickled jalapeños

finely diced

1/2

cup

carrot sticks

finely chopped

1/2

cup

celery

petite diced

1/2

cup

sweet pickles

finely diced
Dressing
3/4

cup

regular mayonnaise

or mayo of your choice

1/4

cup

Greek yogurt

2

tbsps

Dijon mustard

2

tbsps

lemon juice

2

tbsps

cane sugar

1

tbsp

olive oil

lightly flavored

1

tsp

black pepper

fresh ground

1/2

tsp

salt

or more to taste

1/4

cup

sweet pickle juice

use from pickle jar, don't skip
TURKEY PINWHEELS
2

oz.

cream cheese

1

stalk

green onion

finely chopped

1

tsp

sriracha

optional

2

tbsps

sour cream

1

tsp

Dijon mustard

1

tbsp

ranch dressing

2

large

tortilla wrap

any kind

6

oz.

Open Nature® Oven Roasted Turkey

tomatoes

sliced

iceberg lettuce

Colby Jack of cheddar cheese

slices
Instructions
Cook the pasta according to package instructions until tender and just about fully cooked.

Meanwhile chop of the veggies.

In a bowl mix all the dressing ingredients together and stir very well to combine.

Once the pasta is cooked, transfer to a sieve and run under cold water to cool. Add in a shallow bowl, then add in the chopped veggies and give them toss.

Next, add in the cubed chicken and dressing. Toss gently together to coat everything well with the dressing.

If you like your salad to be cold you can cover and chill for about 15 minutes in the fridge before serving. If not, serve and enjoy!
TURKEY PINWHEELS
In a small bowl, mix the cheese, sour cream, sriracha, Dijon mustard, green onion and ranch dressing to make a nice smooth creamy paste.

Split the cheese mixture to spread on both tortillas. Then add the lettuce, Colby jack cheese, tomatoes and turkey slices. Wrap tightly and cut into mini wheel portions. Secure with toothpick if needed.
Notes
Use enough cold water so once the pasta begins to cook and expand, there will still be plenty of room for the pasta to move freely.
As soon as you drop your pasta in the water, stir it. This stops the pasta from sticking together.
Make sure to thoroughly drain your pasta, so the dressing will stick.
For an extra colorful pasta salad, use green, red and yellow bell peppers, kids love it!
If making ahead, keep the dressing aside in a jar and mix the salad when ready to eat.
You can replace regular mayo with vegan mayo or light mayo.
If you like your salad to be cold you can cover and chill for about 15 minutes in the fridge before serving.
Nutrition
Calories:
250
kcal
|
Carbohydrates:
36
g
|
Protein:
6
g
|
Fat:
9
g
|
Saturated Fat:
1
g
|
Cholesterol:
5
mg
|
Sodium:
813
mg
|
Potassium:
203
mg
|
Fiber:
2
g
|
Sugar:
10
g
|
Vitamin A:
2143
IU
|
Vitamin C:
20
mg
|
Calcium:
36
mg
|
Iron:
1
mg