A little different blog post today because I will I be sharing with you a great product and tips on how to make your holidays or any event, dinner, so much easier by doing your food prep with FoodSaver ® Vacuum Sealing System. Prepping these ahead will save you time on the day of, and also provide peace of mind that your food will stay as fresh as fresh can be.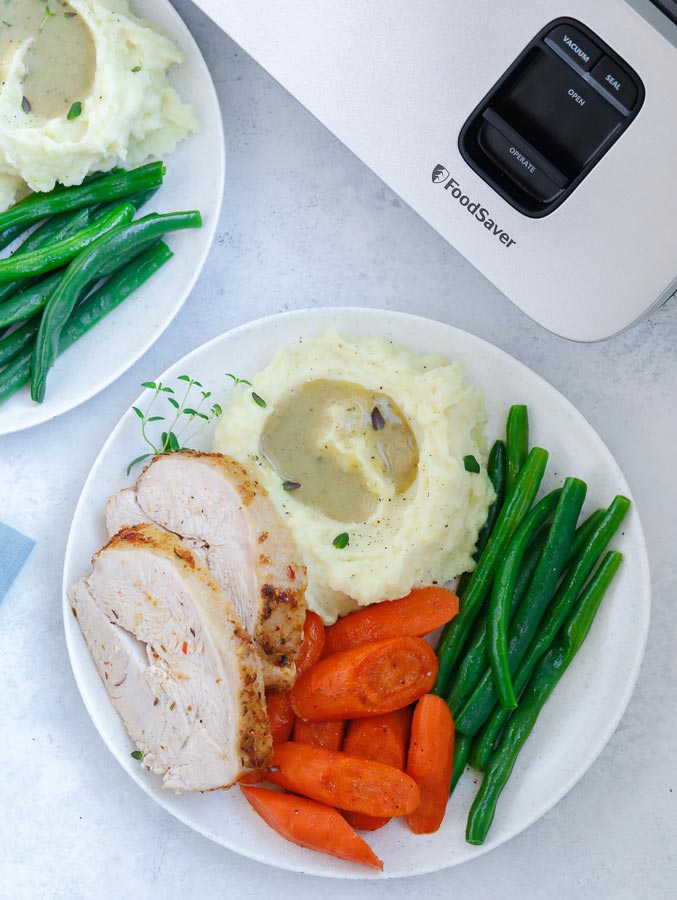 This post is sponsored by FoodSaver ® but all opinions and words are my own.
WHY FOOD PREP WITH FOODSAVER ®
You are probably asking yourself, why use FoodSaver ® Vacuum Sealing System when you can use regular ziploc bags? The answer is "Freshness". We all like using zip-lock bags because they are easy and convenient. But the problem is most of the time, the meats get freezer burn on them and frozen veggies/fruits end up with a weird plastic taste from the freezer because they are not properly sealed and vacuumed to preserve freshness.
Households are responsible for the largest portion of all food waste. US households waste about 76 billion pounds of food per year. Two-thirds of food wasted at home is due to food spoiling in your fridge or freezer due to improper storage and lack of visibility in refrigerators. Food storage is very important, not only does it preserve waste but also saves you a lot of money.
FACT: By preserving your food with FoodSaver ®, you can save up to $2700 a year!
HOW DOES THE FOODSAVER ® WORK
FoodSaver ® removes oxygen air from the bag, then applies heat to give the bag an air-tight seal. With this method for instance, meats can last up to 3 years in your freezer rather than 6 months, and it still tastes as fresh as the day you sealed it. Prep-ahead meals and leftovers stored in the fridge can be enjoyed weeks later instead of days later. FoodSaver ® storage bags also take a lot less space in your fridge and freezer.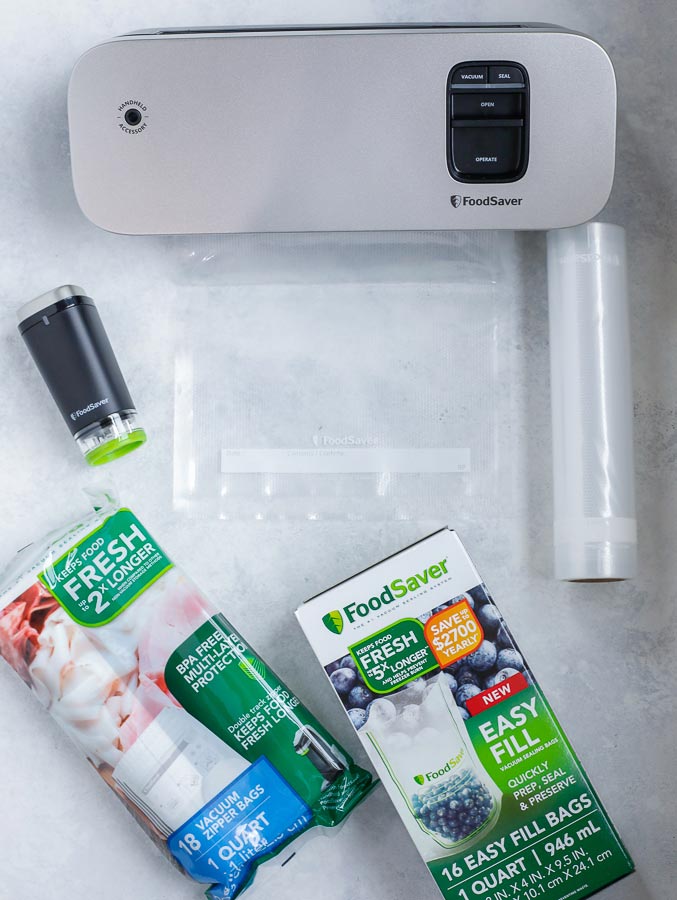 So this holiday, I decided to prep most of the food ahead of time. Holidays and even weeknights can be very overwhelming. Having to do half the work on the day of can save you mental stress, allow you to prepare food easily and enjoy more time with your family.
FOOD PREP FOR THE HOLIDAYS AND BUSY WEEKNIGHTS
Here are some of the things I prepped with my FoodSaver ®:
GREEN BEANS:
I washed and trimmed the green beans. Then I pat dried them with paper towel to remove any extra moisture. Then I transferred them into the FoodSaver ® bags. There are different types and sizes. In the photo below I showed the options that are available. There are more storage options on their website as well. Click HERE to check it out.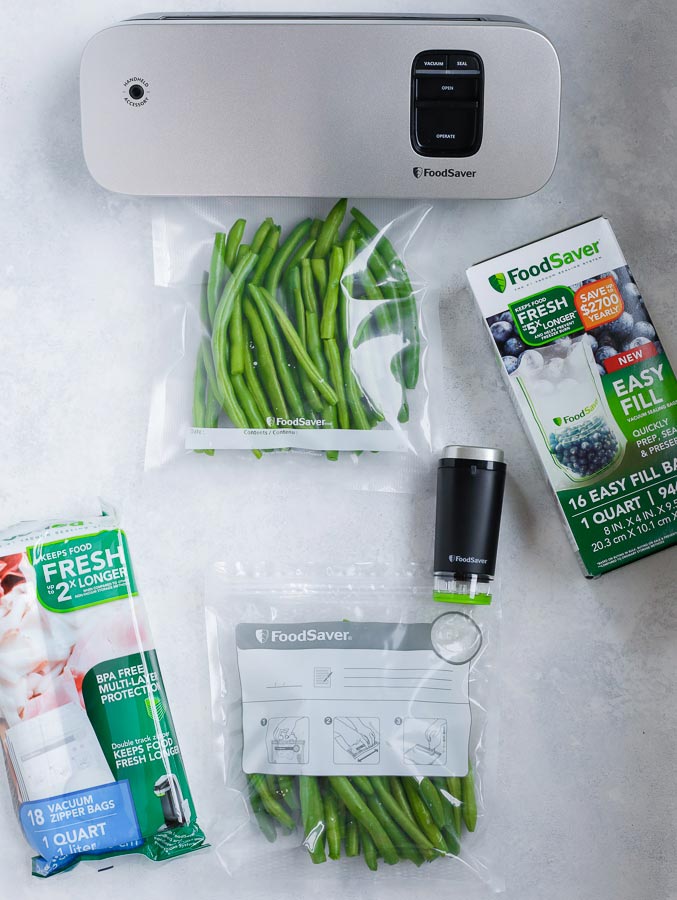 One of the bags I am using is the Easy Fill Bag, and the other is a Zipper Bag. This device is compatible with all bags except for the 11 inch rolls. I love the all the options but my favorite is the Zipper bag because it works just as great with the handy sealer and the bags can definitely be reused! The rolls bag options can also be cut and sealed into any size, giving you more flexibility because sometimes we may need to store smaller portions of food and not in need of the bigger bags. The vacuum sealers are very portable, light weight and take very little countertop space.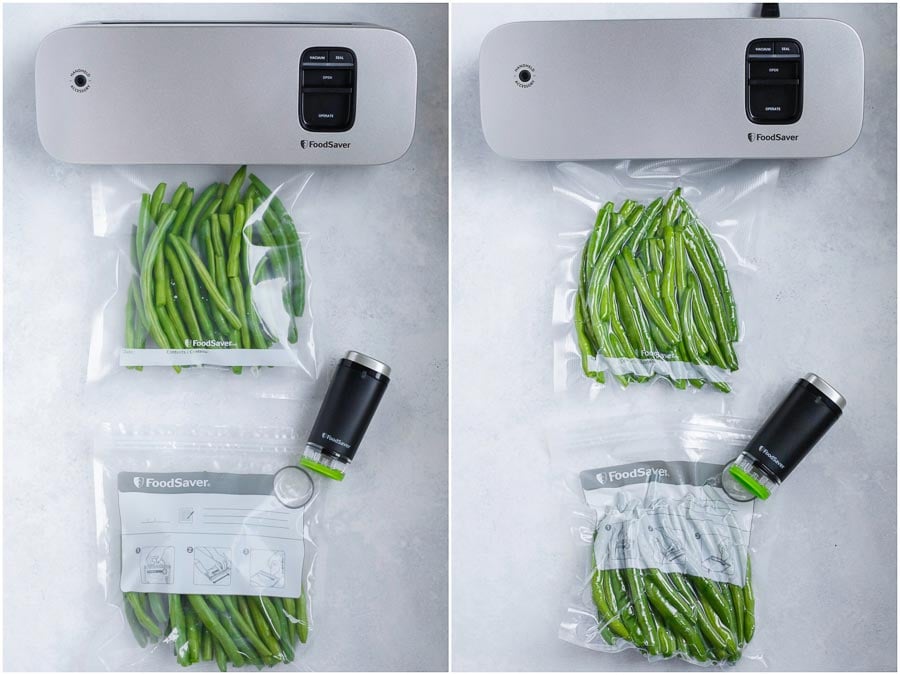 After storing the green beans in the bags, I vacuumed out the air with both vacuum devices to see how well each worked. I was amazed to see how powerful the small handy vacuum sealer was! These green beans will be sautéed with some garlic, butter, black pepper and dash of salt.
CARROTS:
I peeled and sliced the carrots uniformly to cook evenly. I will roast them in the oven with some brown sugar and butter. You can grab the recipe HERE.
CRANBERRY SAUCE:
I cooked the cranberry sauce ahead of time because I do not want to tie up my stove top with too many things. This sauce will store well for a very long time with the vacuum sealed bags. This recipe is super easy to make. Combine 1/2 cup sugar, 1/2 cup water, 1/2 cup orange juice in a pot and bring to boil on medium heat. Then add in 12 oz. of fresh cranberries and bring to simmer, stirring occasionally until most of the cranberries have popped and the sauce has thickened up. This should take about 10 minutes. Let it cool completely before storing in the bags.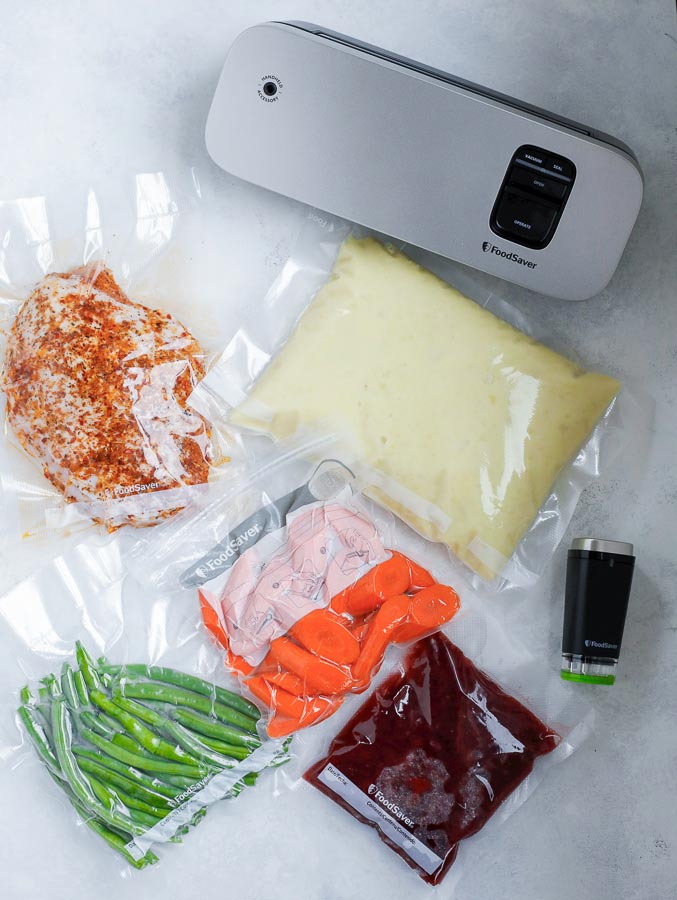 MASHED POTATOES:
Who doesn't want mashed potatoes as one of their yummy side dishes? What I did here was I peeled, diced and boiled the potatoes until they are fork tender with some salt. Drain the water and mash the potatoes while hot until you get a smooth texture or to whatever consistency you prefer. Cool and then store in the vacuum sealed bag. What I will do basically on the day of, I will place it in a pot, on low heat and add in melted butter, hot milk, and salt and pepper to taste. You can add in some chives as well. Grab the recipe HERE.
TURKEY BREAST:
I trimmed and marinated a few turkey breasts. The marinade was a combination of lemon juice, olive oil, salt, pepper and a type of mixed chicken or turkey seasoing you find at the stores. Vacuum seal and cook the day of. Can be marinated a couple days ahead. You can really use any type of proteins you want to store in the bags. It works great with everything.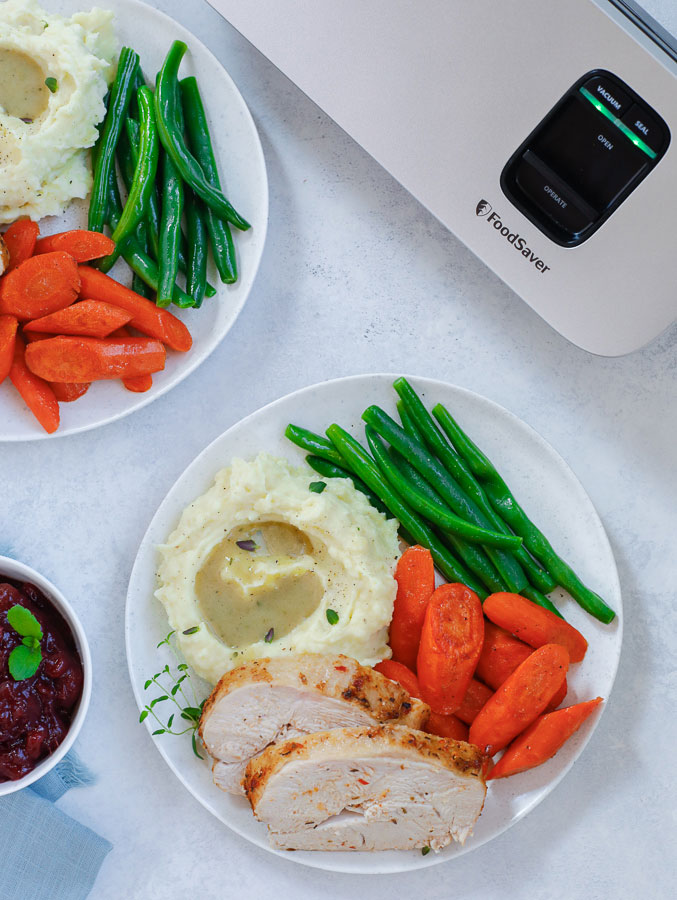 Just imagine all the time you saved on the day of your planned dinner or lunch! Not to mention to having to even worry about whether your food will go bad before you cook them. The FoodSaver ® Vacuum Sealing System is also great for snacks, cheeses, deli meats, freezing cookies and so much more! Nothing will go to waste :). I hope you found this post helpful because it this device was a great addition to my kitchen!